What Happened On August 8th?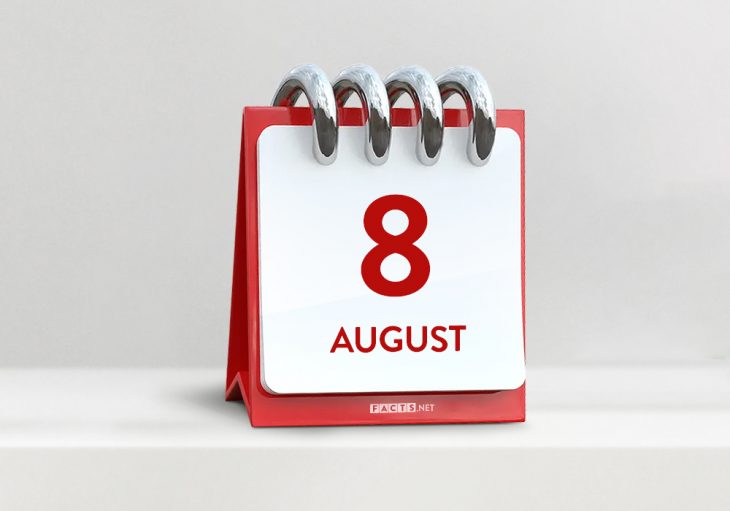 To all the cat lovers out there, Happy International Cat Day! August 8th is a time to celebrate your feline friends, but also some famous birthdays like Princess Beatrice of York, Shawn Mendes, and Roger Federer. August 8th has been a date for many important moments throughout history. Let's take a look at some of the most notable events that happened on this day:
Historical Events
1918: The Battle of Amiens began, marking the beginning of the end of World War I. This battle was a turning point in the war, as Allied forces successfully broke through the German lines and pushed them back.
1963: One of the most infamous heists in history, the Great Train Robbery, took place. A group of 15 men stopped a mail train traveling from Glasgow to London and stole over £2.6 million in cash. The robbers were eventually caught and sentenced to long prison terms.
2013: A suicide bomber detonated a bomb in Quetta, Pakistan, during the funeral of a police officer. The attack killed at least 38 people and injured over 50 others.
Image from Adobe Stock
Scientific Breakthroughs
1854: Smith and Wesson patented the first metal bullet cartridges, which revolutionized the way ammunition was manufactured and used in firearms. This invention made it possible to load guns much more quickly and efficiently than before and helped to pave the way for modern firearms technology.
1989: The Space Shuttle Colombia launched from the Kennedy Space Center for a secret military mission. The details of the mission were not made public, but it is believed that it was related to the deployment of a classified satellite for the US Department of Defense.
Political Events
1786: The US Congress's made the final decision to use the US Dollar as the country's currency. Prior to this, there was no official currency for the United States, and various forms of money were in circulation, including foreign currencies, banknotes, and coins.
1974: Former U.S. President Richard Nixon announced his resignation in a televised address to the nation, becoming the first U.S. president to ever resign from office. He bowed to pressure due to allegations that associated him with the Watergate affair.
Image from Flickr
Cultural Events
1995: Coolio's hit single "Gangsta's Paradise" was released and became a massive hit, selling 6 million copies worldwide. The song is known for its memorable hook and powerful lyrics, which address the realities of life in impoverished urban areas. Coolio may not be the fastest rapper, but he won the Grammy Award for Best Rap Solo Performance for the song in 1996.
Image from Flickr
Notable Birthdays
Marjorie Kinnan Rawlings (1896–1953) – An American author known for her Pulitzer Prize-winning novel "The Yearling". She published several more novels and collections of short stories, including "Cross Creek" and "South Moon Under." She was awarded the Gold Medal for fiction by the Florida Historical Society in 1953.
Joe Tex (1935) – An American singer and songwriter, best known for his soul and funk music hits in the 1960s and 1970s. Some of his most famous songs include "Hold What You've Got", "Skinny Legs and All", and "I Gotcha".
Dustin Hoffman (1937) – An American actor known for his roles in films such as "The Graduate", "Rain Man," and "Tootsie". Hoffman has won two Academy Awards, six Golden Globe Awards, and four BAFTA Awards throughout his career.
The Edge (1961) – A British musician and guitarist for the rock band U2. The Edge is known for its distinctive sound and use of effects pedals and is considered one of the most influential guitarists in the history of rock music.
Roger Federer (1981) – A Swiss tennis player is widely regarded as one of the most talented players to have ever played the game. He is said to have an elegant and fluid playing style that has earned him numerous accolades and records throughout his career.
Meagan Good (1981) – An American actress who has appeared in numerous films and TV shows, including "Think Like a Man", "Anchorman 2: The Legend Continues", and "Californication".
Princess Beatrice of York (1988) – A member of the British royal family and the elder daughter of Prince Andrew, Duke of York, and Sarah, Duchess of York. Princess Beatrice is ninth in line to the British throne.
Shawn Mendes (1998) – A Canadian singer and songwriter whose debut single "Life of the Party" in 2014 shot him to fame. Mendes became the youngest artist to debut in the top 25 on the US Billboard Hot 100. Since then, he has released several chart-topping albums and singles, including "Stitches", "Treat You Better", and "There's Nothing Holdin' Me Back".
Final Word
If you're also born on August 8th, then lucky you for sharing something in common with these great figures. However, August 8th is also a day where a few tragedies happened that changed not one but many people's lives as well.