Barack Obama Facts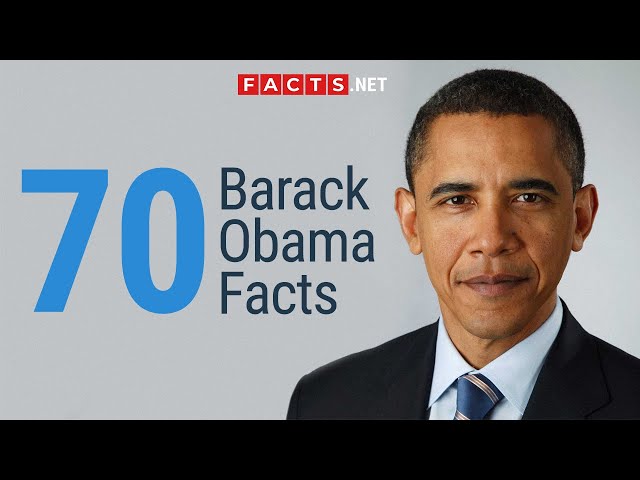 Many famous personalities and celebrities look so shiny from afar that some people forget that they are human, too. An excellent example is Barack Obama and his lovely family. Before they get to where they are right now, they have been through the ups and downs in their life. Read on to learn interesting Barack Obama facts, his journey towards being the 44th president of the U.S., and the other things and people around him.
Quick Facts
Essential Facts
Interesting Facts
He was born Barack Hussein Obama Jr. on the 4th of August 1961.

Barack means 'one who is blessed' in Swahili.

His birthplace is Honolulu, Hawaii.

Obama was both the first president born in the 50th state and outside the continental U.S.

Barack Obama was the 44th president of the United States.
The 44th president was the first-ever African-American to take office.

Obama defeated Arizona representative John McCain, a Republican nominee.

At 47 years old, Barack Obama was the 5th youngest U.S. president to hold the position.

With a height of 6 ft 1 in, Barack Obama ranks 10th in the tallest U.S. presidents.

Barack Obama would have been an architect by profession if he had not ventured in politics.

He can speak Spanish.

Obama considers Pablo Picasso, Gandhi, Martin Luther King Jr., and John Coltrane as his real-life heroes.

As a left-handed man, Barack Obama is the 6th southpaw president (post-war).

His favorite games to play are Poker and Scrabble.

Both Barack and Michelle Obama's net worth, based on a 2018 estimation, is $40 million.
During his Indonesia stay, young Obama ate bizarre foods like roasted grasshoppers, dog meat, and snake meat.

He was tagged as 'O'Bomber' in high school for his notable basketball skills.

Barack Obama is capable of bench pressing up to 200 lbs.

As a boxing enthusiast, Obama keeps a pair of Mohammed Ali autographed boxing gloves.

His wife's shrimp linguini is Barack Obama's favorite meal.
Barack Obama Facts Infographics

Obama dislikes ice cream.
He must have gotten too full of the frozen dessert when he worked shifts as a teenager in Baskin and Robbins before. Instead, his snack of choice is chocolate-peanut protein bars while his most preferred candy is Fran's Smoked Salt Caramels.
Obama never drinks coffee.
Alcohol is a very seldom beverage pick for him as well. But, the black forest berry iced tea holds a special place in his palate.
Cooking chili is the 44th president's typical cookery.
For the rare chances that Barack gets to prepare meals, he prefers cooking this hot-tasting pod. In other circumstances, Michelle was the one who cooks for her husband.
The iconic Obama haircut is on weekly maintenance.
Every week, he gets his regular haircut from Zarif, his barber from Hyde Park Hair Salon. The procedure costs $21.
As a high school student, Obama admittedly used cocaine and marijuana.
Also, note that he was very open about it in his speeches. "I inhaled frequently. That was the point," he stated once.
Barack promised Michelle that he would quit smoking for good when they moved to Washington.
It was before he ran for president, but he was not able to quit until 2010. The former president even joked to a UN official that he did it due to his fear of his wife whose informal comments were accidentally caught on mic.
Young Obama once ventured into modeling.
He was still studying at Harvard when he put down his name in a model picking for a black pin-up calendar. However, Barack got a rejection from the all-female committee.
Daddy Barack read all of Harry Potter books alongside his daughter, Malia.
Still, his favorite read is Moby-Dick by Herman Melville.
Barack's favorite television series are Homeland and The Wire.
In the movies category, his top picks are Casablanca and One Flew Over the Cuckoo's Nest.
On the 44th president's desk sat a carving of an egg held by a wooden hand.
This Kenyan symbol signifies the fragility of life. Even when he is not in the office, Barack also carries significant items for good luck.
One is a tiny statue of Madonna and child and another is a bracelet bore by an Iraqi soldier.
The former president wore uniform shoes.
Barack Obama has 4 of the same pair of black shoes in size 11. His upper body's apparel is mainly suits by Hart Schaffner Marx worth $1,500 or £952.
Barack's father is Kenyan while his mother is American.
Barack Obama Sr. and Stanley Ann Dunham met at Honolulu University when they attended a Russian language class. Sadly, his parents divorced when he was only 2 years old. It was followed by his father's return to Kenya.
His father met a tragic car accident in 1982.
Obama was only able to saw his father once again after the separation when Obama Sr. came to Hawaii in 1971.
Barack Obama moved to Jakarta, Indonesia when his mother remarried later in the 1960s.
He lived with his mother, Indonesian stepfather Lolo Soetoro, and Tata, his pet ape. It was also during his stay here when he learned to eat pretty fascinating food.
Not only was Barack Obama biracial, but he also had a multicultural extended family.
Obama's grandmother dearly calls him nicknames such as 'Bear' and 'Bar.'
For many years, Obama stayed with her grandmother in Hawaii. Others called him by 'Barry' until he entered university where he specifically asked that they call him 'Barack.'
In 1971, young Obama moved in with his maternal grandparents and attended school.
Although the Punahou School that he attended was an elite private institution, it was where he first experienced the tensions associated with having a mixed racial background that he has.
Barack had no full siblings but has numerous half-siblings.
In Obama Sr.'s first marriage to Grace Kezia, he has 4 named Malik Abongo or 'Roy,' Auma, Abo, and Bernard. He was his father's only child with the second wife, Ann Dunham. The third marriage with Ruth Nidesand gave him 2 more half-siblings named Mark and David.
On the other hand, his mother's second marriage only bore 1 stepsister for him whose name is Maya. Aside from those mentioned, his father's partners also had separate children with other partners.
Neither of Barack Obama's parents was still alive to witness his inauguration.
Prior to his presidential victory in 2008, Obama Sr. died in a car accident in 1982 while Ann Dunham died of cervical cancer in 1995.
Barack Obama and Michelle Robinson met in 1989.
It was summer of the year and Barack was serving as an associate at Sidley Austin's Chicago law firm. Michelle, a Chicago native, was starting as a young lawyer at the firm back then.
The Obama couple's first date was seeing Do The Right Thing by Spike Lee.
They both graduated from Harvard and got married in 1992.
The Obama couple became parents to 2 daughters.
Malia Ann or 'Malia' was born in 1998 while Natasha or 'Sasha' was born in 2001. By the time their father was inaugurated, they were 10 and 7, respectively.
Their maternal grandmother Marian Shields Robinson helped in taking care of them as their parents took on their administration roles.
Daddy Barack promised his girls a puppy if he won the presidential election.
True to his word, they got a male Portuguese water dog and named him Bo. They now also have a female of the same breed whom they named Sunny.
Obama goes by the codename 'Renegade' to the Secret Service Agents who guard him.
The 44th president chose the code himself among the 4 nicknames offered to him. All of them started with the letter R.
Each of his family members also has associated code names.
It is conformant to tradition and all of them start with the same letter as well. Michelle, the wife, is 'Rennaisance.' Malia is 'Radiance' while Sasha is 'Rosebud.'
Barack Obama earned his bachelor's degree in political science in 1983.
First, he attended Occidental College located in the suburbs of Los Angeles. He transferred to Columbia University in New York City 2 years later.
Barack Obama finished as Magna cum Laude from Harvard Law School in 1991.
He was also the first African-American elected in the Presidential position of the Harvard Law Review.
The life that Barack Obama led was said to be ascetic.
The former president spent time reading the works of men like Friedrich Nietzsche, William Shakespeare, and Toni Morrison.
Barack Obama received 2 Grammy Awards, both for Spoken Word Album of the Year.
In 2006, he got it after Dreams from My Father and again in 2008, when he received the award for his audio version of his book The Audacity of Hope.
Other presidential Grammy awardees of the same category are Bill Clinton and Jimmy Carter.
The 44th president was counted as one of the 100 most influential people in the world by Time magazine.
He was in the list 4 times and his streak was in years 2005, 2007, 2013 and 2014.
Barack Obama is the record-holder for the 2017 Most Liked Tweet.
The former president regarded the 2017 Charlottesville tragedy in a tweet. Starting with a quote from Nelson Mandela, his inspirational tweet garnered 1.7 million retweets and 4.5 million likes.
In his father's hometown, a school was renamed after him.
Obama visited Kenya in 2006. Thousands of his supporters gathered to welcome him.
Barack Obama was Illinois represent in the U.S. Senate first before winning his presidential race.
He became the 3rd African-American to hold a position in the body since the conclusion of the Reconstruction period in 1877. His term was from 2005-2008.
Barack Obama earned one of the highest incoming president approval ratings at 69%.
Before that, he preferred watching sports channels over CNN during his campaign period.
Alan Keyes vs. Barack Obama was the first African-American Senate rivalry.
His unsuccessful U.S. Senate candidacy did not stop Barack from running again in 2004 where he won 70% of the votes.
Meanwhile, his match with Keyes made history as the first time that 2 African-American candidates competed against each other in a Senate race.
Madelyn Dunham, Barack's grandmother, died one day short of his inauguration.
After a grueling fight with cancer, his grandmother died on November 3, 2008. It was only a day before he was elected as the new U.S. president on November 4, 2008.
Barack Obama became the 2nd president who took the oath of office quadruple times.
The 44th president had to retake his oath the next day after making a wording mistake in his oath for his first inauguration in 2009. He was only second in place to Franklin Roosevelt.
Barack Obama supports same-sex marriage.
Although he only declared it during his second term as President, he was still the first one to do so.
While in position, Obama did a lot of first-visits as a sitting president.
In 2016, he was the first to visit Laos, Myanmar, and Japan among those who sat before him. Barack also did the first presidential visit to Cuba after 88 years.
Another presidential visit first-times was his trip to the Arctic circle in 2015.
Barack aimed to witness firsthand the climate change effects in the area in Kotzebue, Alaska. In the same year, he was also the first-ever sitting president to visit a federal prison. He took a trip to the Federal Correctional Institution, El Reno in Oklahoma.
Barack Obama holds credit for the acquisition of health insurance to 12-18 million Americans.
In March 2010, he signed into law the Affordable Care Act which then became his signature legislation. People were not able to acquire coverage before the effectivity of the said law.
Barack Obama was responsible for the ending of the war in Iraq.
He ordered the operation wherein Osama Bin Laden was captured and killed.
Following Obama's reelection on November 6, 2012, was his inauguration on January 20, 2013.
It was a Sunday with which the Constitution requires a private ceremony to be held inside the White House. Still, they continued with a public ceremony held at the capital the very next day.
Barack Obama was a president vlogger.
Another first for a president, he owned a YouTube channel to which he uploads his weekly addresses. The channel has more than 289 million views.
The 44th president transformed the White House tennis court into a basketball court.
Even then, he could still throw a lot of three-point shots and maintained his love for golf.
Barack Obama has an alcoholic drink named after him.
A Williamsburg microbrewery formulated the Hop Obama brew in 2008 which sold out only 6 days after its launching.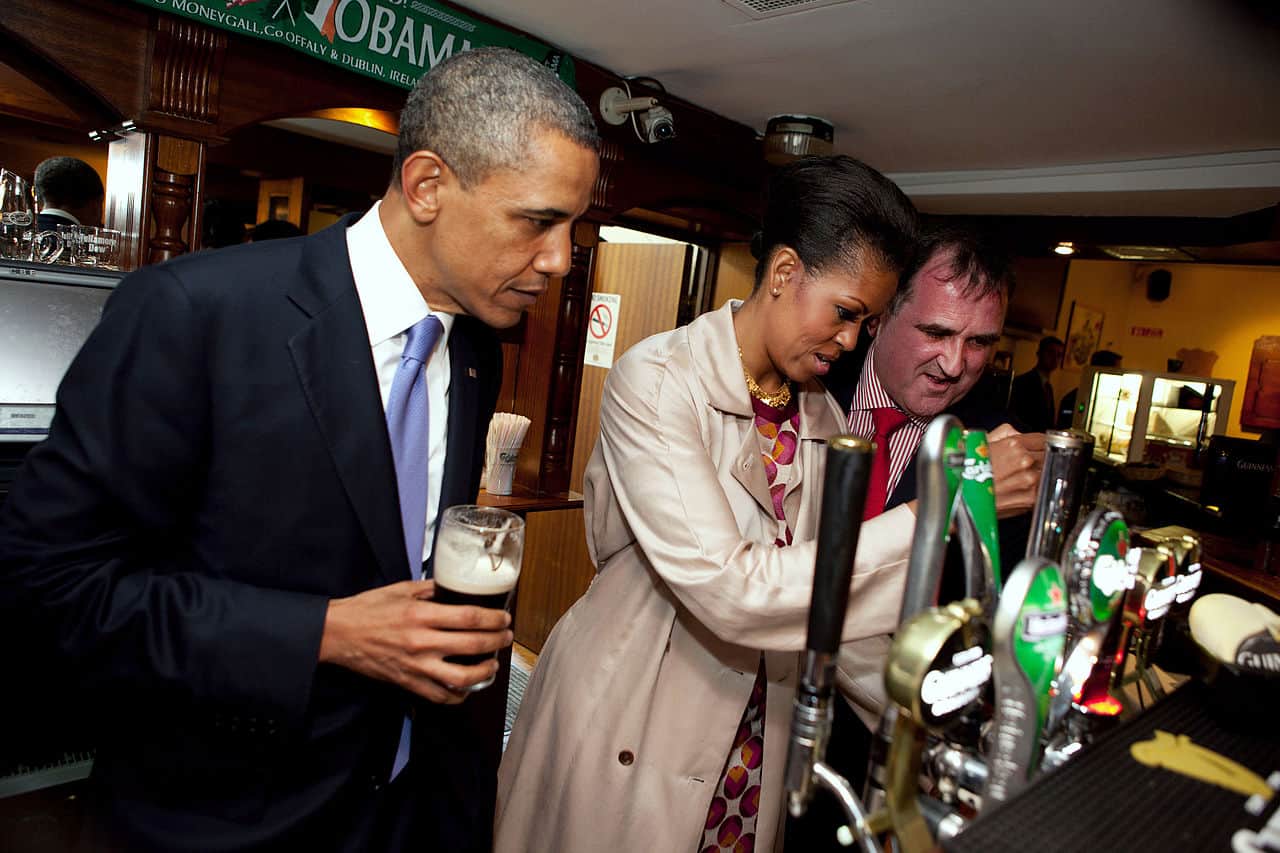 Barack Obama went full vacation mode after his last day in office on January 20, 2017.
For the first week, he was guest to the Spanish ambassador in Palm Springs, California. His next stop was the Moskito Island where he relaxed with wife Michelle and billionaire friend Richard Branson.
Another sighting was him on Necker Island, kite-surfing and wrestling with his tycoon buddy.
Former President Barack, together with his wife Michelle, struck a deal with Netflix.
The online streaming service announced the opportunity in May 2018. For the deal, the couple created the Higher Ground Productions which is dedicated to producing 'scripted and unscripted series as well as docu-series, documentary films, and multi-million-pound feature productions' exclusively for Netflix.
The Obama couple is set to disclose their full White House experience in a £48million contract.
Inclusive of the deal are two books from each one of them. The amount that they will get is 6 times greater than how much George Bush got after he left office in 2009.
The Obama family settled down in the Kalorama neighborhood in Washington after leaving the White House.
They purchased their home in 2016 for $8.1 million. November 2016 reports stated that Barack was spotted in the golf course of the family's other house in Rancho Mirage, California.
Moreover, it was found out that they bought yet another house, a 6,892-square-foot beauty in Martha's Vineyard worth $11.75 million.