What Happened On August 4th?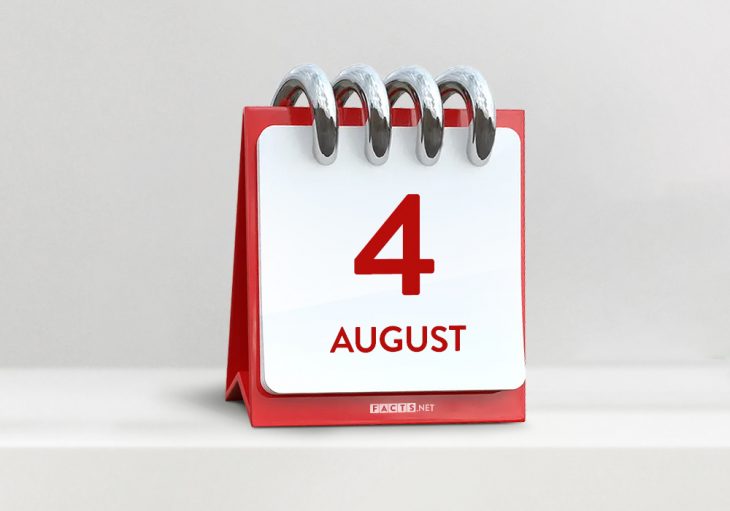 August 4th is a remarkable day with history-defining moments that have left an indelible mark on our world. From the ancient ages to modern times, people around the globe are connected by events and facts celebrated on this date – let's explore some of its most significant stories!
Historical Discoveries
70 CE: The Roman army, led by future Emperor Titus, breaches the walls of Jerusalem, leading to the eventual destruction of the Second Temple. This event marks a turning point in Jewish history and is commemorated annually on the Jewish fast day of Tisha B'Av.
1693: Date traditionally ascribed to Dom Pérignon's invention of Champagne. While the Benedictine monk did make important contributions to the production and quality of sparkling wine, the myth that he "invented" Champagne is now widely debunked.
Political Milestones
1914: Britain declares war on Germany in response to the invasion of Belgium, marking the beginning of the United Kingdom's involvement in World War I. The conflict would go on to claim the lives of millions and reshape the political landscape of Europe.
Cultural Events
1902: The Greenwich foot tunnel beneath the River Thames in London is officially opened. This pedestrian tunnel connects the London boroughs of Greenwich and Tower Hamlets, allowing for convenient passage between the two areas and showcasing early 20th-century engineering prowess.
1958: Billboard magazine introduces the Hot 100 chart, a record chart that ranks the top-performing singles in the United States. This chart becomes an industry standard and an essential reference for tracking the popularity of songs and artists over time.
1996: The XXVI Olympic Games, also known as the 1996 Atlanta Summer Olympics, conclude. These games are remembered for their spirit of unity and remarkable athletic achievements, including the gold medal-winning performance of the United States women's gymnastics team, known as the "Magnificent Seven".
Notable Birthdays
Percy Bysshe Shelley (1792–1822) – A major English Romantic poet. Shelley's works, such as "Ozymandias" and "Prometheus Unbound," become cornerstones of Romantic literature and continue to inspire readers and writers alike.
Louis Armstrong (1901–1971) – An American jazz trumpeter and singer. Armstrong's innovative style and charismatic performances transform the landscape of jazz music and make him one of the most influential artists of the 20th century.
Billy Bob Thornton (1955) – An actor and filmmaker who has appeared in numerous movies and TV shows, including Sling Blade, Fargo, and Goliath. He has also directed several movies, including Sling Blade and All the Pretty Horses.
Barack Obama (1961) – The 44th President of the United States and the first African American to hold the office. Throughout his two terms in office, Obama's presidency is marked by significant achievements in healthcare, foreign policy, and social issues.
Daniel Dae Kim (1968) – An actor and producer who has appeared in several TV shows and movies, including Lost, Hawaii Five-0, and The Good Doctor. He is also a producer on the hit TV show The Hot Zone.
Bret Baier (1970) – A news anchor and journalist who is currently the chief political anchor for Fox News. He has won several awards for his reporting, including an Emmy for his coverage of the 2013 government shutdown.
Meghan Markle (1981) – An American actress and philanthropist who becomes the Duchess of Sussex upon her marriage to Prince Harry. Markle's humanitarian work and advocacy for women's rights earn her international recognition and admiration.
Greta Gerwig (1983) – An actress and filmmaker who has appeared in several movies, including Frances Ha and Mistress America. She has also written and directed several movies, including Lady Bird and Little Women.
Dylan Sprouse (1992) – An actor and entrepreneur who rose to fame as a child actor alongside his twin brother Cole. He has since appeared in several TV shows and movies, and is also the co-founder of a meadery in Brooklyn, New York.
Cole Sprouse (1992) – An actor and photographer who, like his twin brother Dylan, began his career as a child actor. He is best known for his role as Jughead Jones on the hit TV show Riverdale.
Final Word
On August 4th, we remember and celebrate the many unforgettable events that have shaped our world over centuries. From battles fought long ago to revolutionary moments of yesterday, this day has seen tremendous progress in politics, technology and culture – each milestone helping us gain a deeper understanding of who we are today. Let's reflect on these triumphs while celebrating all those special birthdays too!