What Happened On August 28th?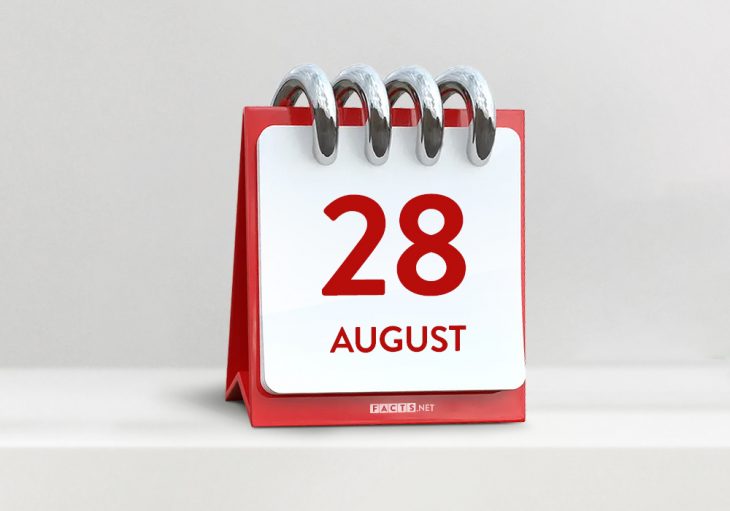 August 28th is truly a day of celebration, and symbolic for the African American community, dating all the way back to the Slavery Act and Martin Luther King Jr. However, amidst the celebrations, we also witness a couple of tragic ends, one of which is about a particular marriage that shocked the world. Here are some of the biggest events that occurred on August 28th.
Historical Tragedies
1955: Emmett Till was brutally murdered for allegedly 'flirting' with a white woman. Till was kidnapped from his relative's home by two white men and brutally beaten, tortured, and shot. The case quickly became a flashpoint for the Civil Rights Movement, sparking protests and demonstrations across the country and inspiring activists to demand greater equality and justice for Black Americans.
Image from Flickr
Scientific Breakthroughs
1789: British astronomer William Herschel discovered the moon Enceladus, one of the many moons orbiting Saturn. Herschel was a prolific astronomer who made many important discoveries throughout his career, including the discovery of Uranus and several of its moons.
2019: In a groundbreaking discovery, Nature magazine has published findings of a 3.8-million-year-old skull found in Ethiopia, challenging our previous understanding of human evolution. The skull, belonging to a previously unknown species called Australopithecus anamensis, has raised questions about the timeline and geographic origins of our human ancestors.
Image from Adobe Stock
Political Milestones
1833: The British Parliament passed the Slavery Abolition Act, which marked a significant milestone in the fight to end the transatlantic slave trade. The act declared that slavery was to be abolished throughout the British Empire, including in colonies such as Jamaica, Barbados, and Trinidad.
1963: Martin Luther King Jr. delivers his iconic "I Have a Dream" speech on the steps of the Lincoln Memorial, one of the iconic Washington monuments. The speech was delivered at the March on Washington for Jobs and Freedom, calling for racial equality and civil rights for African Americans. Today, it is remembered as a pivotal moment in the American Civil Rights Movement.
1996: Charles, Prince of Wales, and Diana, Princess of Wales formally divorced. The divorce was finalized in a private ceremony at the High Court in London, where the couple signed papers ending their 15-year marriage. Despite the sadness and disappointment, both Charles and Diana expressed their commitment to co-parenting their two sons, Prince William, and Prince Harry, and to continue their work in support of charitable causes.
Image from Flickr
Cultural Events
1898: The beverage known as "Brad's Drink" was renamed "Pepsi-Cola" by its inventor, Caleb Bradham. The original name of the drink, "Brad's Drink", was not particularly catchy, and Bradham recognized the need for a more marketable title. After much deliberation, he settled on "Pepsi-Cola", a name that he believed conveyed the drink's refreshing and invigorating qualities.
1994: Tokyo celebrated a historic moment for Japan's LGBTQ+ community by hosting the country's first-ever pride parade — the event, which took place in the bustling Shibuya district. Participants marched through the streets of Shibuya, waving rainbow flags and carrying signs advocating for LGBTQ+ rights and visibility.
Image from Adobe Stock
Notable Birthdays
Roxie Roker (1929–1995) – An American actress best known for her role as Helen Willis on the popular sitcom "The Jeffersons".
Ben Gazzara (1930–2012) – An American actor best known for his work in films such as "Anatomy of a Murder" and "The Big Lebowski".
David Soul (1943) – An American actor and singer best known for his role as Detective Kenneth 'Hutch' Hutchinson in the 1970s TV series "Starsky & Hutch".
Hugh Cornwell (1949) – A English singer-songwriter and guitarist best known as the lead vocalist and guitarist for the punk rock band The Stranglers.
Rita Dove (1952) – An American poet and essayist who served as the Poet Laureate of the United States from 1993 to 1995.
Scott Hamilton (1958) – An American former figure skater who won the gold medal in men's singles at the 1984 Winter Olympics.
Brian Thompson (1959) – An American character actor best known for his work in films such as "The Terminator" and "Cobra".
Jennifer Coolidge (1961) – An American actress and comedian best known for her roles in films such as "American Pie" and "Legally Blonde".
Shania Twain (1965) – A Canadian singer-songwriter known for her country and pop music.
Jack Black (1969) – An American comedic actor and musician best known for his roles in films such as "School of Rock", "Tropic Thunder", "Jumanji: Welcome to the Jungle" and "Jumanji: The Next Level".
J. August Richards (1973) – An American actor best known for his roles in TV shows such as "Angel" and "Agents of S.H.I.E.L.D".
Florence Welch (1986) – An English singer-songwriter and lead vocalist of the indie rock band Florence and the Machine.
Final Word
Looking back at all that transpired on August 28th, we are reminded of the power of human achievement and the importance of striving for a better tomorrow.