Types of Parrots
Most movies will have you believe that all parrots have red feathers, can speak, and are best friends with pirates. While there are certainly red, talking, and social parrots, there are also many other different types of parrots out there.
Before getting into the types of parrots, however, it's a good idea to first understand what makes them different from other birds.
What are parrots?
Parrots are avian creatures, just like crows, doves, and eagles. They are, however, very different from other types of birds.
Parrots, also called psittacines, are birds with curved beaks. Because of this feature, some people also call them "hookbills." Parrots usually have colorful feathers. They also have zygodactyl feet. Zygodactyl feet refer to each foot having four toes, with two facing forward and the other two facing backward.
These unique features are reasons why people often choose parrots as their pets. In fact, parrots are usually the first on people's lists when they're looking for a pet bird. However, there are still many other reasons people love keeping pet parrots.
Why are parrots popular pets?
For one thing, parrots have a very long lifespan. Most types of parrots can outlive many other pet species. Some parrots often live for 15 to 30 years while some can live longer than 75 years. Their long lifespan makes them an ideal pet and life companion.
Another reason parrots are so popular is because there are so many different types of parrots to choose from. They vary in size, color, and personality. Some parrots are small enough to fit in your pocket, while some parrots are bigger than your head. Some parrots have green feathers, while some parrots have red feathers.
Of course, the biggest reason behind the parrot's popularity is that many believe parrots can talk, just like humans do.
Can parrots really talk?
The simple answer is yes. The longer answer is some parrot types can imitate human sounds, while some can only shriek and croak.
Parrots are clever and sociable birds, and scientists consider them as "language learners." This means that parrots have the potential to mimic human language. However, this would take time and consistency.
A parrot owner has to engage their pet in a regular conversation. That way, the bird can pick up the sounds much better. The best talking parrots are the African Greys, Timneh Greys, and the Yellow Naped Amazons.
However, not all parrots can talk. Macaws and Cockatoos are still loud and sociable, but they shriek instead of talking. To some, these sounds can be unpleasant. However, some also enjoy the eccentric sounds of these birds.
It is truly up to the owner's preference what type of parrot they want as a pet. Before choosing, however, it is important to understand how much time and care goes into taking care of a parrot.
What are the proper ways of taking care of parrots?
Each type of parrot will have its own unique needs. However, some practices are common for most parrot owners.
Feed your parrot with nutritious and healthy food.
To have a long healthy life, parrots will need a well-balanced diet. Parrots are omnivores, so they eat meat and greens. However, most types of parrots prefer to eat seeds, nuts, fruits, and vegetables.
A parrot's appetite will depend on their species, so some types of parrots will eat less than others. It's important to understand their eating habits so that you don't end up overfeeding them.
A parrot needs a cage that is appropriate for its size.
A parrot's cage should be big enough to accommodate their movement. It should be able to spread its wings fully. It should also be able to fly and hop around. Otherwise, a parrot will feel crowded and stressed. This can lead to a decline in health.
If you have another pet parrot, then you will need another cage. Housing two or more birds in a cage is unlikely to end well. Some birds, even if they are the same species, will not get along with each other. They might get aggressive and competitive, so each bird should have its cage.
You will also need to regularly clean the cage. This includes taking out waste and cleaning water bottles. A well-kept and spacious cage will keep a pet parrot happy.
Parrots will need a proper perch.
A perch refers to a branch or rod that a bird can rest on. Because parrots have zygodactyl feet, they need a perch they can grip and climb regularly. The perch need to have the proper diameter and texture. These factors will depend on the species of the parrot you own.
Aside from a perch, trimming your parrot's nails is also important for their foot health. A parrot's nails or claws will grow longer over time. To prevent them from growing too long, you will need to trim them. If you don't know how, your local veterinarian or a professional bird groomer can help you.
Most types of parrots need their beaks trimmed regularly.
Just like its nails, a parrot's beak also continues to grow regularly. Its beak also tends to become overgrown. An overgrown beak will make it difficult for parrots to eat, climb, and hold things.
In other words, a parrot uses its beak for almost everything. Taking them to your local veterinarian or professional bird groomer regularly for a trim on their beaks will help keep them happy and healthy.
Most types of parrots need their feathers pulled.
Like other types of pet birds, parrots will shed their feathers. Once a feather molts, another will grow in its place. This growing feather is called a blood feather. Sometimes, especially in hyperactive species, a parrot might accidentally break their blood feathers.
When this happens, the parrot will end up bleeding, and the feather must be pulled to stop the bleeding. A veterinarian should do this because a blood feather must be pulled down to its root.
Aside from taking care of blood feathers, you will need to trim a parrot's wing feathers too. This, of course, does not include blood feathers. Blood feathers are sensitive, so you must leave them alone. Veterinarians suggest leaving some feathers on either side of a blood feather intact. These feathers can protect the blood feather as it grows.
How much is a parrot?
If you're looking to buy a parrot, then one of the biggest things to consider is your budget. Some types of parrots are cheaper than others, while some can certainly burn a hole in one's pocket.
Most types of small parrots are the cheapest options. Lovebirds and cockatiels can range from $50 to $200. On the other hand, bigger types of parrots can cost over $3,000. For instance, African Grey parrots can cost you $3,500.
If you find yourself with a tight budget, then don't worry! You can always choose to adopt instead. Just be sure to keep in mind the proper care tips above so that you know what factors you still need to spend on.
Of course, these are just a few of the common tips on taking care of parrots. There are over 350 species of parrots, so it is only natural that there are plenty of parrots that differ from each other as well. Now, you're probably wondering, "What are the different types of parrots?"
If you're an aspiring pet owner or simply curious about the types of parrots, their characteristics, and other trivia, then keep on reading!
Amazon Parrot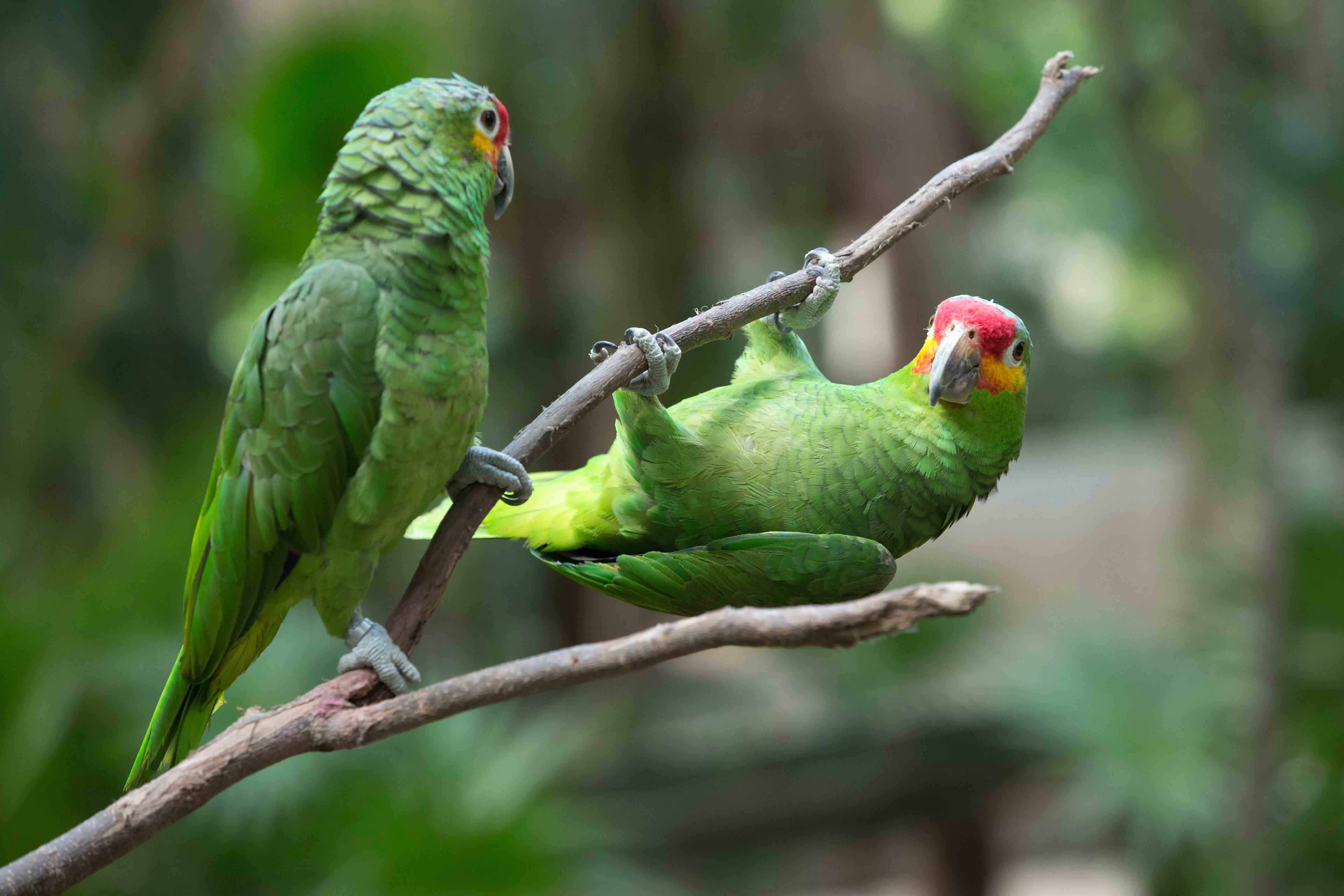 Amazon parrots are one of the most popular types of parrots. There are over 30 species of Amazon parrots, and they originate from Mexico, South America, and parts of the Caribbean. These parrot birds love to fly around rainforests, savannas, and palm groves.
The Amazon parrot has vibrant green feathers and is medium-sized. They are very pleasing to look at. Their social personality also matches their appearance. Amazon parrots are usually loud. They love to be the center of attention.
Amazon parrots are also very active. They love to move and play around. If you're looking to keep one as a pet, you will need to provide toys and accessories in its cage.
African Grey Parrot
Another type of parrot is the African Grey parrot. Other names include Congo grey parrot, Congo African grey parrot, or simply grey parrot.
The African grey is one of the oldest types of parrots. Some call it an "old world parrot." African greys are medium-sized parrots with gray feathers. They are native to Africa as well as parts of Kenya and Uganda.
Because they are also great at mimicry, African greys are popular pet birds. They are highly intelligent birds, so they can memorize words faster than other birds. In 2008, Japanese police caught a lost African grey wandering the streets. Fortunately, the owner taught the parrot their address and name. The African grey kept repeating this information, helping the police take it home.
Black Palm Cockatoo
The Black Palm Cockatoo stands out from other types of parrots because of its smoky gray and black feathers. This large-sized parrot is part of the cockatoo family. While it is native to New Guinea and Australia, it can also be found in areas of Indonesia, West Papua, and Sorong.
Black palm cockatoos are intelligent and social birds. However, they are difficult to tame. In fact, even experienced bird owners might find it difficult to train these birds. Consistency and patience are required for those who want to take care of one.
Other names for this bird include "goliath cockatoo," "great black cockatoo," or simply "palm cockatoo."
Brown-headed Parrot
The brown-headed parrot is a medium-sized parrot with green feathers. It has pale eyes and a bicolored bill. It might look similar to other types of parrots, namely the brown-necked parrot. However, the brown-headed parrot has yellow underwings that make it stand out.
Brown-headed parrots are native to Africa. They are friendly and playful. These traits make them great pet companions for many. They are also very quiet parrots. They can mimic sounds, but they don't shriek as most parrots do.
These parrots are also quite cuddly. Many consider them to be the most charming of birds.
Budgerigar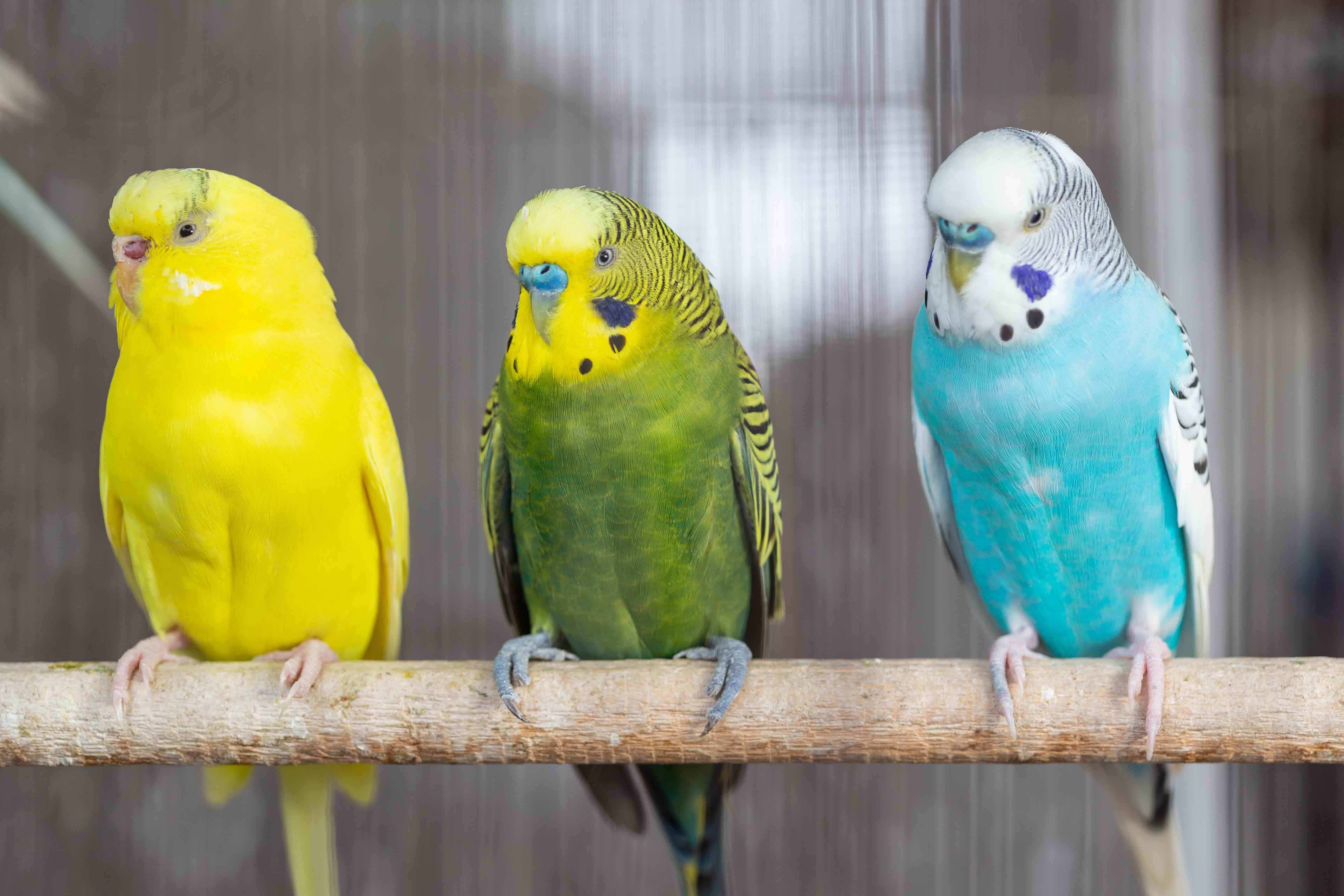 Out of all the types of parrots, the Budgerigar parrot might be the easiest to take care of. Pet shop owners often call them the "beginner bird." The Budgerigar, or "budgie," is also called the common parakeet.
Of course, being the "beginner bird" doesn't mean the budgie is any less of a pet. The budgie is a small colorful parrot that is very sociable. It likes to talk and whistle. They are great at memorizing words and phrases, especially male budgies. On the other hand, a female budgie's specialty is whistling.
Budgies come in different colors. Their feathers can range in colors like green, blue, yellow, white, and many more. There are even purple parakeets too! There's certainly a rainbow of colors you can choose from.
Burrowing Parrot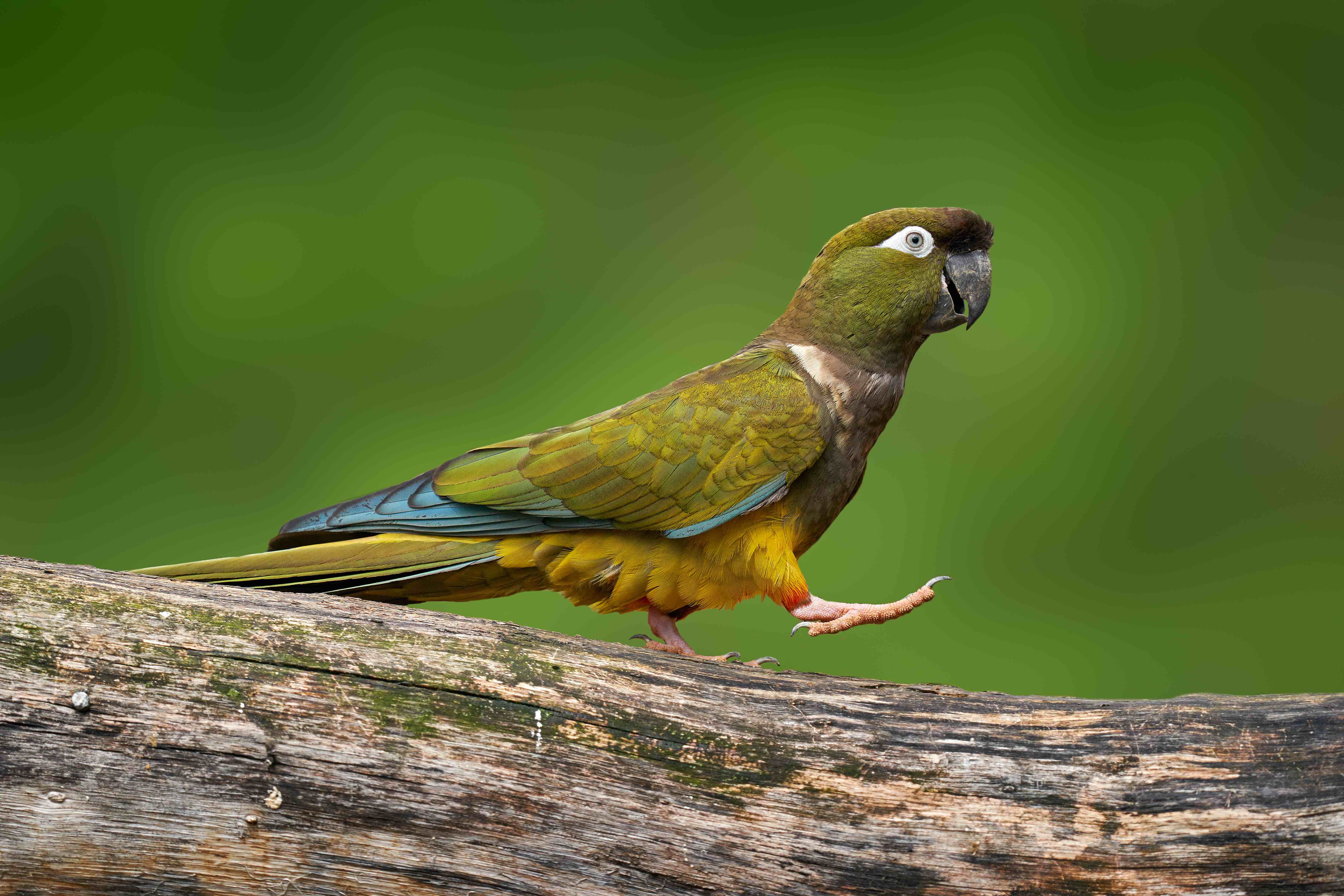 The burrowing parrot is a parrot species native to Argentina and Chile. Next to other types of parrots, the burrowing parrot is easy to spot by the white ring around its eyes, white breast markings, and its yellow and orange underparts contrasting with its olive-green body.
Other names for the burrowing parrot include "Patagonian conure" and "burrowing parakeet." While they aren't as loud as other parakeets, these parrots can still mimic sounds.
Burrowing parrots like to fly over grasslands. As ground eaters, they fly down to the ground to forage for fruit and seeds. One tip for burrowing parrot owners is to hand feed them. If you let them eat off your palm, then you and your pet can form a closer bond.
Caique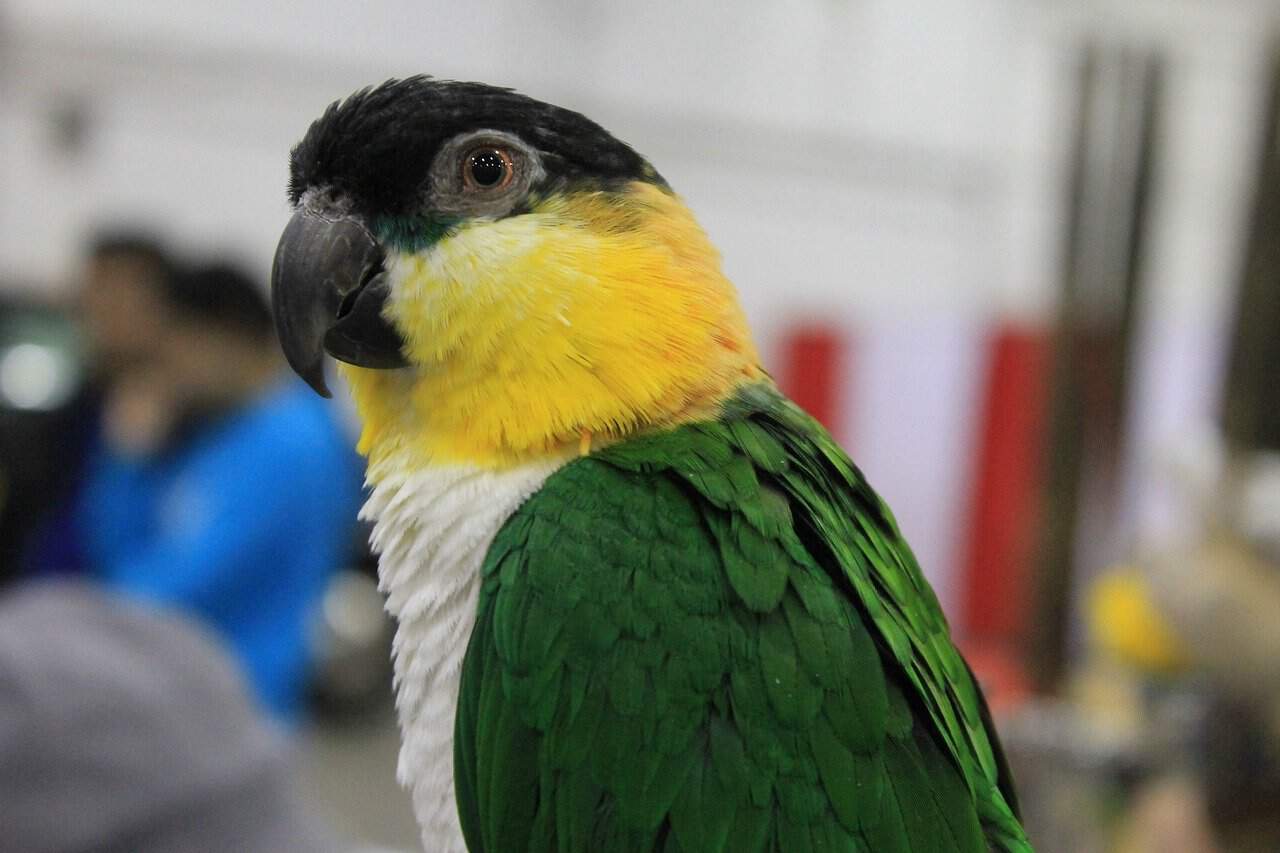 Did you know that out of all the types of parrots, there is one that people call the "clown of the bird world"? The clown is the caique parrot. Its name might be a bit confusing to some, but the proper pronunciation is not cake. It's "kai-eke."
Caiques are medium-sized parrots that are as mischievous as they are colorful. There are two common species of caiques. These are the black-headed caique and the white-bellied caique. Their wing feathers are green, and their necks and legs are yellow.
A caique is very active, and they will often be stubborn toward their pet owners. They are also very loud. They might not be as good at talking as other parrots, but they can be much louder.
Cockatiel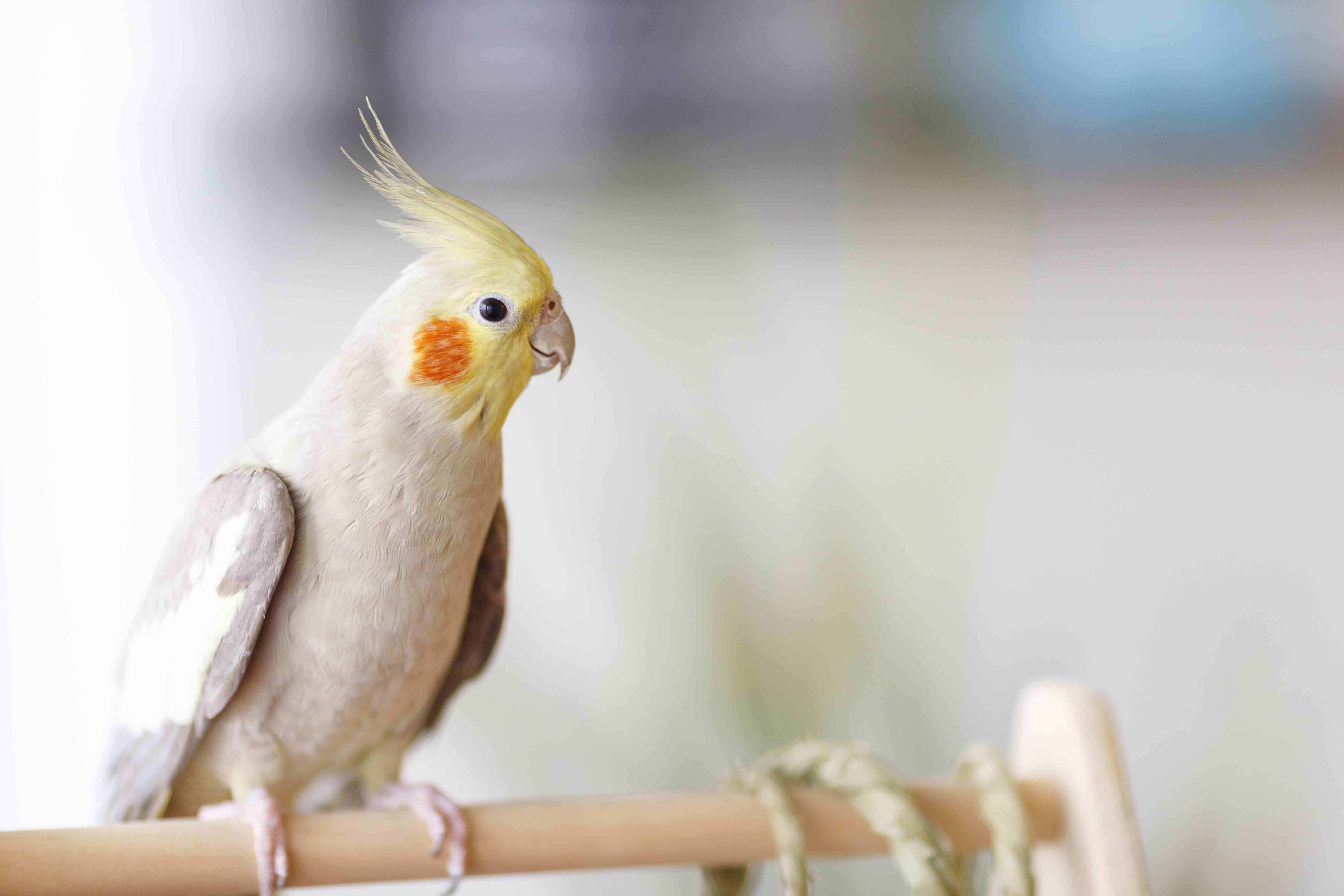 Cockatiels are one of the most popular types of parrots ever. The cockatiel is also called "weiro bird" or "quarrion." They are native to Australia. In the 1900s, they gained popularity as house pets. Many began to breed them in captivity and export them into other countries.
Cockatiels are small parrots with a gray body, yellow face, and orange cheeks. There are other color combinations from breeding, but gray cockatiels are the most common.
Many people choose the cockatiel as their companion parrot because they are affectionate. They are playful yet gentle. They do, however, need a lot of your attention. As sociable parrots, cockatiels need someone to talk to. Otherwise, they may get lonely.
Eclectus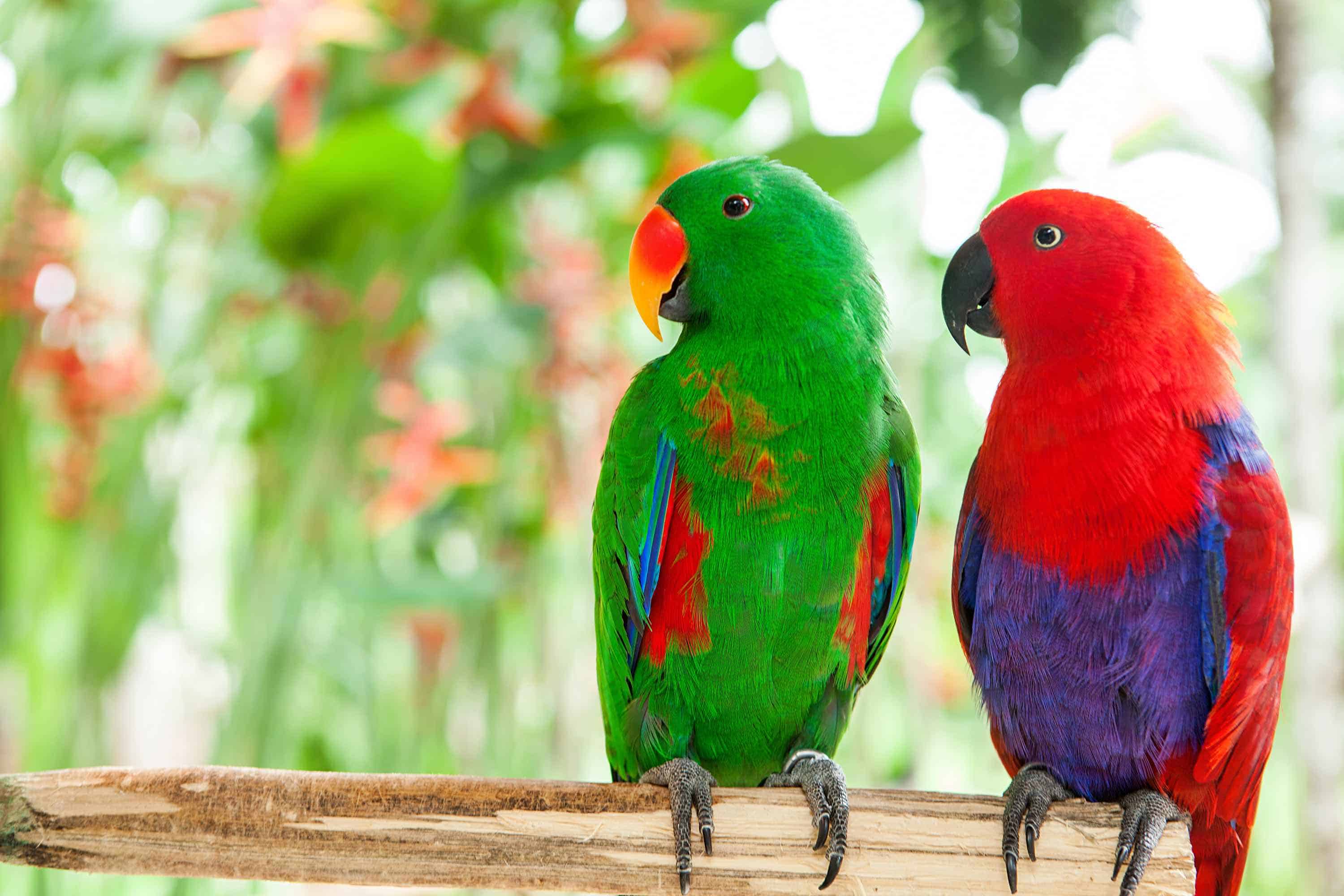 The Eclectus parrot is a medium-sized parrot. Like some types of parrots, eclectus parrots are dimorphic. This means that a male eclectus looks different from a female eclectus.
Males have bright green feathers with blue and red accents on their wings. On the other hand, female eclectus parrots are red with violet bellies. This stark contrast makes it easier for breeders to identify them.
Eclectus parrots are popular pets. However, they need a lot of care and attention. These active birds do not like staying in their cages for too long. They will also need a lot of toys. Otherwise, they may become unhappy and stressed.
Green-Cheeked Conure
The green-cheeked conure is a type of conure. Conures refer to types of parrots that can be small to medium in size with long tails. Green-cheeked conures, in particular, are small. They have gray feathers with green patches on their cheeks.
Green-cheeked conures are native to Brazil, Argentina, Paraguay, and Bolivia. In the wild, they favor woodlands and forests.
As pets, these parrots are very affectionate and social. They need to be let out of their cage from time to time, so they do need more attention than other birds. They also like to hang upside down on perches and fly around.
Hawk-Headed Parrot
The Hawk-headed parrot, or "red-fan parrot," comes from the Amazon Rainforest. This small parrot has a large beak and head. Its long, square tail is also very distinct. They are one of the types of parrots that have the most distinct feather patterns.
A hawk-headed parrot has a white crown. Its neck is red with blue accents, while its throat is brown with white streaks. Its front torso is mostly red, while its back, wings, and tail are all green. It also has spots of red and black here and there.
Hawk-headed parrots can also mimic human speech. However, they are also shriekers and will occasionally whistle. When a hawk-headed parrot is angry, it will let you know. These parrots tend to scream and caw when they are displeased.
Indian Ring-Necked Parakeet
This medium-sized parrot is native to Africa and parts of the Indian subcontinent. Now, however, they can be found in different parts of the world, such as Europe and Japan.
These birds like to nest in parks, gardens, and even holes in buildings. Because of their green feathers, Indian ring-necked parakeets can be difficult to spot when they perch in trees.
This parrot's name comes from its distinct mark around its neck. Male parakeets have a pink band around their napes. Some also call this bird the "rose-ringed parakeet." Female birds, however, do not have this ring. Instead, they have pale necks.
They are one of the best talking parrots out there, and they can learn over 200 words. While they aren't particularly affectionate, they are quick learners.
Kakapo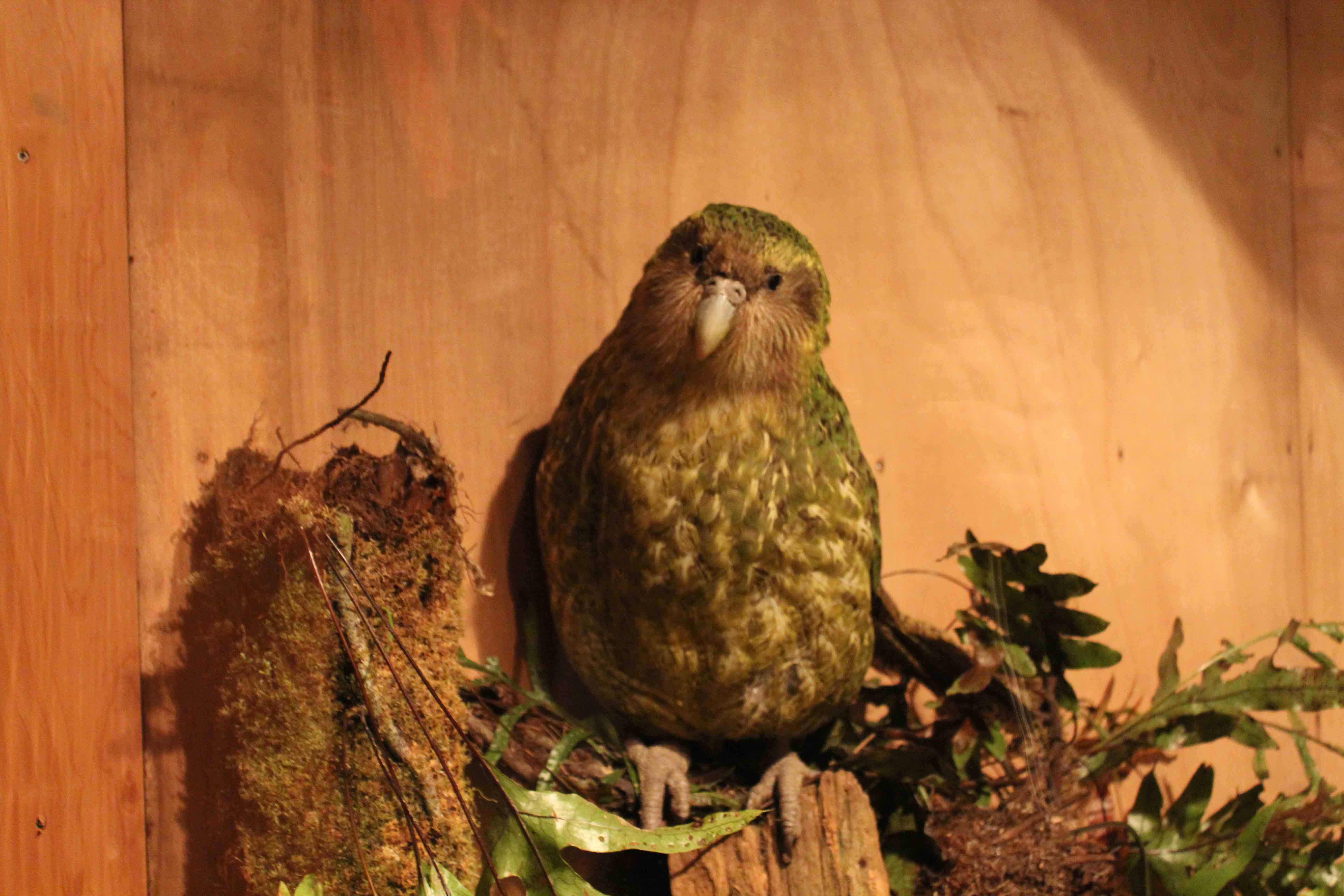 The Kakapo parrot differs from most types of parrots in many ways. For one thing, the kakapo is flightless. It is actually the only flightless parrot in the world. It is also nocturnal, which is why people also call it the "owl parrot."
The kakapo parrot has moss green feathers, with yellow and black accents. It also has a pale face, much like an owl's.
This parrot is critically endangered because of many risk factors such as disease, hunting, and inbreeding. Conservation efforts continue today, especially because of their importance in New Zealand culture. Maori, the indigenous Polynesians of New Zealand, hold the kakapo in high esteem. This is because the parrot features in many of their legends and folklore.
Kakariki Parakeet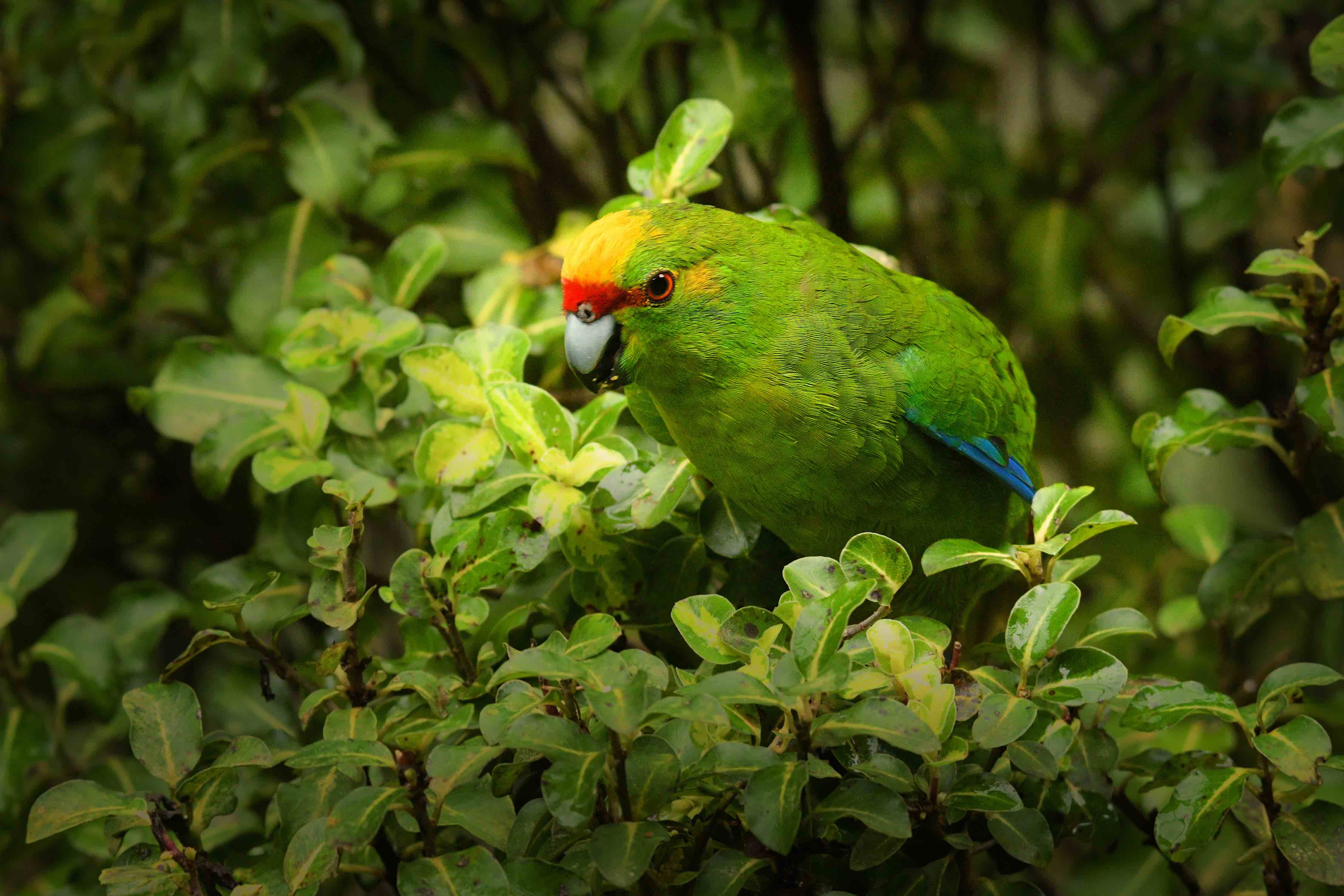 Another name for the kakariki is the New Zealand parakeet. This bird has several subspecies, and they are all native to New Zealand. Its name, "kakariki," is a Maori word. In English, it translates to "little parrot."
Most kakarikis are green or yellow. One popular subspecies, called the red-crowned parakeet, has yellow feathers with a bright red shade on its forehead. It also has red spots on its cheeks, which makes it look like it's blushing.
Kakariki parakeets are cute parrots that are fun and friendly. They can also mimic human speech. Aside from mimicry, they also produce sounds such as soft mumbling. Many describe them as "cute" noises.
Lovebirds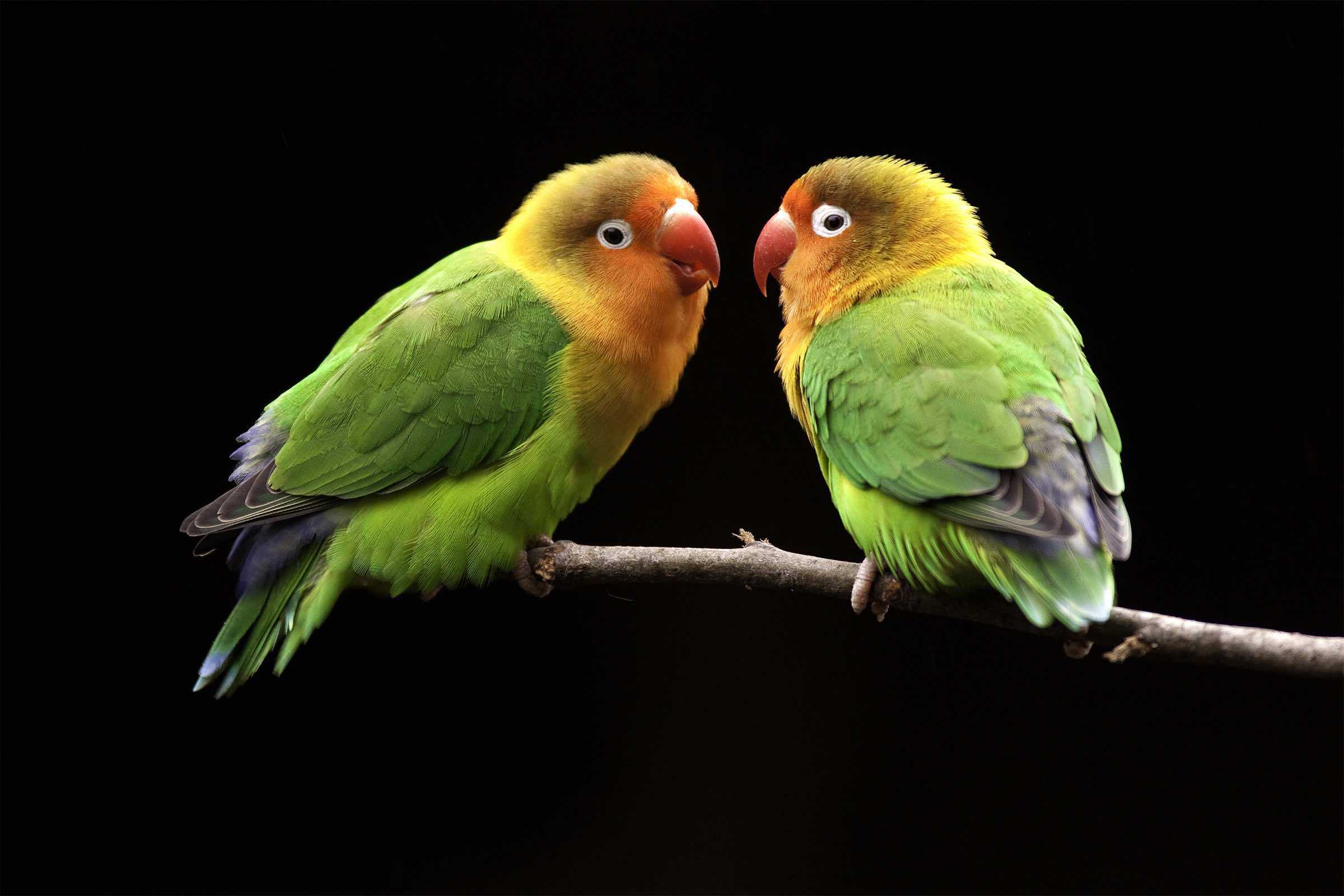 One of the most popular types of parrots is undoubtedly the lovebird. There are nine species of lovebirds, and they are all small parrots. They have short and blunt tail feathers, which add to their stocky appearance.
Lovebirds come in different colors. Some have green feathers and orange faces. These parrots are vibrant and pleasing to look at. Their bright appearance matches their personality.
As their name suggests, lovebirds are very affectionate. Their name comes from the strong and loving bond they form with their mates. As pets, they desire a lot of freedom and will need a spacious cage to fly around in.
Meyer's Parrot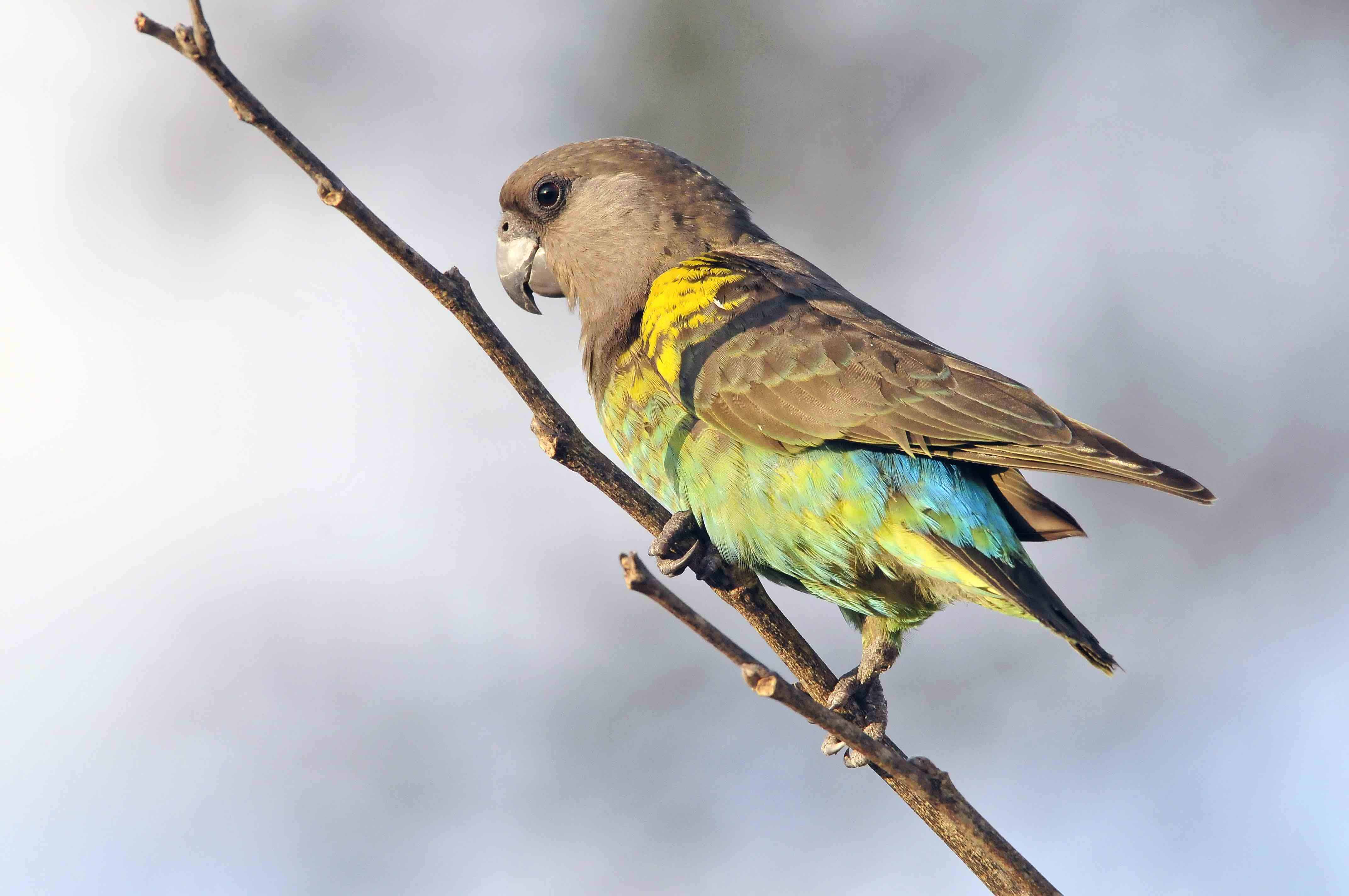 Many types of parrots are native to Africa, and the Meyer's parrot is one of them. The Meyer's parrot is small. While it might not be a colorful parrot, it appeals to many because of its earthy colors. It has brown feathers on its head, wings, and back, with a green to yellow body.
If you live in an apartment or small space, you might want to consider getting the Meyer's parrot. This parrot is much more laid back than other birds. It is less likely to bite people too. The Meyer's parrot isn't a chatterbox, but they can still learn human words and sounds.
They do not need a big cage either. If you give them a few toys, they can be content to watch their surroundings while playing quietly.
Monk Parakeet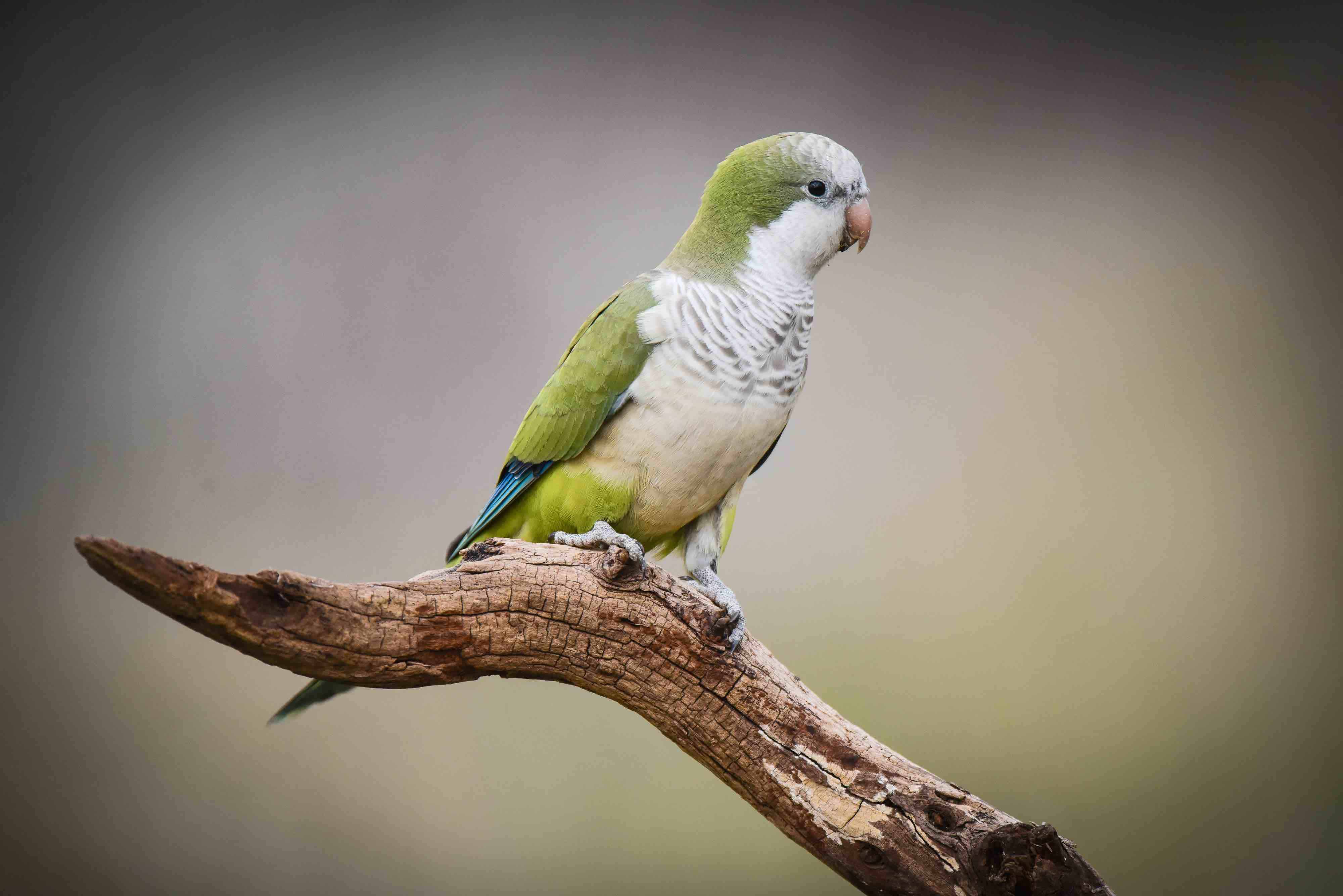 If you catch sight of a green and gray parrot flying around Chicago and New York, it might be a monk parakeet. Monk parakeets are some of the types of parrots that inhabit cities and parks. Some groups of these birds even nest in park trees or power poles.
However, some places see them as pests because of their large numbers. As pets, a monk parakeet needs a lot of chew toys. This is because these birds like to chew, and they might destroy your furniture.
Another name for the monk parakeet is "Quaker parrot." This name comes from how these birds often quake and bob around. It might seem strange to some, but it is normal behavior for them.
Papuan King Parrot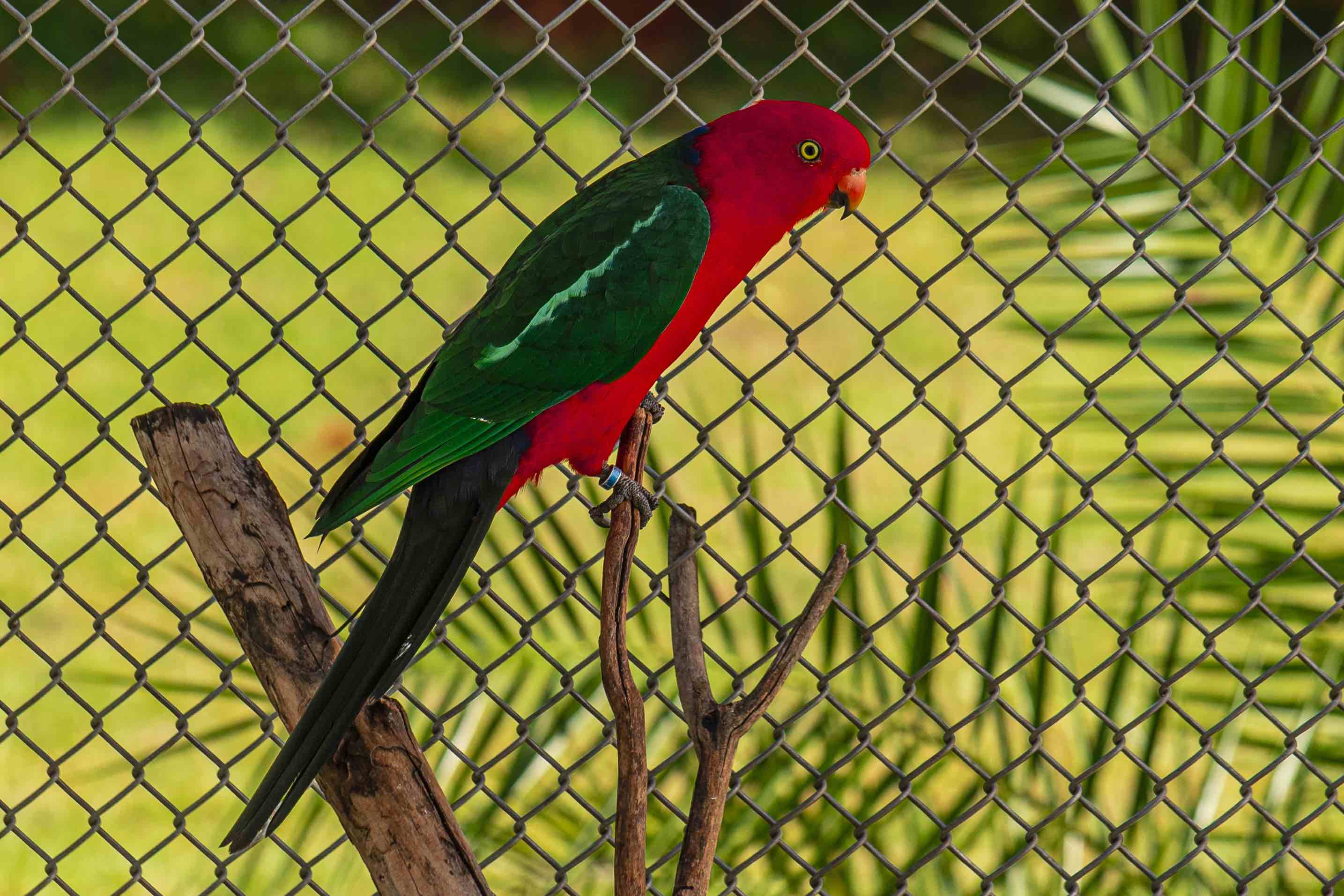 When it comes to rare parrots, the Papuan King Parrot is one of the most popular. The Papuan king parrot is large. It has bright red feathers, with green wings and blue accents.
Despite being very active, this bird is not very loud. It is highly intelligent, friendly, and docile. As a pet, it suits senior citizens the most. However, you will need a big space to allow this big bird to fly around.
Consider keeping them in a small spare room instead of a birdcage. That way, this active bird can play around in free and open space.
Parrotlet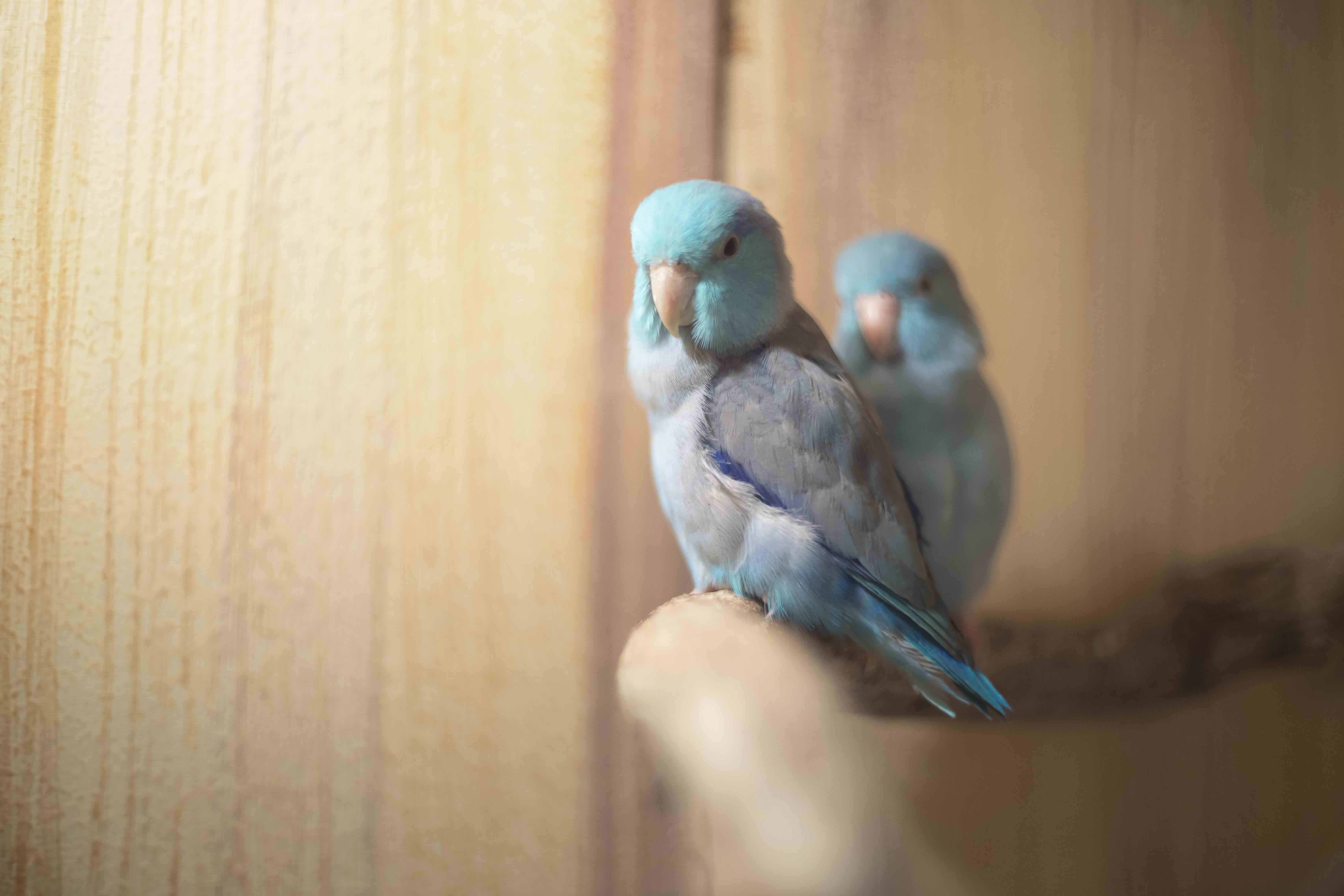 The parrotlet is one of the smallest types of parrots in the world. The parrotlet has many subspecies, but only two of them are common pets. These are the Pacific parrotlet and the green-rumped parrotlet. Both are very small. They are so small that they can likely fit in your pocket.
Despite their small size, parrotlets are very feisty. They will not back down from a challenge. This is why most people do not recommend putting a parrotlet in the same cage as another bird. Otherwise, the parrotlet might challenge them.
Pionus Parrot
Compared to other types of parrots, they might not be the most popular. However, Pionus parrots make great pets for many.
The Pionus parrot is a medium-sized parrot. Most Pionus parrots have blue and green feathers. They aren't as vibrant as other birds. However, they are still very colorful. Pionus parrots come in many different colors. There are so many that identifying them can get confusing.
Pionus parrots are easy-going. They are quiet. They can sometimes come off as standoffish. However, once an owner forms a bond with their pet, the Pionus parrot can be sweet and affectionate.
Puerto Rican Parrot
Not all types of parrots are meant to be pets. This especially applies to those who are critically endangered, such as the Puerto Rican parrot. As its name suggests, the Puerto Rican parrot is endemic to Puerto Rico. It is also called the "Puerto Rican amazon" or "iguaca."
These birds are medium-sized with green feathers. Most of them have red accents, especially on their foreheads. They also have distinct white circles around their eyes.
These birds have been critically endangered since 1994. Hurricanes and other risk factors have made conservation efforts difficult. Still, these efforts continue today to protect them from extinction.
Red and Green Macaw
The image most people have of parrots is the red and green macaw. Out of all the types of parrots, this bird is what you will often see in picture books and cartoons.
The red and green macaw is a large red parrot with green and blue wings. Its tail is long and pointed. It also has a white face with red accents. All of these features make the red and green macaw very distinct.
Many call this parrot a "gentle giant." This is because it is very calm despite its large size. This makes them great pets. They are friendly parrots that can learn words and tricks. Most people recommend them as family pets!
Red Lory
The red lory is a small parrot with bright red feathers. Many types of parrots are red, but the red lory stands out because of the black markings around its eyes. The red lory also has an orange beak.
This bird is native to Indonesia, but it is now common in Australia and New Guinea. They are very popular and easy to breed. You are likely to see them in most pet shops.
These birds are high-energy. They are playful and like to chatter. Because of this, they require a lot of attention. Owners need to talk to their red lories often. Otherwise, they will get lonely. Another thing owners need to know about lories is they have liquid poop. They can get quite messy, so you'll have to prepare for that!
Rosella Parrot
The rosella parrot is eye-catching because of its vibrant colors. Most rosellas are red, but plenty are multi-colored. These small parrots can have green and blue markings too.
Their appearance often appeals to many aspiring pet owners. However, rosellas are not easy to take care of. Compared to other types of parrots, rosellas need a lot of time. They go through a bluffing phase where they bite, hiss, and lunge at animals and humans.
After this phase, however, they become sweet companions. With a lot of time and patience, you can tame them.
Senegal Parrot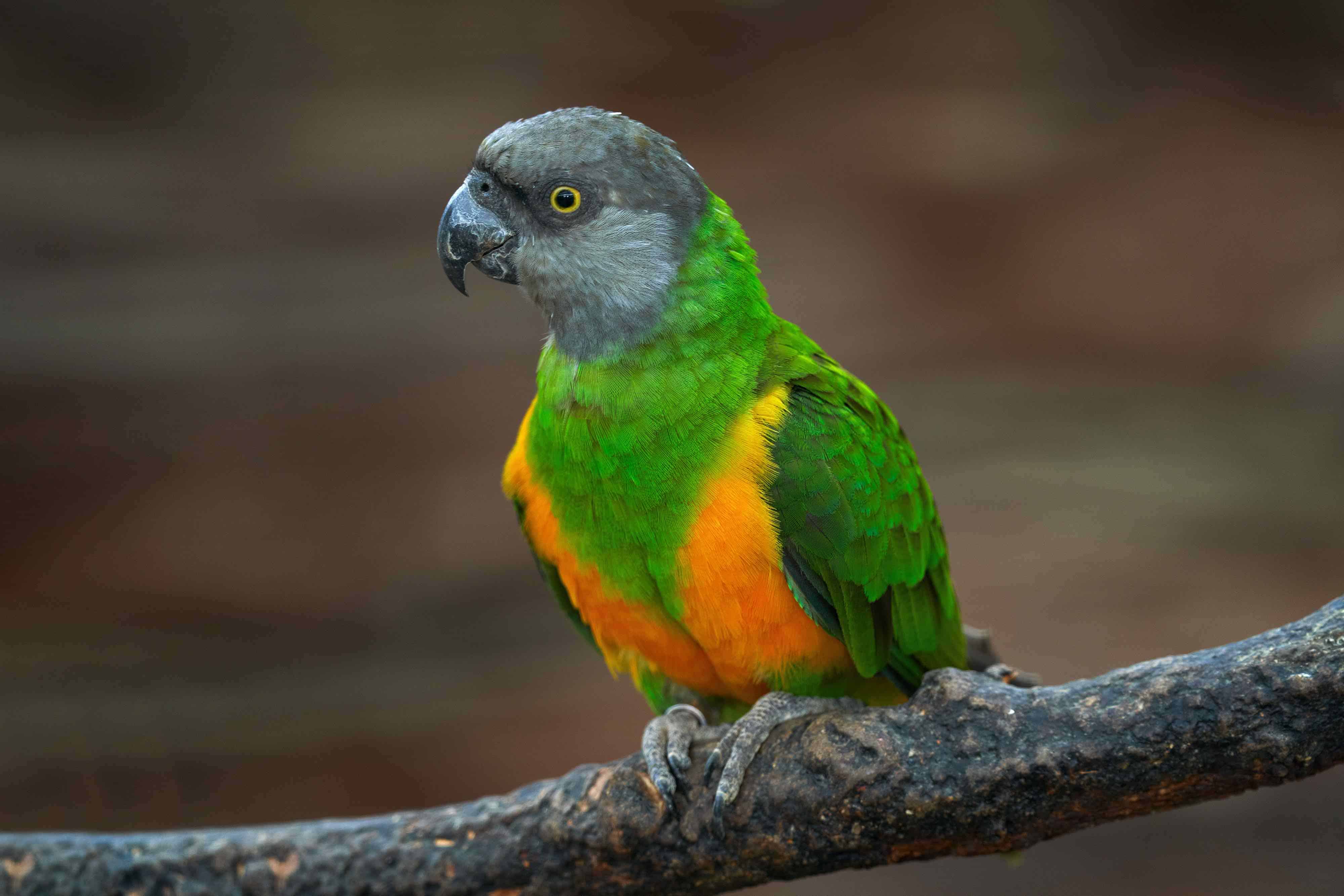 The Senegal parrot is small with bright green feathers. Some also have yellow to orange feathers. Its head is usually brown or gray. It also has distinct yellow eyes. Its stare can often seem intense, but this bird is very sociable, outgoing, and playful.
Despite this, Senegal parrots are relatively quieter than other birds. They aren't the type to shriek. Instead, they like to whistle and cluck quietly.
Like most types of parrots, Senegal parrots feed on fruits and seeds. To farmers, they can be quite the pest. This is especially the case in Africa, where they breed and inhabit.
Spix's Macaw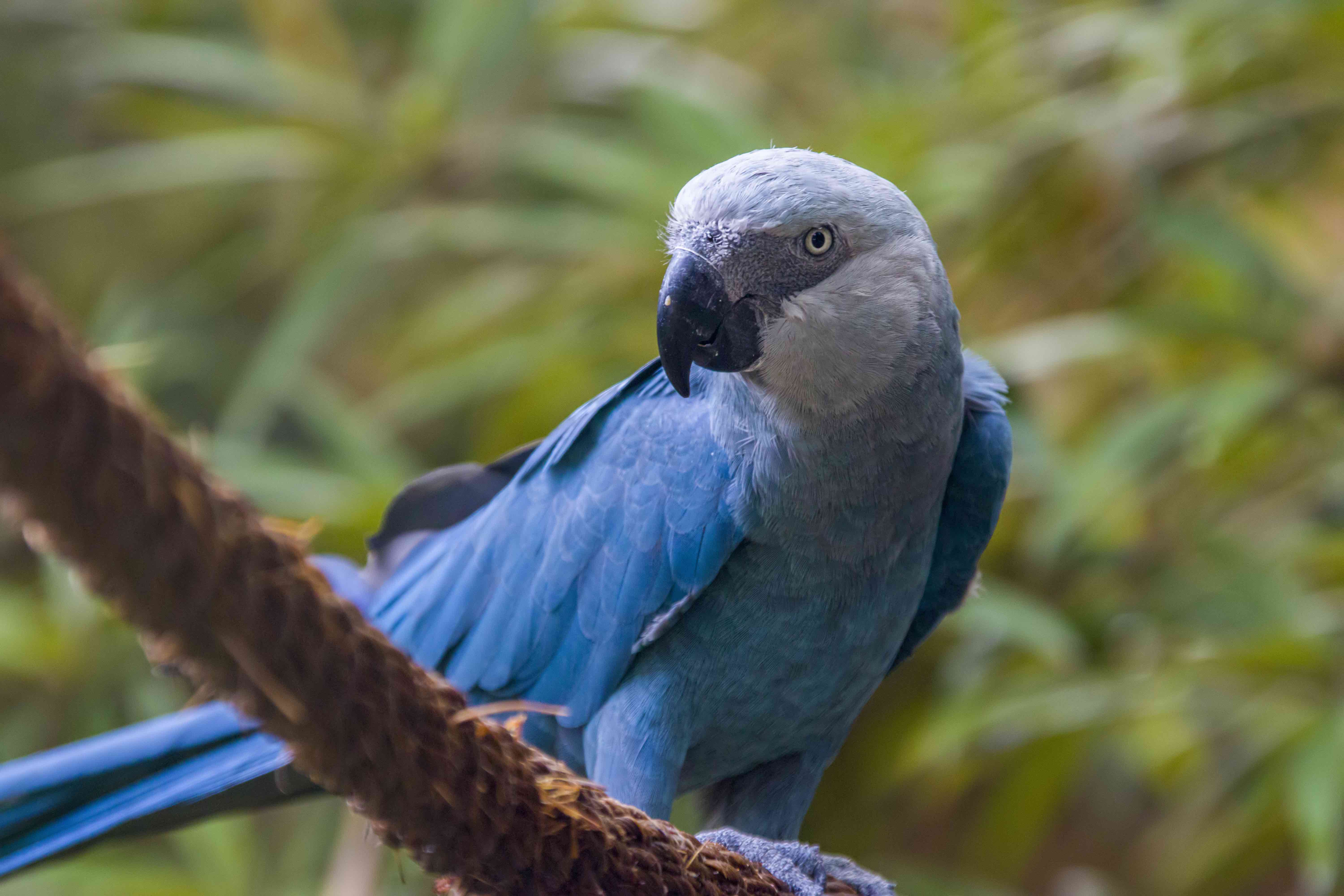 The Spix's macaw is a medium-sized parrot with striking blue feathers. It has a grayish-blue head, while its underparts range from a vibrant blue to a pale shade. Male and female birds look alike, but female Spix's macaws are usually smaller.
This bird features in the 2011 animated film Rio. In the film, Blu is a Spix's Macaw raised in captivity who travels to mate with Jewel. Jewel is the last-known Spix's Macaw from the wild. Unfortunately, the film is not too far off from reality. By 2000, Spix's Macaw was extinct in the wild.
Since then, the Brazilian government and conservationists have done their best to breed these birds in captivity.
Sun Conure
Out of the types of parrots, the sun conure is one of the brightest in appearance. Sun conures have bright orange and yellow feathers. This suits their bright personality too. They are loud and playful parrots. They like to lie down on their backs or dangle from perches and ropes.
Sun conures are great companions for those who want a cuddly bird. These birds are very affectionate, and they are also easy to train.
However, they can be loud. Sun conures aren't the loudest parrots out there, but they can and will make noise. They can learn a few words too, but they aren't too big on talking.
White-Eyed Conure
The white-eyed conure, or white-eyed parakeet, is medium-sized. It is native to northern South America, such as Brazil and Colombia.
The white-eyed conure has a green body. Red patches often accentuate its head and wings. Some also have bright yellow wing feathers with red tips. As their name suggests, this bird has white rings around its eyes.
A bored white-eyed conure might turn self-destructive. If you don't give them enough attention, they might pluck their own feathers. They may not be the most high-maintenance pet bird. However, they are one of the tamest conures. They are also very intelligent and easy to teach.
Yellow-Naped Amazon Parrot
The yellow-naped Amazon, sometimes "yellow-naped parrot," is one type of parrot from the largest tropical rainforest in the world. This parrot species has green feathers with yellow accents on its "nape" and sometimes around its beak. These birds prefer tropical lowlands and will favor flying around the edges of the forest where it's more open.
Yellow-naped Amazons are social and affectionate. However, they go through a hormonal bluffing stage when they are near adulthood. At this time, they can be aggressive. They will often bite their owners.
Yellow-naped Amazon parrots are one of the types of parrots that can mimic all kinds of sounds, including human speech. This makes it a popular pet choice for many. Unfortunately, its popularity has led to a decline in its population. They are now endangered, and wildlife advocates advise people to consider other pet birds as well.
Sulphur-Crested Cockatoo
Last but not least is the Sulphur-Crested Cockatoo. This bird stands out from other types of parrots because of its appearance. Its gray to black beak contrasts with its white feathers. It also has a bright yellow crest and shades of yellow under its wings.
Aside from its appearance, its personality also appeals to pet owners. They are very intelligent with a long lifespan. However, they are also very noisy. To some, they might even be the noisiest.
These birds communicate by screeching. The sound can be unpleasant as it isn't melodious like other birds. If you live in an apartment, then the cockatoo might annoy your neighbors.