How many different types of sandwiches are there in the world? Well, there are a lot of different types of sandwiches that can be paired with the many types of bread from around the world. However, we have compiled a list of tasty sandwiches that can greatly elevate your usual egg or bacon sandwiches! And of course, for our vegan readers, we have some vegan-friendly options for you as well. First up, let's get to know the different types and styles of sandwiches:
Here are some of the popular types of sandwiches (in no particular order) that various groups of people enjoy across the world. Some of these are so hearty they are perfect sandwich ideas for dinner as well.
Grilled Cheese Sandwich
Grilled Cheese Sandwich is one of America's most common sandwiches. Filled with various kinds of cheese like mozzarella and white cheese, this is perfect for cheese lovers. For vegans, simply swap out the cheese for vegan ones and you will be on your way to making a delicious vegan Grilled Cheese Sandwich. You can also watch Gordon Ramsay elevate his grilled cheese sandwich with kimchi! And for those adventurous foodies, you can try this Pizza Grilled Cheese Sandwich recipe.
Bahn Mi
A popular Asian street food in Vietnam, Bahn Mi is a blend of French and Vietnamese cultures. It is a toasted baguette with various fillings of grilled pork, Vietnamese Brawn (The Nguoil), carrots, and cilantro. In Bahn Mi, the meat option ranges freely so you use shredded chicken, sardines or even chickpeas for vegans. This is one yummy sandwich that deserves a big shout-out.
Vegetable Sandwich
There is no particular origin country for vegetable sandwiches but one thing's for sure, they are essential for our diet. There are limitless ways that we can make an awesome vegetable sandwich, both open and closed. Popular choice of fillings for a vegetable sandwich usually consists of cucumbers, tomatoes, lettuce, zucchinis, and jalapenos. Recently, many are also using avocado and hummus. For a heartier flavor, you can add melted cheese or cream cheese. Or you can try this really interesting sandwich recipe Vegetable Sandwich with Dill Sauce to elevate your vegetable sandwich.
Pastrami
The pastrami sandwich is a New York signature and a popular choice for lunch and dinner. Interestingly, this sandwich can be served as a hot or cold dish. Hot pastrami sandwiches are either baked or grilled, and consist of mustard, butter, melted cheese, and corned beef. On the other hand, cold pastrami sandwiches uses cold thinly sliced pastrami with tomatoes, pickles, and sometimes coleslaw. But, we recommend trying this Slow Cook Pastrami Sandwich which is a perfect sandwich idea for dinner.
Falafel Pita Sandwich
Falafel Pita is a Middle Eastern sandwich and is a favorite amongst vegans and vegetarians. The main ingredients of a falafel pita are warm pita bread and crispy chickpeas. Chickpeas are usually seasoned with cumin and cardamom spices, rolled into little balls before being deep-fried. Crispy Falafels are key to making a good Falafel sandwich. But for a healthier option, you can choose to make Air Fry Falafels. You can also add avocados to your falafel to get some fiber in your diet as well.
Sabich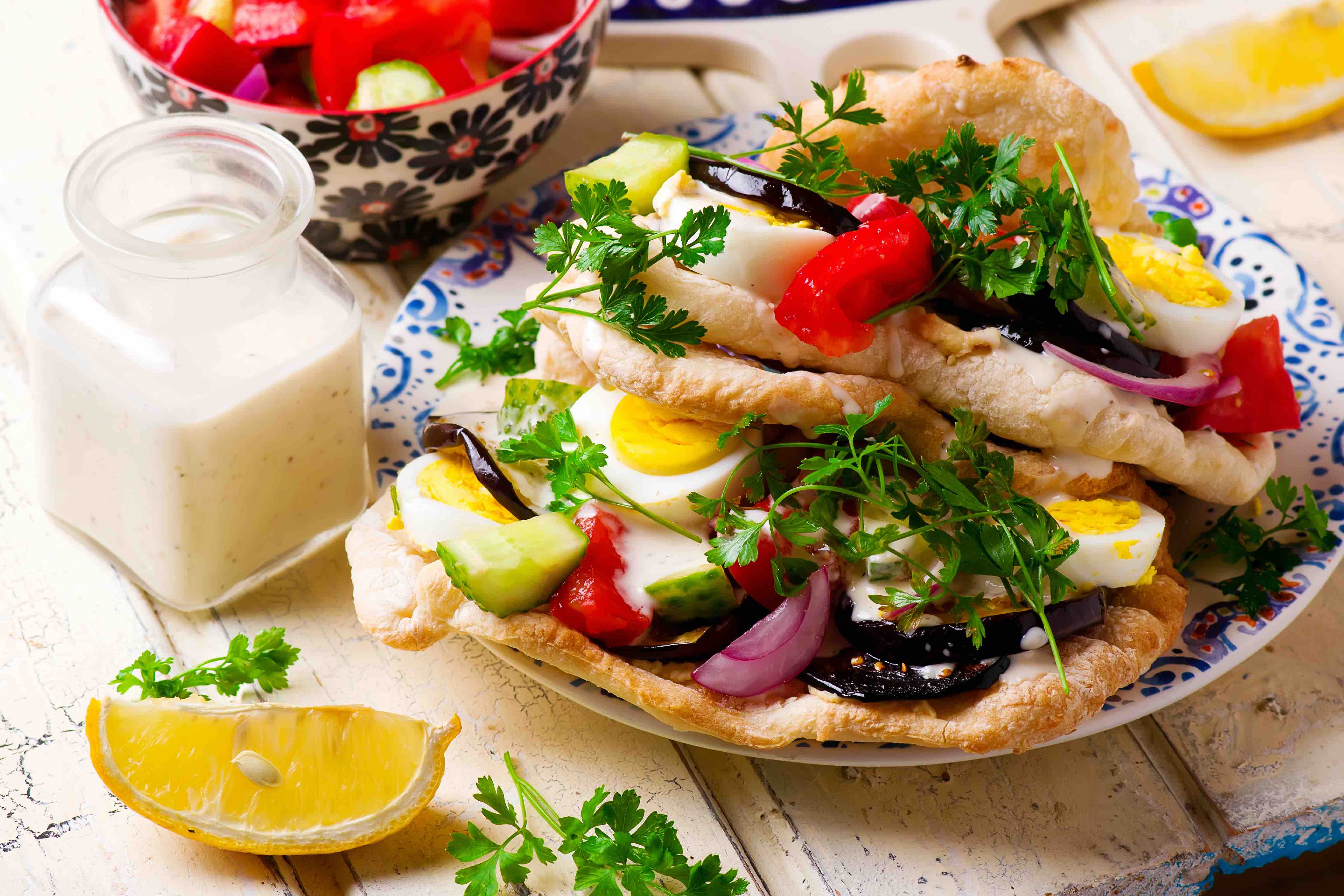 Sabich is an Israeli sandwich and was first introduced to Israel in the 1940s and 50s by the Iraqi Jews. This breakfast sandwich is highly nutritious and has all the vitamins we ever need. Sabich is made up of pita bread, fried eggplants, diced cucumbers and tomatoes, hard-boiled eggs, and pickled mango sauce. Sometimes, the Israeli add a spoonful of hummus and pickles as well. For vegans, feel free to swap out the boiled eggs for legumes or potatoes.
Tea Sandwich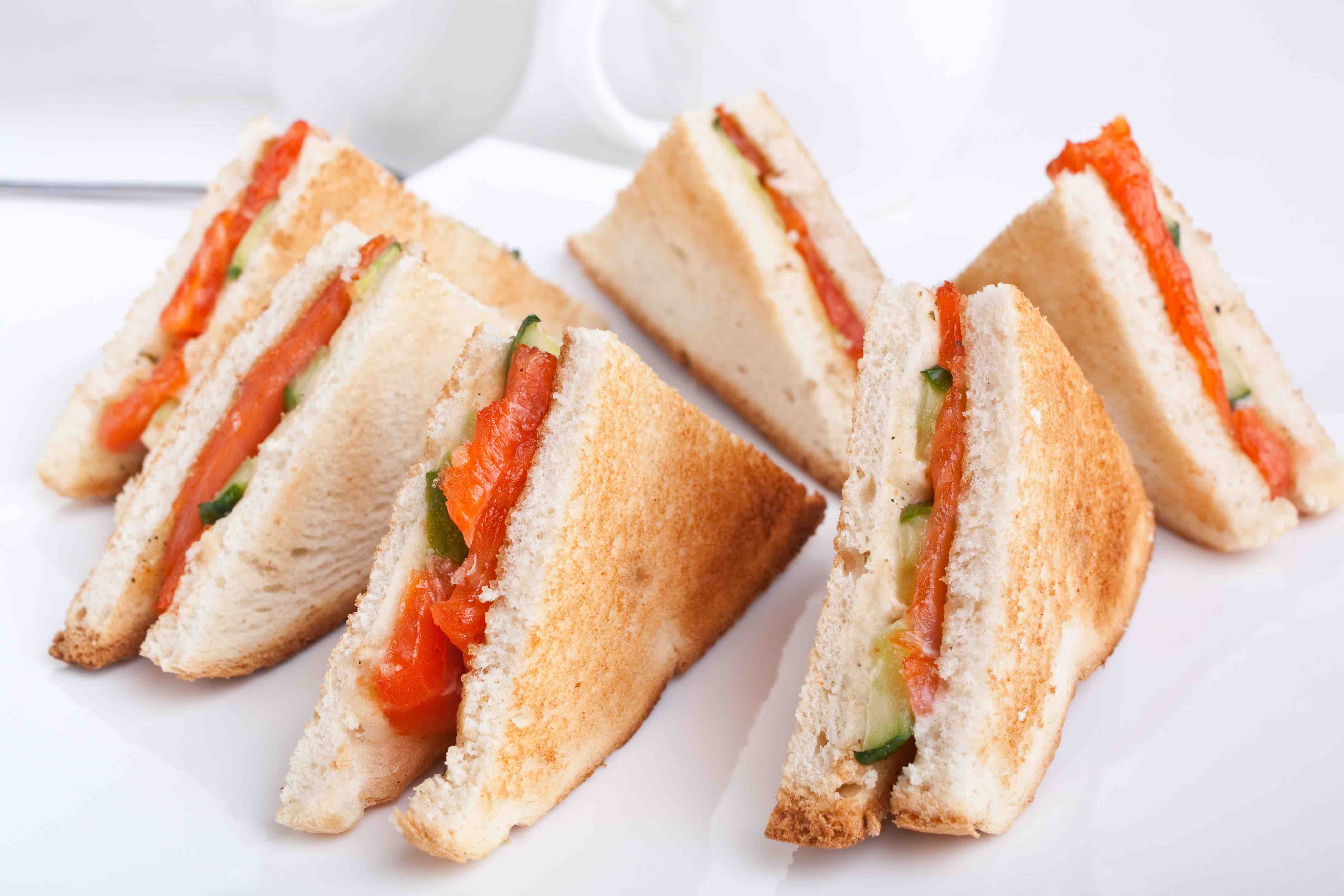 If you are ever feeling that late afternoon hunger, curb it with tea sandwich. This delightful finger food is a traditional English snack that many pair with tea, and even coffee. English tea sandwiches often use eggs with mayonnaise, cucumbers, chicken, and smoked salmon as fillings. One unique thing about tea sandwiches is that they can come in mini squares, triangles, circles, and pinwheel styles. Check out how to make Spinach Artichoke Pinwheel or Ham Pepper-Cheese, and Apple Pinwheel Sandwich for your tea break.
Onigirazu (Rice Sandwich)
Too much leftover rice and don't know what to do with it? Well, make some Onigairzu! Known as a Rice Sandwich by the Japanese, the Onigirazu is similar to a sushi roll but shaped like a regular closed sandwich. Instead of bread, fillings are wrapped in seasoned rice and seaweed. Common fillings include vegetables like cucumbers or carrots, omelet, and any choice of meat. The beauty of an Onigirazu is that it is fuss-free, simple to prepare, but also very versatile since you can basically add any filling you want. You can use brown rice, make it vegan-friendly, or fuse it with a slight American touch to make a Grilled Cheese Onigirazu!
Katsu-sando
The Katsu-sando, also known as breaded pork/chicken cutlet sandwich, is a famous snack from Japan. This sandwich uses only three ingredients: panko breaded pork cutlet, shredded lettuce, and a slice of cheese (either cold or melted). Traditionally, the Japanese use a Tonkatsu sauce (Japanese barbecue sauce) to enrich the flavors. However, feel free to use mayonnaise or curry sauce if you wish to. And if it is still slightly too minimal for you, elevate your sandwich with this Breaded Chicken Cutlet with Deconstructed Guacamole recipe.
Wafflewich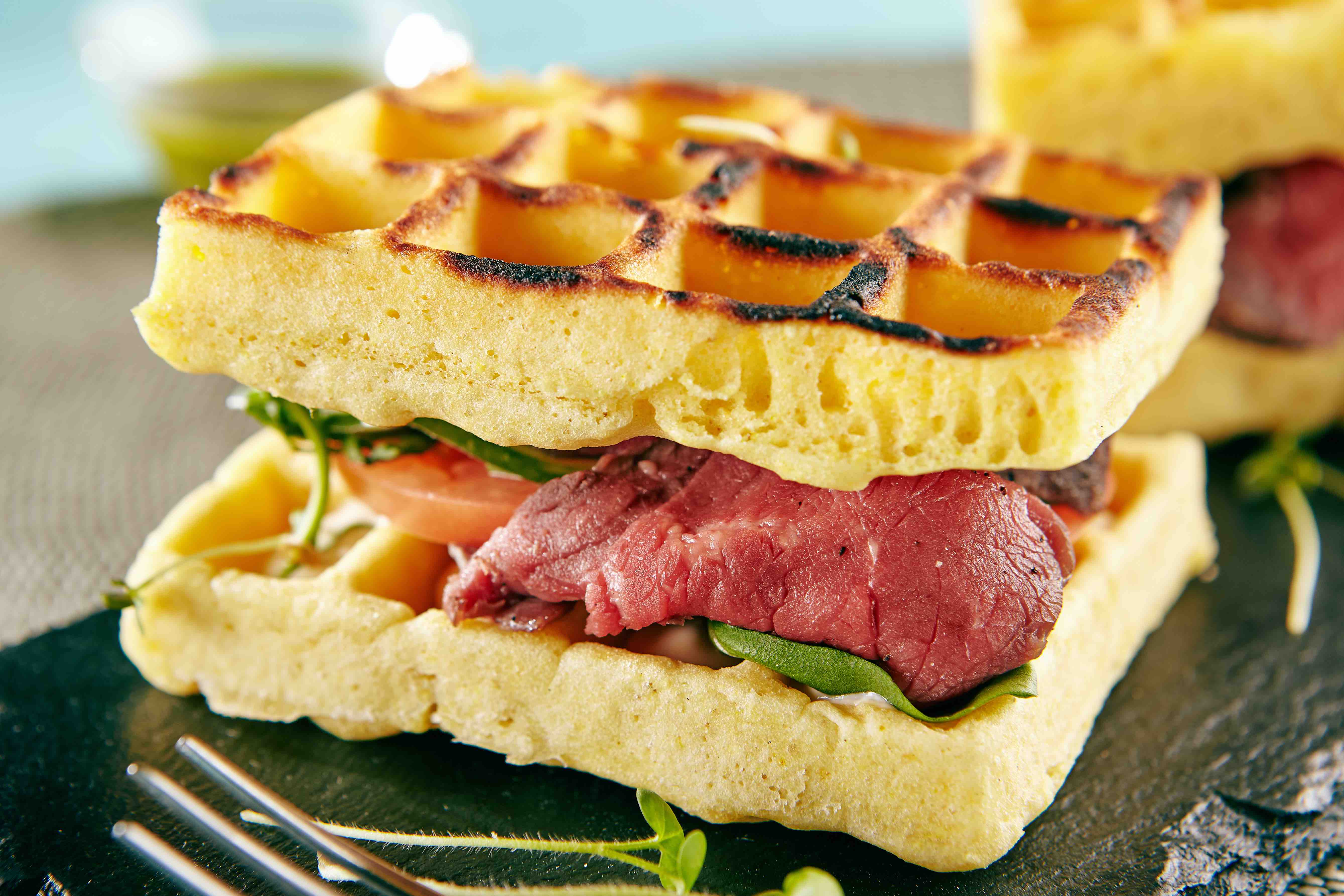 An interesting fusion that we have on this list is the Wafflewich, also known as waffle sandwich. The wafflewich substitutes bread for waffles and is both a sweet or savory tea time snack depending on the type of fillings you choose. A popular type of this sandwich is the Cinnamon Roll Waffle Breakfast Sandwich. Again, the possibilities are boundless. But, one thing's for sure, wafflewiches are very instagram-worthy. 
Muffuletta
A classic New Orleans sandwich, the Muffuletta's main fillings are olive salads and a variety of cold cuts such as salami, ham, and pepperoni topped with cheese like provolone or mozzarella. This sandwich traditionally uses a specific type of sesame bread but fret not, you can always replace the bread with a hoagie roll or a submarine-style bread.
Stjerneskud
The Stjerneskud (pronounced as suh-jah-ners-ku) is a Danish open-faced sandwich on our list. Interestingly, this sandwich means 'the shooting star'. It is topped with various seafoods such as prawns, fried fish fillet, smoked salmon and a finishing touch of caviar. To elevate it further, you can simply pair it with good white wine.
Roti John (Omelette Baguette)
Roti John, also known as Omelette Baguette, is a tantalizing cultural fusion of East-meets-West. The name Roti John is an intentional creative spin to indicate this fusion — roti for bread in the Hindi and Malay language, and John to reference a Caucasian male. This sandwich uses a toasted baguette and is filled with minced meat mixed in omelet (usually chicken or mutton) and onions. Many drizzle across the sandwich some ketchup, mayonnaise, and chili sauce for an extra layer of flavor. Due to its large serving, many consume Roti John as a full meal.
Choripán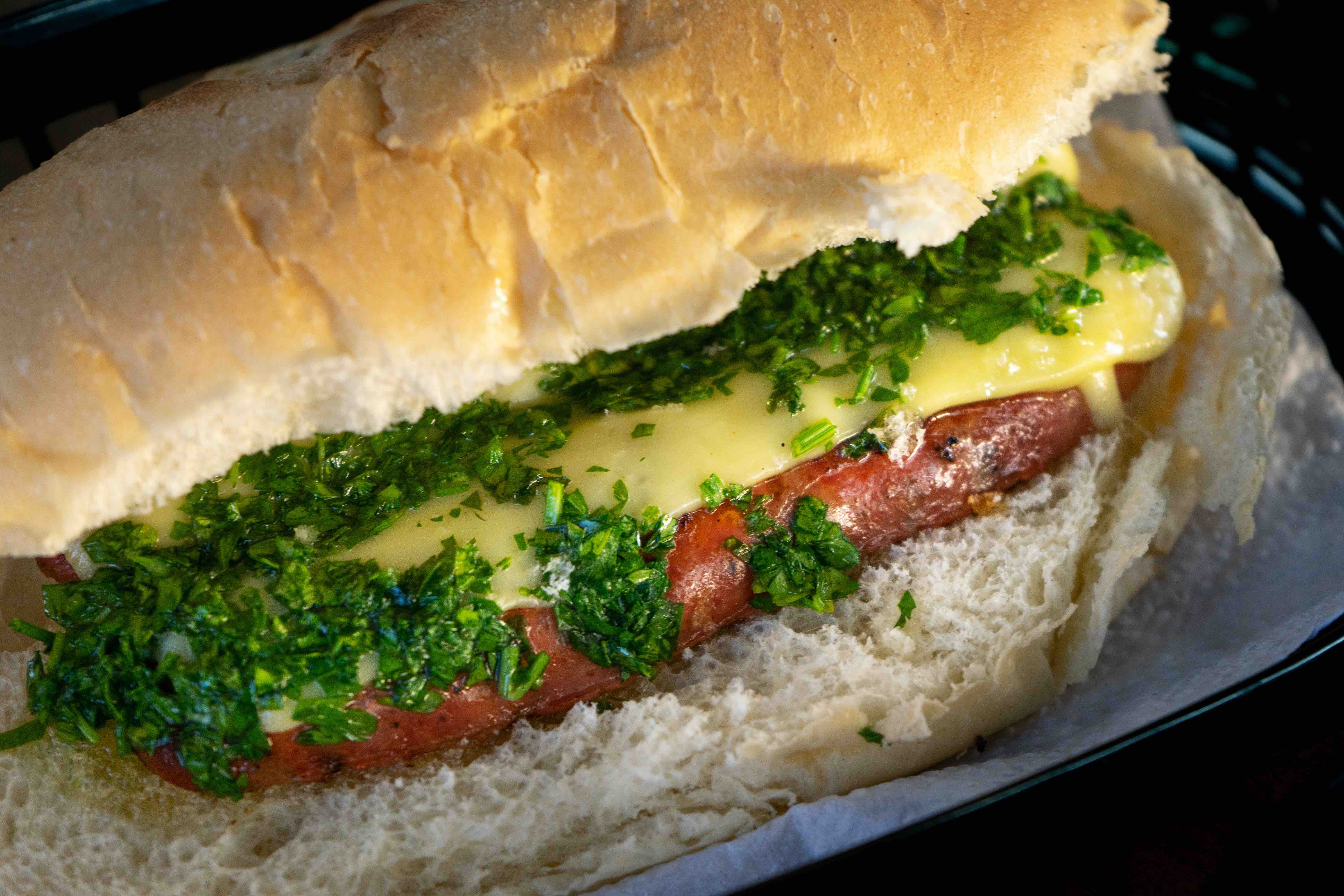 Similar to a sausage sandwich, Choripán is a Latin American appetizer or snack that many enjoy. In Argentina, it is a culture to consume Choripán during sporting events, particularly football. During mid-day, there are snaking queues by the roadside as cab drivers gather to get Choripán for lunch. Although this sandwich varies between the Latin American countries, it generally consists of grilled chorizo (pork sausage) and chimichurri sauce made from garlic, onions, parsley, red pepper, vinegar, and oil. You can even create your own Homemade Guacamole to elevate the flavor profile.
Shawarma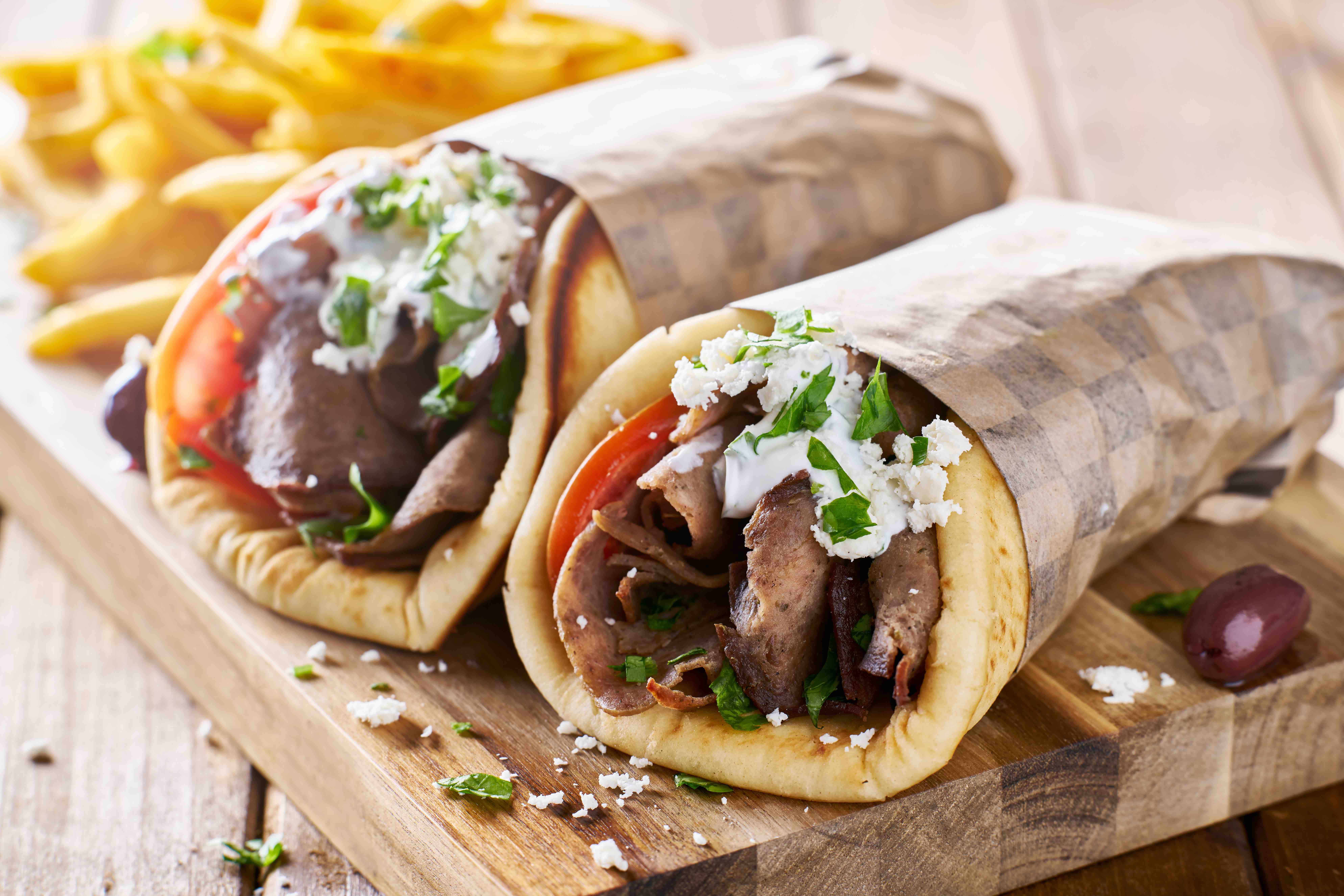 Like a kebab, Shawarma draws its roots from the Middle East with some fusion from Turkey and Levant. This flavorful sandwich consists of grilled chicken/lamb, various vegetables, and spices. Some include diced cucumbers and Greek yogurt for that extra swig of refreshing taste.  It is no wonder Shawarma is Iron Man's go-to dish after an exciting battle. An easy recipe that you can try is the Easy Beef Shawarma. For our adventurous foodies, do give this Beef Shawarma Fries a shot. For our vegan and gluten-free friends, simply swap out meats for vegan products.
Kaya Toast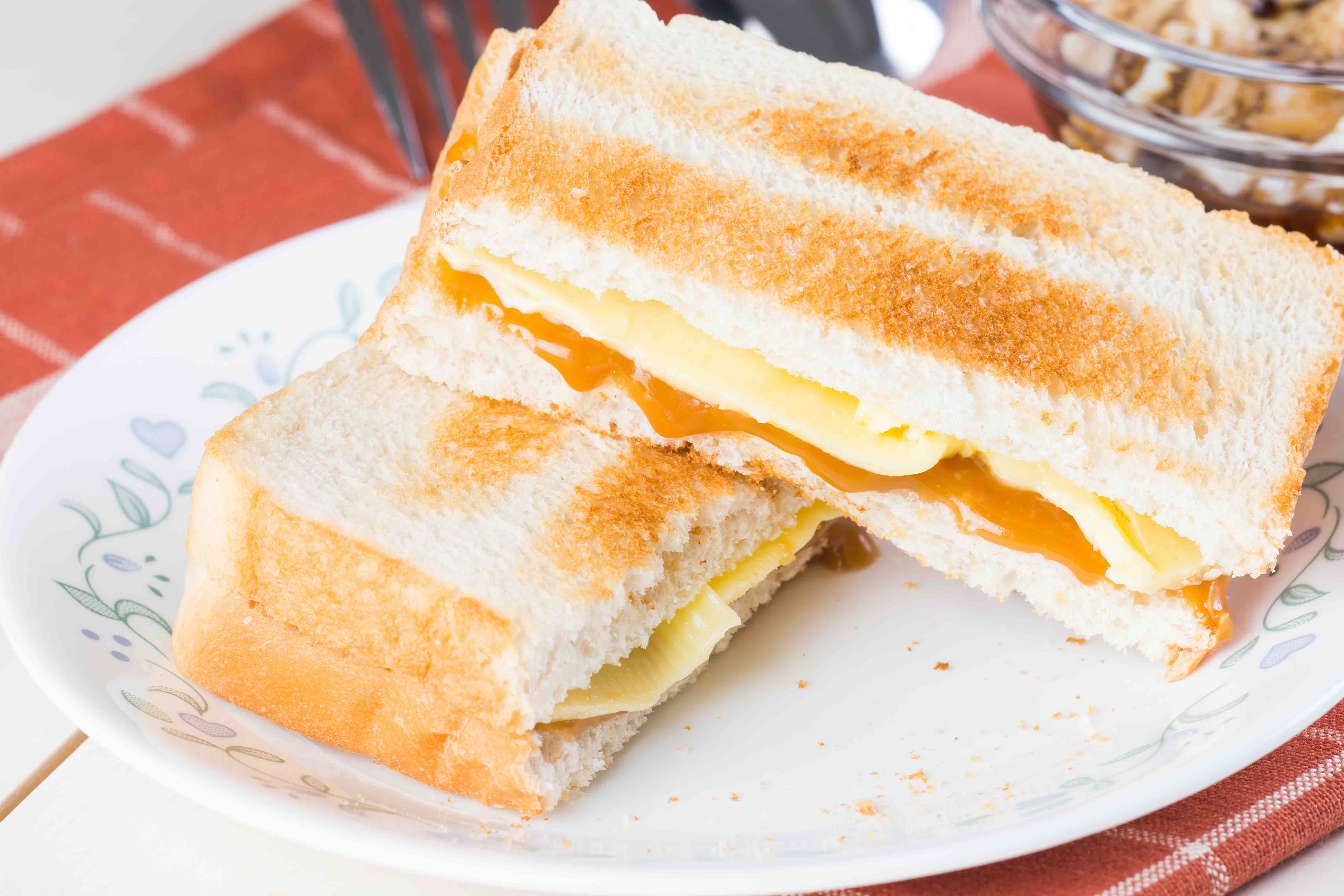 Kaya toast is a sweet and savory sandwich that originated in Singapore. This sandwich consists of two slices of golden-brown toasted bread with sweet Malaysian coconut jam (kaya in the Malay language) and butter (or vegan butter) spread. Traditionally, kaya toast is served during breakfast with a side of soft-boiled eggs that is used as a dip to balance out the sweetness of the jam. Check out how you can make your own Coconut Jam.
Fruit Salad Sandwich
Another fruit-infused sandwich we have on this list is the fruit salad sandwich, a refreshingly sweet snack that many Japanese and South Koreans enjoy. This triangular-shaped sandwich has sliced fresh fruits such as strawberries, kiwis, and oranges with whipped cream (vegan ones are available). For pregnant women, having kiwis is also very beneficial for your baby's development. To upgrade your sandwich, try making a Cheesecake Fruit Salad that you can use as a refreshing filling.
Vada Pav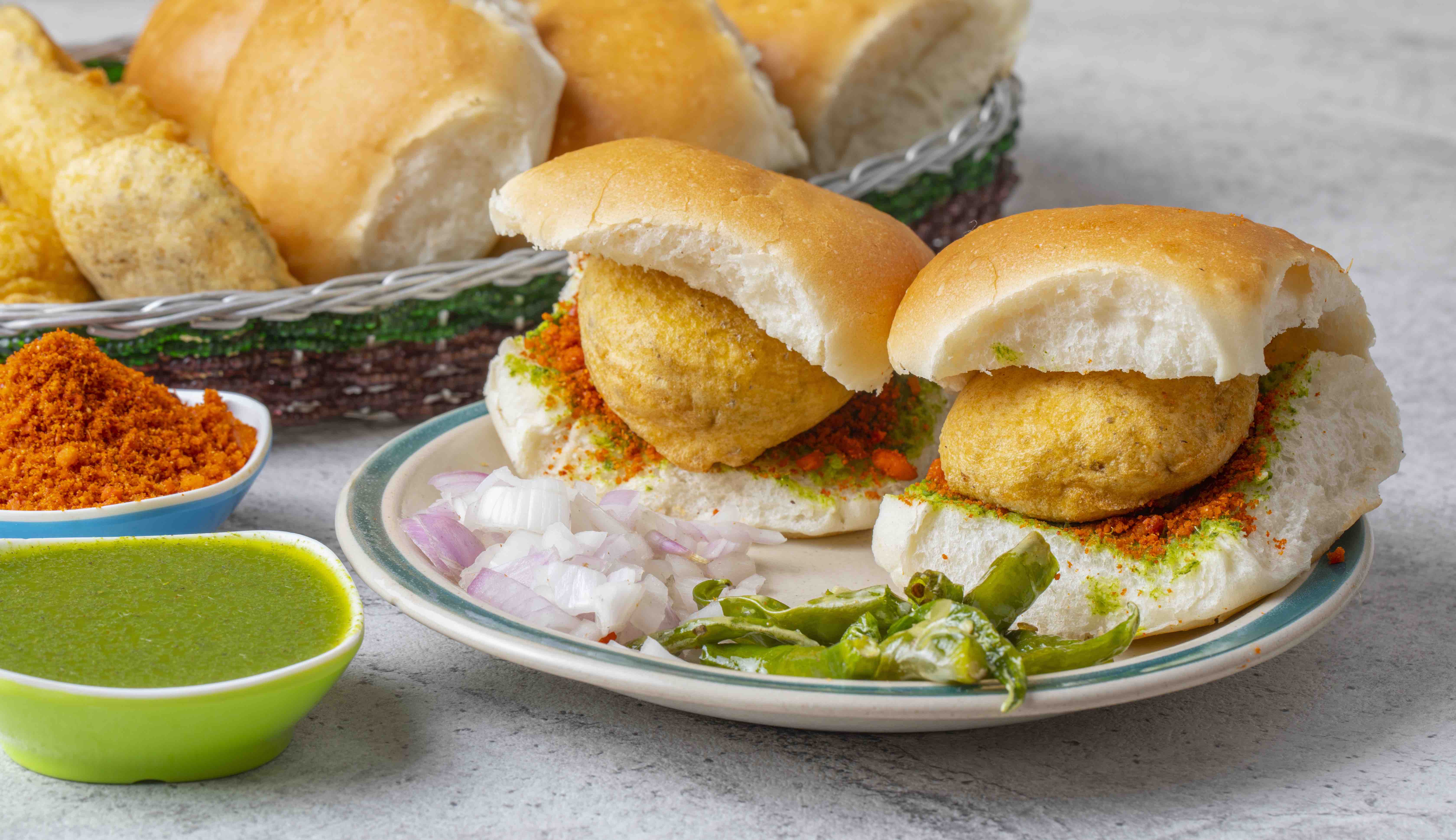 Vada Pav is a very popular street food in Mumbai, India, that is reminiscent of a mini burger. However, instead of a meat patty, the Vada Pav uses a deep-fried spicy mashed potato patty with chutney sauce. There are also a variety of spices such as chili powder, cumin, and tamarind in this sandwich. To make a mean mashed potato patty, check out this Parmesan Mashed Potato Patty that you can add to your sandwich.
Zapieka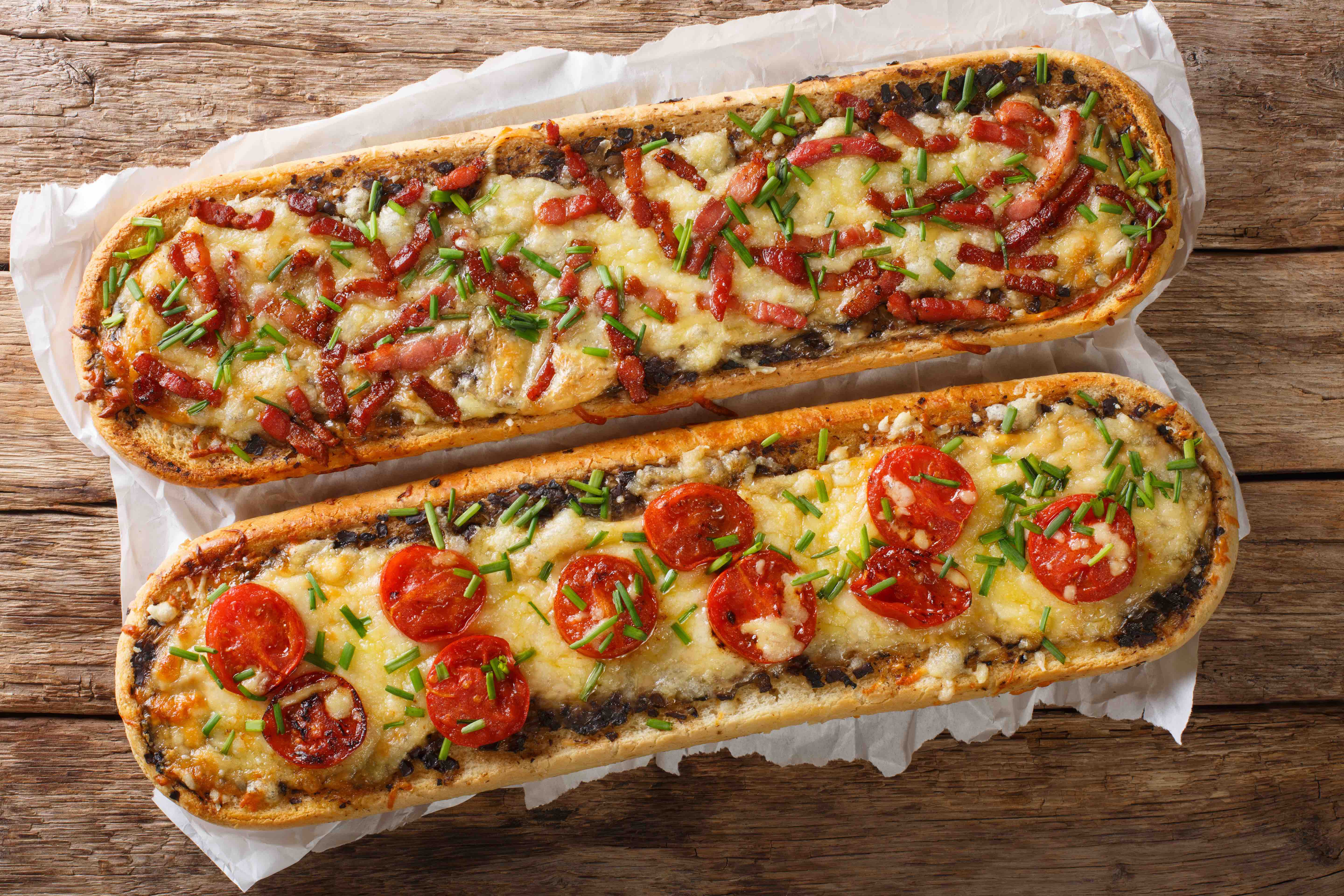 And finally the last on our list is a Polish open-faced toasted baguette. Zapiekanka (pronounced as zah-paAN-kah), also known as "baked" and is rather similar to a pizza. It uses all the usual pizza toppings of mushrooms, melted cheese or vegan provolone cheese, ketchup sauce, and whatever vegetables you prefer. Make a classic Zapiekanka or spice it up with some pineapples for some Hawaiian vibes. For a more exotic taste, try this Moroccan Zapiekanka recipe!