Lisa Frank Facts
Kids from the 80s and 90s are well familiar with the name Lisa Frank. During this time, every child who had owned a collection of Lisa Frank stickers and stationery sets was considered to be the epitome of cool. The brand synonymous with rainbows, teddy bears in tuxedos, and bikinis in bananas was a staple of the '90s. Their designs were all over Trapper Keepers, pencil cases, pillows, and stickers throughout the decade. And as the '90s themselves have had a resurgence in recent years, Lisa Frank's designs have undergone a boost in popularity, too.
Take a look at Walmart's bright, leopard-print sheets or Urban Outfitter's kitten-covered coloring books which are both flying off the racks, and you will see what we mean. Even mystics like Lisa Frank. In 2016, artist and social media maven Ariel Hart designed the very first Lisa Frank tarot deck. The deck featured the most popular characters. And this is only a taste of things to come. There are already plans to bring Lisa Frank's artwork to the big screen! Hollywood is planning a live-action and animation combination film! The movie might be similar to the "Lego Movie" or "Who Framed Roger Rabbit."
What's the secret of Lisa's success? Many people today still find a pleasant memory associated with the company's products. Millenials want to relive their childhood or want their kids to experience what they experienced. Nonetheless, whether you are a new fan or an old fan, feel free to check out a few colorful facts we're rounded up about the iconic brand. Go ahead and test your knowledge! We are sure you will have a nice time adding to your knowledge of Lisa Frank. And when you are done, why not share what you know with your family and friends!
Lisa Frank founded Lisa Frank Incorporated in 1979.
She was 24 years old when she founded the company.
Lisa Frank's school material designs were considered popular during the 80s and 90s.
As of 2018, the company no longer produces its own products.
In 2011, Lisa Frank also launched a clothing line using vivid colored patterns.
Lisa Frank is the founder of the company Lisa Frank Incorporated.
The company is headquartered in the city of Tucson, Arizona.
Many of her corporation's designs make use of rainbow symbols and neon colors.
The majority of the designs of her products also include stylized animals such as unicorns.
Lisa Frank has also collaborated with several famous brands such as Reebook.
Lisa Frank is also considered to be extremely private when it comes to her private life.
During her interviews in 2012, Lisa Frank requested to have her face obscured in any video recordings.
Lisa Frank nearly lost her company to her ex-husband.
Lisa Frank is also famous for her sicker designs and products such as lunch bags and notebooks.
Lisa Frank graduated in 1972 from the Cranbrook Kingswood School in Bloomfield Hills, Michigan.
Lisa Frank is best known for producing commercial design school supplies.
Primarily, all of her products are marketed towards children.
Lisa Frank was married to James Green in 1994.
In 2005 Lisa Frank divorced James Green.
In 2019, Lisa Frank designed the logo for the Instagram television series, Current Mood.
Lisa Frank has also collaborated with several artists on making illustrations.
During the early days of the company, Lisa Frank and her co-CEO at the time collaborated with several artists in creating the designs for the company's characters. Additionally, each artwork was stamped with either Lisa Frank's or the collaborative artists' stamp which made it more unique compared to previous designs.
Originally, each of the artworks for the characters was all made by hand but were later rendered onto computers and digitized to save on both time and resources. It has also been noted that Lisa Frank was considered to be frantic when it came to the details of her characters' designs and would often meticulously check each part of the artwork before being approved.
One of the Lisa Frank characters is said to be based on the company's founder.
In previous interviews, Lisa Frank has often stated that each of her characters has a little bit of herself in them and they are often inspired by people she meets and instances in her life. However, the character believed to be the closest to Lisa Frank as a person would be the character named Purrscilla.
The reason why Lisa Frank was identified as such was due to the character's love for glitter and glam-styled jewelry and as well as everything commonly considered to be girly. However, Lisa Frank has also commented that despite the character being a cat, she is more of a dog person in real life.
Lisa Frank also collaborated with the famous show, FRIENDS.
In collaboration with the hit TV show, FRIENDS, a special clothing line was released that featured characters from both franchises. The t-shirt designs featured the characters from each franchise side by side while other garments in the clothing line also featured the logo for both franchises.
The clothing line released in late July in 2020 and was exclusively available for a single day in honor of National Friendship Day. Additionally, merchandise from this collaboration sold out fairly quickly and cost around a minimum of $40, and could go as high as $80 for some garments.
Lisa Frank enrolled at the University of Arizona for her college education.
During her time in college, Lisa Frank took up courses in both math and art to support herself and her goals as her father refused to support her in starting her business. Over time, Lisa Frank stated that she found methods on how to balance both her schoolwork and her business endeavors which led her to her success later on.
During this time, she also began creating connections with several artists who would work with her on her sticker designs and such. At some point, she also began working on launching her small jewelry line with design concepts she used from working with other artists.
The majority of the characters made by the Lisa Frank company are named after real people.
In many of her interviews, Lisa Frank has stated that she often tries to base all of her characters off of people she has met and has been a part of her life. This also includes some of the company's characters being based and named after her children, close colleagues, and other friends and family members.
Additionally, some of the characters in the Lisa Frank franchise have also been named after her previous pets in memory of them and their time together. According to Lisa Frank, many fans have also written letters and sent her messages regarding her character-making process and asked if they could also make a character using the names of the fans.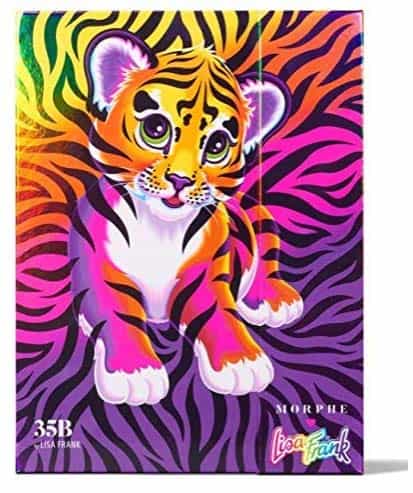 A Lisa Frank app was briefly launched in 2012.
In 2012, Lisa Frank Incorporated launched a small mobile app that would allow its users to place stickers from the franchise into the photos. The app Pic n' Share also allowed its users to share the finished edited photos onto popular social media platforms such as Instagram, Twitter, and as well as Facebook.
The photo app was made available in Apple's App Store for free and can only be used by devices that run on the iOS operating system. Over time, the Lisa Frank app also ranked in popularity for some time among younger mobile users due to the popularity of the franchise.
Lisa Frank launched her company while she was still in college.
Before launching Lisa Frank Incorporated, Lisa Frank began a small business during her time at the University of Arizona. According to an interview she had with Arizona Daily Star, Lisa Frank began by purchasing pieces of pottery and jewelry from the Indian tribes located around the area and began reselling them.
Over time, she began to represent the group while selling them in Michigan and began selling all of their handmade work. After some time, Lisa Frank stated that she became inspired to create her jewelry and designs which later on led her to the concept of selling custom-made stickers that she is known for today.
Lisa Frank also created a jewelry line called Sticky Fingers.
During the early years before her launching Lisa Frank Incorporated, Lisa Frank created a small custom jewelry line called Sticky Fingers. The jewelry line featured pieces made from plastic with varying designs in vivid colors.
Over time, she also began collaborating with other artists to expand her business which later on allowed her to gain recognition. During her first year of business, Lisa Frank stated that she was also able to sell a sticker order to Spencer's Gifts for a value of $1 million.
All of the designs and artwork made by the company was done by hand.
Originally, all of Lisa Frank Incorporated's designs were sketched and painted by hand which often took several hours to complete for just one print. In 1987, Lisa Frank often made use of acrylics, airbrushes, and as well as permanent markers to make her early designs.
However, due to the amount of work that had to be done just to produce one product, the design team moved over to using digitized methods as a means to save time and resources. As a result, this allowed not only for production time to be cut but as well as improve the quality of the artwork on the products as well.
The Lisa Frank offices are equipped with fireproof vaults.
According to Lisa Frank, Lisa Frank Incorporated has copies of all designs, products, and other material that it has ever produced. These items are carefully and securely stored in a fireproof vault located in each of its offices which is referred to as The Library by the company.
Additionally, Lisa Frank has also stated that she also uses this storage method as a way of easily checking the company's previous works and see if this could lead her towards new ideas and concepts for product lines. These vaults are also guarded by hired staff for their archive to remain confidential and kept in a safe condition.
Lisa Frank was considered biased toward two of her characters.
In an interview with Urban Outfitters, Lisa Frank stated that she considered herself a bit more biased towards two particular characters in her franchise. These characters included a rainbow print leopard and as well as a pair of tiger cubs named Hunter and Forrest.
Lisa Frank stated that the reason for this was because the tiger cubs were based on her two children, who the characters were named after, before their births. After some time, Lisa Frank had also stated that her children also behaved similarly to the characters which further increased her favoritism over these characters.
Previously, Lisa Frank also had planned on constructing a theme park.
Apart from expanding her franchise into many other production lines, Lisa Frank has also stated that she wishes to create a theme park that centered around the characters of her company. Lisa Frank has also stated that she has had several concept ideas of what the theme park could look like and states that she wishes to make this project a reality one day.
Lisa Frank's designs have been featured in several magazines and commercials.
During the late 80s and early 90s, Lisa Frank Incorporated's products were growing rapidly in terms of popularity among young children, especially young girls. As a result, this led to the franchise getting its commercials which featured the colorful designs, products, and stickers of the company.
Additionally, several up-and-coming child actors and artists at the time were also featured in the Lisa Frank commercials which also helped increase the popularity of the products even more. Apart from television coverage, Lisa Frank Incorporated was also often featured in children's magazines and other platforms.
The Lisa Frank company switched to digitalized art in 1989.
Lisa Frank Incorporated began rendering its art onto digital platforms in 1989 as a means of saving time and production resources. Additionally, Lisa Frank also began favoring digital works as it could grant her better quality designs that she aimed towards to further increase the appeal of the company's product line. Additionally, switching to digital platforms also allowed Lisa Frank and her company to further gain an advantage against competition from other companies.
A gumball machine was considered to be one of Lisa Frank's first designs.
According to an interview with Urban Outfitters, Lisa Frank had stated that one of her first original designs was for an antique gumball machine that her father had given her as a child. During that time, Lisa Frank also began receiving more recognition among her friends for her designs and ideas for logos.
Over time, this also led Lisa Frank to design buttons and stickers as it was an easy way for her to dive into designing as a hobby due to the encouragement she received from her friends and family. After some time, the Lisa Frank company also began designing items such as lunchboxes, folders, and stationery sets.
Some of the Lisa Frank characters also have a special backstory.
According to Lisa Frank, some of the early characters were also given special origin stories that would give fans a glimpse of what their life was like. One of the first few characters was named Markie, a magical unicorn who lived in the clouds above the Fantastic World of Lisa Frank.
According to Lisa Frank, Markie enjoyed collecting stars and going on adventures, and exploring the clouds. However, Markie was also noted to dislike strong bad smells and as well as those who bully others.
Lisa Frank also had tattoo collaborations with Ed Hardy.
Among the many collaborations that Lisa Frank had been a part of, one of the most notable ones is her partnership with the artist Ed Hardy. During the collaboration, Lisa Frank's characters were featured in a line of office supplies for Ed Hardy's company.
Lisa Frank has also stated that she aimed to continue to work on more affordable collaborations with other artists to give her fans a wider range of merchandise to choose from.
In 2010, SF Weekly magazine criticized the sexualization of modern Lisa Frank characters.
According to the written article in the magazine, Lisa Frank Incorporated was suspected of being a victim of recent trends. SF Weekly magazine stated that Lisa Frank was beginning to make her more recent characters in a way that appealed to the 'sexy' trend which strayed from the classic children's toys theme that the brand was known for.
Some of the human characters made by the Lisa Frank company were also criticized for having unrealistic body expectations instead of making use of common body types. This was compared to how similar the designs for the Bratz doll characters were made which was said to set unachievable beauty goals for young girls.
The Lisa Frank company makes use of a special ink for printing their designs.
According to Lisa Frank, Lisa Frank Incorporated makes use of a special ink formula for their designs. This ink formula would allow the designs of the company's products to come out brighter overall, thus adding to the appeal of the brand.
Lisa Frank has also stated that the special ink is made through a 4-step process. The company also makes use of a special color mixture to achieve a bright tint. This ink formula is also considered to be one of the most tightly guarded secrets of Lisa Frank Incorporated where all licenses are required to sign confidentiality agreements before making the product.
The official Lisa Frank Instagram account is run by her son.
Lisa Frank has confirmed that her official verified Instagram account is managed by her 21-year-old son, Forrest Green. As of November 2020, the Instagram account has over 800 thousand followers where the account itself is still considered to be fairly active in featuring products and designs from the company.
According to Forrest Green, the Instagram account aims to inspire the public and fans to feel happy when they visit the page. Additionally, Forrest has also stated that in terms of social media marketing strategies, he wishes to remain as unique and different from other brands and takes an interest in interacting with the fan base as well.
View Comment