Ray Kroc Facts
Ray Kroc made McDonald's into an international success story, worth hundreds of billions of dollars today. But there's more to the man than a brilliant businessman, for all that business defined his place in history. Learn more with these 50 Ray Kroc facts.
Quick Facts
Essential Facts
Interesting Facts
At the time of his death, Ray Kroc's net worth reached an estimated $600 million.
Ray also earned himself a place in Time 100: The Most Important People of the Century.
Ray received a Golden Plate Award in 1973 from the American Academy of Achievement.
He co-wrote his autobiography, Grinding It Out, with Robert Anderson in 1977.
The said autobiography was later republished in 2016.
Ray Kroc's parents had him in Oak Park Village, Illinois, on October 5, 1902.
Both of Ray's parents originally came from then-Czechoslovakia, in the modern Czech Republic.
Ray's father Alois made a fortune from real estate in the 1920s.
Alois then lost that fortune in the 1929 Stock Market Crash.
Ray Kroc became a milkshake mixer salesman after the end of WWII.
Ray first bought a McDonald's franchise in 1955.
He later bought the whole company in 1961.
Ray Kroc retired from running the company in 1974.
He then went into baseball during his retirement.
Ray died from heart failure in a San Diego hospital on January 14, 1984.
Ray Kroc owned the San Diego Padres baseball team from 1974 until the day he died.
He served with Walt Disney as an ambulance driver during WWI.
Another famous person Ray Kroc served with during WWI was the famous American journalist, Ernest Hemingway.
Ray actually lied about his age to serve in the military during WWI.
He later consistently supported the Republican Party in politics.
Ray Kroc and his friends opened a music store before WWI.
They opened it in 1916 and called it Ray Kroc's Music Emporium, which sold music sheets while Ray played the piano. They only stayed in business for a few months, though, but it still meant that Ray had already gone into business as young as 14 years old.
Ray worked various jobs during the Great Depression.
He sold paper cups at one point and even played the piano for various bands. He also managed to land a job as a real estate agent in Florida at the time. Unsurprising, though, considering the ruined state of the US economy back then. He literally could not afford to pick jobs when jobs were so hard to get at the time.
Ray didn't actually found McDonald's.
He made them a global enterprise, but the honor of actually founding McDonald's goes to a pair of brothers from San Bernardino, California. Richard James and Maurice James McDonald, who came up with what they called the Speedee Delivery System in 1948. It involved mass production of ready-to-eat food products from various ingredients, assembled in an assembly line fashion. Today, though, we call such a concept by a much simpler term: fast food.
Ray first met the McDonald Brothers in 1954.
At the time, he worked as a salesman selling Multimixer milkshake machines. Ray's attention went to the McDonald Brothers after they bought eight machines, at a time when sales were on a downward trend. Meeting with the brothers, the three of them saw potential in each other, with Ray Kroc and the McDonald Brothers forming a business partnership.
The restaurant at the time had a very simple menu.
They only sold two food items, in fact: fries and hamburgers. They also sold soft drinks as well as milkshakes, and at much lower prices too. At the time, it only cost 15 cents to buy a hamburger, 10 cents for fries, and 20 cents for a milkshake.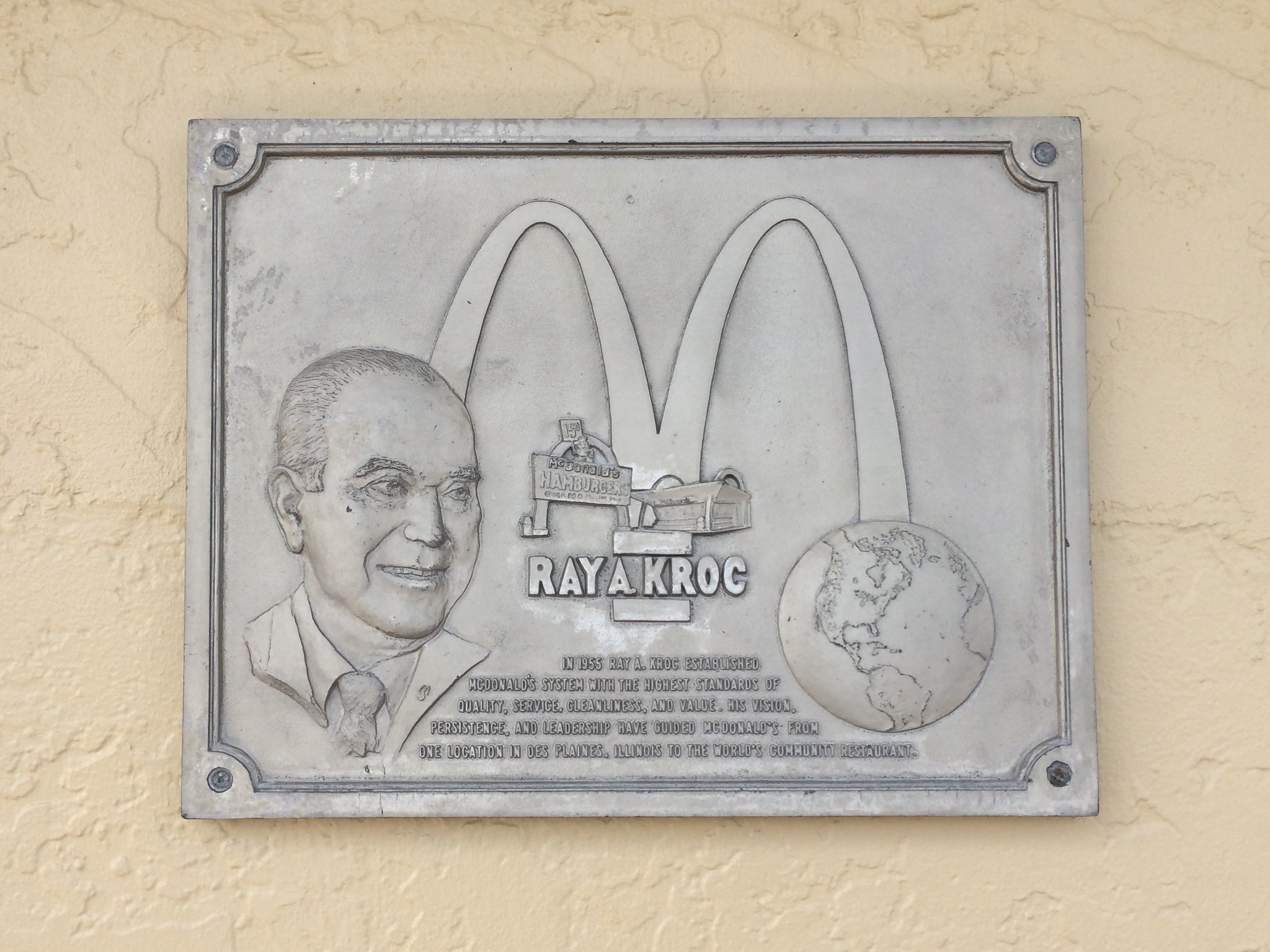 Ray Kroc also wasn't the first person the McDonald Brothers had licensed a franchise to.
The brothers had already opened eight other restaurants and licensed out another 20 franchises by the time they met with Ray. It was only after they met and started working with Rey that McDonald's growth really began to take off.
Ray's first McDonald's restaurant later became a museum.
Realizing its value, McDonald's bought the location and then rebuilt the then-demolished restaurant. It mostly stayed faithful to its appearance at the time of Ray running the store but featured modern conveniences. McDonald's also added a museum and gift shop right next to the store, which they advertised as McDonald's #1 Store Museum. The restaurant remains open today, however, the gift shop closed its doors in 2018.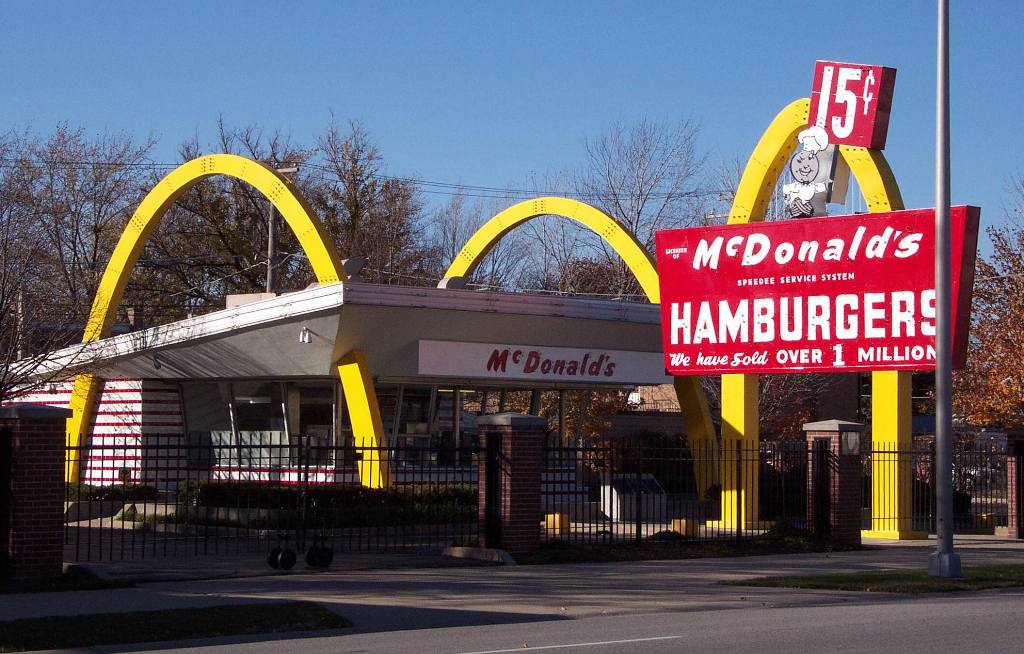 Ray once tried to open a McDonald's restaurant in Disneyland.
This took place as early as 1954, a year before the park actually opened in 1955. An urban legend goes that Disney was actually open to the idea, but wanted a slight increase in prices to profit off of McDonald's presence in his park. Ray refused, as he saw it as taking advantage of his customers. Historians, though, generally discount this as just an urban legend, and that Disney actually just rejected Ray's proposal. At least, he did so at the time, but Disney and McDonald's ultimately managed to reach an agreement in 1990, with the latter finally opening stores in Disneyland.
Ray introduced new policies to food franchising.
First and most importantly, he only began selling franchises in the form of single stores. Previously, franchisees could open multiple stores in a given area, but under Ray's influence, they could only open one store per franchise. This increased the franchisor's control over the chain as a whole, as well as the franchisees themselves. Ray also made sure to open new stores only in suburban areas, and no longer in downtown areas. This way, he made the restaurants more accessible to people who wanted to eat out after working hours.
He also set high standards for the restaurants.
Ray wanted uniformity in service and quality, so it doesn't come as a surprise he insisted on high standards. He emphasized proper sanitation and required staff to stay clean and properly groomed at all times. He also made it a policy for employees to treat children politely no matter what, and from deviating from the company's standardized offerings. Ray insisted as well that staff regularly scrape condiment containers to achieve his policy of minimal waste at all costs. He also forbade smoking in all restaurants and banned the then-common presence of pinball machines in restaurants.
He also had a strange policy when it came to hiring new managers.
Specifically, Ray refused to hire anyone who had a Master's Degree in any Arts course. He did so because he thought such a background lacked the necessary skills in managing a business. As strange as this policy sounds, it worked out well enough for Ray, making it hard for historians to argue the point.
He also had a partner in making the franchise make more money.
That man was Harry Sonneborn, who came up with the idea of the company buying the land any new McDonald's restaurant would stand on. The company would then rent the land to the franchisee, a business model that remains remembered today as the Sonneborn Model. It also remains in use by McDonald's today, with the company's real estate holdings amounting to an estimated $37.7 billion. Those holdings also make up an estimated 99% of the company's assets and provide an estimated 35% of their global earnings.
Ray Kroc also had a no secretaries policy.
While he led the company, none of the executives had the option of hiring a secretary to assist them in their duties. Ray believed that executives should have a hands-on mentality when it came to their work and used this policy to enforce that belief.
Ray later quarreled with the McDonald Brothers.
The root of the argument lay in the brothers' unwillingness to expand the company and to take on the risks that came with it. Their insistence on keeping only a small number of restaurants frustrated Ray, as by that time, McDonald's faced competition for new fast-food enterprises. Those enterprises included Burger King and KFC, among others. The brothers also frustrated Ray with their refusal to allow any changes in the design of the restaurants. This led Ray to simply buy the company for $2.7 million but was again frustrated when the McDonald Brothers kept the location of their original restaurant. They kept it open as The Big M, so Ray opened a new McDonald's restaurant nearby and forced them out of business after a few years. Some even claim Ray refused to pay the brothers their royalties, but the brothers themselves never mentioned this.
Ray's policies resulted in a massive success for the company.
The results certainly speak for themselves, as by the time of Ray's death, McDonald's had no less than 7,500 outlets. Those outlets weren't only in the USA either, but also in 31 other countries and territories abroad. The company also earned an estimated $8 billion per year by then.
Ray Kroc's purchase of the San Diego Padres baseball team had mixed results.
He bought them for $12 million, at a time when the team struggled against the previous owner who wanted to relocate them to Washington D.C. Ray kept them in San Diego but soon ran into trouble with his new assets. In 1974, the same year he bought them, the Padres lost no less than 102 games, much to his frustration. At one point, he publicly remarked on a loss as "…never having seen such stupid ballplaying in his life." However, the Padres' enjoyed massive attendance during their games from Ray's patronage. Before, the biggest audience they ever had was an estimated 600,000 people in 1972. And yet, in 1974, despite their losses, they managed audiences of up to a million people.
Ray's involvement in baseball once cost him a fine.
Specifically, a $100,000 fine levied by Commissioner Bowie Kuhn. The fine resulted from Ray's public attempts to recruit Graig Nettles and Joe Morgan. This among others led to him palming off the Padres to his son-in-law Ballard Smith.
He also suffered from alcoholism.
So much so, that it may actually have contributed to a stroke that Ray suffered in 1980. In the stroke's aftermath, Ray entered into an alcohol rehabilitation facility to try and get out of the habit.
Before his death, he founded the Kroc Foundation.
The foundation provides support for research into the treatment of various conditions like alcoholism, arthritis, diabetes, and sclerosis. The foundation later went on to establish the Ronald McDonald House, a non-profit housing organization for parents of children currently confined to medical facilities for treatment.
He also set up a Hamburger University for future McDonald's employees.
Located in Chicago, the Hamburger University provides restaurant management training for McDonald executives at various levels. Also, all prospective franchisees must first attend the university before they can get a franchise from McDonald's. An estimated 275,000 people have finished in the Hamburger University, which supports an estimated 5,000 students per year.
The San Diego Padres later honored Ray Kroc after his death.
After he died in 1984, they wore patches on their uniforms labeled with his initials, RAK, for the rest of the year. Ironically, they started winning big that year, first the NL Pennant and a place in the 1984 World Series. Over a decade later in 1999, the Padres also added Ray to the San Diego Padres Hall of Fame.
Ray supported Richard Nixon's presidential campaign in 1972.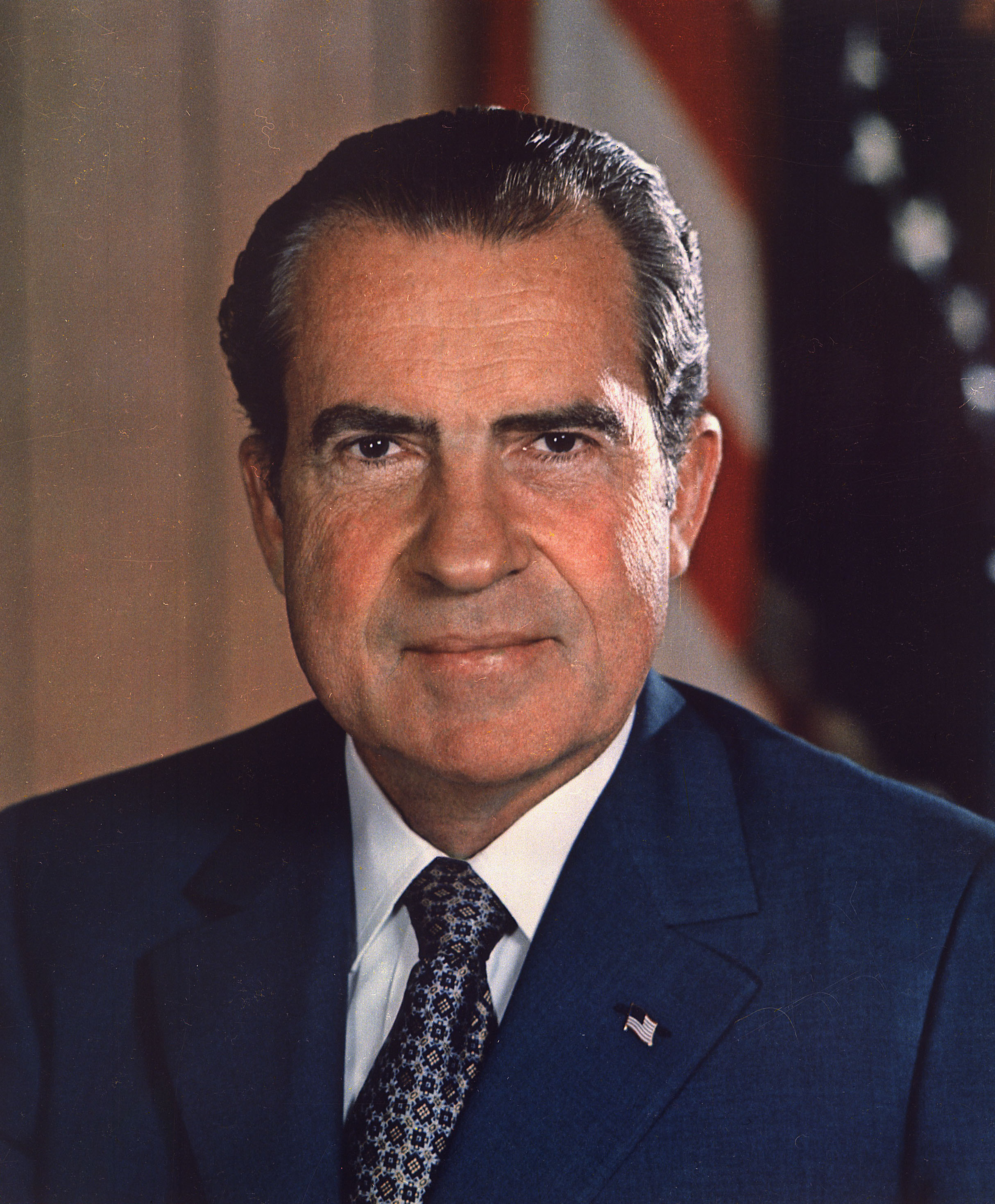 He even went so far as to donate $255,000 to Nixon's campaign, as part of his support for the Republican Party. In particular, Ray's support for the Republicans came from his opposition to welfare measures, believing it encouraged people to not become self-reliant. Ray's donation to Nixon's campaign led to controversy, with Senator Harrison Williams of New Jersey even considering the donation as a form of bribery. This came from the fact that a minimum wage law was at the time going through the US Congress. The donation could thus become a way for Ray to influence Nixon into vetoing the bill if it ever reached the White House.
Ray married 3 times in his life.
He first married Ethel Fleming in 1922, but they divorced in 1961. Two years later, he married Jane Green, but they also divorced after only a few years in 1968. Finally, he married Joan Mansfield in 1969, and they stayed together until Ray's death in 1964.
Ray made a clever gamble when he divorced his first wife.
Specifically, he gave her just about everything, from their house and car to a $30,000 annual alimony. The only thing Ray kept for himself was his stake in McDonald's, which he believed would allow him to regain everything he'd lost in the divorce and more. As history showed, he proved completely correct in this gamble, Ray keeping more in the end than what he gave away in his divorce.
Ray's third wife became a philanthropist after his death.
In 1985, her foundation, the Joan B. Kroc Foundation, donated $18.5 million to set up a multipurpose hospice for the San Diego Hospice Corporation. She also donated to the Ronald McDonald Children's Charities, as well as the Ronald McDonald Houses. Joan especially became famous for her donations to the Grand Forks community of North Dakota, and the Grand Forks community of Minnesota. Those regions had suffered devastation from a flood in 1997, with her $15 million donation leading residents to call her an angel. After her death in 2003, she donated the majority of her assets to the Salvation Army, with another $225 million going to the National Public Radio (NPR).
Joan Kroc also strongly supported nuclear disarmament.
As early as 1985, Joan spent millions to promote the cause, even helping republish fellow anti-nuclear advocate Helen Caldicott's book Missile Envy. She also published anti-nuclear ads in various newspapers and anonymously donated a Paul Conrad sculpture to Santa Monica. Said sculpture had the appearance of a mushroom cloud, symbolizing the potential devastation resulting from the future use of nuclear weapons. Her opposition to nuclear weapons led to criticism from conservatives, with Cal Thomas even calling her McNut at one point.
Their first meeting also happened long before their marriage.
This was 12 years before they got married, and in fact, Joan was already married at the time. Her husband was Rawland Smith, ironically a McDonald's franchisee himself. Joan and Ray first met while the former played the piano in a restaurant. As a pianist himself, Ray found himself intrigued by Joan, but they wouldn't marry until after Joan had divorced her husband in 1969. She and Ray then got married that same year.
Ray Kroc also had his own definition of what salesmanship meant.
Specifically, he described it as a "…gentle art of letting the customer have it your way." In a way, it doesn't actually go against the old saying about the customer always standing in the right. It basically just means convincing the customer to see things the salesman's way, and that's what they also want.
Ray has also appeared in various media.
John Hancock produced the biographical film The Founder in 2016, starring Michael Keaton as Ray. The History Channel also featured Ray in an episode of their TV series, The Food That Built America. BBC also had an episode that featured Ray, for their TV series 50 Things That Made the Modern Economy.
Other media has also referenced him indirectly.
In particular, British music artist Mark Knopfler of the Dire Straits released the song, "Boom Like That", in 2004. According to Knopfler, his inspiration for the song came after reading Ray's biography.