eBay Facts
Since its introduction, e-commerce has taken the world by storm. Who wouldn't want their next purchase to just be a click or tap away? Long before these new apps, eBay has stood the test of time as one of the pioneers of online buy and sell. Find out more about this platform through these eBay facts.
Quick Facts
Essential Facts
Interesting Facts
eBay is a multinational e-commerce corporation.
The company is based in San Jose, California, United States.
Pierre Omidyar is eBay's chairman and founder.
The company operates a multibillion-dollar business.
eBay operates in over 100 countries.
eBay focuses on the business model of consumer-to-consumer and business-to-consumer sales within its website.
The business runs the eBay website using an online auction and shopping website.
eBay serves more than 180 million users/customers globally.
eBay has more than 25 million active sellers, and it continues to grow.
Amazon and Alibaba are currently the biggest competitors of eBay.
eBay's current market capitalization as of 2020 is $30.45 billion.
eBay is one of the world's first online auctions and the world's first successful online auction.
Pierre Omidyar started eBay just from a simple hobby.
Upon the growth of the website's foot traffic, Pierre Omidyar's internet service provider ask him to upgrade his plan from $30 a month to $250.
Initially free, the upgrade forced Pierre Omidyar to charge eBay sellers.
The eBay website is free to use for its customers/buyers.
Only the sellers are charged with their listings or products.
The first item sold in eBay UK was the CD of Scorpions rock band.
Online money transfer was part of eBay's services during its early years.
The founder of eBay is an Iranian-American software engineer.
eBay Facts Infographics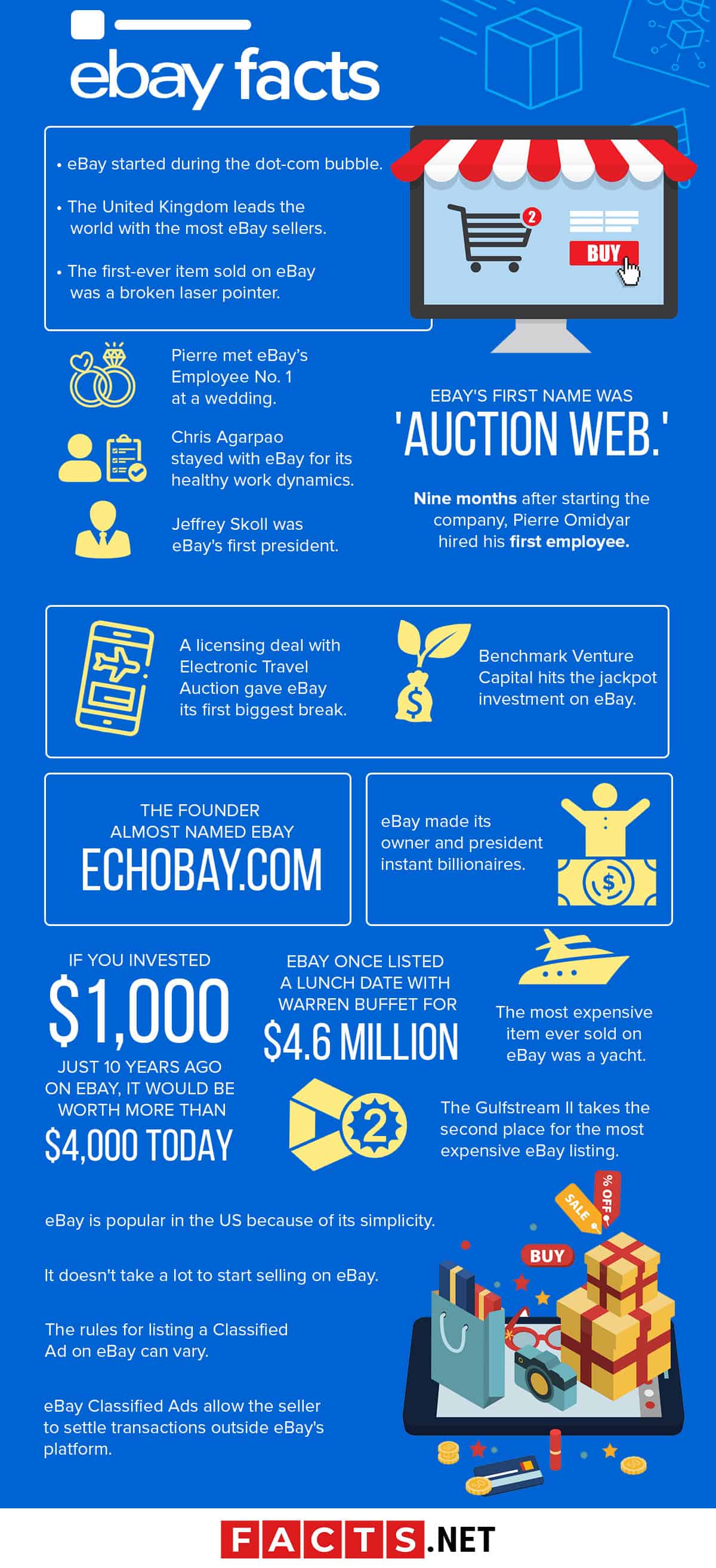 eBay started during the dot-com bubble.
Interestingly, Omidyar founded eBay during the dot-com bubble in 1995. Due to this period, the newborn company had to stand against hundreds of competitors. The main cause of the dot.com bubble was excessive speculation from tech and internet-based companies.
The United Kingdom leads the world with the most eBay sellers.
The UK ranks dominates e-commerce as the country with the most eBay sellers. It's followed by China, the United States, Germany, Australia, Hong Kong, Italy, Japan, Malaysia, and Singapore.
The first-ever item sold on eBay was a broken laser pointer.
The bid started at $1 with no interested buyers within its first week of posting. After a week, curious buyers piled up and the price went as high as $14.83 – and Sold! Omidyar promptly contacted the seller, asking whether the seller knew the item he had been selling was broken. To make a long story short, the seller happened to be a collector of broken laser pointers.
eBay's first name was 'Auction Web.'
Pierre Omidyar originally wrote the code for the Auction Web in 1995 as a part-time project. This kept him occupied in his spare time.
Nine months after starting the company, Pierre Omidyar hired his first employee.
In the year 1996, eBay hired its first employee, Chris Agarpao. The man assisted the online operations of the virtual auction and shopping center. At first, Chris Agarpao did not even think that eBay would get this big since he only saw it as a hobby for Pierre Omidyar. However, that clearly wasn't the case. Twenty years later, Chris still works on eBay as Quality Assurance Inspector.
Pierre met eBay's Employee No. 1 at a wedding.
eBay was still known as Auction Web when Pierre Omidyar went to Chris Agarpao's sister's wedding as a best man. During the wedding, Omidyar met Chris Agarpao, with the latter telling Omidyar about his unfulfilling career. After two weeks, Pierre Omidyar contacted Chris Agarpao for the job, which he gladly accepted.
Chris Agarpao stayed with eBay for its healthy work dynamics.
Aside from a good salary and compensation, eBay's employee No. 1 (Chris Agarpao) stayed in eBay because he felt the enthusiasm in the field of his work, and the deep connection between co-workers and bosses.
Jeffrey Skoll was eBay's first president.
eBay hired its first president in 1996 under the leadership of Jeffrey Skoll, a Canadian engineer and internet entrepreneur. Although the company was already making money at the time of his arrival, he provided a business plan resulting in better profit.
A licensing deal with Electronic Travel Auction gave eBay its first biggest break.
The company achieved its biggest break when they got a licensing deal with Electronic Travel Auction in late 1996. This transaction allowed eBay to use SmartMarket Technology to sell plane tickets and other travel products which brought exponential growth to the company.
To compare, eBay only hosted 250,000 auctions in 1996. However, in January 1997 alone, the site managed to host 2,000,000 auctions.
The founder almost named eBay echobay.com.
In 1997, the company decided to change its name from Auction Web to eBay. The Auction Web belonged to Pierre Omidyar's consulting firm, Echo Bay Technology Group. When Pierre tried to register the domain name echobay.com, it  had already been taken by a mining company. Hence, Pierre had to pick another domain name, eventually settling on eBay.com.
Benchmark Venture Capital hits the jackpot investment on eBay.
Benchmark Venture Capital is a firm from San Francisco, California that studies and invests its funds in startup businesses. In 1997, eBay received a whopping $6.7 million investment from Benchmark Venture Capital (for about 22.1% ownership of eBay). In return, eBay delivered positive results, making Benchmark Venture Capital very happy with their return on investment.
eBay made its owner and president instant billionaires.
Roughly three years after its founding, eBay's owner and president had already been listed as billionaires in the stock market.
If you invested $1,000 just 10 years ago on eBay, it would be worth more than $4,000 today.
If you invested a good amount of money on eBay since its initial public offering, you probably would've been a multimillionaire by now.
However, keep in mind that eBay had tons of competition in the late 90s – making it impossible to forecast which tech company would be the "next big thing". This is aside from the fact that many companies went bankrupt during the dotcom bubble. However, the company's success is not limited to its initial offering. If you invested $1,000 just 10 years ago on eBay, it would be worth more than $4,000 today.
The most expensive item ever sold on eBay was a yacht.
Naval architect Frank Mulder designed this whopping 405-foot megayacht. It featured a 278 square meter master suite, 10 VIP suites, eight guest rooms. The yacht also had a children's cabin, an office area, a movie theater, gym, spa, elevator, swimming pool, and a helipad. The yacht achieved its status as the most expensive eBay item when Israeli-Roman businessman Roman Abramovich bought it for $168 million.
The Gulfstream II takes the second place for the most expensive eBay listing.
This American twin-engine business jet sold for $4.9 million. Other big buck eBay listings include a house with a war-proof bunker ($2.1 million), a Honus Wagner baseball card ($1.1 million), a Ferrari Enzo ($1 million), and Joseph Jefferson "Shoeless Joe" Jackson's baseball bat ($577,610).
eBay once listed a lunch date with Warren Buffet for $4.6 million.
In 2019, eBay hosted an auction for a lunch out with the living legend and greatest investor of all time, Warren Buffet. The winning bidder had a chance for a casual business chat with Warren.
Moreover, all of the proceeds from the auction did not go to Warren. Instead, it went to Glide Foundation – an organization for the homeless in San Francisco – as a donation.
eBay is popular in the US because of its simplicity.
eBay is part of the top 10's most popular websites in the United States. Customers prefer eBay because of its ease of use, simplicity, and competitive pricing.
It doesn't take a lot to start selling on eBay.
The simple basic steps are: determining what you want to sell, photographing and describing the product, and setting the price of your product on your eBay seller account. Equally important is learning how to package the item, printing the label, and shipping according to eBay's standard.
eBay Classified Ads allow the seller to settle transactions outside eBay's platform.
When a seller lists an item through an eBay Classified Ad, sellers will display the price. Once a buyer sees the ad and contacts the seller, both of them can settle the transaction outside of the eBay platform.
The rules for listing a Classified Ad on eBay can vary.
Rules for listing a Classified Ad on eBay varies from other selling arrangements on eBay since the transaction is done outside eBay's platform. Generally, eBay sends the seller the contact information of any interested buyers, but they are not permitted to share this information with other parties. Consequently, if the sellers don't take care of buyers' personal information their eBay account will get banned or suspended.
An eBay user can be suspended for more than 30 days.
When a user breaches the eBay's policy, they can get their accounts suspended. This can result in business interruption. Moreover, the suspension normally takes 7 days up to 30 days, or even indefinite in the worst-case scenario.
The eBay app first launched for iOS in 2008.
When eBay started in the year 1995, users could only access it on computer desktops. However, eBay eventually went mobile. The iOS app released in 2008 with only one person working on its development.
There are four colors on eBay's logo.
The red, blue, yellow, and green on the eBay logo represent friendship, openness, and accessibility with strong ties connecting the eBay community altogether.
Electronic gadgets are one of the most top-selling items on eBay.
Ebay's top-selling items are branded gadgets, home decor, garden accessories, home tech, fitness gear, fashion, automotive products, and collectibles.
eBay has over 20 international sites.
eBay has over 20 sites with a broad presence in over 100 countries. To name a few, these are eBay Australia (ebay.com.au), eBay Philippines (eBay.ph), eBay Taiwan (eBay.com.tw), eBay Vietnam (eBay.vn), eBay Malaysia (eBay.com.my), eBay Canada (eBay.ca), eBay Italy (eBay.it), eBay UK (eBay.co.uk), eBay France (eBay.fr), and eBay Switzerland (eBay.ch).
eBay's official website is ebay.com.
eBay may have many different websites across the globe but eBay.com is the biggest in its portfolio, with over 100 million unique monthly visitors.
The German eCommerce market is one of the biggest in the world.
It has an annual consumer spending of more than €70 billion. Moreover, eBay's presence in Germany is getting more and more popular with its best selling items like apparel, cosmetics, books, appliances, sporting goods.
More than 3,000 Australians have made over $1 million in sales using eBay.
Since Australia is the fifth-largest economy in the Asia-Pacific region and the 14th largest in the world, eBay sellers want to capitalize and expand in this country.
Moreover, approximately 3,000 Australians have made more than $1 million in sales using eBay Australia since its inception in the year 1999. This beats the United States and the United Kingdom per capita.
eBay bets on the Philippines due to the spike of online shopping.
Although the progress of eCommerce in the Philippines is slower compared to other Asian countries, online shopping amongst Filipino consumers is now growing more than ever, with a consensus estimate of $19 billion by the year 2025.
China is the biggest eCommerce market in the world.
China is the biggest eCommerce market in the world with annual spending of $750 billion and counting. Moreover, when it comes to selling into China using eBay, the sellers must list directly on eBay.cn and enlist the services using a translation provider to ensure the listings are translated correctly to blend well in the Chinese market.
Buyers can view their purchase history from three years ago.
The eBay purchase history allows the buyer to track and manage all the items they've bought on eBay. By going to the purchase history, the buyers will find the important details on the items they've bought on eBay from as far as three years ago.
The eBay shopping cart is your online shopping cart.
The eBay shopping cart allows the buyer to save fixed-price items that they want to buy while they are shopping and browsing continuously. Once the buyer is ready, they can check out and pay for multiple items in one shot.
The shopping cart is not a reservation.
The items in the cart will stay there until the buyer decides to remove them. However, eBay will remove closed listings after 90 days. Even more, keep in mind that an item in the cart is not a reservation and it can be purchased at any time by another buyer.
eBay takes 1.5% up to 14% percentage of each sale from its sellers.
eBay gets a percentage of each sale, varying from 1.5% up to 14%. The company takes a percentage amount from the seller in both the item and shipping. There are times when eBay won't charge and waive an international shipping rate but the cheapest rate for an international package is around $35.
Shipping policies and practices can be challenging for a beginner.
Selling on eBay is one of the most effective ways to make money online, however, the shipping policies and practices can be challenging especially for beginners and depending on the country's courier system. For instance, eBay United States has partnered with major couriers such as the United States Postal Service, United Parcel Service, and FedEx to enhance its shipping services.
Many eBay sellers use the United States Postal Service because of its convenience.
The United States Postal Service is one of the biggest couriers for eBay sellers. Its convenience is widespread since there are many post offices throughout the country. Furthermore, they provide an array of services that will suit the sellers' need such as the First-Class Mail, Priority Mail, Parcel Post, and Express Mail.
United Parcel Service is recommended for shipping larger items.
When shipping large or heavy items on eBay, UPS or United Parcel Service is the better choice. UPS provides different services such as UPS Ground, UPS 3-Day Select, UPS 2nd Day Air, UPS Next Day Air Saver, and UPS Next Day Air. Pro tip: when shipping lighter items, the United States Postal Service or USPS is more practical since UPS can be a little expensive for smaller items.
FedEx provides eBay sellers a speedy and precise shipping.
FedEx is the most popular shipping supplier for eBay. Moreover, FedEx is an excellent choice for various types of packages such as FedEx Ground or Home Delivery, FedEx Express Saver, FedEx 2Day, FedEx Standard Overnight, and FedEx Priority Overnight.
To make a profit, sellers should study international shipping costs first.
When shipping your items on eBay internationally, once again, FedEx is a leads the game. The company offers 'FedEx International Priority' and 'FedEx International Economy.' However, it tends to be expensive.
When shipping to Canada, look for FedEx International Ground to Canada.
When you need your eBay items to be shipped to Canada, the 'FedEx International Ground to Canada' is the best option – the cost is reasonable and the shipping is relatively fast.
More than 60% of Canadians are online shoppers.
Canadians have more than 60% online orders coming from international retailers and they are one of the most robust cross-border shoppers worldwide. Many eBay sellers seize this opportunity from the US and UK sellers.
Sellers can combine their shipping.
To combine shipping on eBay, Go to 'My eBay' then click 'Selling', then click 'Sold' or 'Awaiting Shipping'. Second, check the boxes which will go to the same buyer. Finally, from the Shipping Action drop-down box at the top of the section, select 'Print Shipping Labels or Invoices.'
eBay Seller Hub is the seller's "accountant and assistant."
eBay Seller Hub allows the seller to automate and record eBay tasks. This page is divided into several columns and they can use Orders Link to view the summary of their sales activities. Apart from being an account assistant, the eBay Seller Hub tracks the seller's orders, listings, marketing, and performance.
Selling a product starts with a listing.
Creating a 'Listing' is the initial step for the seller's products to be seen by the buyers. With Buy It Now listings, sellers can arrange a fixed price and the buyers can purchase the products in an instant.
eBay auction enables the sellers to set a starting price.
Another way to make a better profit is by selling through eBay auctions. Instead of arranging a fixed price, eBay auction enables the sellers to set a starting price while potential buyers bid on their item.
Opening a seller account is easy.
Interested individuals should sign up for an eBay seller account and
confirm verify their identity through a credit card or mobile number get their account started.
You must send a letter of request to eBay if you need to close your account.
For any reason that a seller or buyer may want to delete their account, they must submit a letter of request through eBay's customer service. From there, eBay will reply to their registered email address. Usually, closing an account takes up to 30 days from the date they receive a request.
Go to 'Canceling Bids' if you need to cancel a bid.
To cancel a bid on eBay, the user should go to canceling bids and enter the item number as well as their username and the reason why they need to cancel the bid.
eBay Bucks is a rewards program that is free to use.
'eBay Bucks' is an incentives program that rewards eBay users for purchasing an item on the website. Users accumulate Bucks when they buy items with a qualifying logo.  Bucks function as a redeemable "eBay currency."
eBay distributes Bucks quarterly.
The eBay Bucks certificates are distributed approximately 15 days after the end of each quarter. Furthermore, eBay will send an email when the certificate is ready for redemption, and users can view it under the section of 'My eBay,' along with its terms and conditions.
Canceling an order on eBay can be a little bit tricky.
However, it's very easy when you get used to it. To cancel an order, go to 'Purchase History' and look for the order you need cancel. In the More actions dropdown, select 'Contact Seller,' and select 'Request to Cancel this Order.' Finally, don't forget to contact the seller and explain why you need to cancel.
eBay users can block other eBay users.
eBay users can block other users that they don't want to do transactions with. The blocked users can't anymore bid on listings or buy from you and will not be able to contact or send you a message. Users can also block other users who live in other places or countries to filter your target market.
Go to Help & Contact settings to block other users.
To block other users, simply login with your username and password. Next, click 'Help & Contact' and input 'block a buyer' in the search bar. Select 'Block a Buyer' and type in the eBay username of the user you intended to block then click submit.
Create first a good business model before selling on eBay.
To make money on eBay, a seller must have an entrepreneurial spirit, understand costs and expenses, find the right items to sell, and know their target market. Of course, using high quality photos, professional transaction etiquette, and proof of credentials also play a part in a store's success.
Two of the best eBay sellers are from the UK and the US.
As of February 2020, 'worldofbooks08' (seller from the UK), 'musicmagpie' (seller from the UK), 'medimops' (seller from Germany), 'thrift.books' (seller from the US), and 'decluttr_store' (seller from the US) are the top 5 sellers of eBay.
When the seller's account is all set, selling is as easy as buying.
To sell on eBay, you should first make a seller's account. Once done, select 'Sell' at the top of any eBay page or go to Sell your item. Build the listing for the items you intended to sell. Finally, validate your details and information, then add an automatic payment method for the eBay fees.
You can change your eBay username.
To change your eBay username, sign in first then click on the 'Account' tab then click the 'Personal Information' link. Click on 'Edit' next to your user ID, and from there, the eBay username can be changed.
eBay Gift Cards never expire.
Users can redeem eBay Gift Cards to shop from hundreds of items in electronics, fashions, toys, automobile products, home & garden, collectibles, arts, sporting goods, or anything they wish. eBay Gift Cards are free to use and do not have an expiry date and buyers can keep it until their own "perfect timing."
Buyers can leave feedback after purchasing an item.
To do that, go to 'Orders' and Choose the item(s), then choose Leave feedback. Select the rating in your transaction and enter a comment, then leave feedback.
eBay Motors is the venue for buying and selling new and pre-owned vehicles.
eBay Motors has a platform for its customers where buyers and sellers can make a deal on buying and selling different vehicles. eBay Motors has a large variety of new, as well as pre-owned vehicles. The process is simple – sellers set their vehicle for sale on the marketplace while interested buyers can contact them eventually.
There are three steps to selling your vehicle at eBay Motors.
First, take the best photos and take down all the important information about the car's history. Second, create the listing through your account at eBay Motors and put all the important information from the vehicle and indicate your price. Finally, once you have a buyer, finalize the payment and you may bring the vehicle to the buyer and transfer the title.
Scamming is not an uncommon case on eBay Motors.
Selling or buying vehicles online can be simple as it may sound, but unfortunately, scamming is not an uncommon case on eBay Motors. Therefore, buyers must be vigilant before entering a transaction. It's always a great idea to research both the car and the seller first.
It's generally safe to buy from eBay.
The company works very hard to monitor and protect its buyers & sellers, website, reputation, and payment system. Although some professional scammers slip through the net and fraud other people who are just seeking a good deal, it's still better to be internet literate.
eBay coupons are discount offers.
eBay coupons are redeemable by the receiver for use on items listed and purchased on the website. However, coupons have an expiry date, unlike eBay Gift Cards.
Most users can get coupons from eBay's promotions.
From time to time, most users can get coupons from eBay's promo or through its Customer Service as a reward. If you are chosen to receive a coupon, you'll get a notification in your eBay account or your email.
You can't use your eBay coupon if you don't have PayPal.
Coupon users must checkout or pay with their PayPal account if they want to use their coupon since that's the only method allowed by eBay. The company only allows one coupon to be used at a time every purchase.
eBay customer service is available from Monday to Sunday.
eBay users can reach customer service through email support or live chat depending on their country and time zone. In most places, eBay customer support is available from Monday to Friday from 5 AM-10 PM, and Saturday to Sunday from 6 AM-6 PM.
eBay's shares of stock are listed in NASDAQ.
eBay's shares of stock are listed in the NASDAQ Stock Exchange under the stock code, EBAY.
EBAY currently trades at $39 per share.
For the reference of the current and future traders/investors that are eyeing eBay, the current PE Ratio (the ratio of a company's share price to the company's earnings per share) of eBay is 18.67 with an annual dividend yield of 1.64%, as of April 2020.
The eBay calculator empowers the seller to plan their business cashflow.
The eBay calculator allows the seller to estimate their shipping costs, item cost, PayPal fees, and eBay store subscription discounts. The eBay calculator is a very useful tool to predict or forecast the seller's future earnings and expenses.
Collectible sports cards are highly valued items on eBay's auction.
Every day, eBay sells a sports cards ranging from hundreds up to thousands of dollars. The highest-selling sports cards on eBay are baseball cards, basketball cards, football cards, soccer cards, and hockey cards.
A collectible baseball card once sold for $486,100.
The most expensive sports card ever sold on eBay was the 1952 Topps Mickey Mantle card for $486,100.
American Girl dolls also sell for high values on eBay's auction.
Other collectible items on eBay are the American Girl dolls – an American line of 18-inch dolls released in the year 1986 by Pleasant Company. In 1998, Mattel, Inc. bought the Pleasant Company, making the original American Girl dolls extremely valuable to collectors. With this in mind, the American Girl dolls, including Samantha, Molly, and Addy with multiple outfits and furniture sells over $10,000 on eBay.
eBay protects its customers through its money-back guarantee program.
eBay assures all the users will have a great online shopping experience. Most of its products online have money-back guarantee for when orders don't arrive, get damaged, or don't match the listing.
Buyers must contact the seller first if they need a refund.
To apply for a refund through the money-back guarantee, the buyer must contact the seller first to resolve the issue. If the problem still persists between the seller and buyer after three business days, the buyer can notify eBay's customer support and their staff will settle the issue.
Golf clubs are one of the best selling sports products on eBay.
In detail, the highest-selling golf clubs are the Odyssey O-works, TaylorMade Rocketbladez, Callaway Rogue, and Cobra clubs ranging from $100 to $500.
Scarlett Johansson once sold her snot on eBay.
In late 2008, Scarlett Johansson appeared in the 'Tonight Show of Jay Leno.' During the show, Scarlett said that she got a cold from Samuel Jackson while shooting the movie The Spirit. Taking the possibility of raising money for the charity, she blew her nose into a tissue and decided to sell it on eBay's auction. The highest bidder bought it for $5,300.
A 20-minute date with Scarlett Johansson sold for $40,100 on eBay.
Speaking of Scarlett Johansson, earlier that same year, a bidder from the U.K. paid $40,100 for a 20-minute date with the Hollywood actress while all of the proceeds went to charity as well.
Ian Usher once sold all his possessions on eBay.
After Ian Usher's marriage fell apart, he auctioned off all his possessions on eBay. This includes his house, car, motorcycle, jetski, and a two-week trial period at his job. Upon selling them, Ian made $305,000 and traveled the world as his bucket list. Furthermore, Ian Usher wrote the book 'A Life Sold' which caught the attention of Walt Disney and the company bought the rights to his story.
William Shatner has sold his kidney stone on eBay for $25,000.
In 2006, the Canadian actor sold his kidney stone with all the proceeds going to a housing charity.
A new species of sea urchin was discovered in an eBay auction.
In 2006, a seller from Montana put up a sea urchin they gathered from the Pacific on an eBay auction. The International Commission on Zoological Nomenclature recognized that the urchin didn't belong to any group at all but rather a new species.
About 800 million items are currently listed on eBay.
And that is why customers or buyers may experience an eternity searching for specific listings. Listings keep coming in 24/7, from all over the world.
The company caters to over 2 billion transactions per day.
Aside from an enormous number of listings every day, eBay gets over 2 billion transactions for each day.
Most of the items sold on eBay have a 'BUY IT NOW' feature.
According to statistics, only 15% of items are purchased on eBay through bidding. Although buyers can bargain for items through auctions, using 'Buy It Now' allows the buyers to pay a fixed price and secure the item in an instant.
eBay has better sales compared to the economy of some countries.
Everytime eBay records a sale of more than $80 billion per year, they are surpassing the entire GDP of other countries such as Libya with only $54 billion and Laos with $20 billion.
One of eBay's conference rooms is named after Jack Sheng.
Jack Sheng is eBay's first seller to reach a feedback score of a million. On November 13, 2008, eBay made a shooting star icon to go on Jack's profile to recognize this historic achievement. To commemorate, eBay even named one of their conference rooms, "Jack Sheng."
eBay sold Bridgeville, California twice.
The privately-owned town of Bridgeville, California, was sold on eBay for $700,000 in the year 2002. When the new owner realized that he doesn't want his new property anymore, he put it on eBay's auction and sold it for $1,777,877 in 2006.
The evening is the best time to list for an eBay auction.
According to eBay, most of the users surf the website in the evenings when they get home after working or business hours. Thus, it's ideal to use those times for an auction to optimize the chances of selling.
Love stories can start on eBay's auction.
When James Blunt's sister needed to go to Ireland for a funeral, the planes were on strike and there were no ferries available during that time. The English singer-songwriter decided to put his sister on eBay's auction to see if someone can help. An interested gentleman offered his helicopter, and everything went well from there. James's sister and the man fell in love after the event and eventually got married.
NASA once bought replacement parts from eBay.
When NASA had problems with the discontinuation of replacement parts they needed for a project in 2002, they went to eBay to look for second-hand parts. From there, NASA struck a deal with a seller to get the parts.
The website started with a yellow interface.
After a while, eBay decided to change the yellow background to white with the intention of enhancing its design. However, the company started to receive bad feedback from its customers that they didn't like it. Thus, eBay decided to change it back to its original color.
eBay bought PayPal in 2003.
In 2003, eBay bought PayPal for $1.5 billion and made it as their main payment provider, although in 2014, eBay decided to spin-off PayPal into a separate publicly-traded company. They continued their partnership to this day, but PayPal won't be ahead of debit and credit card options anymore.
eBay sold its company StubHub for $4.05 billion.
In 2007, eBay acquired StubHub – an American ticket exchange and resale company – for $310 million. In 2019, eBay announced that they will sell StubHub, which was acquired by its competitor Viagogo for $4.05 billion in February 2020.
Some shareholders did not like the idea of selling StubHub.
Although eBay made a lot of money by selling StubHub to Viagogo, some of its shareholders did not like the idea because StubHub has been growing faster than eBay's core marketplace. In late 2019, eBay's total revenue declined by 1.0% while StubHub revenue was up 5.2%.
The company has a list of items that are prohibited from selling.
eBay already sold many weird things in the past which made them create a different set of rules such as not allowing anyone to sell illegal drugs, personal information, lottery tickers, used underwear, used cosmetics, human remains, firearms, and weapons.
eBay allowed buyers to rate sellers in 2008.
In 2008, eBay created a grading system by allowing the buyers to rate the sellers in different categories. Since then, buyers are requested to rate the seller's performance on a score of one to five. This feedback system motivates the sellers to improve their services, which almost all of the E-commerce industry applies today.
MissionFish is the charity partner of eBay.
Through MissionFish, eBay users can donate to the certified nonprofit organizations anytime they buy and sell through the website.
You can buy or sell recipes on eBay.
On eBay, users can find vintage handwritten recipes, home recipes from different centuries, and old collection clip recipes from magazines.
Google may provide tons and tons of free cooking recipes today. However, just imagine if you have a "top secret cooking recipe" that can open an opportunity for you to make a fortune via auction. So, don't hesitate to put it on eBay unless you plan to build your own restaurant in the future.
The calendar month of eBay starts at 12:00: 00 am Pacific Time.
eBay's calendar month starts at 12:00: 00 am Pacific Time on the first day of each month and ends at 11:59:59 pm Pacific Time on the last day of the month.
eBay's San Jose building names reflect categories.
eBay HQ in San Jose, California houses offices with cool names. The offices reflect eBay's categories: clothing, crafts, jewelry, and the like.