Andre the Giant Facts
Andre the Giant stood as a literal giant in the history of professional wrestling. That said, more existed about the man beyond his superstar status or his large and imposing appearance. Learn more with these 40 Andre the Giant facts.
Quick Facts
Essential Facts
Interesting Facts
Andre gained his nickname from his height of 7 feet and 4 inches.
He weighed an estimated 520 pounds.
Doctors diagnosed him with gigantism immediately after his birth, thanks to his weight of 13 pounds.
At the age of 12, Andre already stood 6 feet and 3 inches tall.
Andre died from heart failure in 1993.
Boris and Marian Roussimoff had Andre on May 19, 1946, at Coulommiers, Seine-et-Marne in France.
He began his wrestling career in 1964, under Robert Lageat, in Paris.
He made his film debut in 1967, as a minor character in the French-Italian-German film, Casse-tête chinois pour le judoka.
Andre later debuted in the International Wrestling Enterprise in Japan in 1970.
Andre had his only child, Robin Christensen, with Jean Christensen in 1972.
Vincent McMahon Sr. first gave Andre his nickname, The Giant, in 1973.
Andre the Giant made a world record in 1974, as the highest-paid wrestler at the time, making $400,000 in a year.
He made his American acting debut in 1977, as the Sasquatch in the American TV series, The Six Million Dollar Man.
Andre became a wrestling icon and regular during the 1970s and 1980s.
He made a posthumous appearance in the 1994 film, Trading Mom.
Andre did not drop out of school at age 14 as some critics claim, but because compulsory education at the time ended at that age.
His other nicknames included Géant Ferré, Giant Machine, and Monster Roussimoff.
Critics described him as an absentee father to his daughter Robin.
Robin Christensen avoids discussing her relationship with her father.
Andre left all his assets to Robin after his death.
Andre the Giant had humble beginnings.
Born to East European immigrants living in France, Andre grew up at his father's farm at Ussy-sur-Marne. At school, records show that he performed at an average level, though he did show an aptitude for mathematics. After finishing school, Andre got his first job working at his father's farm, where he apparently did as much work as three other men. At the same time, he took an apprenticeship under a woodworker, and on finishing, took a job at a factory for farm machinery.
Andre later admitted, however, that none of the jobs he took at the time gave him any satisfaction. It was also said that as a child, he greatly enjoyed watching and playing cricket thanks to the Irish playwright Samuel Beckett. Andre met Beckett while studying at school, with Beckett frequently driving Andre and his siblings to and from home and school.
His wrestling career picked up quickly after it started.
Andre moved to Paris in 1964, with local wrestling promoter Robert Lageat quickly recognizing his potential. Lageat also gave Andre his first nickname, Géant Ferré, after the French folk hero Grand Ferré, when Andre debuted in the local wrestling community. Two years later, Andre met his business manager, Frank Valois, who expanded Andre's career with matches in Australia, Africa, Britain, Germany, and New Zealand.
Andre later competed in Japan, as Monster Roussimoff, and in partnership with Michael Nador. In 1971, Andre moved to Canada, where he made a name for himself at the Montreal Forum. Ironically, his success soon threatened to destroy his career, as he ran out of opponents to fight and people grew bored of him.
Andre the Giant's superstar status began with his debut in the WWWF in 1973.
He did so in a handicap match at Philadelphia, against his friend Frank Valois and Bull Pometi. Andre's victory immediately made him a fan favorite, with his fame growing after his next match, defeating Buddy Wolfe at Madison Square Gardens in New York City. Over the next 15 years, Andre became famous for never losing a match, at least not in the WWWF or its successor, the WWF.
Losses included a match against Don Leo Jonathan in 1972, against Strong Kobayashi also in 1972, and Jerry Lawler in 1975. Bobo Brazil also managed to fight him to a draw in 1976, as did Ronnia Garvin in 1978. Andre also fought in a wrestler vs boxer matcher match against Chuck Wepner in 1976, as a sideshow to Muhammad Ali's own match against Antonio Inoki.
Vincent McMahon Sr. helped Andre the Giant establish his superstar profile.
McMahon Sr. had Andre act out the role of a large and unstoppable monster in the ring, helped by his new nickname, The Giant. As part of this new role, Andre stopped using agile moves like dropkicks, even though he could use them despite his size and seeming clumsiness. Ironically, this may have helped him in the long term, by reducing the strain his wrestling career put on his body. MacMahon Sr. also recognized the danger to Andre's career caused by overexposure, like what happened to him in Canada in 1970.
For this reason, MacMahon Sr. had Andre constantly traveling to make appearances around the world. This kept audiences in any one place from getting too used to his presence and getting bored as a result. It also helped Andre earn money, as in addition to the WWF booking fee, McMahon Sr. insisted local promoters pay Andre to make an appearance.
He became famous for a wrestling feud with Killer Khan in 1981.
The story goes that the feud began after Khan accidentally broke Andre's ankle during a wrestling match in May 1981. In truth, Andre broke his ankle while getting out of bed in the morning before the match. That said, the story that Khan broke Andre's ankle proved much more exciting than that of a household accident, so the producers promoted it instead.
The two wrestlers fought each other again in July of that year, in a match that ended with a dual disqualification. The feud continued over the following months, before finally ending in November with a Mongolian stretcher match. This meant that the match would only end after one wrestler needed to go to the hospital, a fate that met Khan.
His most famous wrestling feud involved Hulk Hogan, however.
Wrestling historians consider it the most famous in wrestling history, but ironically, it only existed in the ring. Outside of the ring and in their ordinary lives, both Andre and Hogan actually saw and treated each other as close friends. Andre even attended Hogan's wedding to his first wife, Linda, as a guest of honor. That said, the wrestling feud proved good publicity, so they kept it up in the ring, starting in 1980.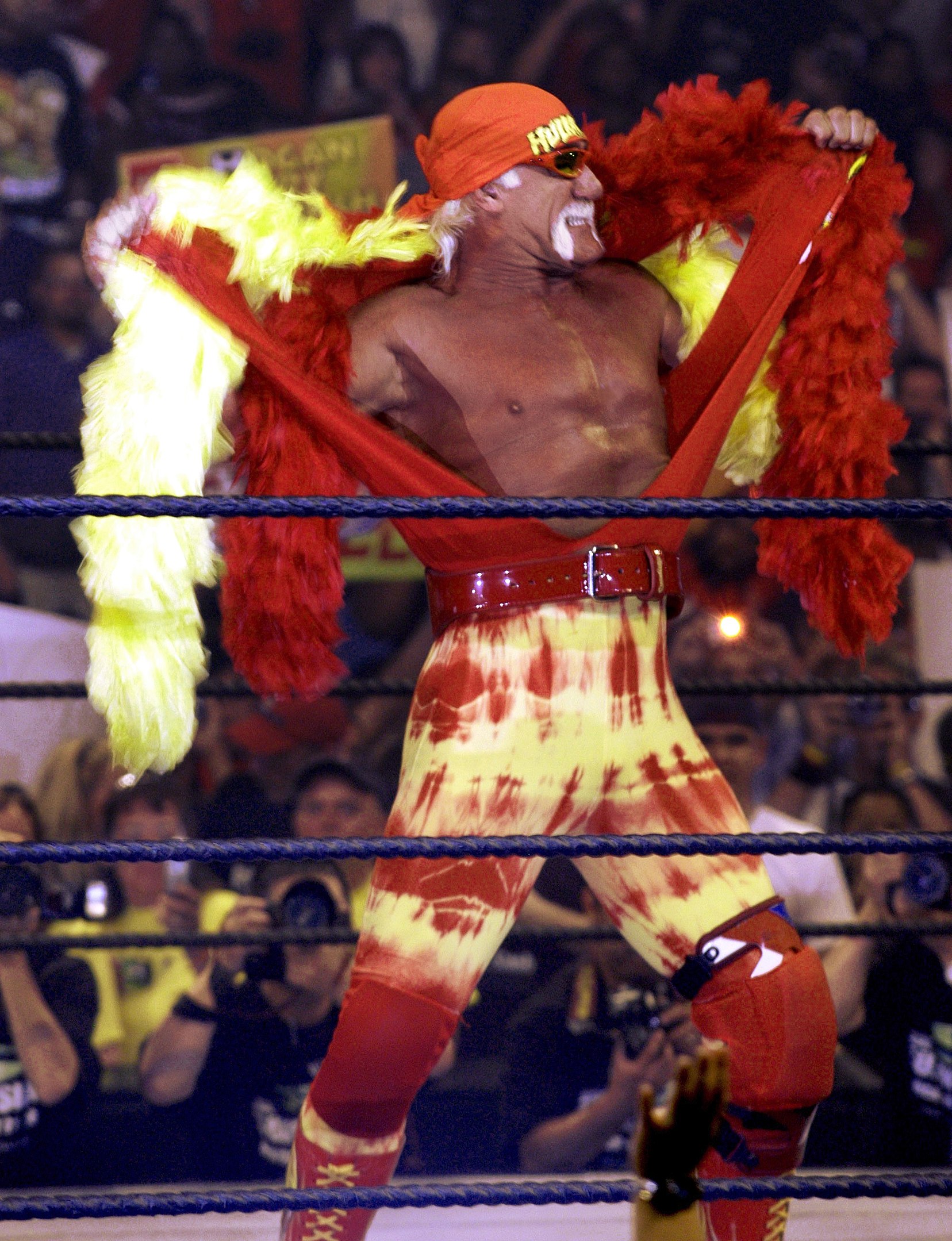 As part of their feud, Hogan played the role of the hero, which Andre contrasted with a villainous role. The feud temporarily ended in 1982, when Andre began a new feud with the Heenan Family. It resumed in 1987, however, with Wrestlemania III, and again with Wrestlemania IV in 1988. In both events, Andre contested the WWF World Heavyweight Championship against Andre. The feud wound down after Wrestlemania IV, however, with Hogan and Andre only wrestling against each other in non-title matches in 1990.
Andre the Giant also had a wrestling feud with the Heenan Family in the 1980s.
The Heenan Family referred to several wrestlers managed by Bobby the Brain Heenan. One of those wrestlers, Big John Studd confronted Andre over who actually counted as the true giant of wrestling. This resulted in a series of matches around the world, with one especially infamous match taking place in 1984. Studd managed to knock Andre out with the help of Ken Patera, before humiliating Andre by cutting off his hair. Andre took his revenge on Studd in Wrestlemania I in 1985, after which he gave away the $15,000 prize to the audience.
The feud worsened after Wrestlemania II when Andre took a leave of absence for health reasons. This led Studd and his partner, King Kong Bundy, to accuse Andre of cowardice, and even get Andre suspended in 1986 for failing to show up at a match. Andre later returned in that same year as the Giant Machine, defeating Studd and Bundy repeatedly. The feud finally ended in 1987, with Andre joining the Heenan Family to contest the WWF World Heavyweight Championship in Wrestlemania III.
Ironically, he partnered with Heenan Family member Haku in 1989.
This took place in 1989, with his and Haku's partnership marketed as the Colossal Connection to refer to both wrestlers' large bodies. They quickly left their mark, defeating the Demolition tag team to win the WWF Tag Team Championship. They later lost that championship in Wrestlemania VI in 1990, leading to an argument between Heenan and Andre.
Heenan actually slapped Andre, causing Andre to slap him back and knocking the smaller man down. Haku then attempted to attack Andre, only to get thrown from the ring, and humiliated by the audience who supported Andre. Following a failed attempt to reclaim the tag team championship from Demolition, the Colossal Connection parted ways.
Andre the Giant had more rivalries for the rest of his wrestling career.
This included a feud with Jim Duggan after he knocked Andre out with a 2 x 4 wood board in 1988. This led to several matches between the two, with Andre usually winning against Duggan. Duggan also found himself in trouble with Andre's then-manager Heenan, who held a lot of influence in the WWF. Andre also had a rivalry with Jake Roberts, who discovered that Andre had a phobia of snakes.
Roberts publicly revealed this on live TV by throwing a living snake at Andre, causing him to suffer a minor heart attack. Roberts also began a habit of carrying a pet snake with him as a way to keep Andre off-balance. This led to a series of matches that ended at Wrestlemania V in 1989, with Andre losing only by disqualification.
He also suffered various injuries during his time with the WWF.
Most persistently, his preexisting conditions of gigantism and acromegaly combined with the physical stresses of his wrestling career. This left Andre in constant pain, requiring maintenance medicine to keep the pain suppressed. He also had to undergo surgery on his back to reduce the strain on his spine, forcing him to wear braces even when wrestling.
Wrestlemania VI actually saw Andre spending the whole event on the bench because of his medical issues. We've also previously mentioned how Andre broke his ankle and even suffered a minor heart attack at certain points in his wrestling career. In 1991, Andre actually had to back out of that year's Royal Rumble event over a leg injury.
The end of his career with the WWF in 1991 turned violent.
After Wrestlemania VII, various managers each tried to strongarm Andre into signing up with them. Each attempt ended poorly, however. Heenan suffered a crushed hand, while Sensational Sherry found himself slapped away by Andre. Andre locked Slick in the trunk of the car that Slick tried to bribe him with, while Mr. Fuji ended up with a pie in his face. Jimmy Hart later tried to scam Andre into a partnership with Earthquake, but Andre exposed his scam in public.
This led Earthquake to attack Andre from the back and gave him a knee injury in the process. Later, Hart's team, the Natural Disasters, tried to attack Andre while he sat in crutches with the audience. Thankfully, two other wrestling teams, the Legion of Doom and the Bushwackers, stood up for Andre, forcing the Natural Disasters to back down.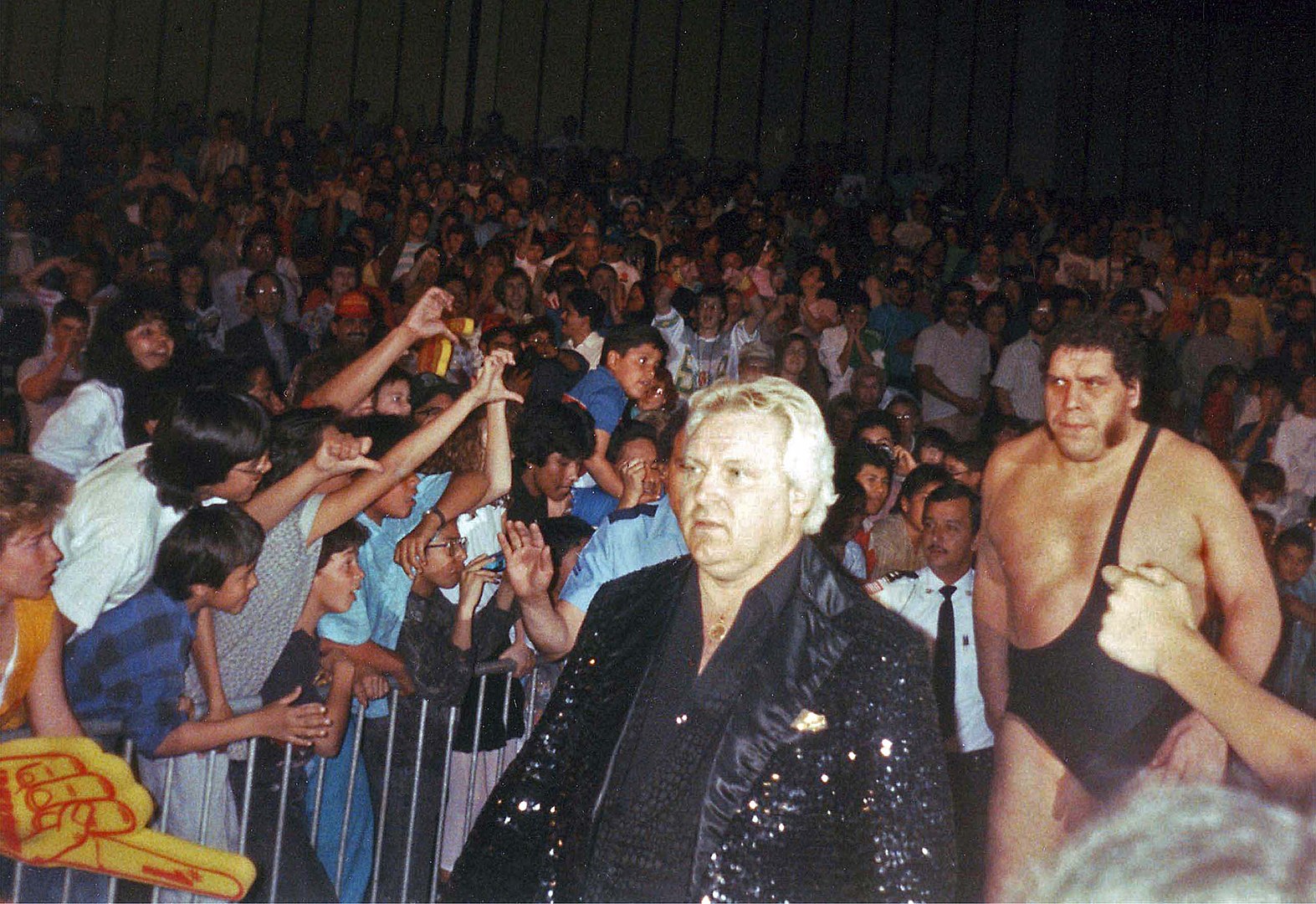 His wrestling career continued sporadically in the 1990s.
In particular, he continued to wrestle in All Japan Pro Wrestling and Mexico's Universal Wrestling Association. Andre formed a partnership with Giant Baba at the time, participating in three tours per year between 1990 and 1992. He also made guest appearances at the Universal Wrestling Federation in 1991. Later on, Andre gave an interview at World Championship Wrestling in 1992.
He also attended the 20th anniversary of wrestling on TBS that year alongside wrestling announcer Gordon Solie. Andre made his final appearance as a wrestler in Mexican Lucha Libre alongside Bam Bam Bigelow. His final matches took place in Japan, alongside Giant Baba and Rusher Kimura against Haruka Eigen, Masanobu Fuchi, and Motoshi Okuma.
Andre the Giant made his legacy in film with the role of Fezzik in the 1987 film The Princess Bride.
So much so that when people unfamiliar with wrestling hear about Andre the Giant, they automatically think of Fezzik. In fact, Andre described playing Fezzik as his favorite role in acting, and his appearance onscreen reflects his enjoyment. A gentle giant Fezzik works as a thug for hire under Vizzini, but while Fezzik has no problem with breaking the law, he does hate playing dirty.
He's also remembered for his friendship with the swordsmanship genius Inigo Montoya, going to great lengths first to save Inigo's life, and again to help him avenge his father. Fezzik, later on, helps Westley to save Buttercup from the evil Prince Humperdinck, ironically despite having helped Vizzini kidnap Buttercup at the start of the story.
He also appeared in various other films and TV series.
The TV shows that Andre appeared in include B.J. and the Bear, The Fall Guy, The Greatest American Hero, and even Zorro. In addition to The Princess Bride, Andre also appeared in the film, Conan the Destroyer, specifically as the horned god Dagoth. This role would see Andre become good friends with Arnold Schwarzenegger, who played the role of Conan.
Andre also appeared in Micki & Maude, and as himself, and was credited by his birth name of André Rousimmoff. Other films and TV series he appeared in include Symphorien, Les Brillant, I Like to Hurt People, and The Goonies 'R' Good Enough.
Andre the Giant also had the unofficial title of The Greatest Drunk on Earth.
He earned that title after drinking 41 liters of beer in only six hours, with Mike Graham later confirming it as true in WWE Legends of Wrestling. In fact, he claimed that Andre actually drank more than that, and actually drank 73 liters. The Fabulous Moolah even claimed that at one point, Andre drank 127 beers before passing out in a hotel lobby. The staff found themselves unable to move Andre because of his sheer size and had to leave him on the floor until he woke up on his own.
At one point during the production of The Princess Bride, Andre again passed out drunk, this time on top of a person. This later led the NYPD to assign an officer to follow him around to prevent a repeat of the incident. That said, Andre's friends revealed that Andre didn't drink out of alcoholism, but to help deal with the constant pain he suffered in the latter part of his life.
His friends described him as a very gentle and generous man.
In particular, he owned a ranch in North Carolina, where he spent his time whenever he wasn't putting on a show or attending an event. Andre personally tended to his cattle and other animals, showing a degree of tenderness most people did not extend from such a large man. He also had a habit of paying the bill not just when he ate with a friend, but also even when he did so as a guest of honor.
Arnold Schwarzenegger even recalled a time when he had dinner with both Andre and Wilt Chamberlain. Schwarzenegger tried to have Chamberlain distract Andre while he went to pay the bill. Andre saw through the ruse, and physically but gently carried Schwarzenegger to his car before telling him to wait while Andre paid the bill.
Andre the Giant only reached the age of 46 at the time of his death.
This took place in his sleep, early in the morning of January 27, 1993, at a hotel in Paris. Andre had initially come to the city to attend his father's funeral. He then decided to stay in the city until his mother's birthday. According to his friends, Andre played cards with them on the night of January 26, before returning to his room at one in the morning.
After he failed to reappear in the morning, the hotel manager went to check on him in the afternoon and found only Andre's dead body. Andre's family originally planned to have him buried next to his father but changed their minds after the will-reading. Respecting Andre's wishes, they had his body flown to the USA for cremation, and his ashes scattered at his beloved ranch in North Carolina.
He later made many posthumous appearances.
In particular, wrestling-themed video games commonly feature Andre as a posthumous playable character. Among the earliest to do so include Virtual Pro Wrestling 64, WWF No Mercy, and the Legends of Wrestling series of video games. WWE later released a DVD biography of Andre in 2005, aptly named Andre the Giant. The publisher Lion Forge Comics later produced a graphic novel biography of Andre in 2015, Andre the Giant: Closer to Heaven.
The graphic novel later received a film adaptation in 2016, with input from Andre's daughter Robin. Most recently, HBO also produced a documentary film about Andre in 2018, again aptly named Andre the Giant.
His legacy endures decades even after his death.
In addition to his posthumous appearances, Andre has become the theme or source material for various enduring works. WWE, for example, includes an Andre the Giant Memorial Battle Royale in every Wrestlemania event since 2014. The winner's trophy, aptly called the Andre the Giant Memorial Trophy, even features a golden sculpture of Andre himself.
Capcom even modeled a new character in their Street Fighter series of games after Andre, named Hugo. Like Andre, Hugo comes from France and even goes by the alias of Andore. Hugo first appeared in Street Fighter III: 3rd Strike, released in 1999 and has appeared in every Street Fighter game since.
Other wrestlers have found themselves compared to Andre the Giant.
These include Paul Wright, more commonly known by his professional nickname of The Big Show. Like Andre, Big Show also suffered from acromegaly but underwent surgery to remove his pituitary gland to correct the condition. His large size and similar fighting style have led to many comparisons with Andre.
Big Show even wears the same kind of wrestling outfit that Andre once did. WWE even marketed him as Andre's son early in Big Show's career, despite lacking any biological relationship between them. Aside from Big Show, another big-bodied wrestler compared to Andre includes Giant Gonzalez. Much like Andre, Giant Gonzalez also suffered from acromegaly. He died in 2010 from diabetic complications caused by the condition.