What Happened On July 11th?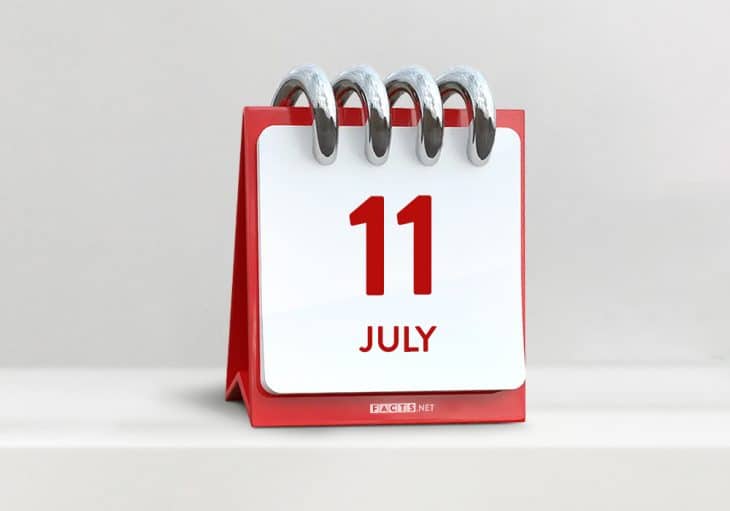 On July 11th, history has seen its fair share of remarkable moments and achievements. From scientific discoveries to cultural shifts, this day is one that stands out for a variety of noteworthy occurrences over the years. In this article, we will take an in-depth look at some pivotal events throughout our timeline on this special day!
Scientific Breakthroughs
1997: The first sequencing of pieces of DNA extracted from a Neanderthal-type specimen was performed by a team of researchers led by German scientist, Svante Pääbo. The specimen used in the study was a 40,000-year-old Neanderthal thigh bone found in Croatia. The team was able to extract and sequence a short fragment of the mitochondrial DNA (mtDNA) from the bone. The results of the study provided the first evidence that it was possible to extract and analyze ancient DNA from extinct species, which opened up new possibilities for the study of human evolution and the history of life on Earth.
Political Milestones
1798: The United States Marine Corps was re-established after having been disbanded following the American Revolutionary War. Since then, the Marine Corps has played a crucial role in protecting the United States and its interests both at home and abroad.
1804: In one of the most famous duels in American history, Alexander Hamilton, a founding father and the first Secretary of the Treasury, was fatally wounded by Aaron Burr, the sitting Vice President. The duel tarnished Burr's political career and amplified the ongoing debate over the practice of dueling.
1995: The Srebrenica massacre began in Bosnia and Herzegovina during the Bosnian War. Over the course of several days, approximately 8,000 Bosniak men and boys were killed by Bosnian Serb forces in what is considered the worst act of genocide in Europe since World War II.
Cultural Events
1960: The iconic novel To Kill a Mockingbird by Harper Lee was published on this day. This critically acclaimed book, which explores themes of racial injustice and moral growth, has since become a classic of American literature.
2011: Tom Stuker, a car sales consultant from Illinois, became the first person in history to reach 10 million miles with United Airlines. He was given a lifetime membership to United's Global Services program, which provides exclusive perks and benefits to the airline's most frequent flyers.
Notable Birthdays
John Quincy Adams (1767–1848) – The sixth President of the United States, was born in Braintree, Massachusetts. Adams, who served from 1825 to 1829, was instrumental in formulating the Monroe Doctrine and played a key role in shaping early American foreign policy.
Yul Brynner (1920–1985) – A Russian-born actor who achieved fame for his role in the Broadway and film versions of "The King and I." He also appeared in a number of other films, including "The Magnificent Seven" and "Westworld." He was known for his distinctive bald head and his commanding screen presence.
Giorgio Armani (1934) – An Italian fashion designer and founder of the Armani brand, was born in Piacenza, Italy. Armani's influence on the fashion world is undisputed, with his innovative designs and elegant style shaping the industry for decades.
Suzanne Vega (1959) – A singer-songwriter known for her distinctive voice and poetic lyrics. She achieved commercial success in the 1980s and 1990s with hits like "Luka" and "Tom's Diner." Her music has been influential in the development of the folk-pop and acoustic genres.
Michael Rosenbaum (1972) – An actor best known for his role as Lex Luthor on the television series "Smallville." He has also appeared in a number of films and other television series, and has worked as a voice actor in animated films and series.
Lil Kim (1974) – A rapper and actress known for her sexually explicit lyrics and her bold fashion choices. She rose to fame in the late 1990s and early 2000s with hits like "Lady Marmalade" and "Magic Stick." She has also appeared in a number of films and television series.
Caroline Wozniacki (1990) – A former professional tennis player from Denmark. She reached the world No. 1 ranking in 2010 and won 30 WTA singles titles during her career, including the Australian Open in 2018. She retired from professional tennis in 2020.
Alessia Cara (1996) – A Canadian singer-songwriter known for hits like "Scars to Your Beautiful" and "Here". She has won several awards for her music, including a Grammy for Best New Artist in 2018.
Final Word
July 11th is a day that continues to shape our present and future – we should all take the opportunity to celebrate its numerous, meaningful events. From revolutionary scientific breakthroughs and political milestones, through cultural moments of joy and recognition of influential figures' births; this date can never be forgotten in terms of importance. Let us show respect for those who have gone before us by reflecting on how their actions help inform where we are today – honoring them with appreciation for how they continue to influence progress across humanity's shared history.