Alexander Hamilton Facts
This list of Alexander Hamilton facts has prolific accomplishments that he can be proud of. He was a lawyer and an American statesman, just to name a few of his well-known professions. The most notable credit to him is being one of the key figures of the founding fathers.
He authored many essays for The Federalist Papers and was the first-ever Secretary of the Treasury of the United States. In addition, Alexander Hamilton was the first Secretary of the Treasury of the United States. In this capacity, Hamilton oversaw the nascent nation's economy through his policies. The most essential of these are the establishment of a national bank, a tariff system, and manufacturing support. He was first tasked with organizing the repayment of the $50 million debt. The US incurred that big a debt in the Revolutionary War.
Today, Alexander Hamilton continues to be an integral name, even in pop culture. Hamilton was also the inspiration for the successful Broadway musical, Hamilton. Its shows in New York City have so far made around $649.9 million, while touring company stops in Los Angeles, Chicago, West Palm Beach, Dallas, and elsewhere have brought in another $167.2 million.
Indeed, there is much curiosity about the life of the founding father. Alexander Hamilton's death may have ended his time, but surely his name lives on for many generations to come. Learn more about this significant figure in history with our list of interesting Alexander Hamilton facts.
Quick Facts
Essential Facts
Interesting Facts
Alexander Hamilton was born on January 11, 1757.
He died on July 12, 1804.
Washington had appointed Hamilton to become an aide-de-camp in February 1777.
He wrote a whopping 51 essays out of a total of 85 essays included in The Federalist Papers.
Hamilton and Washington had a quarrel believed to be caused by Hamilton seeking active command in the field. In 1781, Hamilton left Washington's staff.
Alexander Hamilton believed and argued in favor of a central government. This was for the new United States.
He occasionally dabbled in poetry.
He's one of the Founding Fathers of the United States.
Hamilton was also keen to protect America's coastlines. This led him to form a marine service, later to be known as the U.S. Coast Guard.
Hamilton often clashed with Thomas Jefferson due to differing political beliefs.
He's buried at the Trinity Church Cemetery in New York City.
Hamilton served in three branches or services in the military. Namely the New York Provincial Company of Artillery, Continental Army, and the United States Army.
Alexander Hamilton was elected to be a representative of New York.
Later, he resigned from the Congress of the Confederation to practice law.
Alexander Hamilton founded the Bank of New York prior to his career in politics.
Alexander Hamilton is the only person to be depicted in the U.S. paper currency not born in the continental U.S. or British America.
John Trumbull's famous portrait of Hamilton is located at the New York City Hall. It's there as part of its portrait collection.
He was an avid reader at an early age. This probably led to his affinity for writing.
Young Hamilton got published in The Royal Danish American Gazette. He described the devastation of a hurricane that hit St. Croix, Virgin Islands.
People read the publication and helped organize a scholarship for the young writer. Hamilton found himself attending King's College in New York.
Alexander Hamilton had eight children.
Alexander Hamilton fathered eight children with his wife, Elizabeth. The couple raised six boys and two daughters. The two sons often confused their parents as they were both named Philip. Angelica was the eldest daughter of the couple, followed by Alexander Jr., James Alexander, John Church, William Stephen, and Eliza.
Alexander finally got his college degree, 214 years after his death.
Alexander Hamilton received his college degree in May 2018, 214 years since his passing. Douglas Hamilton, Alexander's fifth great-grandson, received the honorary award. Albany Law School in New York awarded the degree to the late founding father. Hamilton had studied and practiced law in Albany, New York.
Despite his many achievements, Alexander Hamilton never received a college degree. He attended Columbia University − then named King's College − but did not finish the course. Hamilton dropped out for one significant reason: choosing to form his own militia and fight in the Revolutionary War. Not many college drop-outs would have this claim, and the responsibilities it ensued.
In addition, Hamilton was able to take and pass the bar exam. It was the only reason why Albany Law School chose the award to be symbolic.
Alexander Hamilton was, in fact, a hero of the Revolutionary War.
After dropping out of his education for the meantime, Hamilton formed his own militia called the Corsicans to fight. This militia company was later named Hearts of Oak. He fought bravely and led the New York Provincial Company of Artillery consisting of 60 men. Hamilton rose quickly and was elected captain.
He led many battles during the war, and eventually caught the attention of one George Washington. Washington was ultimately impressed by Hamilton and gave him a position on his staff. He fought through the Battle of Trenton, Battle of White Plains, and the Battle of Germantown, to name a few.
He also captained the United States Army's longest-serving unit.
In 1776, Hamilton raised the artillery company and was elected captain. Today, the company is still on active duty and serves as the oldest regular army unit. The 1-5 FA, or 1st Battalion, 5th Artillery, boasts the claim of distinguished military history. The company also came to be known as "Hamilton's Own."
Hamilton may have acted as a lawyer in the United States' first murder trial.
Alexander Hamilton and Aaron Burr practiced law in New York and partnered to represent Levi Weeks in the country's first murder trial. The trial took place on March 31 and April 1, 1800. It became known in history as the first recorded trial of its type. This is another footnote to add to his accomplishment on this list of intriguing Alexander Hamilton facts.
Weeks was the brother of Ezra Weeks, one understood to bear significant wealth. The defendant retained the services of Hamilton, Burr, and Henry Brockholst Livingston, as they were the prominent lawyers at that time. Ultimately, Weeks was acquitted, but public opinion believes he is guilty. Weeks chose to flee New York and reinvent himself in Natchez, Mississippi as an architect.
Hamilton and Burr often collaborated as lawyers.
Despite what history revealed to unfold for the two men's fate, both practiced law in the same state, and often worked together. It's previously thought due to their recorded fate, that the two hated each other. Both were touted as the region's decorated veteran lawyers and were professional in their own right.
Alexander Hamilton's death was the result of a duel with Aaron Burr.
Hamilton's death will always be remembered as the result of the duel with Aaron Burr. The two men settled their dispute in a duel on July 11, 1804. It was on the west bank of the Hudson River in Weehawken, New Jersey. Though it is the direct result, Hamilton didn't die immediately after. He died at least 31 hours after the fateful hour. Hamilton requested for his friends and family before he took his final breath.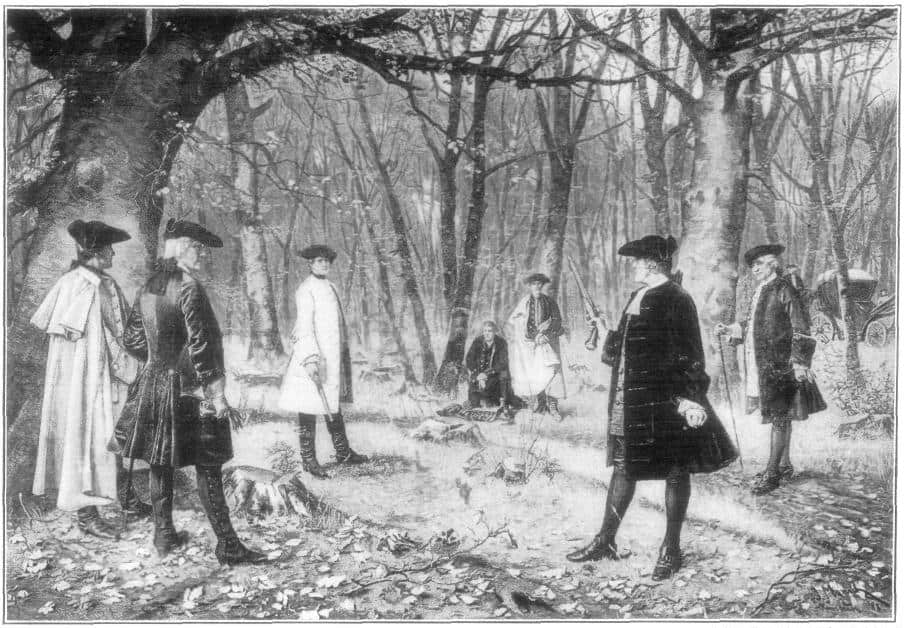 His last words were likely a prayer.
Records show that Hamilton's last words differ from varying accounts. However, historians accept his last words are as such:
"I have no ill will against Colonel Burr. I met him with a fixed resolution to do him no harm," he continued on to say that he has forgiven all that has happened.
Hamilton remained alive for at least a day and a half after being shot. Accounts show he asked for his wife immediately after his comrades took care of him. Hamilton asked his friends to break the events gradually to her and give her hopes to cling to.
Finally, a priest was present by his deathbed even after final visits from his friends and family. It's most probable that his last words were a prayer asking for mercy, humbly opening up to be a sinner, and offering himself to Jesus Christ.
Hamilton's eldest son died near the spot of the infamous Hamilton-Burr Duel.
On November 23, 1801, Philip faced George Eacker in a duel that eventually ended his life. Both men took ten paces from each other then turned to face the opposition. They did not fire instantly after turning.
Phillip and George stood still for the first minute before raising their pistols to take aim. The duel ended with Phillip taking the bullet in his body before it lodged itself into his arm. Hamilton's son fell on the ground bleeding but remained his poise. He died with dignity even until his last minute, accounts have claimed.
Alexander left his family with a significant debt.
Hamilton had left his family with significant debt after his passing in 1804. His financial statement days before his death revealed records of debt. The statement was in consideration if an accident would befall him in the near future. The exact amount is unknown, but it's a burden that his widow could not ignore. It was enough to have Eliza ask from Congress for money and land. Hamilton forfeited these rewards previously given for his service in the Revolutionary War.
Hamilton received George Washington's last known letter.
George Washington wrote his final known letter, and sent it to Alexander Hamilton on December 12, 1799, before his death. He died two days later. The letter was revealed to be Alexander's plan for a military academy.
Hamilton served with the rank of lieutenant colonel. Hamilton and Washington proved to have grown closer in their four years together in service. Moreover, Washington included Hamilton in his correspondence.
He authored most of The Federalist Paper essays.
Hamilton is a prolific writer and a capable one at that. He gathered James Madison and John Jay to write a number of essays to defend the proposed Constitution. The name of the series is now The Federalist Papers. Madison wrote 29 for his contribution, while Jay contributed the other five. Hamilton proved to be capable and supervised the whole project. He also oversaw the publication of the series.
Alexander Hamilton is the founder of the New York Post.
Hamilton established a daily news publication, which went on for generations to come. He launched the New York Evening Post in 1801. It is now called the New York Post. Hamilton hired William Coleman to be its editor.
He was an immigrant from the Caribbean islands.
Hamilton was an immigrant of the United States coming, he came from the Caribbean islands and was born on the island of Charlestown, Nevis.
Hamilton lied about his birth date.
Alexander Hamilton lied about his birth date and it's probably for his education. Two varying dates confuse historians as his actual birthdate. Consequently, his actual age is a mystery.
The year is in question. He repeatedly stated in accounts that he was born in the year 1757. But Nevisian records indicate 1755 as his recorded birth date. Hamilton may have "adjusted" his age for his college applications in order to look younger.
Alexander was born out of wedlock and was orphaned at an early age.
Alexander's father had abandoned his two sons, leaving the mother to care for the boys alone. Rachel Faucette, Alexander's mother, contracted yellow fever and did not recover from it. She died on February 19, 1768. Alexander became an orphan at little under 15 years old.
Faucette's first husband won the ruling of the court and was able to seize her estate, leaving little to young Hamilton. However, a family friend was able to purchase the family's collection of books at an auction of the seized property. This friend returned these books to the young Hamilton. He was taken in by a successful merchant. He apparently coped before becoming a clerk for a local import-export firm.
Alexander Hamilton was fluent in French.
Alexander Hamilton grew up with French as his second language. His mother was of half-French Huguenot and half-British descent. These facts about Alexander Hamilton proved to be beneficial for the lad. He was sent out on important tasks and military missions for his command of the French language. Hamilton, later on, became a liaison officer between the French generals and admirals and George Washington.
Alexander was the inspiration for an award-winning Broadway musical.
A list of Alexander Hamilton facts wouldn't be complete without a pop culture reference. The Alexander Hamilton musical was aptly named Hamilton. Lin-Manuel Miranda wrote, starred, and sung as a cast member at the very successful musical production.
He was almost replaced in a redesigned $10 bill in 2020.
Treasury Secretary Jack Lew proposed that a woman's portrait should and would be featured in the banknote. The treasury department announced this on June 17, 2015. Popular belief is that Alexander Hamilton's likeness should remain on the currency in some form.
Ultimately, this motion was pulled back, and Hamilton remained the face of the $10 bill. The success of the Alexander Hamilton musical proved to have played a part in keeping the portrait on the $10 bill.
Hamilton will remain as the primary person of the denomination. The treasury department announced on April 20, 2016, that. The success of the 2015 musical production Hamilton has surged public interest in the first treasury secretary.
Hamilton's portrait for the $10 bill is unique.
Alexander Hamilton's ubiquitous portrait is unique in the sense that it's the only denomination in which the subject faces to the left. It's the only one of its kind that's in circulation.