Edgar Allan Poe Facts
Popular audiences tend to paint Edgar Allan Poe as a horror or mystery writer. However, while he did write for both genres, he also dabbled in other genres. He wrote detective stories, comedies, even early science-fiction. In addition to being an author, Poe also had a reputation as the literary critic of his day, dominating the USA's literary stage in more ways than one. Learn more about the man with these 30 Edgar Allan Poe Facts.
Quick Facts
Essential Facts
Interesting Facts
Edgar Allan Poe published a total of 69 poems.

Despite his reputation as a horror author, Poe actually wrote only 15 horror stories.

He ultimately has a total of 70 short stories under his belt.

Poe also finished two novels and nine literary essays.

His single play, Politician, was left incomplete after his early death.
David Poe Jr. and Elizabeth Hopkins Poe had Edgar Poe on January 19, 1809.

His mother's death and his father's disappearance left him an orphan in 1810.

John Allan adopted Edgar into his family that same year.

Poe entered the University of Virginia in 1826, only to enlist in the US Army a year later.

In 1830, he went to the officer academy at West Point, only to drop out a year later.

Poe began his career as a writer in 1831, after his older brother Henry's death.

He married his 13-year-old cousin Virginia Clemm in 1837.

Virginia caught tuberculosis in 1842 and died from the disease in 1847.

Poe became an alcoholic after his wife's death.

He finally died from unknown causes on October 7, 1849.
Sir Arthur Conan Doyle, the creator of Sherlock Holmes, claimed Poe created the detective story genre.

The Mystery Writers of America named their award for excellence in the genre, the Edgars, in Poe's honor.

Horror writer H.P. Lovecraft also described Poe as his role model.

Science fiction writer Jules Verne also considered Poe as an inspiration.

Poe also inspired the works of suspense film producer, Sir Alfred Hitchcock.
Poe struggled to get his career started.
For one thing, international copyright law did not exist in the early 19th century, making it difficult for authors to protect their work from plagiarism. It also led to a tendency for American publishers to just print unlicensed copies of British works, instead of supporting local American authors. When a financial crisis erupted in 1837, there was a depression that lasted until 1845. This made American publishers pay authors less than what they promised or even not pay them at all. Poe, in particular, admitted that he found himself forced to beg for payment just to keep a living more than once.
He made his first big break with the story MS. Found in a Bottle.
Poe published it in October 1833, telling the story of an unnamed narrator left adrift at sea after a storm sinks his ship. He eventually gets picked up by another ship, only to find it manned by blind crewmen who let the ship drift south, towards Antarctica. This leads the narrator to write down his experiences in a manuscript, or MS, as referred to by the title.
As the ship approaches Antarctica, it finds itself pulled in by a whirlpool. Faced with death, the narrator then puts his manuscript in a bottle, which he tosses into the sea. The story won a prize from the Baltimore Saturday Visiter and earned Poe a job offer from the Southern Literary Messenger. Today, some critics see the story as a subtle satire of traditional sea stories.
Creating a journal of his own called The Stylus was his greatest ambition.
Originally planning to call it The Penn, he wanted to reference the state of Pennsylvania where he lived at the time. This served as a pun on the word pen, as they have the same pronunciation. To avoid regional associations that could limit his reader base, he eventually changed the name to Stylus while keeping the pun, with the word being synonymous to pen.
Poe planned for the journal to set a new standard for American literature in general and first began scouting for prospective contributors in 1840. However, the economic depression at the time meant that he could not find the financial support he needed for his journal. Poe refused to give up, though, and in his letters to his friends, he made it clear that he planned to keep pushing until he died. Unfortunately, his death in 1849 also ended his journal plans.
Poe published his two novels in installments.
Splitting his first novel, The Narrative of Arthur Gordon Pym of Nantucket, he was able to publish it in January and February of 1838 into two installments. Later in July that same year, he republished it as a single novel. Two years later, Poe did the same for his second novel, The Journal of Julius Rodman. Only this time, he did so in six monthly installments, from January to June of that year. However, he ultimately left the novel unfinished with no additional installments over the following years until his death in 1849.
He also wrote a textbook about seashells, The Conchologist's First Book, in 1839.
It also commonly comes with the subtitle of Or, A System of Testaceous Malacology. Poe based it on the Manual of Conchology, which his friend, Thomas Wyatt, originally wrote. He did allow Poe to write a book based on his own. Meanwhile, the book sold out within two months of its publication, but he never received any royalties from the sales. He only finally did so during its 2nd and 3rd publication.
The Raven, published in 1845, was his greatest work.
The poem involves a talking raven visiting a man mourning the death of his lover, and slowly growing mad because of grief. This bird constantly says only a single word, Nevermore, which at first intrigues the man. Later on, however, the man grows angry at how the raven seems to do nothing but promise bad fortune for the future. In the end, even anger turns to depressed resignation, with the man just accepting whatever misfortune the raven seems to promise for him.
Critics consider the poem's story as reflecting Poe's own state at the time after the recent death of his wife. In particular, it shows that despite his own hopes for recovery, he suspects he won't move on from her death, and accepts it if it happens.
He once accused a fellow author of plagiarism.
This took place in 1841 when Poe accused Longfellow of stealing literary themes from the British poet, Lord Alfred Tennyson. Ironically, Poe had started out as an admirer of Longfellow, and even described him as the greatest poet in the USA. Longfellow never responded to Poe's accusations until after Poe's death, which he described as an irritable outburst caused by a vague sense from Poe that Longfellow had insulted him.
Modern critics now suspect that Poe's accusations had only served as a publicity stunt, meant to draw attention to the Broadway Journal, where Poe worked as an editor at the time.
Mysteries continue to surround the circumstances of Poe's death.
On October 3, 1849, Joseph Walker found Poe wandering Baltimore's streets deliriously and wearing clothes that didn't belong to him. They took him to Washington Medical College, where he stayed until his death on October 7. While there, Poe continued to ramble, and never recovered enough to explain what happened to him. After his death, the newspapers all reported his cause of death as cerebral inflammation, as a result of his alcoholism.
Unfortunately, modern historians find it difficult to investigate this, as all of Poe's medical records have become lost, as has his death certificate. Common alternative theories for his death include cholera, meningitis, rabies, and even syphilis. One theory from 1872 even claims that Poe suffered a beating as a form of attempted electoral fraud.

Poe's rival Rufus Griswold slandered him after his death.
Griswold wrote Poe's obituary, where he described Poe as a madman who randomly cursed or prayed for other people while wandering the streets. He also described Poe as someone who never prayed for himself, as Poe saw himself as already damned. When Griswold later wrote a biography of Poe, Memoir of the Author, he also cited false letters to show Poe as a drug addict and a drunk in addition to a madman. Ironically, no one bought Griswold's line. They only bought his work out of the novelty of reading lies and slander written by an evil man.
In fact, Griswold at the time already had a reputation as both a liar and an entitled amateur. Some of his peers even used his name as a synonym for lies in general. Poe even described Griswold's published compilation of poems as composed of substandard works made by untalented authors. This earned him Griswold's hatred, but Poe proved prophetic. Today, only their mention in Griswold's compilation leaves a record of their work.
A mysterious person left Poe Toasters at his grave over the 20th century.
It first started on January 19, 1949, on the anniversary of Poe's birthday. Caretakers at the cemetery found a bottle of cognac and three roses sitting next to Poe's gravestone. The trend continued every day in every year that followed, becoming known as Poe Toasters from the bottle presented to his grave.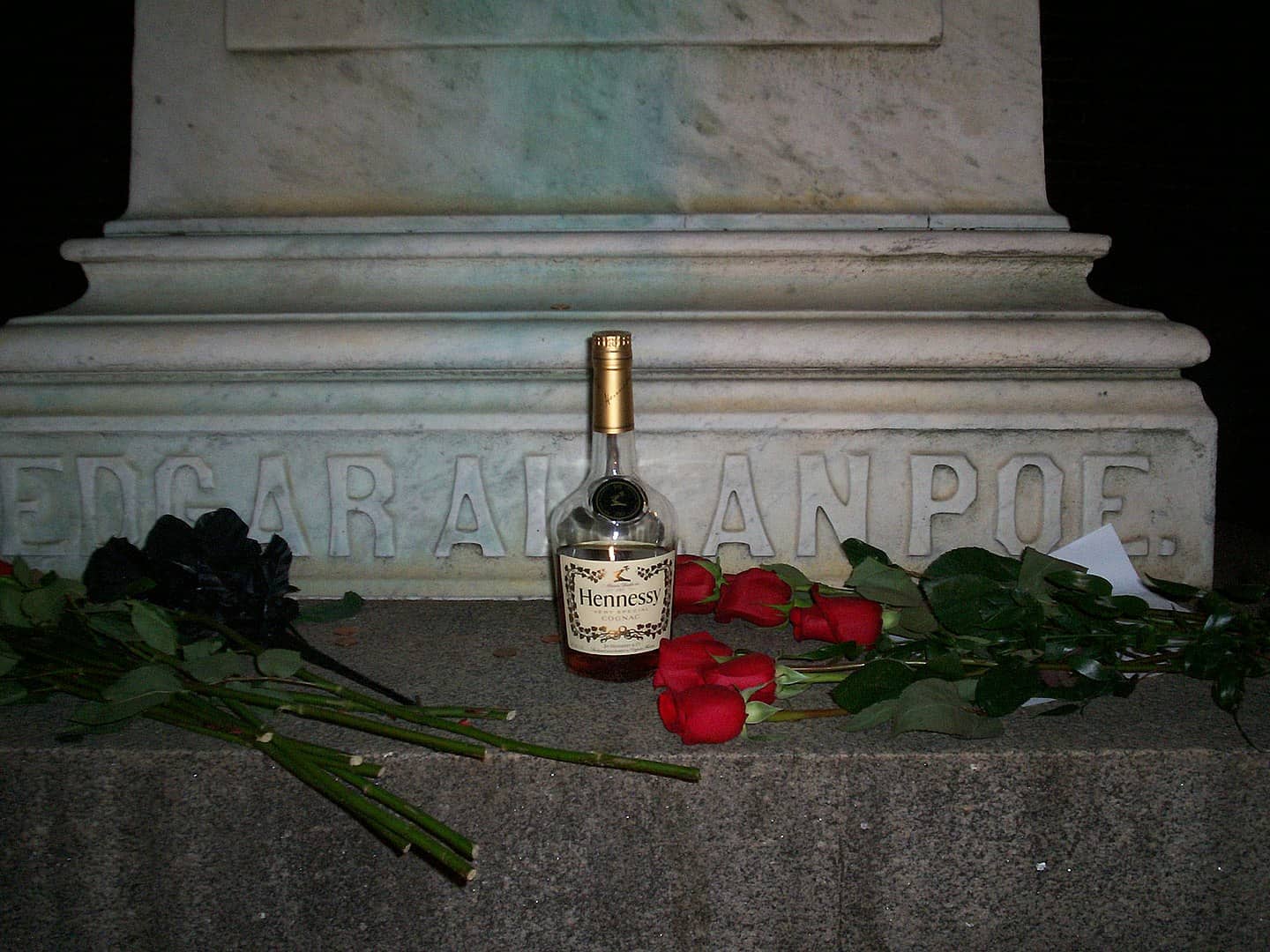 In 2007, a historian named Sam Porpora claimed himself as the man behind the trend, and his reason is to raise the profile of a nearby church. No evidence to prove his claims exists, however, and the trend ended in 2009, on Poe's bicentennial.