What Happened On August 31st?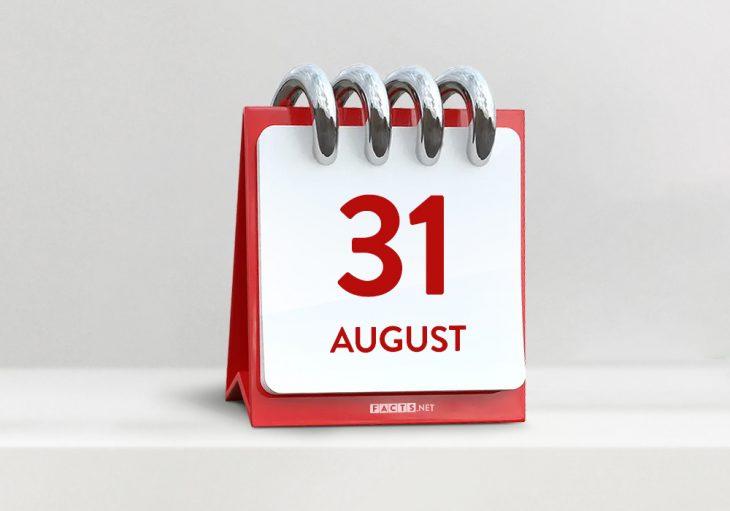 August 31st may be the last day of the month but it is definitely not the least in interesting inventions and discoveries. After all, it is on this day that a great scientist patented the first movie projector. August 31st is also renowned for an eerie reason – it's the day the world came to know "Jack the Ripper", a nameless faceless unidentified serial killer.
Historical Events
1888: Mary Ann Nichols, also known as Polly Nichols, was murdered in Whitechapel, London. Her murder was the first of the five canonical victims of the notorious serial killer known as Jack the Ripper. The identity of the killer remains a mystery to this day, and the case has been the subject of numerous books, movies, and TV shows.
1997: Diana, Princess of Wales, and her companion, Dodi Fayed, were killed in a car accident in Paris, France. The car they were in crashed into a pillar in the Pont de l'Alma tunnel. The driver of the car, Henri Paul, also died in the crash. August 31st remains a significant day for the royal family and the whole of Britain.
2006: Two of Edvard Munch's works, "The Scream" and "Madonna" were recovered by police in Oslo. Back in 2004 went these two paintings were stolen from the Louvre Museum in Paris. They gained worldwide traction as it was considered one of the biggest museum heists, following the theft of other famous artists' works, such as the Mona Lisa painted by Leonard da Vinci.
Image from Wiki Commons
Scientific Breakthroughs
1842: Micah Rugg patented a machine for dressing bolt heads, which revolutionized the production of bolts and screws. Before Rugg's invention, bolt heads were typically made by hand, a slow and labor-intensive process that limited the quantity and quality of bolts that could be produced.
1897: Thomas Edison patented the first movie projector, the Kinetoscope. It was a revolutionary invention that allowed for the viewing of moving pictures on a screen, and it paved the way for the motion picture industry that we know today. The device used a series of photographs on a roll of film, which was then projected onto a screen at a high speed to create the illusion of movement.
Image from Flickr
Political Milestones
1962: Trinidad and Tobago gained its independence from Britain. The country became a republic on August 1st, 1976.
1991: Kyrgyzstan declared its independence from the Soviet Union, following the failed coup attempt against Soviet leader Mikhail Gorbachev. The country had been part of the Soviet Union since 1936, and its independence was a significant moment in the dissolution of the Soviet Union.
Image from Adobe Stock
Cultural Events
1881: The first-ever inaugural US National Championship for tennis was held in Newport, Rhode Island, USA. It was organized by the United States National Lawn Tennis Association, which later became the United States Tennis Association. Over the years, the tournament has evolved, and it is now known as the US Open, which is held annually in New York City.
Notable Birthdays
Caligula (12–41) – A Roman emperor who ruled from 37 to 41 AD. He was born Gaius Julius Caesar Germanicus, the third emperor of the Julio-Claudian dynasty, succeeding Tiberius before he was assassinated by members of the Praetorian Guard in 41 AD.
Fredric March (1897–1975) – An American actor who is known for his roles in films such as "The Best Years of Our Lives", "Dr. Jekyll and Mr. Hyde", and "Inherit the Wind". He won two Academy Awards for Best Actor for his performances in these films.
Helen Levitt (1913–2009) – An American photographer and cinematographer known for her street photography of New York City. Her black and white photographs often captured the everyday lives of people in urban areas, particularly children. She also worked on several documentaries as a cinematographer.
Buddy Hackett (1924–2003) – An American comedic actor and stand-up comedian known for his roles in films such as "The Music Man" and "It's a Mad, Mad, Mad, Mad World". He became known for his raunchy jokes and storytelling style. Hackett also appeared on several TV shows and voiced characters in animated films such as "The Little Mermaid".
Roger Dean (1944) – A English illustrator and painter known for his album cover designs for bands such as Yes and Asia. His surreal and fantasy-inspired artwork often featured intricate landscapes and creatures. Dean also worked on designs for video games and architecture.
Bob Welch (1945–2012): An American singer and guitarist known for his work with the bands Fleetwood Mac and Paris. Welch wrote several hit songs for Fleetwood Mac, including "Hypnotized" and "Sentimental Lady".
Julie Brown (1965) – An American comedic actress and writer known for her work on the TV show "The Edge" and the film "Earth Girls Are Easy". Brown also released several comedy albums and wrote and starred in her own TV show, "Medusa: Dare to Be Truthful".
Dee Bradley Baker (1962) – An American voice actor, known for his work in animation, video games, and commercials. He has provided the voices for hundreds of characters, including Klaus in "American Dad!," Perry the Platypus in "Phineas and Ferb," and various creatures in "Star Wars: The Clone Wars".
Debbie Gibson (1970) – An American singer-songwriter and actress. She rose to fame in the 1980s as a teen pop sensation, with hits like "Only in My Dreams" and "Electric Youth". Gibson was the youngest artist ever to write, produce, and perform a number-one single on the Billboard Hot 100 chart.
Chris Tucker (1971) – An American comedian and actor, best known for his roles in the "Rush Hour" film series alongside Jackie Chan. He has also done voice work for animated films, including "The LEGO Movie" and "The Adventures of Rocky and Bullwinkle".
Final Word
Today, August 31st is known as "We Love Memoirs" Day, a rather fitting title for the day given all that has gone down in history. This is the day we witness scientific breakthroughs, political milestones, and the birth of sporting events. As we close this last chapter of August, let us welcome September and the new season ahead.