Iowa Facts
Quick Facts
Essential Facts
Interesting Facts
Capital: Des Moines
Population: 3,107,126
Area: 56,272 square miles
Highest point: Hawkeye Point at 1,671 feet
Lowest point: Meeting point of Mississippi and Des Moines River at 480 feet
Abbreviation: IA
Demonym: Iowan
State Flower: Wild Rose
State Bird: American goldfinch
Attractions: Field of Dreams, Iowa State Fair, Adventureland
Motto: "Our liberties we prize and our rights we will maintain"
History:

Iowa Has the Largest Rural Danish Community Outside of Denmark

Celebrity:

Buddy Holly Lost His Life in Iowa

Industry:

A Famous Brand of Motorhome Owes its Name to Iowa

Crime:

Iowa Is Considered One of the Safest States to Live in

Attractions:

Iowa Has a Self-styled 8th Wonder of the World

Wildlife:

Hogs Outnumber Humans in Iowa!

Attractions:

Backbone State Park Holds the World's Largest Strawberry

History:

Iowa Is Home to the National Hobo Convention

Sport:

If You Like Golf, You'll Love Iowa

Celebrity:

Movie Star John Wayne Was Born in Iowa
Iowa Has the Highest Literacy Levels in the Entire USA

An Asteroid Once Struck Iowa

Iowa Has its Own Island City!

The Most Crooked Street in the World Is in Iowa

Iowa Created Sliced Bread!
Iowa Has the Largest Rural Danish Community Outside of Denmark
The first in our series of Iowa facts tells us a little bit about a very special community that live within the state. If you were to travel to Elk Horn, you would find the largest rural Danish community that exists outside the country of Denmark. Altogether, there are just under 700 inhabitants and they also have a special Danish Immigrant Museum for tourists to visit.
Buddy Holly Lost His Life in Iowa
Iowa facts show us that the plane crash which ended the life of talented rock and roll musician Buddy Holly occurred in Clear Lake. Holly had chartered a plane to transport himself and fellow musicians in order that they could avoid a long bus journey to Minnesota. The weather on the night of the flight was terrible and the pilot of the plane, Roger Peterson, was not certified to fly. The plane crashed, and Holly and his travelling companions, including La Bamba singer Richie Valens, all lost their lives.
A Famous Brand of Motorhome Owes its Name to Iowa
The Winnebago, a famous brand of motorhome, takes its name from the Iowan city in which the vehicle was first constructed. Winnebago Industries was established in Forest City, Iowa in 1958 and has been creating safe and sturdy travel trailers for vacationers ever since. The company now averages sales of around $945.2million per year!
Iowa Is Considered One of the Safest States to Live in
According to statistics, it is the seventh safest state to reside in as of 2015, based on a combination of crime rates, natural disasters and dangerous driving statistics. This is due in part, however, to the fact that 92% of the state consists of farmland, meaning a low population density. CNN also recently stated that the Iowa city of Ames is the ninth best place to live in the United States! The city has a large number of parks and recreation facilities and varied employment opportunities.
Iowa Has a Self-styled 8th Wonder of the World
Iowa facts now tell us about a strange but wonderful construction in the state, called the Grotto of Redemption. You'll find it in West Bend, and it is the world's largest collection of minerals, fossils and shells, which have been styled into a grotto building. Its total value is believed to be somewhere in the region of $4.3million.
Hogs Outnumber Humans in Iowa!
Another one of our Iowa facts tells us that hogs actually outnumber humans in the state by 4 to 1! Considering there are over 3 million people living in the state, that's an awful lot of animals. There are believed to be around 20 million hogs in the state at any given time, and Iowa produces more than 49 million hogs a year on average. A staggering one-third of all the USA's hogs come from this one state.
Backbone State Park Holds the World's Largest Strawberry
Backbone State Park, in Dundee, Iowa has two claims to fame. First of all, it is the oldest state park in Iowa, and, secondly, it is home to the world's largest strawberry. Sadly, it isn't an edible one, but a construction made of fiberglass. It weighs 1,430 pounds, stands 15 feet tall, and is 12 feet in diameter. You'll find it pleasingly enough at Strawberry Point, within the grounds of the park.
Iowa Is Home to the National Hobo Convention
This rather strange convention is a dedicated day to celebrate those people who are considered to be nomadic, such as rail riders, or people who have no fixed address. The convention is by no means new, and was set up in 1900 in the town of Britt. It is held in the second week of August every year. There is always a street parade on the Saturday morning, which is held at 10.00am, and people are encouraged to celebrate and, according to the local Chamber of Commerce, "let their hobo spirit soar"
If You Like Golf, You'll Love Iowa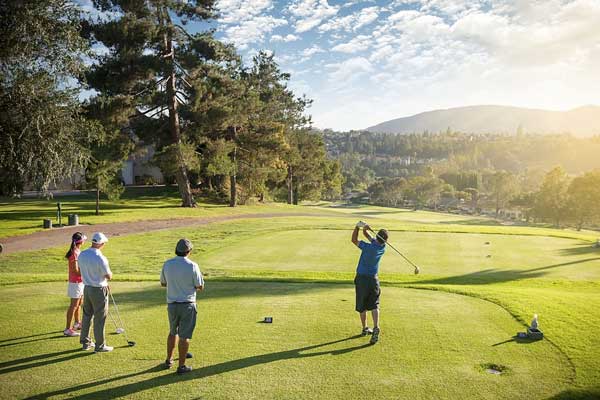 Anyone who loves sport will really relish this next in our series of Iowa facts. Golf fans should make a beeline for Iowa, as, according to statistics, it has more golf courses per capita than any other state in the USA. The total currently stands at 441 golf courses spread across the state!
Movie Star John Wayne Was Born in Iowa
The internationally famous star of many westerns, John Wayne was born in Winterset, Iowa in 1907. However, what many people don't realize is that the renowned actor nearly didn't make any movies at all. He had initially considered a career as a sports journalist instead, and often wrote for his high school newspaper under the initials "M.M.M" (his real name was Marion Robert Morrison).
Iowa Has the Highest Literacy Levels in the Entire USA
This next in our series of Iowa facts tells us a little about how clever the people of the state are. It is believed that 99% of the population of Iowa who are of reading age, can actually read properly. This is an impressive statistic, and one that no other state in the USA can claim to have.
An Asteroid Once Struck Iowa
This didn't happen in recent years, however. It is believed that the phenomenon actually occurred in Manson around about 74 million years ago. The crater that occurred when the asteroid struck is around about 24 miles in diameter and is actually hidden under the surface of the earth. The crater left by the asteroid is called the Manson Impact Crater. It lies directly under the surface of the earth in the south-east corner of Pocahontas County. The asteroid that created the impact was thought to measure around 1.2 miles in diameter.
Iowa Has its Own Island City!
Not many people know that the state of Iowa has its own island city. It's called Sabula and is located on an island on the Mississippi River. As of 2015, Sabula has a little under 600 inhabitants. Although it's not well known to many outside of the area, it is actually a popular vacation destination. Many of its regular visitors hail from Chicago. The island is connected to the mainland by two bridges.
The Most Crooked Street in the World Is in Iowa
If you don't like twists and turns then you might not like this next of our Iowa facts. Snake Alley in Burlington is the owner of the title of the world's most crooked street. It is so steep and so crooked it is restricted to one-way downhill traffic only. The thoroughfare was originally designed to link the shopping district of the city to the downtown area. The street hosts an annual bike race and an art fair.
Iowa Created Sliced Bread!
The last in our series of Iowa facts is a strange, but funny one! We are all familiar with the saying the best thing since sliced bread, but how many of us actually realize that sliced bread was invented in Iowa! A man called Otto Frederick Rohwedder invented the first "loaf at a time" machine that could turn a loaf into a series of individual slices. His original prototype for the machine was built in 1912 but was destroyed in a fire. It took him 16 years to create another machine and get it ready to market. The first sliced loaf was created on July 7 1928!
Iowa Facts – Facts about Iowa Summary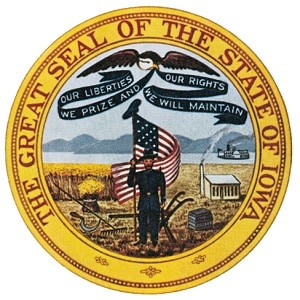 Iowa facts teach us that a large proportion of this state is covered with farmland, and that hogs outnumber people by more than 4 to 1. We also learn that the state is considered one of the safest to live in, and that Iowans have a very high level of literacy. Winnebagos and sliced bread both originated in the state, and Iowa has an impressive array of unique attractions for visitors to enjoy.