Quick Facts
Essential Facts
Interesting Facts
Capital:

Dover

Largest City:

Wilmington

Area:

1,982 square miles

Highest Point:

Ebright, Azimuth (447 feet)

Lowest Point:

At the Atlantic Ocean (sea level)

Abbreviation:

DE or Del

State Bird:

Delaware Blue Hen

Population:

935,614

Demonym:

Delawarean

Motto:

"Liberty and Independence"
Geography:

Delaware Is One of the Narrowest States in the USA

History:

Thomas Garrett, an Important Figure in the Fight to Abolish Slavery Was Born in Delaware

Economy:

Delaware Is One of the Few States to Offer Tax Free Shopping

History:

Delaware's Economic and Industrial Development Was Tied to the DuPont Family

History:

Delaware's Nickname Is "The First State"

Climate:

The Climate of Delaware Is Moderate All Year Round

History:

It Is the 49th Largest State

Geology:

Delaware Has a State Fossil Called a Belemnite

Wildlife:

The State Has a Very Special Indigenous Gray Fox

Food:

Delaware Is Noted for Its Delicious Peaches and Has Its Own Special Peach Pie
Like Card Games? Delaware Played Host to the World's Longest Poker Game
The World's Largest LEGO Tower Was Built in Delaware
Delaware Is Famous For the Horseshoe Crab – A Special Kind of Crustacean
The Inventor of the Heimlich Manoeuvre Was Born in Wilmington
Delaware Is Home to The Pumpkin Hurling Championships
Delaware Is One of the Narrowest States in the USA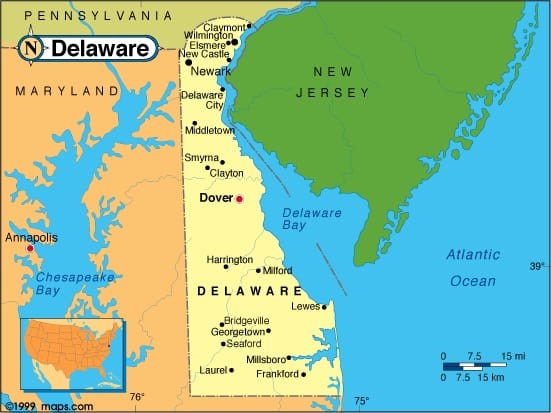 The first of our interesting Delaware facts centres on its geography. Compared to some of the other states in the USA, Delaware ranks as one of the narrowest. At its narrowest point it only measures some 9 miles across. Its widest point is 35 miles across. The state is 96 miles in length in total.
Thomas Garrett, an Important Figure in the Fight to Abolish Slavery Was Born in Delaware
Thomas Garret (August 21 1789 – January 25 1871) was a primary figure in the abolition of slavery. It is believed that over his lifetime he helped to free as many as 2,000 slaves and in the course of doing so, he lost his entire personal fortune. He became a friend and associate of Harriet Tubman who had worked on the Underground Railroad helping to free slaves from their masters. Garrett very often provided Tubman with shoes and clothes to pass on to her charges. Garrett himself had helped to free Tubman's parents from threat of being captured, by giving them money, after Tubman's father had been caught helping slaves to run away.
Delaware Is One of the Few States to Offer Tax Free Shopping
As a rule, Delaware is known as a state that is business friendly, with relaxed corporate laws. But one that plays in favour of shoppers is that fact that it is one of only five states that gives people a chance to shop tax free – the other states that participate in this scheme are Alaska, Oregon, Montana and New Hampshire.
Delaware's Economic and Industrial Development Was Tied to the DuPont Family
This next of our fascinating Delaware facts tells us a little about the state's business and economic growth. In the 1820s the DuPont family (probably best known as being allied to the General Motors Company during the 1930s) established a gunpowder mill on the banks of Brandywine River in Wilmington. Over time, the family turned into the largest producer of gunpowder in the world. Even now, the family are responsible for 5-10% of the total employment of the population of Delaware.
Delaware's Nickname Is "The First State"
This is because Delaware was one of the first colonies who ratified the constitution in 1787 and therefore became the first recognised state in the nation. At Presidential inaugurations and in congressional votes, the state is still given first position.
The Climate of Delaware Is Moderate All Year Round
While some states experience extreme variations in weather conditions and climate, Delaware is one of the few states that remains moderate all the year round. Around 57% of all days are sunny, and average temperatures range from 32 degrees Fahrenheit to 75 degrees Fahrenheit. Annually, the state receives around 45 inches of rain.
It Is the 49th Largest State
The next of our interesting Delaware facts tells us a little about its size. It is, by comparison, a small state, with only three counties spread over an area of 1,982 square miles. The three counties are New Castle County, which is 438 square miles; Kent County, which is 594 square miles; and, finally, Sussex County which is 950 square miles
Delaware Has a State Fossil Called a Belemnite
A Belemnite is basically a squid that has a conical shell. Now extinct, it actually belongs to the same family as the octopus. These fossils are easily found along the banks of the Delaware canal. The belemnite became the state fossil almost 20 years ago, in 1996.
The State Has a Very Special Indigenous Grey Fox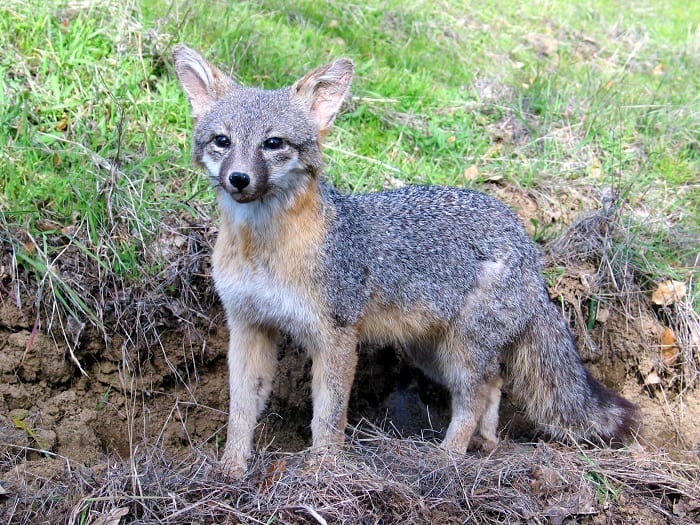 This next in our Delaware facts tells us about a very special animal which is only found in this state. Believed to be 7-10 million years old, and indigenous to Delaware, the grey fox is a primitive and unique species, only found in Delaware. It is the only type of fox that can climb trees, and is exceptionally fast at running – being able to maintain a speed of 28 miles per hour. It is also an animal that never hibernates.
Delaware Is Noted for Its Delicious Peaches and Has Its Own Special Peach Pie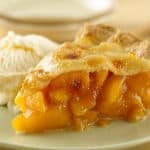 The peach was introduced to the state during colonial times and the fruit became an integral part of the state's agricultural heritage over the years. For most of the 19th century, Delaware was the USA's leading producer of peaches. In 1875 there were 6 million baskets taken to market – all grown in this state. Delaware even has its own special peach pie, which is designated as a state dessert as of the year 2009.
Like Card Games? Delaware Played Host to the World's Longest Poker Game
This is an interesting one of our Delaware facts for anyone who likes card games and world records! Poker games can sometimes last a long time, but the record for the longest ever continuous poker game is held by Delaware State. The game took place in 2012 and lasted for 36 hours, 34 minutes and 11 seconds. A total of 192 participants were involved.
The World's Largest LEGO Tower Was Built in Delaware
The next of our interesting Delaware facts tells us a quirky little story about the town. Anyone who loves LEGO should pay attention. Delaware is home to the world's largest LEGO Tower, which was built to a height of 11 stories, totalling 112 feet, and contains well over 500,000 bricks! It smashed the previously held record of a LEGO Tower made in Prague which stood at 106 feet.
Delaware Is Famous For the Horseshoe Crab – A Special Kind of Crustacean
The horseshoe crab is a unique kind of crustacean found on the shorelines of Delaware. The crabs are special because they are one of the oldest known sea creatures on record, dating back some 450 million years. In fact, they have been given a status of living fossil because of this. They are sadly in decline now, particularly in places like Delaware. They can, however, survive for up to a whole year without food.
The Inventor of the Heimlich Manoeuvre Was Born in Wilmington
Heinrich Heimlich, the man responsible for inventing the procedure we initiate if we see someone choking, was born in the largest city in Delaware, Wilmington, in 1920. Heimlich started out his career as a thoracic surgeon and first made public his views about using the technique (which uses a series of abdominal thrusts to relieve the pressure of choking) in 1974. Although he is credited alone, a colleague of his, Dr. Edward Patrick cited himself as co-founder of the technique and felt he had been unfairly left out.
Delaware Is Home to The Pumpkin Hurling Championships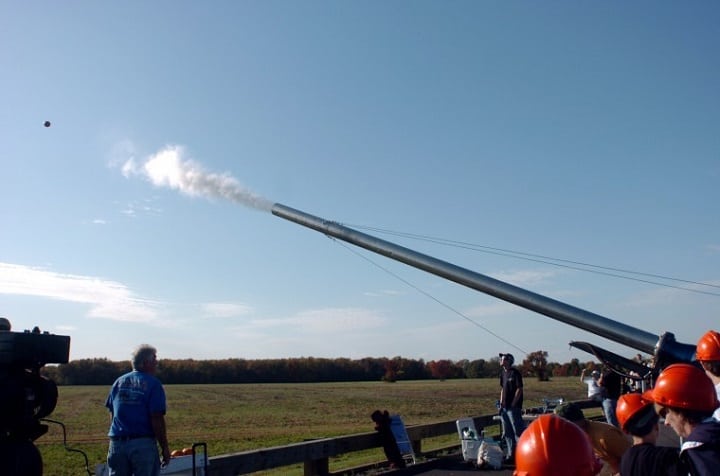 The last of our Delaware facts is a fun one. The state is home to something called the Punkin Chunkin contest. This annual event is a pumpkin hurling competition in which competitors will use a variety of different devices to try and hurl a pumpkin as far as they can. The current record stands at 5,445 feet (which is just slightly more than a mile!) There are now more than 100 teams competing in the contest every single year.
Delaware Facts – Facts about Delaware Summary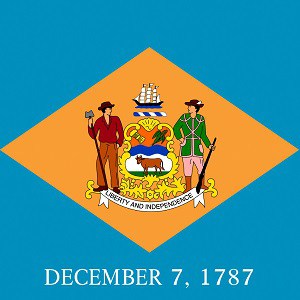 Facts about Delaware tell us that this state is one of the smallest in terms of area, and also one of the narrowest. It was home to Thomas Garrett, a leading player in the movement to abolish slavery. It was also the largest producer of peaches during the 19th century, and the DuPont family made it one of the prime spots for gunpowder production, too. The state has some unique wildlife, including the horseshoe crab and the grey fox, which is indigenous to Delaware only.