Alaska Facts
Alaska is famous for being the "The Last Frontier". Locals and tourists love it for its rugged natural beauty and cultural roots. Also, Alaska is the biggest state in the United States. It has an eternal landscape of pristine wilderness. Its history, people, adventure, and natural resources is Alaska's future. Let us know more about this beautiful state with these Alaska facts.
Quick Facts
Essential Facts
Interesting Facts
Juneau is the capital of Alaska.
Alaska is the 49th State of the United States.
Alaska's has a total land area 1.718 million km².
Alaska is the biggest state in the U.S..
19 U.S. states can fit inside Alaska.
Despite its massive land area, Alaska only has a population of 730,00.
On January 3, 1959, the United States of America declared Alaska as the 49th state.
Alaska is less than 50 miles from Russia. It is much closer to Russia than the United States.
Alaska produces 25% of the oil in the United States.
The Northern Lights (Aurora Borealis) appear in Fairbanks, Alaska for an average of 240 days in a year.
Alaska is the only state that does not collect state sales tax.
Alaska has a high cost of living due to the state's remote location.
Out of the 50 U.S. states, Alaska ranks 45 out of 50 in affordability.
Alaska Permanent Fund Corp. compensates the citizens of Alaska annually. In particular, its citizens received a dividend payment of $3,000 last 2019.
The Alaska Permanent Fund comes from hybrid revenues from different investments such as Alaska's oil,  gas reserves, stock market, bonds, and real estate.
The highest temperature recorded in Alaska was 37.8°C in Fort Yukon in 1915.
The lowest temperature recorded in Alaska was -80°C in Prospect Creek Camp in 1971.
You can type "Alaska" on one row of a keyboard.
The seafood and fishing industry is Alaska's largest private industry employer.
Citizens of Alaska are called Alaskans.
North Alaska is the coldest region in Alaska.
North Alaska experiences an Arctic climate characterized by a very long winter with a cool, short summer. There are some weeks during the winter season where the sun never shines. For summer, there are some weeks where the sun shines bright 24 hours a day. However, even if the sun is up 24 hours a day in the summer, the temperature hardly goes above 2°C.
South-Central Alaska has a Subarctic climate.
South-Central Alaska has a Subarctic climate. Like North Alaska, South-Central also has short and cool summer. However, despite the snowy weather in the area, days tend to be clearer and somewhat windy.
Western Alaska's climate is dependent on the Gulf of Alaska and the Bering Sea.
Generally, the temperature of Western Alaska is somewhat moderate. Moreover, its climate is highly dependent on the Gulf of Alaska and the Bering Sea (a subarctic oceanic climate and continental subarctic climate).
Southeast Alaska's temperature can go above freezing.
In contrast to the cold winters of Alaska, Southeast Alaska has the mildest temperatures. Above all, this is the only part of Alaska where the temperature can go above freezing even in the winter season.
Interior Alaska can have a very hot summer and a frozen solid winter.
Interior Alaska is experiencing the "best and worst" of both worlds. For instance, during summer the temperature can go as high as 34°C while during winter it can plummet as low as -45°C in some rare cases.
Alaska is home to more than 100 volcanoes.
Alaska has over 100 volcanoes and volcanic fields. To this end, more than 40 of these volcanoes have been active in the historic time since the last one and a half million years ago. Moreover, Alaska contributes around 80% of all active volcanoes in the United States and 8% of all active above-water volcanoes on the planet.
Alaskan volcanoes erupt every year.
Since the 1900s, Alaskan volcanoes have erupted at least once or twice every year. In the last 10,000 years, there are around 20 catastrophic caldera-forming eruptions (a large basin-shaped volcanic depression with a diameter larger than included volcanic vents which may range from 2 to 50 km) already took place.
Anchorage is the biggest city in Alaska.
Anchorage (the biggest city in Alaska) was incorporated on November 23, 1920. Moreover, the city has around 300,000 Alaskan citizens making Anchorage the most populated place in Alaska. During summer, daytime temperatures in Anchorage average between 12 °C to 25 °C, while in winter it drops to -1°C up to -15°C.
Anchorage's aggressive development started in 1914.
Captain James Cook (a British explorer in the British Royal Navy) is credited with first exploring and describing the Anchorage area in 1778. Eventually, the city of Anchorage started to rise in the year 1914 as it was chosen to be the site of a railroad-construction port for the Alaskan Railroad System.
Westchester Lagoon is the summer home of 150 migratory bird species.
Westchester Lagoon, Anchorage, Alaska is the hangout place of over 150 migratory bird species from late April until the end of September. Simultaneously, the birds love to stay in Westchester Lagoon and make the place as their temporary summer home where most of the birds came from as far as South America and Florida.
Juneau, Alaska shares its eastern border with the Canadian province.
Juneau, Alaska is the only U.S. state capital that has a bordering country. Juneau shares its eastern border with the Canadian province of British Columbia. Moreover, tourism plays a significant role in Juneau with close to a million tourists coming from luxury cruising ships.
The capital of Alaska has no connecting roads to other cities.
Due to the rugged terrain that surrounds Juneau, Alaska, there are no roads or highways that connect the city to Alaska or even North America. As a result, all of its goods depart and arrive by ship or plane.
Alaska's capital isn't the biggest or most populated city.
Back in the year 1906, Anchorage was undeveloped compared to Juneau. In other words, Juneau was ahead of its time due to its thriving mining industry compared to the relatively remote settlement in Anchorage. That is why Juneau was chosen to be the capital of Alaska.
Russia originally owned Alaska.
According to researchers, there have already been Russians living in Alaska back in the 17th century. On March 30, 1867, the United States bought Alaska from Russia for a total of $7.2 million. Finally, on October 18, 1867, the formal flag-raising took place. Two hundred fifty U.S. soldiers marched to the governor's house at Castle Hill, Sitka, Alaska, where the United States flag was raised while the Russian flag was lowered by the Russian soldiers.
Russia lost the golden opportunity in Alaska.
William H. Seward (United States Secretary) led the negotiations between the United States and Russia. During those times, the criticisms for William H. Seward are coming from all over the place such as "We don't need Alaska", "It's a waste of money", "America doesn't need an Iceland".  However, fast forward today, it turned out to be a lopsided deal in favor of the United States due to Alaska's extensive natural resources. Whether it's by luck or an intentional purpose, Russia lost a golden opportunity in Alaska.
Lake Iliamna is the biggest lake in Alaska.
Lake Iliamna is the biggest lake in Alaska and the third biggest lake in the United States. It stretches 124 km long and 35 km wide, covering around 2,600 km at a maximum depth of 988 ft. To illustrate, its size is as big as the state of Connecticut.
Lake Iliamna is Alaska's recreational fishing spot.
Lake Iliamna is famous for its recreational or sport fishing. The lake is commonly used for competition and recreational purposes rather than commercial fishing. Different types of fishes such as salmon, grayling, and trout are the primary targets of recreational visitors and enthusiasts.
Alaska has three different coastlines.
Alaska is the only state of the United States with coastlines on three different seas. In detail, those are the Bering Sea, Arctic Ocean, and the Pacific Ocean. As a result, Alaska has more coastlines than the entirety of the United States.
The moose is Alaska's state animal.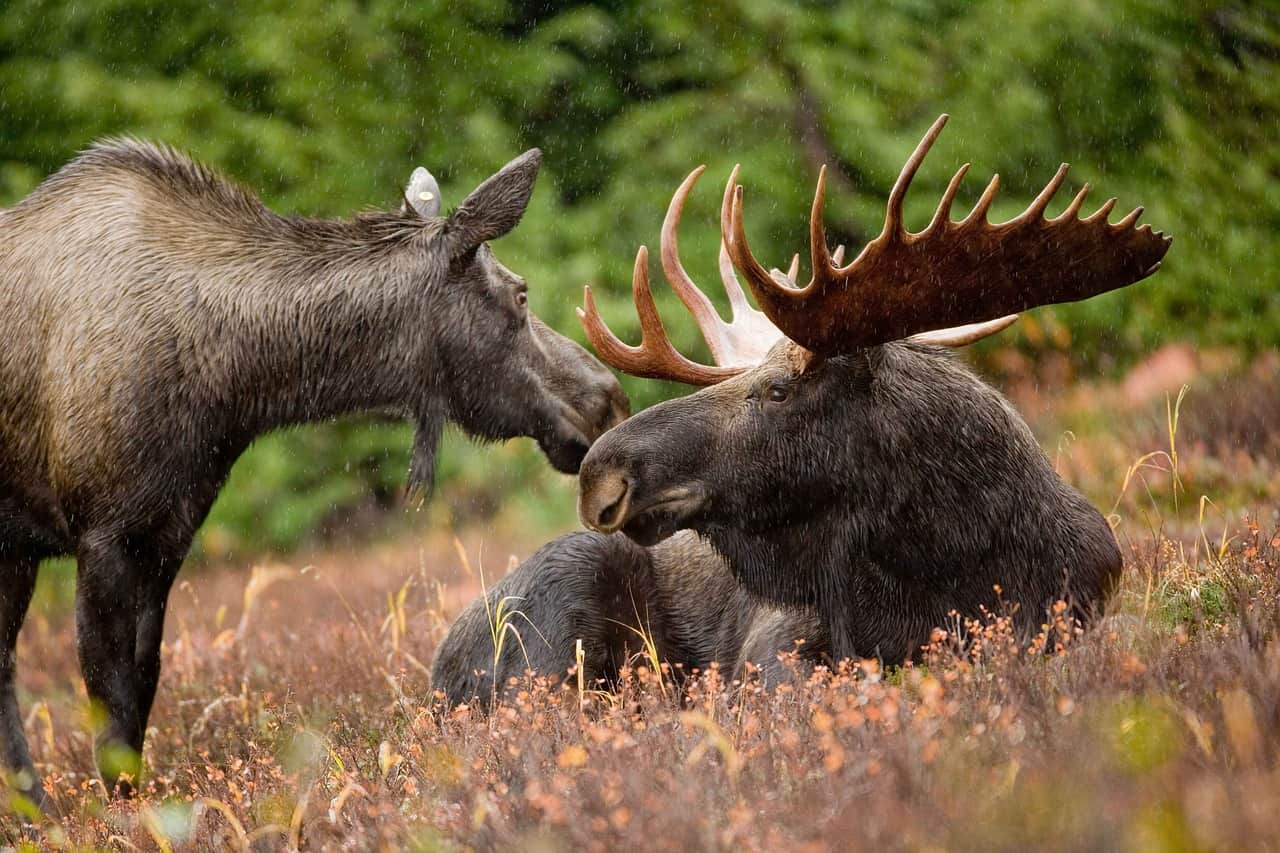 On May 1, 1998, Governor Tony Knowles signed the law that officially made the moose Alaska's state land mammal. Moreover, the Alaskan moose is the world's largest moose and the largest member of the deer family. A single male Alaskan moose can weigh up to 1,600 lbs and can grow as tall as 7 feet in height.
Alaskan moose can be dangerous.
Generally, the Alaskan moose aren't aggressive. However, it can be very dangerous once provoked. Tourists and locals should avoid confrontation with a moose by staying away from their sight or territory. Road accidents are also a threat for both humans and animals due to the size of the moose.
The Alaskan flag can be used as a guide.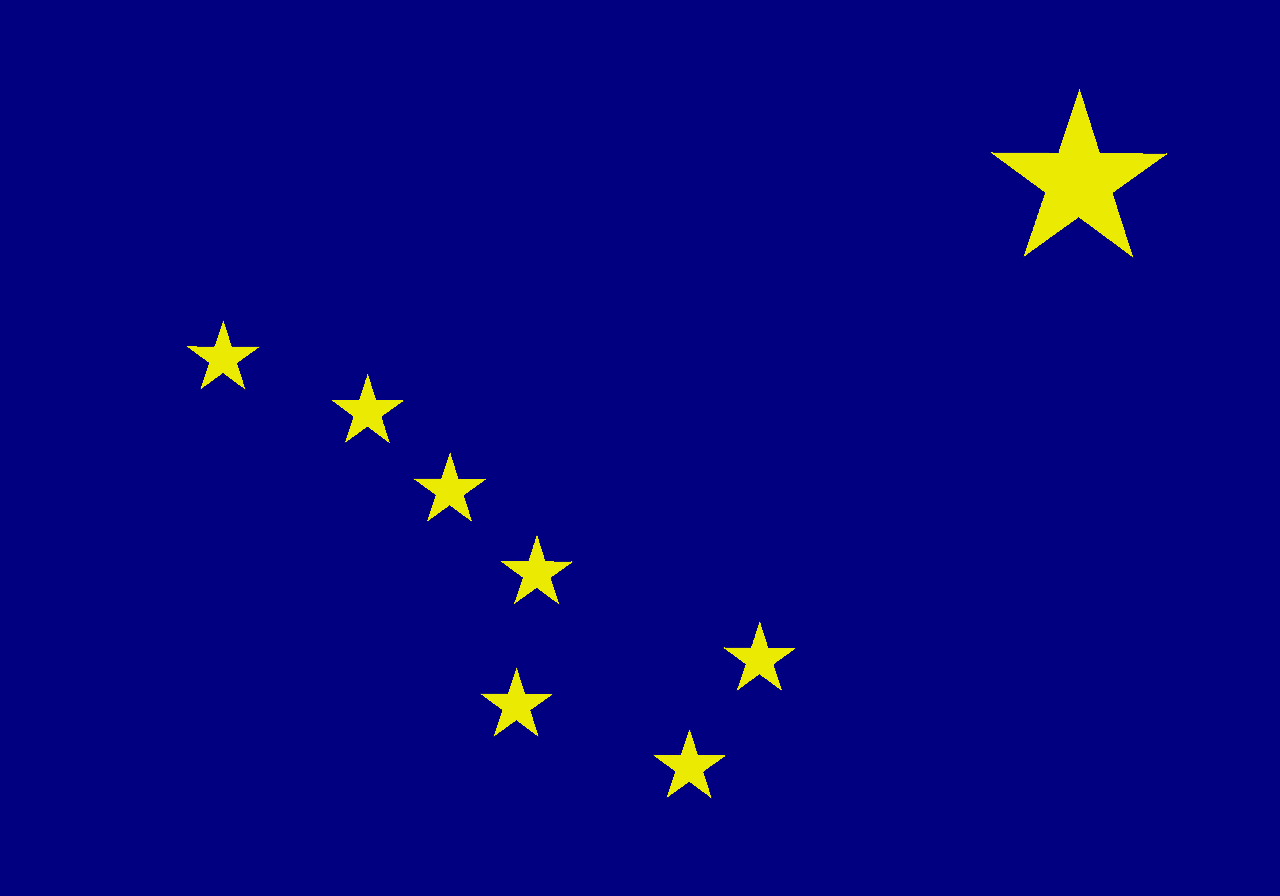 There are 8 golden stars in Alaska which feature the Big Dipper as a symbol of strength and Polaris as a symbol of Alaska's northern location. Furthermore, the blue background symbolizes the sky, sea, lakes, and wildflowers of Alaska. Above all, the stars on the flag can be used as a guide to find the Polaris and determine true north that varies considerably from the magnetic north.
Alaska officially used the flag in 1959.
Benny Benson won a contest to design the flag of Alaska when he was only a 13-year old 7th grader. Benson is from an orphanage in Seward, Alaska.  The winning flag was chosen for its originality, symbolism, and simplicity. Alaska adopted the flag for official state use in 1959.
Dog mushing is the state sport of Alaska.
Dog Mushing or dog sled racing is the state sport of Alaska. Sledding dogs would  pull the sled in the snow that includes carting, pulka, dog scootering, sled dog racing, skijoring, freighting, and weight pulling.
Half of all the earth's glaciers is found in Alaska.
Over 50% of the world's glaciers are found in Alaska. In particular, the state has more than 27,000 glaciers. The oldest Alaskan glacier ice ever recovered is around 30,000 years old from a basin between Mt. Churchill and Mt. Bona located in Eastern Alaska.
Alaska has more than 5,000 earthquakes every year.
Alaska is one of the most earthquake-prone areas in the world. Alaska's data shows that hundreds and hundreds of "little earthquake" occurs every month. In fact, 3 out of the 10 strongest earthquakes ever recorded in the world happened in Alaska. How's that for Alaska facts?
Alaska's strongest earthquake happened in 1964.
The strongest earthquake ever recorded in North America is the 1964 Alaska earthquake. With a magnitude of 9.2, the earthquake triggered tsunamis and landslides,  that resulted in 131 casualties. The earthquake lasted for around 4 minutes and 30 seconds. The Great Alaskan earthquake or Good Friday earthquake struck at 5:36 PM (Alaska Time Zone) on Good Friday, March 27, 1964.
The Great Alaskan earthquake changed Alaska's coastline.
The Great Alaskan earthquake was so strong that it altered the coastline of Alaska. Consequently, the strong 4 and a half minute earthquake sank some parts of the Alaskan coast up to eight feet. Other parts rose to 38 feet and much of the coast moved 50 feet towards the ocean. Furthermore, the saltwater destroys Alaska's coastal forests as it plunged below sea level.
Giant vegetables are common in Alaska.
Palmer, Alaska holds the annual giant vegetable fair. Farmers from the Matanuska-Susitna Valley simultaneously display their giant vegetables. For example, a single broccoli can grow up to 35 pounds, a cantaloupe at 65 pounds, and a cabbage that's more than 130 pounds. Big vegetables are popular in Alaska because of the very long days in summer.
Laws in Alaska can be confusing.
Any country or state can have different laws, rules, and regulations in one way or another. With this purpose in mind, some laws in Alaska can be considered "weird and stupid" for others. In other words, the laws in the state sometimes cross the boundary between completely obvious and awkwardly confusing. To name a few, those are:
Waking up a sleeping bear to take a photograph is prohibited. However, it is legal to shoot a bear when hunting.
It is illegal to carry a concealed slingshot without a specific license.
It is illegal to let your dog ride freely in the back of your truck.
Driving starts at age 21, while flying can start as early as 16.
Speaking of weird laws: to have a driver's license in Alaska, applicants must be at least 21 years old with at least one year of driving experience for the same type of vehicle they are driving. Hence, while the new drivers are still learning, they must be accompanied by a licensed driver. However, it's legal to fly an airplane as early as 16 years old. Above all, Alaskans can get a pilot certificate as young as 17 years old.
Alaska's highest point is 6,190 meters above sea level.
Denali is the highest mountain in Alaska and North America as well. Denali, or also known as Mount McKinley has a summit elevation of 6,190 meters above sea level. After Mount Everest and Aconcagua, Denali is the 3rd most isolated peak on earth. Moreover, Denali is a Koyukon word (native Athabascan people of Alaska) that means "that great one", "tall", "high".
The first climbers made it to the summit of Denali on June 7, 1913.
Hudson Stuck, Harry Karstens, Robert Tatum, and Walter Harper are the first verified climbers who went by the South Summit of Denali (Mount McKinley) on June 7, 1913.
Hudson Stuck – a British native Episcopal priest.
Walter Harper – an Alaska Native guide and mountain climber.
Robert Tatum – an American mountain climber and Episcopal priest.
Harry Karstens – the first superintendent of Mount McKinley National Park.
More than 30,000 people have attempted to climb and summit Denali.
The first attempt ever recorded to climb Denali was in the year 1903 by James Wickersham. However, the first attempt made by James Wickersham fell short goal and unsuccessful. To this end, more than 30,000 people have attempted to climb and summit Denali, with a success rate of about 50%.
Denali already took more than 120 lives since 1932.
The upper half Denali is covered with numerous glaciers and snow. Even more, mountain climbers of Denali undergo an immediate physical test by the harsh environment as temperatures range from -59 to -83 Celcius. Denali has recorded more than 120 fatalities since the year 1932. With this in mind, the most common cause of death came form climbing, avalanches, and acute altitude sickness.
Denali National Park is one of Alaska's most visited attractions.
Denali National Park is one of the eight national parks in Interior Alaska. Moreover, Denali National Park & Preserve is one of the most visited attractions in the state. This 2.4 million hectare land is filled with Alaska's natural beauty and offers its visitors a perfect place for hiking, camping, biking, mountaineering, etc. Simultaneously, around 400,000 people visit Denali National Park every year between May and September.
Alaska is the answer for a single woman.
There is an old joke – "Alaska is the answer for a single woman". According to statistics, Alaska has the highest ratio of men to women in the United States. Hence, For every 100 women, there are 107 men.
There is 1 bear for every 21 people in Alaska.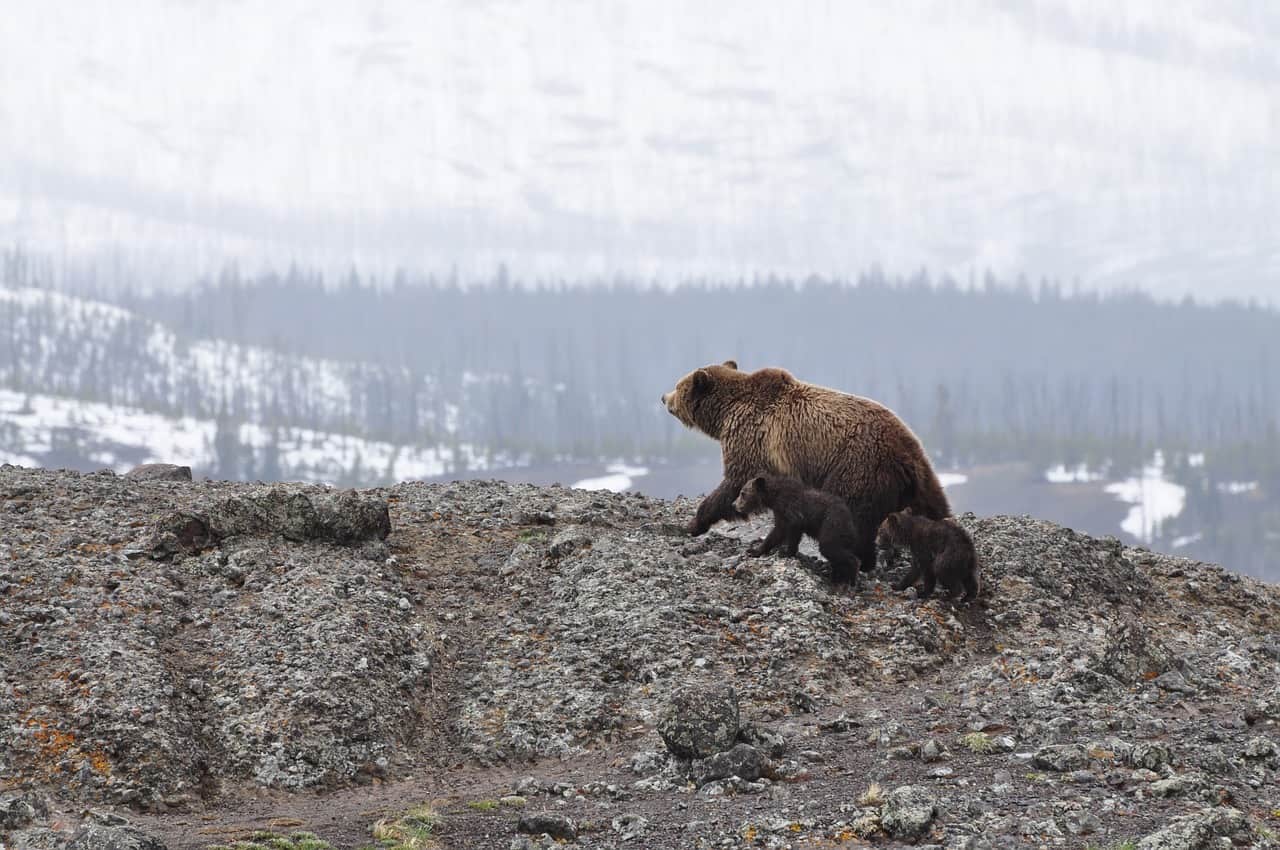 Alaska has around ninety-eight percent of the U.S. brown bear population and seventy percent of North America's total population. An estimated 30,000 to 35,000 brown bears live in Alaska. With this purpose in mind, there would be around one bear for every twenty-one people in Alaska.
Alaska has 8 National Parks.
Aside from Denali National Park, the other 7 national parks of Alaska are:
Gates of the Arctic – Northern Alaska
Glacier Bay – Southeast Alaska
Katmai – Southern Alaska
Kenai Fjords – South-Central Alaska
Kobuk Valley – Northwestern Alaska
Lake Clark – Southwest Alaska
Wrangell-St. Elias – South-Central Alaska
Wrangell-St. Elias is the biggest national park in Alaska.
Wrangell-St. Elias is the biggest national park in Alaska with over 4 million hectares. Moreover, wilderness recreation in Wrangell-St. Elias National Park includes camping, hiking, fishing, hunting. This massive national park is best to go around using a variety of vehicles like airplanes and snowmobiles to get around.
One of the three largest active volcanoes in the world is in Wrangell-St. Elias National Park.
Wrangell-St. Elias National Park has around 10 volcanoes along with 2 active volcanoes such as Mount Wrangell (one of the three largest active volcanoes in the world), and Mount Churchill. Moreover, the Wrangell Volcanic Field covers over 2,000 square miles. Fortunately, all the other volcanoes have officially been declared dormant.
Alaska's Mendenhall Ice Caves is a must-see for adventurers.
Alaska's Mendenhall Ice Caves in Juneau is like a cave from another beautiful planet where water runs over rocks and under frozen bright-blue ceilings inside a partially hollow glacier. Located exactly 20 kilometers from downtown Juneau in southeast Alaska, the magical cave is accessible by kayak (a small watercraft) to the edge of the ice and then climb over the glacier. The Mendenhall Glacier is a 19-kilometer long glacier.
The Yukon River is the third-longest river in North America.
The Yukon River is a significant watercourse of northwestern North America. Moreover, the river is located in the northwest corner of British Columbia (Canadian Province) which flows through the Yukon Territory of Alaska and releases into the Bering Sea at the Yukon-Kuskokwim Delta. Accordingly, the Yukon River is the third-longest river in North America that spans 3,190 kilometers long.
Alaska's Northern Lights are much beautiful in person.
The real natural beauty of the northern lights of Alaska can't be "captured" any paintings, pictures, and videos. Hence, nothing beats the experience of seeing the northern lights glow and dance around the sky in front of the person's very own eyes. It's hard to say "I've been to Alaska, but never saw the northern lights".
The townspeople along the Yukon continues to depend on salmon.
The longest salmons are found in the Yukon River. Every year, salmons such as Chum, Chinook, and Coho go back to their terminal streams in Alaska. With this purpose in mind, the townspeople along the Yukon historically and currently continues to depend on salmon as their cultural, subsistence, and commercial needs.
There are different methods of fishing in the Yukon River.
The salmons caught in the Yukon River go through different fish/food process. Hence, salmons are traditionally smoked, dried, and frozen for commercial and personal consumption and as well a food their dog sled pets. Furthermore, the most common methods of fishing on the Yukon are gillnetting, drift netting, dip nets, and fish wheels.
Alaska's indigenous people are divided into five major groups.
Alaska has the most concentrated indigenous population of the United States. Moreover, Alaska's indigenous people are divided into five major groups and those are Northern Eskimos, Southern Eskimos, Interior Indians, Southeast Coastal Indians, and Aleut. Currently, they comprise 24 percent of Alaska's population. To this end, some indigenous people of Alaska continue to hunt, fish and live like the old times.
Do Alaskans live in an igloo? Is it regular for an Alaskan to see a polar bear?
Some people wonder when hearing the world Alaska:
Do Alaskans live in an igloo?
Is it regular for an Alaskan to see a polar bear?
First, No. Alaskans do not leave in an igloo. The villages, cities and the economy of Alaska are growing as well as its real estate. Second, most Alaskans do not see a polar bear in public since the polar bears live way up to Northern Alaska where very few people live.
Spot the eight kinds of whale species in Alaska.
Alaska has eight species of whales. These whales love to stay around the icy and cold waters of Alaska. To enumerate, those are the Bowhead, Humpback, Grey, Beluga, Orca, Blue, Right, and Minke whales. Some travel agencies in Alaska offer tours about whale watching and Juneau is one of the best spots for it during the months of July and August.
Alaska is also known for its big dragonflies.
Alaska is known for its bears, salmons, and whales. However, the State is also home to more than 30 species of dragonflies. Even more, there are some species of dragonflies in Alaska that can grow as big as a bird (around 6 to 12 inches). Above all, Alaska created a Dragonfly Day in 2008 which is now celebrated annually.
"North to the Future" is Alaska's motto.
Alaska's state motto is "North to the Future". The motto was created by Richard Peter and was chosen in the year 1967 during the Alaska Purchase Centennial. The motto represents Alaska as a land of promise of the United States.