Henry Ford Facts
Whether in the streets or in racing events, you can't miss the famous blue Ford logo when you happen to pass it by. However, how much do you really know about its founder? As one of America's greatest businessmen, Henry Ford dedicated his life to efficiency and innovation even beyond business. Ford's inventions and contributions to the Industrial Age make him one of the most influential people in history. Find out more about the man behind the legacy with these Henry Ford facts.
Quick Facts
Essential Facts
Interesting Facts
Henry Ford was born on July 30, 1863, on a farm at Greenfield Township, Michigan.
Henry Ford established the Ford Motor Company on June 16, 1903.
In 1878, Ford constructed his first steam engine at 15 years old.
Henry Ford came from a family of farmers.
Fifteen years after building his first steam engine, Henry Ford built a gasoline engine.
Henry Ford became one of the most well-known and richest people in his time because of his business.
Ford helped make cars more affordable in America.
In his early teens, Henry Ford got a pocket watch from his father and this was his experimental period on his love for machines.
After dismantling and reassembling the watch his father gave, Henry Ford gained his reputation as a watch repairman to his family, friends, and relatives.
Although he disliked farm work, he became a farmer at the age of 25 after he got married to support the needs of his family.
His employment at Edison Illuminating Company in 1891 allowed Henry Ford to save up and pursue his talent and curiosities on gasoline engines and machines.
Because of exceptional talent, Henry Ford got promoted as Edison Company's Chief Engineer after only 2 short years of joining the business.
His interest in building cars was inspired by Thomas Edison.
In an interview, Henry Ford said that his innovations came from the guidance of a "Great Spirit".
Today, Ford has over 190,000 employees.
Henry Ford's first experimental car was designed and created at a workshop shed behind his house in Detroit.
If not for his mother, Henry Ford would have not spent time working on their family's farm.
Ford's first cars were "Model A" and "Model N" which cost around $600.
On his deathbed, Henry Ford's last words were, "How did the Mets do today?"
Henry Ford completed the "Quadricycle" and the very first horseless carriage during his time.
Henry Ford Facts Infographics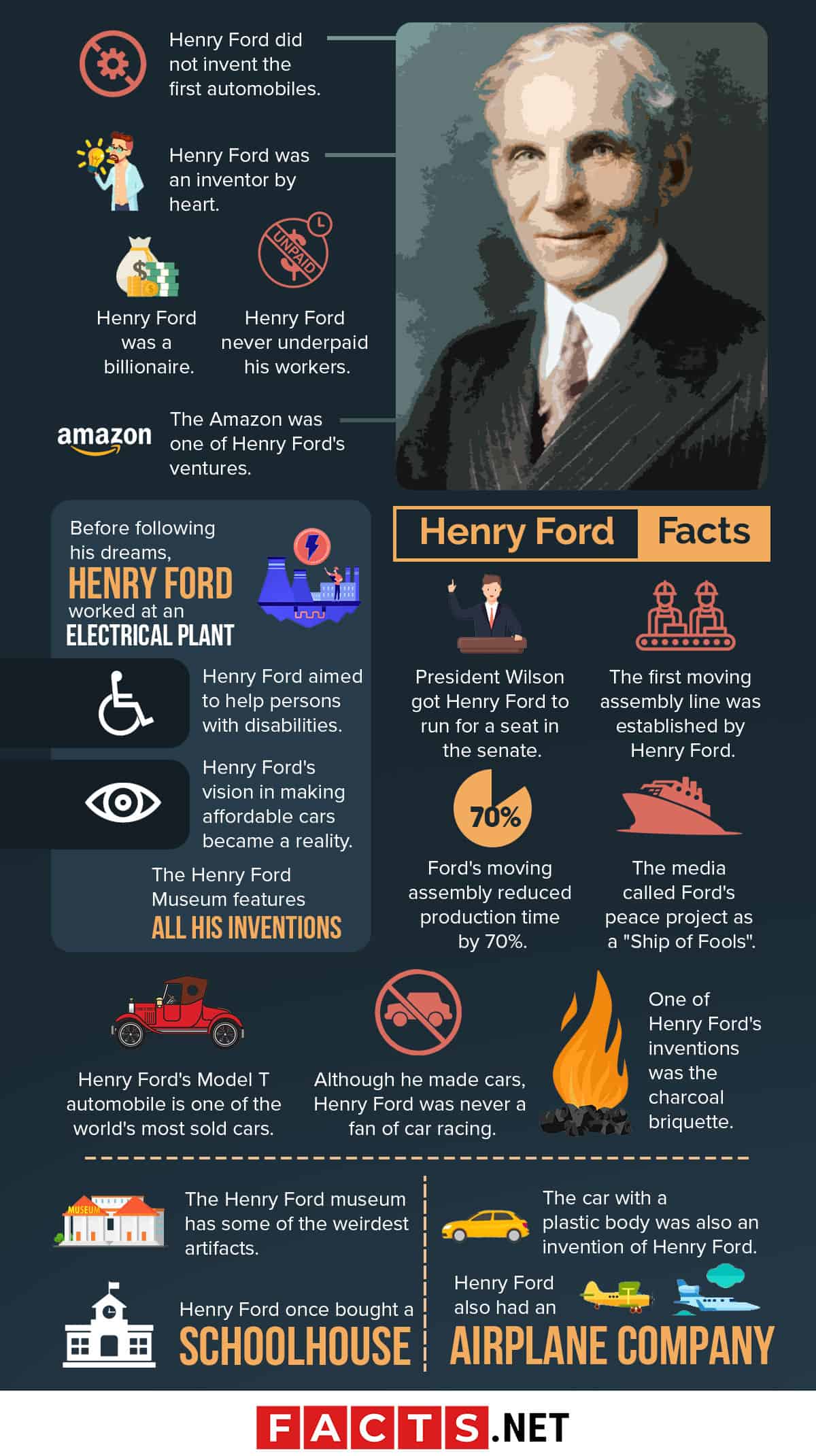 Henry Ford did not invent the first automobiles.
Contrary to common belief, Henry Ford did not invent the concept of automobiles. Instead, it was actually Karl Benz who did it in 1885. Ford only started making cars 11 years after the first automobiles were made. However, he was the first to mass-produce affordable cars in the US.
This paved the way for middle-class Americans to afford cars during that time. His company's first automobile, "Mobile T" revolutionized the transportation industry in America. How's that for cool Henry Ford facts?
Before following his dreams, Henry Ford worked at an electrical plant.
Though he came from a lineage of farmers, Ford never envisioned himself working on the farm. He found his passion in machines and steam engines. Since his upbringing left him with no money to pursue his dreams, he joined the Thomas Edison Illuminating Company. After working there for 6 years, Ford was encouraged by Edison himself to make his dreams a reality in making reliable, affordable, and gasoline-powered automobiles.
Henry Ford's vision in making affordable cars became a reality.
In 1903, Henry Ford officially established Ford Motors. In its early days, the company released model cars for around $600- $950. After many attempts and thorough study, they lowered the price to only $290.
By 1927, middle-class people in America started to have the ability to purchase affordable cars from Ford Motors. This era marked the start of Ford's long journey of manufacturing automobiles.
Henry Ford was an inventor by heart.
We may only know him as the founder of Ford Motors but he is so much more than that. One of the most interesting yet little-known Henry Ford facts is that he had 161 unique patents after his name. Throughout his life, Ford was interested in inventions and science in general.
Even after putting up the automobile company, he never stopped being an inventor and a scientist.
The Amazon was one of Henry Ford's ventures.
Always looking for the next big thing, Ford made plans to build a big city in the Amazon. Unfortunately, his efforts came to waste as it never pushed through. While it may sound strange, Ford's business concept involved a city which constantly supplied rubber. Set to be named Fordlandia, the town in Aviero, Brazil remains as empty as it was before.
Henry Ford aimed to help persons with disabilities.
Aside from his passion for innovation, Ford had a soft spot for persons with disabilities. In line with this, he readily hired persons with disabilities for his manufacturing plants. In Ford's lifetime, persons with disabilities accounted for roughly 20% of the workforce at Ford Motor Company.
Henry Ford was a billionaire.
During his time, Ford automobiles sold around $15 million in revenue. He was the second richest man in America after oil magnate John D. Rockefeller. After his company's big success in 1920, Henry Ford's net worth peaked at $200 billion. Although the market share of Ford diminished after his death, the company's success made him one of America's wealthiest men in history.
President Wilson got Henry Ford to run for a seat in the senate.
As Ford became a big name in business, Former President Woodrow Wilson convinced him to run for senate. However, Ford did not want to spend even a dime for election campaigns. Without spending on the campaign, Ford lost the candidacy by only 4500 votes. For someone who did not break the bank for running, this was already a remarkable achievement.
The first moving assembly line was established by Henry Ford.
The company of Henry Ford relentlessly looked for ways to improve efficiency and bring the costs of industrial production down. In 1913, the very first moving assembly line came into the picture. Although it was Ransom E. Olds who formulated the concept, it was Ford who turned the stationary assembly lines into moving ones. Through this method, the assembly line became mechanically driven. In turn, this allowed workers to focus on other tasks, increasing productivity rates.
Ford's moving assembly reduced production time by 70%.
Before the moving lines, it took 728 minutes to finish a chassis. However, Ford's invention let them cut it down to 93 minutes. Not only that, but the Model T automobile only took 24 seconds to make. That said, Ford Motor Company didn't just revolutionize the car industry, but it also ushered in technological and infrastructural development. This is definitely one of those inspiring Henry Ford facts to date.
The media called Ford's peace project as a "Ship of Fools".
Other than innovation, Ford always promoted peace. Because of this, he set sail on a peace mission in 1915. He morally and financially supported the expedition to Europe. However, the media was not impressed and dubbed it the "Ship of Fools."
Henry Ford never underpaid his workers.
Even before the company got incorporated as a legal business, Ford was always pro-employee. He believed that satisfied employees work better in the company. Compared to other companies in the industry, Ford's employees got almost double the normal wage at that time.
Because of this, a lot of talented and skilled workers came to work for him. Eventually, this gave his company leverage for the quality and production of his automobiles.
Henry Ford's Model T automobile is one of the world's most sold cars. 
Produced from 1908 to 1927, the Ford's Model T became known as the most influential car of the 20th century. Selling over $16.5 million, it remains as one of the most sold cars of all time to this day.
One of Henry Ford's inventions was the charcoal briquette.
Charcoal briquettes refer to compressed coal dust blocks used for kindling. Who would have thought that Ford created this outdoor essential? Ford's automobile plants had many oak scraps that could no longer be used for the cars. To make use of this excess wood Ford's brother-in-law E.G. Kingsford suggested that they start a charcoal manufacturing plant. Following his suggestion, Ford named it Kingsford Charcoal in his honor. To this day, Kingsford remains among the top producer of charcoal briquettes in the industry.
Henry Ford also had an airplane company.
Henry Ford established the Ford Airplane Company during World War I. While the business understandably didn't take off, it still set a sturdy foundation for the eventual Ford Tri-Motor airplane. Produced between 1928 and 1932, the Tri-Motor has been featured in the film Indiana Jones and the Temple of Doom.
The Henry Ford Museum features all his inventions.
On October 21st, 1929, Ford opened the Henry Ford Museum. Today, you can still see a collection of his inventions and their role in America's progress for the last 200 years at Dearborn, Michigan. General admissions to the museum comes free for those 2 and under, while the fee is $16.50 for those 3-11 years old. For adults, entrance costs $20 for teenagers and the youth, while it charges $22 for Seniors.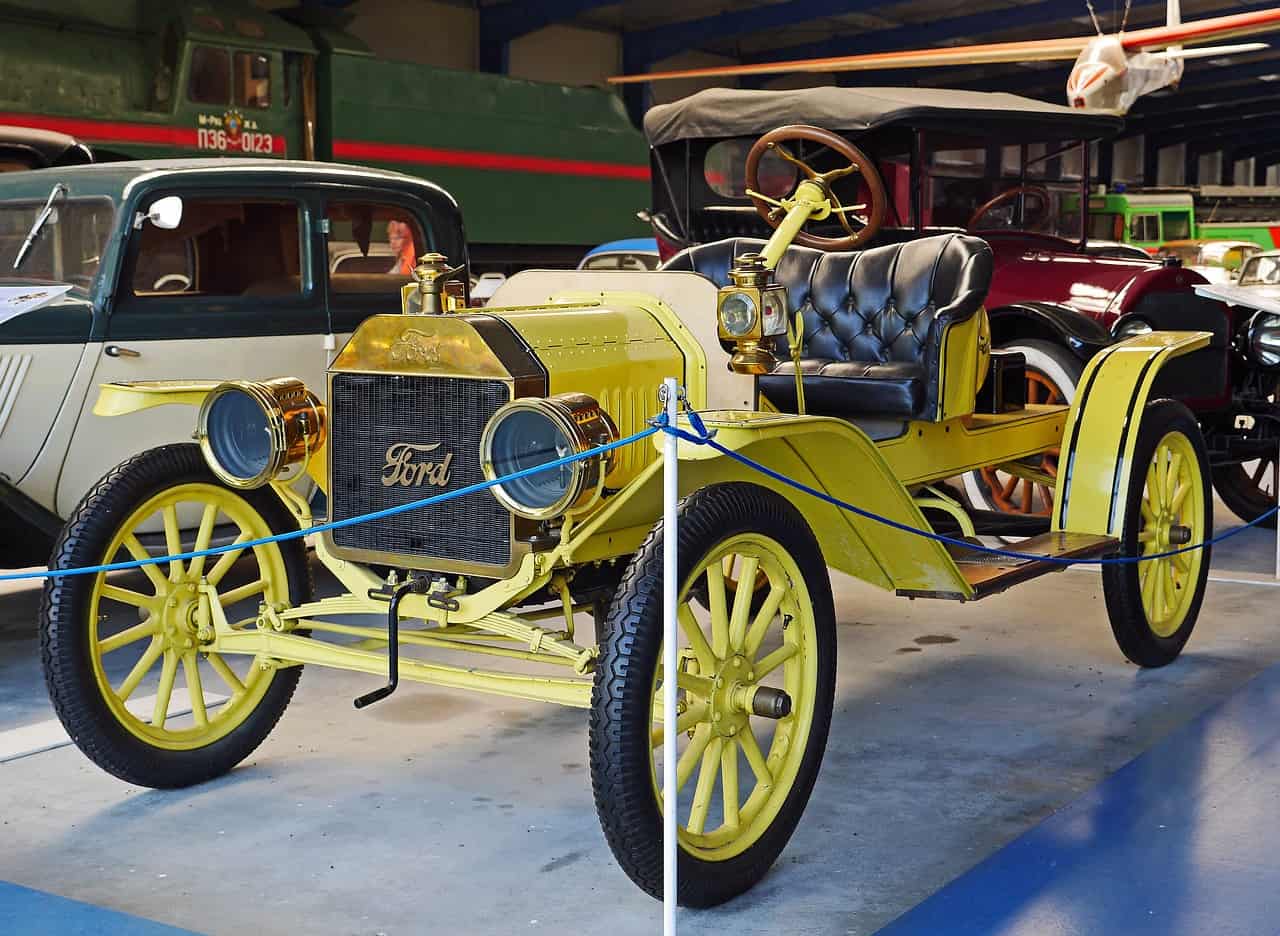 The Henry Ford museum has some of the weirdest artifacts.
Some tourists may find the ticket for the museum a bit pricey, but it's all worth it. One of the strangest artifacts you will see there is a vial of Thomas Edison's last breath. Ford always had an admiration for Edison. When he was dying, Ford asked Thomas Edison's son to be on his father's bedside and put a glass test tube near his mouth to capture his last breath. Isn't that one of the weirdest Henry Ford facts?
The car with a plastic body was also an invention of Henry Ford.
Even in his old age, Ford did not stop being an inventor. In August 1941, Ford made a prototype of an automobile with a plastic body. What's astonishing about it is its biodegradable body with panels entirely made from soybeans. Initially, Ford planned to switch to this design to lessen the cost and weight of their new automobiles. However, the peak of World War II delayed and eventually ended the project.
Henry Ford once bought a schoolhouse.
You might know "Mary Had A Little Lamb" as nursery rhyme, but you wouldn't imagine its connection to Henry Ford. According to Ford, the property he bought in Sterling, Massachusetts was the one described in the song. When Ford bought the Redstone Schoolhouse, the building had only been used for storage. Later on, Ford repurposed it into a proper school, operating until 1951. Ford even published a book about it, entitled The Story of Mary and Her Little Lamb and Ford Ideals.
Although he made cars, Henry Ford was never a fan of car racing.
Even though he spent so much time making cars, Ford never liked the thrill of racing. However, he saw the need to participate in racing events to promote his products and merchandise. Because of his efforts, he made the 1996 Motorsports Hall of Fame despite never being fond of the sport.
There's a film about Henry Ford's life.
Released in 1987, Ford: The Man and the Machine followed the life of Henry Ford and his eventual legacy. Based on the biography gathered by Robert Lacey, the television film was directed by Allan Eastman, with Cliff Robertson playing the lead role of Henry Ford.
Bonnie and Clyde favored Henry Ford's cars.
While it may not be the best endorsements for Ford's cars, Clyde Barrow usually carried out his heists in Ford vehicles. With Bonnie Parker, Clyde Barrow became notorious outlaws of their time. According to rumors, the two wrote letters to Ford, thanking him for the incredible cars he was making.
Some people wanted Henry Ford to run for president.
Because of his innovations and contributions to society, people started advocating for him to run for presidency in 1961. Ford's supporters even made and distributed "Ford for President" paraphernalia. However, Ford had no interest in politics.
Henry Ford married Clara Bryant.
After leaving his family farm, he got married to Clara Jane Bryant on April 11, 1888. Their marriage produced Ford's only child, Edsel Ford. Eventually, his son succeeded him as Ford's owner, then followed by his grandson, Henry Ford II.
The Henry Ford Hospital operates to this day. 
In October 1915, the Henry Ford Hospital opened its doors to patients as a tertiary care hospital with 877 beds. Eventually, it also had a research and education complex at the New Center area of Detroit, Michigan. Not only that, but the Henry Ford System also did not stop for only one hospital alone.
Today, Ford has 29 medical centers, 8 hospitals, 24 pharmacies, and 8 emergency departments. In total, around 1,200 physicians with over 40 specialties work for the Henry Ford Medical Group.
A community college in Detroit is named after Henry Ford.
Established in 1983, Henry Ford College is a two-year public college institution at Dearborn, Michigan. Upon the installation of the first Culinary Arts degree in the school, it was named after Ford to honor the evolution of the school's co-curricular and academic offerings.
Henry Ford had many iconic quotes.
Aside from his brilliant inventions, Ford also gained a following for his outlook in life. Among his famous lines was: "Money is like an arm or leg — use it or lose it."
The Greenfield Village is Henry Ford's collection of buildings.
In 1933, Ford established Greenfield Village at Dearborn, Michigan. As a collection of historic buildings, Ford used this place like his personal portfolio. To create the village, Ford bought 100 properties, moving all of them into one village and organizing it like a real community.
Henry Ford also advocated against smoking.
Ford was so against smoking, that he he published a book with all the health concerns and problems that you can develop smoke regularly. These Henry Ford facts just show that Ford was a man of action.
Henry Ford retired two years before he died.
After suffering a stroke, Ford retired in 1945. In his place, his grandson Henry Ford II took over the company. Around two years after his retirement, Ford died of a cerebral hemorrhage on April 7th, 1947, at the ripe age of 83.