Ted Bundy terrorized people as one of the most notorious serial killers of America in the 1970's. With 30 identified victims and possibly hundreds more, you probably wouldn't think of the man as anything but an animal. But what's more intriguing is that he even got the chance to have a daughter while on death row, waiting for his execution. Find out more about how this family came to be with these Rose Bundy facts.
Quick Facts
Essential Facts
Interesting Facts
Rose Bundy was born on October 24, 1982.

When her father died via the death penalty, Rose Bundy was only 6 years old. 

Today, she lives under a new name.

In 1977, Rose Bundy's parents fell in love while her father was on trial.

Three years before the execution of her father, Rose Bundy's parents got divorced.
Rose Bundy is the only legitimate and biological daughter of the notorious 1970's serial killer, Ted Bundy. 

Her father had gotten into some serious relationships but Rose Bundy's father only got married once and that was with her mother, Carole Boone. 

Rose Bundy's parents never got the chance to live together in one house as her father was already in prison during the whole process of their love affair. 

It's still a mystery how Rose Bundy's parents were able to consummate their marriage in prison. 

Rose Bundy's parents first met at the  Department of Emergency Services, but did not form a romantic relationship until the conviction of her father. 

When Rose Bundy was born, her father was the center of media attention because of his murder cases. 

Despite the disturbing murders that Ted Bundy committed, his wife always brought along their daughter to her regular prison visits. 

Rose Bundy was also called Rosa by their close family and friends. 

James Boone was Rose Bundy's half brother from her mother's first marriage. 

A Netflix series about the murders of Ted Bundy said that Rose Bundy's parents built their little family at the mercy of the death row.
There were speculations that when Rose Bundy's mother came to visit her father in jail, she was able to smuggle money and illegal drugs, too. 

When Carole Boone was standing in court as a witness for Rose Bundy's father, he proposed to her. That's when she said yes. 

The 2nd anniversary of the killing of her father was also the 1st anniversary of her parents. 

A weird theory about the conception of Rose Bundy says that her mother brought condoms into the prison for Bundy to deposited his sperm into. 

There were portraits of Rose Bundy's little family but instead of the traditional photo studio backgrounds, theirs was in prison cells.
Rose Bundy Facts Infographics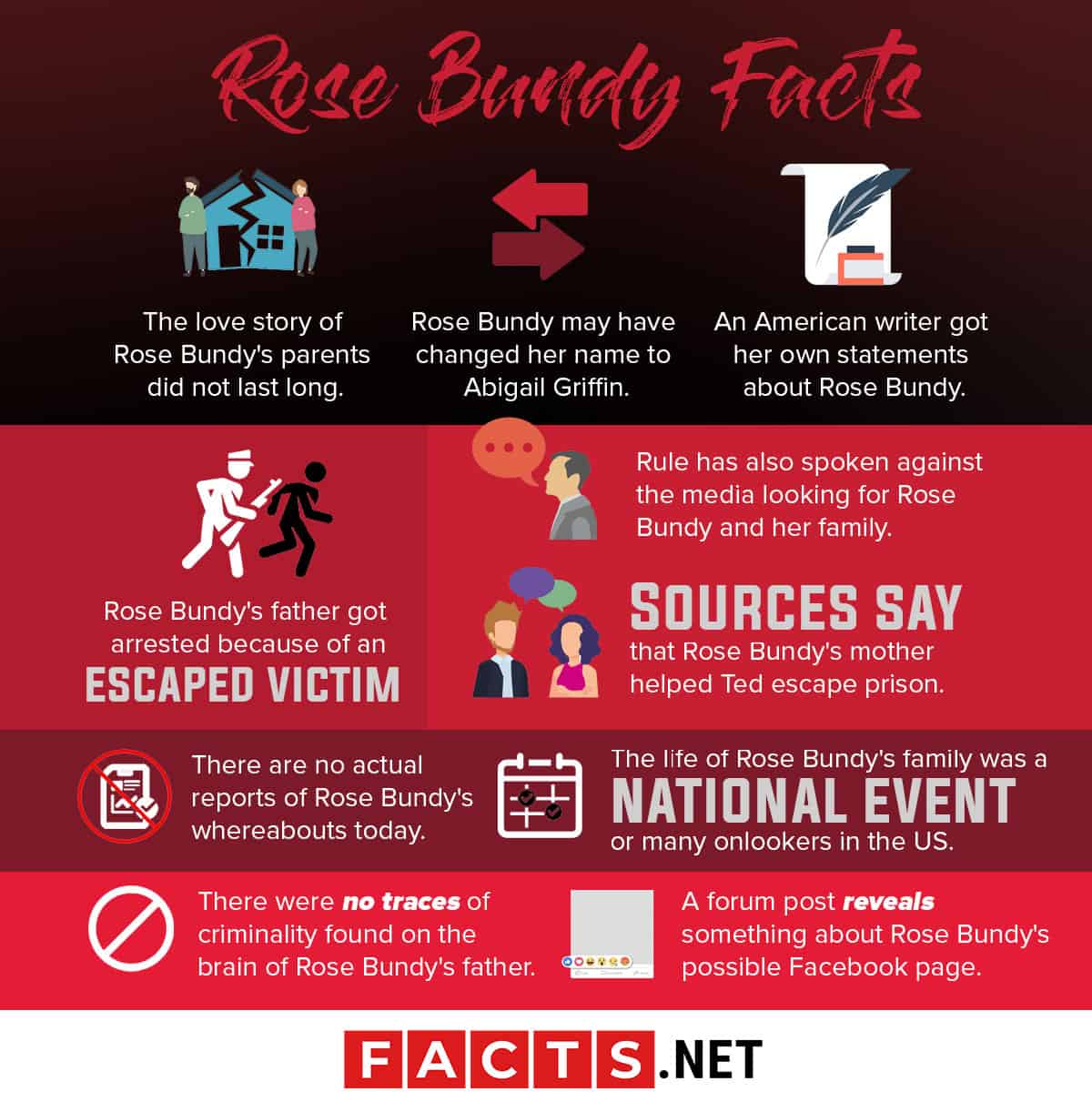 The love story of Rose Bundy's parents did not last long.
The media often portrayed the love story of Ted Bundy and Carole Boone as the love  beyond death penalties. Boone stood in court to stand witness in defense of Bundy, being a loyal, supportive wife, even getting pregnant with their daughter Rose in the process. However, their unconventional marriage ended 3 years before Bundy's execution.
Upon their separation, Carole Boone left Florida, taking her son and daughter with her. Sadly, it's said that they never spoke with or saw Ted Bundy ever again. This is one of those Rose Bundy facts that will make us realize that some things are just not meant to last forever.
Rose Bundy may have changed her name to Abigail Griffin.
While Bundy has understandably lied low for most of her life, the only thing certain is her age of 37 years old. However, the rest of her personal life remains a mystery. No one even knows what she does for a living these days. The lack of records even leads some to speculate that she may have had her name changed. Given the background of her family history, this only makes sense. 
An American writer got her own statements about Rose Bundy.
Ann Rule was a former co-worker and friend of Rose's father. Coincidentally, Ruele also works as an American author of true crime articles and books. Known for the book, The Stranger Beside Me, rule got to interview Rose about her father. In her book, she described Rose turned as an intelligent and kind woman. However, the author also says that she does not have an inkling as to where Rose and her mother might be.
Rule has also spoken against the media looking for Rose Bundy and her family.
While many reports, speculations, and theories still circulate regarding the whereabouts of the family of Rose Bundy, Rule has spoken against the media hounding them. According to her, they deserve privacy after the horrible publicity of being associated with a serial killer.
A forum post reveals something about Rose Bundy's possible Facebook page.
An anonymous post on the Life In The Row forum in 2016 once stated that Rose Bundy definitely uses Facebook. They also added that Carole Boone's son, Jamey Boone, has a Facebook page linked to her mother's Facebook profile. 
Rose Bundy's father got arrested because of an escaped victim.
Despite being a concluded case, many still debate over when Ted Bundy started his killing spree. Most agree that it began from 1974 onwards, when several women started going missing near Oregon and Seattle. In 1975, Bundy's eventual arrest halted his killing spree after his escaped victim Carol DaRonch identified him in a police row. After this, Bundy got sentenced to many years behind bars, with multiple discovered cases piling up on him.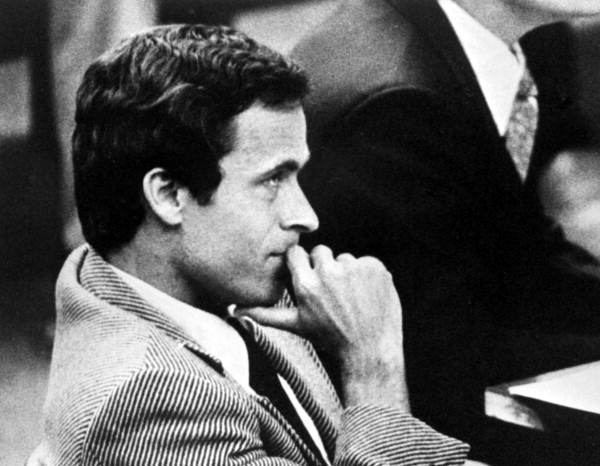 Sources say that Rose Bundy's mother helped Ted escape prison.
Boone and Bundy fell in love after reconnecting in a Utah prison in 1977. Upon starting their romance, Boone went to visit him in jail and exchanged letters with him regularly. According to the Rolling Stone, Boone may have helped Bundy escape the prison in Colorado and eventually flee to Florida.
The life of Rose Bundy's family was a national event for many onlookers in the US.
Amidst the media coverage of Bundy's crimes and trials, Boone and Bundy got married. Soon after, their daughter was born. Since then, the Bundy family fell under the scrutiny of the public eye. 
There were no traces of criminality found on the brain of Rose Bundy's father.
After the execution of Ted Bundy, authorities received a request to remove his brain for science, hoping to find any glaring abnormalities that may have caused such violent behavior. While brain injuries may cause some people to be extremely violent, none has been found on Bundy's brain.
There are no actual reports of Rose Bundy's whereabouts today.
After the death of her father via the electric chair in 1989, nothing has been reported about where Carole Boone and her kids are.