What Kind of Fish is Dory?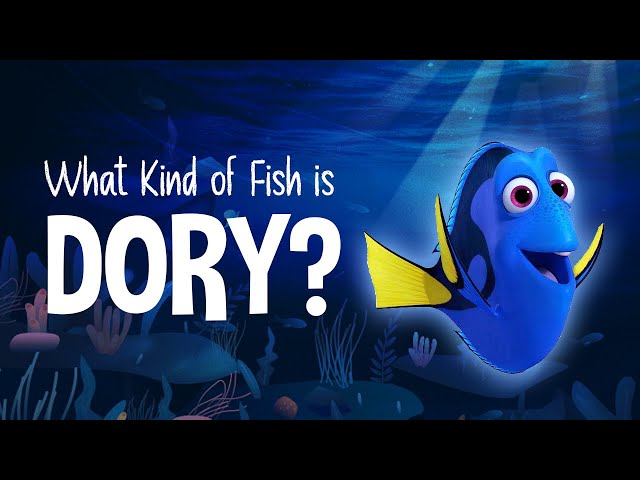 The popular sidekick from the film Finding Nemo has been an icon since her first appearance. In the said animated film, she's one of the many fishes that helped Marlin find his lost son, Nemo. Well, we all are aware Marlin and Nemo are clown fishes, but what about Dory?
A huge part of every Gen Z's and Millennials' childhood, Finding Nemo is about Marlin, a clownfish looking for his titular son. Along the journey, he meets Dory, a fish with short-term memory loss.
The iconic amnesiac fish, Dory, has since then become a popular character. Just like all the other Finding Nemo fishes, we should definitely also know what kind of fish she is, right? Don't worry, we have all you need to know about Dory right here!
The Royal Blue Tang
So, what kind of fish is Dory? She's a royal blue tang. If you've mistaken her for any other fish, don't worry as there are many types of blue fish in the ocean. One example is the powder blue surgeonfish or the Atlantic blue tang. Royal blue tangs have many other names such as the palette surgeonfish, the hippo tang, flagtail surgeonfish, and many more. Its scientific name is paracanthurus hepatus.
Found near coral reefs in the Pacific Ocean and the Indian Ocean, royal blue tangs prefer clear waters. They are larger than clownfish but are still smaller than other fishes in the ocean. They're actually poisonous, that's why eating them is a bad idea.
The Perfect Fish for the Character Dory
The reason the filmmakers chose the Royal Blue Tang as Dory was because of its lack of identity. This is akin to Dory's short-term memory loss. Dory also shares a personality trait with real-life royal blue tangs: they are free-spirited. Both Dory and her real-life counterparts also have a problem with names since many confuse the Royal Blue Tang for other fishes. And they are only captured in the wild and not bred in captivity. In the end, they prefer to be useful in the environment, especially to control things for the better.
Royal Blue Tang as a Pet
When Finding Nemo came out, the clownfish pet industry saw a staggering boost in sales. Unfortunately, some people returned and even flushed most of the fish down the toilet when they discovered that they are different from the one in the film. This is a common occurrence. When the Teenage Mutant Ninja Turtles was a popular series, turtles were all the rage. Sadly, most of them were neglected.
When Finding Dory came out, many people warned the public about impulsively purchasing royal blue tangs. First off, they totally belong to their natural habitat. They help graze the algae surrounding corals in reefs, which then prevents the corals from overcrowding because of their large stature.
Royal blue tangs should not be taken in as pets. It's best to just visit them being free in their home.
Dory's Name Meaning
There are a lot of funny but clever fish names in the movie. Marlin is an actual fish that's more adventurous, unlike the film's Marlin, who constantly plays it safe. Bruce, the shark, was named after the Jaws shark. Bloat, the pufferfish, was named after his ability to bloat. If you're wondering what Nemo means, it's actually derived from Captain Nemo, a popular character from Jules Verne's Twenty Thousand Leagues Under The Sea. Gill, on the other hand, was named after a part of a fish. So why did they name the blue tang fish, Dory?
The reason is quite simple. Dory is actually a type of fish that's flat, wide-eyed, and has gigantic eyes. Thus, the regal blue tang fish is a type of Dory.
Role in Finding Nemo
In Finding Nemo, Dory bumps into Marlin when he was chasing the boat that took his son. They eventually discovered a pair of goggles that had the address of the divers. Dory, fortunately, knows how to read and they find themselves at P. Sherman 42, Wallaby Way, Sydney. Before that, however, the pair had to escape a group of sharks and swim through a jellyfish forest. Thanks to Dory's outgoing and innocent behavior, Marlin was able to take things lightly.
And despite her short-term memory loss, Dory was a big help. In fact, she found Nemo herself and delivered her to Marlin!
Dory's role in the movie was more than comedic relief, she's an embodiment that certain disabilities shouldn't stop someone from being jovial and heroic.
Role in Finding Dory
After 13 years, Finding Nemo got a sequel called Finding Dory. As the title, the movie is all about discovering Dory's origins.
Because of her short-term memory loss, Dory has fuzzy memories of her parents or where she's originally from. Turns out, the beloved sidekick-turned-main protagonist got lost herself when she was a child. With the help of a cranky octopus named Hank, a beluga whale named Bailey, and her childhood friend, Destiny, a whale shark, Dory sets out to find who she really is. Of course, this all came to a beautiful end as she reunites with her parents as well as Nemo and Marlin.
Because of Dory's popularity with children and adults, Finding Dory was a rousing success.
Other Appearances of Dory
Dory doesn't just appear in two movies. As one of the first female protagonists of Pixar and one of the most iconic fictional fishes, she appeared in Boom! Studios' comic book series of Finding Nemo. You can also spot her in the LEGO: The Incredibles video game and in a short comedy documentary with Marlin and Nemo. In the documentary, they interrupt the narrator as he discusses coral reefs. She can also be seen as an emoji in As Told by Emoji. If you still can't get enough of her, you can have her adventures as a screensaver via Dory's Reef Cam, which is accessible on Disney+.
Fun Facts About Finding Dory
To make Finding Dory, the animators spent an enormous amount of time in the Monterey Bay Aquarium. They wanted to make sure the movements of the marine life in the movie are realistic and have a floating essence to them.
In Finding Nemo, Dory can speak whale, although it was unclear how she was able to do so. Turns out that Dory has a "pipe pal" friend named Destiny the Whale Shark as shown in Finding Dory.
The original version of Finding Nemo had Dory as a male character. This changed when director Andrew Stanton overheard Ellen DeGeneres speaking and thought to himself how fitting the host would be as the ditzy fish.
The makers of Finding Dory researched the psychological aspects of adoption. This helped them give justice to the emotions Dory was experiencing throughout the film.
Ellen Degeneres had been campaigning for a sequel for years. Since Finding Nemo was a smashing success, she urged producers to make a second movie. What she didn't know was that the particular sequel has Dory as the main protagonist.