What Happened On July 20th?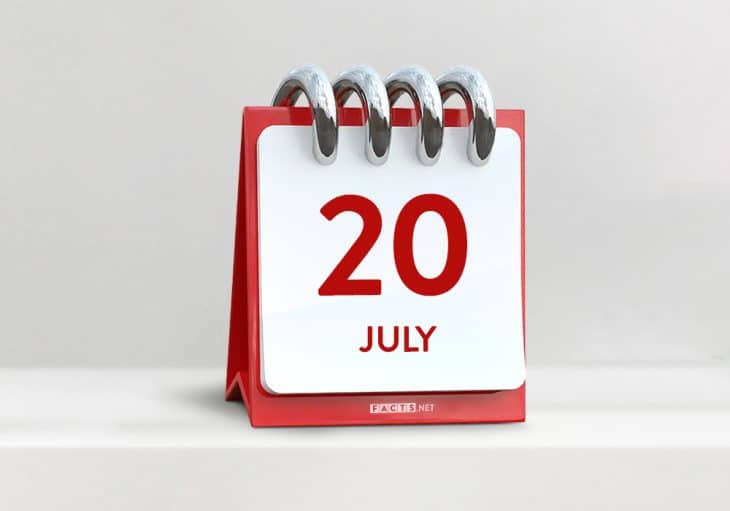 Though the step on the moon is what we know of July 20th, it is not the only notable event of July 20th. In fact, this day is also a giant leap for gender equality. That said, it is also laced with a number of tragedies as well as "could haves", such as the assassination plot against one of the most notorious rulers in the world. We have compiled several events that transpired on July 20th, and trust us, some of them are mindblowing.
Historical Events
1837: The London Euston railway station is the first intercity railway station to open in London. At the time of its opening, Euston was considered the largest railway station in the world, with a trainshed roof spanning over 200 feet and a grand entrance archway.
2012: A mass shooting occurred in Aurora, Colorado, during a midnight screening of the movie "The Dark Knight Rises". The attack resulted in the deaths of 12 people and the injury of 70 others. It was one of the deadliest mass shootings in United States history.
Image from Adobe Stock
Scientific Breakthroughs
1969: The Apollo 11 Moon Landing heralded by Astronauts Neil Armstrong and Buzz Aldrin made history as the first humans to set foot on the moon. Armstrong's famous words, "That's one small step for man, one giant leap for mankind," forever marked this monumental achievement in human space exploration.
1976: The Viking 1 lander became the first spacecraft to successfully land on Mars, providing scientists with valuable data on the planet's atmosphere, geology, and potential for supporting life. This mission paved the way for future Mars exploration and research.
Image from Adobe Stock
Political Milestones
1810: A group of patriots in Bogotá, led by Antonio Nariño and other prominent figures, issued a declaration of independence from Spanish rule. This declaration was the first step towards Colombia's eventual independence from Spain, which was finally achieved in 1819 after a long and bloody struggle.
1923: Alice Mary Robertson, a Republican from Oklahoma, became the first woman to preside over the U.S. House of Representatives as Speaker pro tempore. Robertson's achievement paved the way for other women to enter politics and work toward greater gender equality in the United States.
1944: Adolf Hitler survived an assassination attempt using a briefcase bomb, orchestrated by Claus von Stauffenberg and other high-ranking German military officers. The failed plot, known as the 20 July Plot, led to severe repercussions for those involved.
1948: South Korea elected Syngman Rhee as their first president. his was a significant event in South Korea's history, as it marked the end of a long period of Japanese colonial rule and the beginning of a new era of democracy and independence.
1973: Turkish troops invaded Cyprus in response to a military coup that had overthrown the Cypriot government. The conflict resulted in the division of the island between Greek and Turkish Cypriot communities that remains in effect to this day.
Image from Adobe Stock
Cultural Events
1973: Bruce Lee, the legendary martial artist, and actor, died at the age of 32. His groundbreaking film roles helped to popularize martial arts in the Western world and influenced the development of modern action cinema.
2017: Chester Bennington, the lead singer of Linkin Park, was found dead in his home in Palos Verdes Estates, California. Bennington's powerful vocals and emotional lyrics echoed with millions of fans, making him a prominent figure in the world of alternative rock.
Image from Flickr
Notable Birthdays
Francesco Petrarch (1304–1374) – An Italian scholar, poet, and early humanist. His works greatly influenced the Italian Renaissance and the development of the modern Italian language.
Dame Diana Rigg (1938–2020) – An acclaimed English actress. She gained fame for her roles in popular television series like "The Avengers" and "Game of Thrones".
Carlos Santana (1947) – A Mexican-American musician known for his unique style of blending rock, blues, jazz, and Latin American music. He rose to fame in the late 1960s and early 1970s with his band, Santana, and their hit songs such as "Oye Como Va" and "Black Magic Woman".
Josh Holloway (1969) – An American actor, model, and producer. Holloway rose to fame for his role as James "Sawyer" Ford in the popular TV series "Lost," which aired from 2004 to 2010.
Sandra Oh (1971) – A Canadian actress. She is best known for her role as Dr. Cristina Yang in the hit medical drama series "Grey's Anatomy" and Eve Polastri in the thriller series "Killing Eve".
Simon Rex (1974) – An American actor, comedian, rapper, and model. He is also known as Dirt Nasty. Rex initially gained fame as an MTV VJ and was later cast in a recurring role on the television series "Felicity". He has also appeared in several films, including "Scary Movie 3", "The Karate Dog", and "Superhero Movie".
Omar Epps (1973) – An American actor, rapper, songwriter, and record producer. Epps has been nominated for numerous awards throughout his career and is best known for his versatility as an actor and for his ability to bring depth and nuance to his performances.
Elliot Yamin (1978) – An American singer and songwriter. He gained popularity as the third-place finalist on the fifth season of American Idol in 2006. His self-titled debut album was released in March 2007 and debuted at No. 3 on the Billboard 200 chart.
Gisele Bündchen (1980) – A Brazilian supermodel and philanthropist. She is considered one of the most successful models in the world and has been named the highest-paid model by Forbes multiple times.
Final Word
In conclusion, July 20th has been a day of tremendous achievements and unforgettable moments. From the historic Apollo 11 Moon Landing to the birth of influential figures like Petrarch, these events have left a lasting impact on our world. As we continue to make history, let us draw inspiration from these milestones and strive to create a better future for generations to come.