Quick Facts
Essential Facts
Interesting Facts
Country: United States
Statehood: January 4, 1896
Capital: Salt Lake City
Population: 2,942,902
Area: 84,899 square miles
Nicknames: The Beehive State
Motto: Industry
Attractions: Arches National Park, Dinosaur National Monument
Cities: Salt Lake City, Provo, Park City
State Bird: California Gull
Abbreviation: UT
History: The Name Utah Comes From a Tribe of Native Americans
History: At Least Seven Tribes Have Called Utah Home
History: Utah Was Once Part of Mexico
History: The Mormons Settled in Utah in 1847
Geography: Utah Is One of the Four Corner States
Religion: The Majority of Utahns Are Mormons
Attractions: Utah Has Five National Parks
Sports: The United States Ski Team Hits the Slopes in Utah
Attractions: Temple Square Draws Tourist Crowds
Cities: Park City, Utah, Hosts Sundance Annually
Utah Boasts Several Cultural Attractions
Utah Was Second State to Offer Women's Suffrage
Utah Gave Up Polygamy to Become A State
Utah Has Two Professional Sports Teams
Utah's State Slogan Is "Life Elevated"
The First Transcontinental Railroad Was Finished in Utah
Rainbow Bridge Touches Down in Utah
The California Gull Helped Save Utah
Utah Digs Dinosaur Bones at the Cleveland-Lloyd Dinosaur Quarry
Grand Staircase-Escalante National Monument Is Nation's Largest
The Name Utah Comes From a Tribe of Native Americans
Utah facts indicate the name Utah comes from the Ute tribe and supposedly translates to "people of the mountains." The word Ute itself translates to "land of the sun." The Ute tribe lives predominantly in Utah and Colorado.
At Least Seven Tribes Have Called Utah Home
The western state of Utah joined the union on January 4, 1896. Before being settled by the Mormons and westbound pioneers, Utah was home to several Native American tribes. The first tribes known to have resided in the area that would later become Utah were the Anasazi and Fremont, tribes. The Anasazi are known for their amazing mountain dwellings built into cliff sides.
The Navajo, the Goshute, the Paiute, the Shoshone, and Ute tribes settled in the Utah area in the 1700s. These tribes still live in Utah, though mainly on special reservations.
Utah Was Once Part of Mexico
Utah facts show that Mexico gained independence from Spain in 1821 and claimed the Alta California area for itself. Alta California was established in 1804 by Spain and included what would later become the states of California, Arizona, Nevada, Utah, Colorado, and Wyoming. The end of the Mexican-American war of 1848 led to the Treaty of Guadalupe Hidalgo, which ceded the area to the United States.
The Mormons Settled in Utah in 1847
The first Mormon settlers, led by Brigham Young, settled in the Salt Lake area in 1847 after leaving Illinois. Though finally free from religious persecution, the pioneers struggled to survive due to the terrain. Within 22 years, over 70,000 people settled in the area. Salt Lake City, Utah, still remains an important part of Mormon history and is home to Temple Square, which features the largest Mormon temple.
Utah Is One of the Four Corner States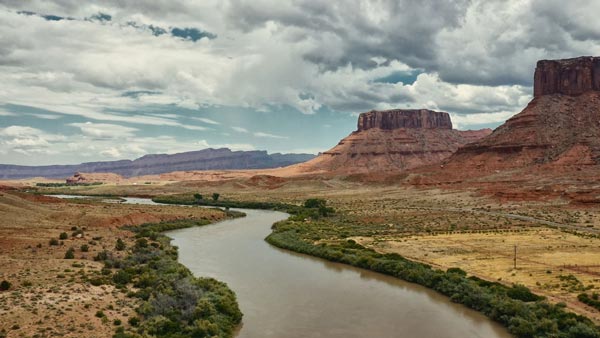 Utah is one of the four corner states, along with New Mexico, Arizona, and Colorado. It is also bordered by Idaho, Wyoming, and Nevada. Utah has a gorgeous natural environment and is home to deserts and forests. The Rocky Mountains, the Great Basin, and the Colorado Plateau meet in Utah to contribute to its unique geography.
The Majority of Utahns Are Mormons
Utah facts tell us approximately 62% of Utah's residents, known as Utahns or Utahans, consider themselves to be Mormons, though only 41% of them are active. The next largest group by religious affiliation is those who do not identify as having any religion. The unaffiliated makeup about 16% of Utah's population. Those who self identify as Catholic round out the top three religious groups, with 10% of the population.
Utah Has Five National Parks
Utah is home to five national parks and is the state with the third-highest number of national parks. Arches National Park, Bryce Canyon National Park, Canyonlands National Park, Capitol Reef National Park, and Zion National Park are federally protected parks with gorgeous geological formations. Utah is also home to seven national monuments and seven national forests, in addition to its numerous state parks and monuments.
The United States Ski Team Hits the Slopes in Utah
Utah has several popular ski resorts. Utah facts indicate that thanks to great snow conditions and urban accessibility, Utah's ski resorts have grown in popularity with ski enthusiasts. Park City, Utah, one of the United States' top ski resorts, is home to the United States Ski Team. Other popular ski areas are located near Salt Lake City, Ogden, and Provo.
Temple Square Draws Tourist Crowds
Temple Square is the headquarters for the Church of Jesus of Latter-Day Saints. It is located in Salt Lake City, Utah, and was settled in 1847 by Brigham Young and the Mormon pioneers. Temple Square is a tourist favorite in Salt Lake City, drawing three to five million people yearly to its museums and libraries.
Park City, Utah, Hosts Sundance Annually
Each year in January, celebrities gather in Park City and Ogden, Utah, to celebrate independent films. Utah facts indicate a host of famous faces screen films, attend parties and await awards while surrounded by the beautiful mountains and prime skiing resorts of the area.
Utah Boasts Several Cultural Attractions
Not only is Utah home to the Sundance film festival, but it also hosts the Red Rock Film Festival, the DOCUTAH Film Festival, and the Utah Shakespearean Festival.
Utah Was Second State to Offer Women's Suffrage
Utah facts tell us that before the United States allowed women to vote, the state gave women voting rights. Wyoming was the first state to offer women's suffrage and Utah followed suit in 1870. Unfortunately, the US government curtailed these rights in 1887 for fear of too much Mormon input. Women's voting rights were reinstated once Utah became a state. The United States granted women's suffrage in 1920. Though Utah allowed women voting rights in 1870, it has not signed the equal rights amendment, which guarantees equal rights for men and women.
Utah Gave Up Polygamy to Become A State
In order to be allowed statehood, the United States Congress required that Utah ban polygamy. Polygamy has often been viewed as taboo. Utah banned polygamy in its constitution in 1895, though there is still at least one fringe Mormon sect that practices polygyny (one man, multiple wives).
Utah Has Two Professional Sports Teams
Utah has two professional sports teams. The Utah Jazz shoot hoops at the EnergySolutions Arena in Salt Lake City as part of the National Basketball Association. The Real Salt Lake soccer team kicks at the Rio Tinto Stadium in Sandy and is part of Major League Soccer.
Utah's State Slogan Is "Life Elevated"
To capitalize on tourist dollars, Utah has maintained a branding campaign, complete with slogan. Utah's most famous slogan is "The Greatest Show on Earth," which is also the slogan for the Ringling Brothers Circus. Utah's current slogan is "Life Elevated", which calls to mind the amazing geographical formations the state is known for.
The First Transcontinental Railroad Was Finished in Utah
Utah facts show the world's first transcontinental railroad was completed in Promontory, Utah. It is the juncture where the Central Pacific and Union Pacific Railroads meet and is marked with a golden spike. Amasa Leland Stanford, founder of Stanford University and President of Central Pacific Railroad at the time, drove the golden spike into the railroad ties on May 10, 1869. This historic spot is now known as the Golden Spike National Historic Site.
Rainbow Bridge Touches Down in Utah
Rainbow Bridge is one of the world's largest natural bridges. The bridge rises 290 feet above the floor of Bridge Canyon and is 234 feet long. This beautiful natural wonder was formed in the late Triassic and early Jurassic periods and is protected as a national monument.
The California Gull Helped Save Utah
In 1848, crickets were terrorizing Utah settlers by devouring their crops. A flock of California Gulls flew in and ate the crickets, saving the crops and the settlers' food. In gratitude, the California Gull was revered and was later named the state bird of Utah.
Utah Digs Dinosaur Bones at the Cleveland-Lloyd Dinosaur Quarry
The Cleveland-Lloyd Dinosaur Quarry is a National Natural Landmark near Cleveland, Utah, that has the distinction of holding one of the world's densest concentrations of Jurassic era dinosaur fossils ever uncovered. Fossils excavated at this unique site include stegosaurus, allosaurus, and brachiosaurus skeletons.
Grand Staircase-Escalante National Monument Is Nation's Largest
Grand Staircase-Escalante National Monument was designated a national monument in 1996 by then-President Bill Clinton. This is the United States' largest national monument, protecting 1,880,461 acres in southern Utah. This monument is larger than the state of Delaware and is home to gorgeous geological structures, as well as surprising paleontological finds.
Utah Facts – Facts about Utah Summary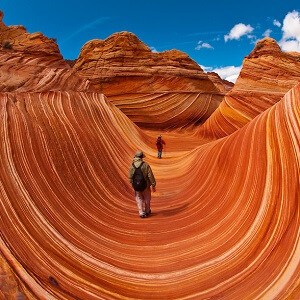 Utah became a state on January 4, 1896. It is home to two professional sports teams, the Utah Jazz and Real Salt Lake. Utah's capital is Salt Lake City. The state features numerous cultural, historical and geographic attractions. Park City, Utah, is home to the Sundance Film Festival and the United States Ski Team. In addition, Utah's attractions include Cleveland-Lloyd Dinosaur Quarry and Grand Staircase-Escalante National Monument, the United States' largest monument. Salt Lake City, Utah, is an important Mormon site.