Target Facts
Target has made a name for itself as one of the biggest discount retailers in the United States. It stands out from the rest by pioneering satisfactory customer experience and convenience above all else. Aside from this, how else does Target hit the mark? See for yourself with these Target facts.
Target is a retail corporation from the United States.
The company is part of the top 10 largest retailers in the United States.
Target was founded on June 24, 1902.
Target Corporation currently has more than 1,800 stores.
Target is part of the Standard & Poor 500 Index, a stock market index that measures the stock performance of the 500 biggest companies in the U.S.
Target Corporation is headquartered at Target Plaza, 1000 Nicollet Mall Minneapolis, Minnesota, United States.
George Draper Dayton founded Dayton's department store, which is now known as Target Corporation.
In the 70s, Target settled itself as the day time division of the Dayton-Hudson Corporation.
The massive expansion of Target started in the 80s.
During the 90s, Target introduced new store formats under the Target brand.
The company has found success by implementing a differentiation on its products and services while keeping their costs low.
Target Corporation is a publicly-traded company and its shares of stock are listed on the New York Stock Exchange.
Target Corporation's stock ticker code is TGT.
Brian Cornell is currently the CEO of Target Corporation.
Bullseye, a bull terrier with a Target logo circling his eye, is Target's mascot.
Target Corporation's stock price went more than $130 per share in late 2019 and fell close to $90 in April 2020 due to COVID 19.
Australia also has a department store chain called Target. However, it is not related to Target Corporation.
The department store chain, Wesfarmers owns Target Australia.
In 1979, Target made its first $1 billion in sales coming from its 74 stores.
When the company hit its first billion sales, they acknowledge their customers creating a promo to what they call, "Billion Dollar Sale."
Target Facts Infographics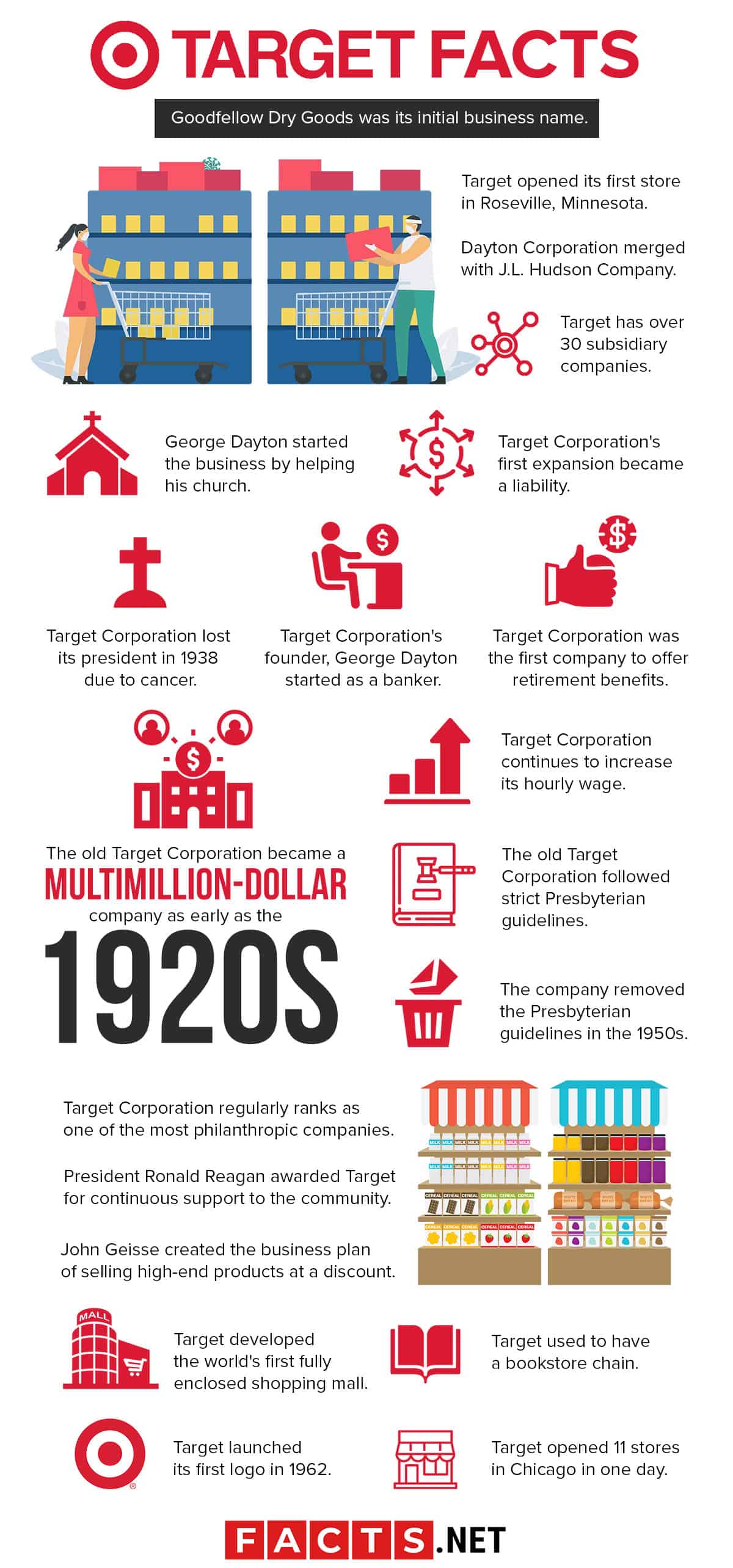 Goodfellow Dry Goods was its initial business name.
Geroge Dayton established what is now known as Target Corporation in 1902 under the name Goodfellow Dry Goods. Before being known as Target Corporation, the company would go through 3 more name changes: Dayton's Dry Goods Company in 1903 and Dayton Company in 1910. In 1969, it became the Dayton-Hudson Corporation upon merging with the J.L. Hudson Company.
Finally, the company rebranded as Target Corporation in the year 2000.
Target opened its first store in Roseville, Minnesota.
In 1962, Target opened its first store in Roseville, Minnesota. In its first few years, the company opened 4 Target stores in Minnesota, reporting its first revenue of $36 million in 1965.
Dayton Corporation merged with J.L. Hudson Company.
Dayton Corporation partnered with J.L. Hudson Company in 1969, renaming the company to Dayton-Hudson Corporation. The joint corporation established various department stores such as Hudson's, Dayton's, Mervyn's, and Marshall Field's.
Target has over 30 subsidiary companies.
From its small beginnings of only 5 stores, Target Corporation's expansion has reared 30 subsidiary companies. The biggest companies under Target Corporation are Shipt, Dermstore, Target Brands, Inc, Target Creative, Red Tail LLC, Westbury Holding Co, Target Capital Corporation, and TGT Energy LLC.
George Dayton started the business by helping his church.
During the 1893 economic Depression, the Westminster Presbyterian Church got burned down. Due to the incident, the church's congregation asked George Dayton if he could buy the empty lot near their original church so they could start all over again.
George Dayton got inspired and put up a six-story building on the newly purchased property to help his church as well as using his business connections to find tenants for the other spaces.
Target Corporation's founder, George Dayton started as a banker.
Born in Clifton Springs, New York, on March 6, 1857, George Dayton moved with his family to Worthington, Minnesota in 1883. Dayton later led the Bank of Worthington and founded Minnesota Loan and Investment Company, where he got his financial breakthroughs.
The old Target Corporation became a multimillion-dollar company as early as the 1920s.
The Dayton Company officially became a multimillion-dollar business when George Dayton successfully rented out an entire six-story building in the 1920s.
Target Corporation's first expansion became a liability.
Target's first expansion came with acquiring J.B. Hudson & Son, a Minneapolis-based jeweler. However, this purchase was ill-timed as it coincided with the United State's worst stock market crash in its history in 1929.
The newly acquired jewelry store had to withstand grave net losses, although their department store overcame the Great Depression.
Target Corporation lost its president in 1938 due to cancer.
When George Dayton died in 1938, his son Nelson Dayton assumed the position as the president of the company. Dayton spearheaded the business which was valued $14 million by implementing and adapting his father's conservative management style.
Target Corporation was the first company to offer retirement benefits.
In 1944, the company began to give its workers retirement benefits, making it the first employer in the United States to do so. In the 1940s, the company started to donate more than 3% of its taxable income to the Dayton Foundation.
Target Corporation regularly ranks as one of the most philanthropic companies.
Today, Target Corporation regularly ranks the highest in terms of donations and charity initiatives in the United States. This also explains how it became part of the Fortune magazine's Top 30 Most Admired Companies in the World in 2010.
Target Corporation continues to increase its hourly wage.
In 2015, Target Corporation offered $9 per hour for its daily wage, eventually increasing it to $11 per hour in 2017. This trend follows in 2019 when Target Corporation increased its hourly wage to $13. Currently, Target also plans to offer $15 per hour in 2020.
The old Target Corporation followed strict Presbyterian guidelines.
When George Dayton established the business in the 1920s, the company was known to follow strict Presbyterian guidelines. In other words, their stores never sold any alcohol, malicious newspapers, and would close their stores during Sundays to observe the Sabbath.
The company removed the Presbyterian guidelines in the 1950s.
When Donald Dayton took charge of the business in 1950, he removed the conservative Presbyterian guidelines that they followed for many years. With the goal of being more accessible and inclusive, Donald allowed their stores to sell alcohol and operate their businesses during Sundays.
President Ronald Reagan awarded Target for continuous support to the community.
Known for its great commitment to giving back to the community, Target received the President's Committee on the Arts & Humanities Medal of Honor in 1983. President Ronald Reagan delegated the award to Target for its supportive endeavor towards the arts and social welfare.
Target developed the world's first fully enclosed shopping mall.
To serve its shoppers during rainy seasons, the company started to build a fully enclosed mall in the year 1956, making it the first fully-enclosed shopping mall in the world.
Target opened 11 stores in Chicago in one day.
Target's expansion to Chicago in 1993 was met with fierce competition in the area. To make a lasting impression, the company decided to launched 11 stores in one day.
John Geisse created the business plan of selling high-end products at a discount.
When John Geisse worked with the company, he created the business plan of selling high-end products at a discount. The company liked the idea and started using his concept on May 1, 1962, opening the first Target discount store in Roseville, Minnesota.
Target was designed to become a "discounted version" of Dayton's department store.
The company name, 'Target' came from the idea of Stewart Widdess, then-Dayton's publicity director. From there, they executed the John Geisse's business plan of separating discounted products away from its existing stores, hence birthing Target.
Douglas Dayton served in the military before he was the president of Target.
Douglas Dayton led Target's development from 1962 until the year 1969 as its president. However, one of the little-known Target facts is that Dayton previously served in the Army in World War II before joining the family business.
Douglas Dayton became the vice president of Target in 1969.
When the management finally decided to merge Target to its parent company in 1969, Douglas Dayton stepped down as the president and became Target's vice president. In 1972, Douglas opted out in the business and built his new venture capital firm two years later.
"Expect More. Pay Less." is Target's slogan.
Target was built in the concept of providing massive discounts and providing its shoppers a higher-quality experience. Hence its famous tagline, "Expect More. Pay Less." Since its first use in the mid-90s, this tagline remains as Target's core mission.
It took more than two years for Target stores to start making money.
Roughly two to three years into Target's initial opening, its new business concept didn't immediately take off. Target Stores were reported to run losses. It was only until a few business tweaks later in 1965 that they finally booked a profit of more than $35 million.
Target was listed in the U.S. Stock Market on Oct. 18, 1967.
When the company started making money in the year 1965-1966, Target stores began its rapid expansion and aimed to go nationwide. Above all, on Oct. 18, 1967, the company successfully went public by selling some of its common stocks through an Initial Public Offering (IPO).
Target used to have a bookstore chain.
The American retail bookstore chain, B. Dalton Bookseller was launched in 1966. The B. Dalton Bookseller also once became the largest retailer of hardcover books in the country with close to 800 stores during its peak until it ceased business operations in February 2013.
The name Target wasn't an easy choice.
Before ending up with its store name "Target,"  the company's public relations team had considered more than 200 potential business names to choose from.
Target launched its first logo in 1962.
The first logo had three red open rings including the word "Target" written in black font in the middle.
Target's logo got revamped in 1968.
Target started to streamline its logo and leaving just one ring around its red dot as well as removing the word "Target" in its logo in 1968. By 1969, the company celebrated its newly opened outlet by unveiling its latest identity.
To further promote it, Target released numerous posters of a woman wearing an earring stylized as Target's logo.
The company brought back the word "Target" in its logo in 1975.
In 1975, the company decided to add the name "Target" in its logo by adding a big black font to the right of the Bull's Eye icon. In 1989, the company tried to enhance its logo once more by removing its iconic Bull's Eye logo and just using the name Target which was written in red italic font with a white shadow. However, the company dropped the idea and kept on using the 1975 logo until the year 2004.
The modern version of Target's logo launched around 2004.
This modern Target logo launched in 2004, and is the same logo Target uses to this day. The new logo featured the word "Target" in a red font, placed underneath the iconic Bull's Eye logo.
Target opened its new grocery brand, Good & Gather in 2019.
As the company expanded its portfolio in the food industry, Target launched Goog & Gather with more than 2,000 items varying from fresh salad mixes, organic snacks, and frozen food. With this steady release, Good & Gather became a multibillion-dollar brand in the upcoming years.
Target has a food laboratory for its research and development.
Most of the company's latest food products were studied and improved right from their food laboratory or test kitchen. Target invests in its own food laboratory to oversee the process of formulating new products.
Target's Food Lab hosts a Cake Week.
Each year, Target Corporation's food laboratory hosts a Cake Week where hundreds of pastry connoisseurs compete with each other's cake designs.
Target launched Archer Farms in 1995.
By the time its first grocery stores were up and running, Target Corporation was well-verse in the food industry. In 1995, the company launched its groceries for basic foods such as bread, pasta, milk, etc, which they called Archer Farms.
Target tried - and failed - to expand to Canada.
The company launched its first store in Canada in March 2013 and immediately grew to 133 branches in nearly two years. Unfortunately, all Canadian branches closed by April 2015 due to its limited variety and vigorous competition within the country. Consequently, the company lost around $2 billion in revenue.
'Tarjay' became Target's "second name"
Way back in 1962, during Douglas Dayton's era, people poked fun at Target by pronouncing it as "Tarjay" as if it's a store that originated from France. People still love to pull that joke without them realizing that it has been there for many decades.
Target once experienced a security breach.
On December 18, 2013, Target experienced a security breach in terms of their customers' credit and debit information. The company advised that around 40 million of its customers should take precautionary measures since they could be at risk from hackers since they could have access to customer names, card numbers, CVV, and expiration dates.
Following the breach, Target gave a 10% discount for all its items.
To compensate for the massive security breach, Target Corporation gave its shoppers a nationwide discount of 10% off everything from December 21st to 22nd, 2013.
Hackers also breached Target customers' personal info.
In 2014, Target Corporation officially announced that the names, residential address, email addresses, and phone numbers had been stolen from them which would possibly affect more than 70 to 100 million people.
The 2013 Target hacking remains the second-largest retail cyber-attack to date.
Target's 2013 security breach is the second-largest retail cyber-attack in history of the United States. It comes just after the cyber-attack on Heartland Payment that affected more than 130 million credit cards.
Target offers its own credit and debit card perks.
Target has its debit card and credit card known as the Target REDcard. If you're a patron and a loyal Target customer, it is an advantage to avail of it. These cards allow you to enjoy certain privileges and perks, such as discounts, free shipping, and extended return policy for all items.
The company is one of the pioneers in using airplanes for shipments.
Amidst a freight-handlers strike in the 1920s, the company started to fly their merchandise since the strike blocked all shipments from New York to Minneapolis. This idea opened the minds of many industries in the country that planes can be a good shipment alternative.
Target's founder once wanted to become a minister.
As the humble top executive of a bank, George Dayton didn't see himself becoming a business tycoon, but as a minister. He moved from New York to Minnesota to pursue his heart's desire. However, it was this same involvement with the Church that led him to his first business opportunity.
In 1922, Target founded WBAH Radio.
During those years, WBAH Radio was one of the few radio stations in Minneapolis, and the first radio broadcast station to operated by a department store in the area. Moreover, in just a couple of months, WBAH Radio set an official distance record when it was heard as far as England.
Target Corporation's Flower Show started in the 60s.
In March 1960, the company launched a Flower Show event inspired by different gardenscapes around the planet. The company launched the event to bring a positive atmosphere in the stores for their customers through flowers' vibrant colors and fragrances.
Target made the holidays even more exciting.
In 1963, the company created a new holiday auditorium show that brought smiles to children and adults alike. Target hosted the free annual event where shoppers can wander through animated stories and visit Santa's workshop.
For over 40 years, many families enjoyed famous themes such as Cinderella, Harry Potter, Christmas Carols, and many more.
The old Target Corporation offered summer activities as well.
In the early 60s, Dayton's started to welcome the summer season by converting some of its spaces into an ice cream parlor. This summer expansion also featured an outdoor barbeque where guests can unwind on nearby park benches. It also featured bazaars, flowers, balloon vendors, and fashion shows.
Target's first distribution center opened in 1969.
The company's distribution center acts as their warehouse and it is accountable for storing and shipping products to Target stores. Today, Target has over 20 regional distribution centers which measure approximately 40 million square feet in total.
Dayton Corporation's team-up with J.L. Hudson Company helped Target grow exponentially.
The business merger of Dayton Corporation and J.L. Hudson Company of Detroit in 1969 empowered the company to be one of the 15 largest non-food retailers in the United States.
These two large companies had solid common ground in terms of merchandising philosophies and countless years of dedication to outstanding corporate governance. Together, they helped launch Target into the retail giant that it is today.
The Dayton-Hudson Corporation volunteered annually for Earth Day.
In the 70s, the Dayton-Hudson Corporation commemorated Earth Day by providing pine trees to their customers and guests. The supporting store team members would also volunteer to plant trees and clean parks in Missouri, Texas, Oklahoma, Colorado, and Minnesota.
Target made shopping easy with planograms.
In 1974, the company created an elite shopping experience for its customers in all of its store branches. By introducing planograms, it helped team members deliver clean, uncluttered, and in-stock merchandise displays. Today, planograms are very common in all kinds of commercial retail stores.
Target Stores created new highs starting in 1975.
In the year 1975, Target Stores became the corporation's best selling stores as well as Dayton-Hudson's biggest revenue producer in the business.
Target started to publish its weekly newspaper advertisement in the 70s.
In the mid-70s, Target started to publish its weekly newspaper advertisement called, "Now in Your Sunday Paper." Today, it is more known as Weekly Ad or Weekly Deals which also contains coupons and discounts for its customers.
Using Target coupons are a great way to save more money.
Even though Target stores are already known for its low-priced products, using Target coupons for your purchases will take your savings to a higher level. However, it's important to know that Target voids the coupons if they are sold, purchased, altered, copied, or scanned.
Target aided the renovation of the Washington Monument.
The Washington Monument is one of the country's oldest memorials. In the late 1990s, it underwent a renovation that cost more than $5 million. To help with the expenses, Target Corporation partnered with the National Park Service and National Park Foundation to restore the monument and donated for its restoration.
In 1983, the Daytons retired from the Board of Directors.
The two remaining members of the original family, Bruce B. Dayton and Kenneth N. Dayton, withdrew from the board in 1983. With their retirement, they also put an end to the family's 80-year streak of direct involvement in the business.
Bruce Allbright and Kenneth Macke led the company in the mid-80s.
Bruce Allbright and Kenneth Macke took charge of the company after the retirement of Bruce and Kenneth Dayton. By 1984, Bruce Allbright became the Chairman and CEO of Target Stores while Kenneth Macke served as Chairman and CEO of Dayton-Hudson Corporation from 1984 to 1994.
One of George Dayton's great-grandchildren is a politician.
The family business has been passed on from generation to generation. However, one of the founder's great-grandsons chose a different path, serving as the governor of Minnesota from 2011 to 2019. From 2001 to 2007, he also served as the state senator.
The company stepped up in the 1990s to stop selling cigarettes.
Today, tobacco trade is heavily regulated. However, Target was one of the first to stop selling tobacco in the 90s. Aside from its dangers to the health, most of the buyers were minors.Because of this, Target decided to eliminate selling cigarettes to help prevent the from exposure to smoking and aid those who wanted to quit smoking.
Target's Santabear was an instant success.
Dayton's Santabear, a cuddly white plush bear, came to town in 1985. Santabear instantly became popular as 400,000 bears are sold within three days of its first appearance in stores. Santabear even grew its popularity even more in the following years through national television and community events.
Target was the first mass merchandiser to introduce UPC scanning.
Today, barcodes might look like an everyday thing. However, in 1988, Target was the first mass merchandiser to introduce UPC scanning at all Target stores and Distribution Centers.
Target revolutionized shopping with the introduction of barcodes.
The innovative technology solution of using barcodes contributed to the growth of in-store shopping through effective inventory management, enhanced automation, and above all, faster payment lanes.
Target is still the preferred store for school supplies.
Nowadays, there are only a handful of companies that excel in the retail industry since Amazon is now dominating the market. Even with Amazon catering a wide range of categories, Target still leads sales in terms of school supplies.
The average Target customer is 40 years old.
Although Target draws customers of different ages, the company discovered that its average patrons' age is around 40 years old with more than $60,000 annual income.
Target sponsored the Antarctica expeditions.
From 1989-1990, Target led the sponsorship of the International Trans-Antarctica Expedition. The expedition became a global learning tool for the scientific and environmental elements of Antarctica.
It was through this sponsorship that schools across the U.S. first learned about the ecosystem and wildlife of Antarctica.
The company has an eyewear store called Target Optical.
The company also has an optical shop and mostly located inside Target stores. It was founded in Cleveland, Ohio in 1995 by Cole National Corp. Its parent company was Luxottica, the biggest eyewear company in the world from Italy that owns almost all of the well-known brands such as Ray-Ban and Oakley.
Luxottica also manufactures the eyewear products of other signature brands like Giorgio Armani, Michael Kors, Ralph Lauren, Versace, Bulgari, Chanel, and Prada which all can be found inside Target Optical.
Target Optical offers affordable eyewear.
Even with its affiliation with Luxottica which was often criticized for its monopolistic pricing practices, Target Optical has done a good job with its pricing on its eyewear.
Although Target Optical isn't the least expensive nor the most expensive eyewear seller, purchasing from their official stores guarantees only authentic products..
The partnership with Chip Ganassi Racing represented Target's values.
In 1989, the company partnered with Chip Ganassi Racing. According to Target, this partnership represented all of the best sides and aspects of their business: excitement, speed, trendsetting, talent, and success.
The fashion industry has recognized Target's stylish apparel.
In fact, based on the survey of about 10,000 people, Target and TJ Maxx got a draw for people's choice value-retailer, and almost beat its rivals like Marshall's and Nordstrom Rack.
Marshall Field's helped the Dayton-Hudson Corporation grow.
When Dayton-Hudson Corporation acquired the Chicago-based department store Marshall Field's in 1990, the company generated mass revenue. The acquisition made Dayton-Hudson the premier department store in the Midwestern United States.
The company opened Target Greatland on Sept. 30, 1990.
As consumer demand continued to rise in the early 90s, the company created Target Greatland and opened it in Apple Valley, Minnesota on Sept. 30, 1990. True to its namesake, Target Greatland is 50% bigger than a regular Target store.
Target Greatland maintained its reputation for selling affordable merchandise.
Target Greatland became known for its spacious aisles, vast food options, superior and, in-store design while retaining its reputation for affordable merchandise. In the early 90s, it was also new for a shopping store to have automatic teller machines (ATMs), a pharmacy, and as well as photo services inside the building.
The name 'Target' associates with the company's affordable prices.
The company chose its name since the goal of every marksman is to hit the target's bullseye. In the same way, goal of every store in terms of retail is to hit the mark in terms of products, prices, quality, and services.
The first SuperTarget opened in Omaha, Nebraska in 1995.
Realizing that several customers don't always have the luxury to travel separate stores in one shopping trip, the company built the SuperTarget in 1995 to be a one-stop-shop. The first SuperTarget store opened in Omaha, Nebraska featured a grocery with fresh produce, dairy, and meat.
Target was one of the first retailers to have a gift registry service.
The company is one of the first mass-market retailers to provide a comprehensive gift-registry service. By using Club Wedd® in 1995, it conveniently allowed its customers to experience a service environment with more than 120,000 couples registered in just 1 year.
Vermont is the 50th state of Target.
In 2017, Target decided to expand the business to Vermont as it was the only state that doesn't have a branch yet. A year after, the vision became reality. The company opened its store in South Burlington, Vermont as its 50th-state.
As a celebration of the company's milestone, the store offered wide range options such as Same-day delivery, Drive Up, Order Pick-up, Target Restock, and Delivery.
Target already donated more than $300 million to some schools.
Since 1997, the company donated more than $300 million to K-12 schools throughout the United States. Target launched the campaign that promoted extra school credit for Target shoppers. Target donated up to 1 % of REDcard purchases to selected K-12 schools.
Target went online in 1999.
Target launched its first online website 1999 which allowed customers to buy merchandise without leaving their houses. Since then, its URL has been Target.com, which they use until today.
The first Target Gift Cards was also launched in 1999.
Today, you can buy Target GiftCards from its stores or on Target.com. Target gift cards range from $5 to $1,000.
"Eat Well. Pay Less." is Target's grocery slogan.
If Target has a company slogan (Expect More, Pay Less.), it also created its own slogan for its grocery items: "Eat Well, Pay Less." Since 2004, the company promised to provide a huge selection of unique, affordable grocery items as a complement to its existing low-priced merchandise.
Target has a good system in its return policy.
If you need to return, exchange, or refund an item from Target stores, they allow a 90-day return policy for most unopened items. Furthermore, some of the items that are bought in Target have a modified return policy noted on the receipt which may be subject to review.
Target unveiled GO International in 2006.
In 2006, Target unveiled GO International. This one of a kind fashion program that intended to provide affordable fashion organized by emerging designers.
The company also had a mobile boutique that roamed in the streets of New York for three days. After that, the latest collection was showcased in all Target stores. Since then, numerous world-renowned designers have been featured in GO International events.
Target opened its first stores in Anchorage and Wasilla, Alaska in 2008.
Target Corporation served the Alaskan market with merchandise tailored fit the locals' environment. With that, Target Alaska offered specialized, cold-weather gear and sections for fishing supplies.
The company's shopping carts are environmentally friendly.
According to Target Corporation, the shopping carts they use are made of recyclable material, weighing up to 20 pounds less than regular metal shopping carts.
There is a Target store in Hawaii.
The company has stated its appreciation for Hawaiin culture even before they opened its first store there in 2009. Today, Target Corporation already has more than 5 Target Stores throughout the Aloha State.
Target Corporation sold its pharmacies to CVS.
CVS Pharmacy or CVS Health is one of the best American companies in terms of healthcare services. In 2015, CVS has acquired Target Corporation's pharmacy and clinic businesses for around $1.9 billion.
CVS now operates more than 1,600 pharmacies of Target across 47 states and branded it under CVS Pharmacy.
Target's giant red balls are not just for decoration.
Target is famous for putting several giant red balls in front of its stores as a display. Aside from being a decoration, these design elements also prevent motorists from driving their cars into the store.
Loyal Target customers should download the Cartwheel mobile app.
Target created the Cartwheel mobile app for customers to track their savings. The app also provides an opportunity for its customers to find extra coupons and promotions.
Target helps other smaller companies by donating.
When some of the company's merchandise don't sell over a period of time, Target usually donates those items to smaller thrift shops.
Most Americans have a nearby Target store.
With around 360,000 employees, more than 70% of the United State's population lives within 10 miles of a Target store.
One of the biggest challenges of Target Corporation was expanding outside the U.S.
Target Corporation is already one of the biggest companies in the United States. However, one of its biggest challenges is how to expand internationally. The growing e-commerce industry across the globe also threatens this possible expansion.
Target has a lot of competitors.
Target's main competitors in the U.S. are: Walmart, Amazon, Costco, Kmart, Home Depot, Lowe's, Sam's Club, The Kroger Company, Aldi, and Best Buy.
Target sells products that you wouldn't be able to buy elsewhere.
Target differentiated its merchandise in the 2000s by partnering with famous designers such as Massimo Gianelli and Todd Oldham. Through these collaborations, Target produced exclusive lines for apparel and home goods that customers wouldn't get elsewhere.
Target sponsors Major League Soccer.
In early 2017, the company became the official sponsor of Major League Soccer (MLS). In the same year, Target granted $14 million to the local youth soccer team through Target soccer grant program.
Target participated in the 2018 Super Bowl LII.
During the hosting of Minneapolis for the Super Bowl LII, Target partnered with local brand Askov Finlayson to design the official volunteer outfits. Additionally, the company donated $300,000 for a Fitness Hub at the People's Center & Clinic in Minneapolis.
Target created the Team Member Giving Fund in June 2018.
The company's 'Team Member Giving Fund' pools from donations of Target and team members. This fund supports team members struck by natural calamities. In the latter part of the year, Target generated almost $500,000 for its members.
There is new key personnel in Target Corporation.
As the company continues its journey in the business world, several individuals took new positions to continue leading the way to the company's success. These employees with specialized positions include Stephanie Lundquist (President of Food and Beverage), Katie Boylan (Chief Communications Officer), and Mike Mcnamara (Chief Information Officer).