Selena Quintanilla Facts
Quick Facts
Essential Facts
Interesting Facts
Occupation: Singer
Genre: Tejano music
First Band: Selena y Los Dinos
Nickname: Queen of Tejano, Mexican Madonna
Born: April 16, 1971
Died: March 31, 1995
Famous for: Being an award winning Latin music artist
Awards: Grammy for Best Mexican/American Album in 1994
First Gold Album: Ven Comigo
Husband: Chris Perez
Accomplishments: Elena Quintanilla Was an Award-Winning Latin Music Singer
Family: Elena Became the Lead Singer of Her Family Band
Awards: Elena Won a Grammy in 1994
Death: Elena Was Murdered by the Founder of Her Fan Club
Legacy: Elena Is Commemorated Annually on Selena Day
Legacy: Elena Had a Major Influence on Many Contemporary Singers
Legacy: People Magazine Published a Special Tribute Edition When Selena Died
Genre: Tejano Music Is Also Known as Tex-Mex
Style: Elena Is Often Compared to Madonna
Accomplishments: Elena Was Very Active in Her Community
Selena's First Language Was English
Selena Had Two Famous Nicknames
Selena's Life Story Has Been Made into a Film
Selena Wanted to Become a Fashion Designer
Selena's Big Break Came with a Coca Cola Contract
Selena Was from a Humble Background
Selena Had a Vast Faberge Egg Collection
Selena Married Her First Love
Selena's Murder Has Been Compared to JFK's
Selena's Final Album Was the Faster Selling by a Female Singer in Pop History
Selena Quintanilla Facts Infographics
Selena Quintanilla Was an Award Winning Latin Music Singer
The first of our Selena Quintanilla facts reveals that she shot to stardom at a young age; she was associated with Tejano music, a mixture of folk and country. She quickly became well known and was especially popular with Hispanics in the American South. Her albums enjoyed high sales and she won a number of awards, including a pretigious Grammy. Her wide popularity also helped to establish Tejano as a more mainstream musical genre.
Selena Became the Lead Singer of Her Family Band
When they were still children (Selena was only 10 years old), the Quintanilla children formed a band called Selena Y Los Dinos. Her brother, Abraham, played bass, while Suzette, her sister, played drums. They practiced in the garage and were sometimes booked to play at events such as parties or weddings. Their father, a former musician, took them seriously as their talent grew and he managed and produced the group.
Selena Won a Grammy in 1994
In 1987 at the Tejano Music Awards, Selena won both Best Female Vocalist of the Year and Performer of the Year. Her 1990 album, Ven Conmigo, was the first Tejano record to achieve gold record status, selling more than 500,000 copies. She won the Grammy Award (for best Mexican-American album) in 1994 for her album Live. In the same year, Amor Prohibido went gold.
Selena Was Murdered by the Founder of Her Fan Club
Selena was murdered on March 31, 1995, in Corpus Christi, Texas. She was shot by Yolanda Saldivar, who had founded Selena's fan club. Yolanda had previously shown signs of disturbed behavior: she had a criminal record and had been embezzling money. On the day of the murder, Selena met Saldivar at a hotel to discuss money that had gone missing; Yolanda showed up with a gun and shot Selena, fatally wounding her. An estimated 100,000 mourners showed up to Selena's public viewing at the convention center in Corpus Christi, Texas.
Selena Is Commemorated Annually on Selena Day
Shortly after Selena's death, George W. Bush, who was Governor of Texas at the time, announced that April 16, the singer's birthday, should be Selena Day. Celebrations take place annually in commemoration of her birthday. There is also a museum in Corpus Christi, Texas, which includes details of her life and musical achievements and holds her beloved clothes and collection of Faberge eggs. Selena owned over 500 Faberge eggs and they are set out in the museum in the same way she originally displayed them herself.
Selena Had a Major Influence on Many Contemporary Singers
Selena had a huge impact on the popularity of Tejano music and brought it to a wider audience and into mainstream pop. Artists such as Becky G, Kat DeLuna and Jennifer Lopez consider her their main musical influence. Jennifer Lopez in particular says that Selena was the main influence in her own work and that she identifies with her as a singer and a woman. Lopez played Selena in the film that was made about her life in 1997.
People Magazine Published a Special Tribute Edition When Selena Died
After Selena's murder, People magazine produced a special tribute issue to the singer. This was highly significant because it was only the third tribute edition ever. Previous issues were published dedicated to Jackie Kennedy Onassis and Audrey Hepburn. The tribute issue and subsequent printings of it sold out quickly. After seeing the popularity of the Selena edition of the magazine, the publishers introduced a Spanish language version, called People en Español.
Tejano Music Is Also Known as Tex-Mex
Tejano music is also called Tex-Mex music. It is a type of folk-based music that blends pop and country sounds. It originated in Texas, and is particularly popular among Mexican-Americans in this region. Selena Quintanilla facts inform us that she was instrumental in bringing this genre into mainstream music, partly by giving it a more pop-based edge, and partly because of her own appeal as a singer and a feminine role model. She gave Tejano music a much wider audience.
Selena Is Often Compared to Madonna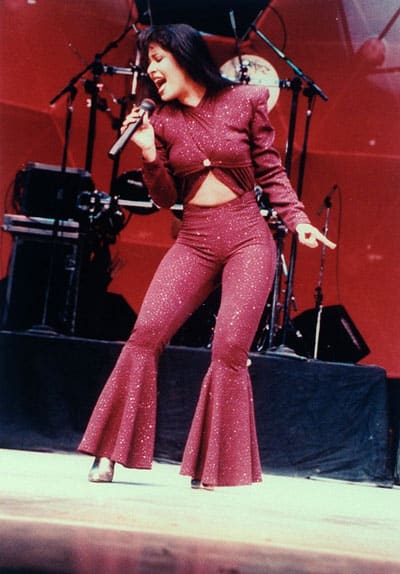 Selena is often referred to as the Mexican American version of Madonna, because of her stage presence and her clothing style, which is reminiscent of Madonna's, especially in her earlier years. Selena's clothing style is very distinctive, exploiting her femininity and sexuality. She had a strong stage presence, clearly enjoying performing. She was also named as the top Latin artist of the 1990s by Billboard magazine.
Selena Was Very Active in Her Community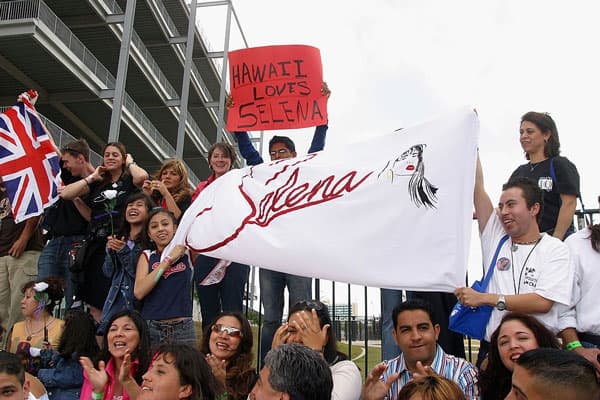 Selena Quintanilla facts reveal that the singer was active in her community and donated her time to a number of civic causes. Coca-Cola appointed her its spokesperson in Texas. Selena spoke many times in schools about the importance of getting a High School diploma. She often gave talks about the importance of staying in school, avoiding drugs and alcohol, and pursuing dreams. In 1993, Selena gave a free concert for Texas students and donated $2,500 to School Programs.
Selena's First Language Was English
As she's so famous for singing in Spanish, it may come as a surprise to learn that Selena's first language for many years was English – she grew in Texas after all, albeit in a Hispanic community. According to Selena Quintanilla facts, her father encouraged her to sing in Spanish later on in order to widen her appeal among the Mexican-American community. Selena learned the words phonetically initially before she learned to speak Spanish properly.
Selena Had Two Famous Nicknames
Selena was known as the Queen of Tejano, after the genre of music that she sang. This nickname is testament to the fact that she was the main performer of this genre at the time, and really widened its appeal, taking it into the mainstream music industry. She was also called the Mexican Madonna by much of the media. Comparisons were drawn between the two because of their sexy outfits, commanding stage presence and dance moves.
Selena's Life Story Has Been Made into a Film
Selena Quintanilla facts are shown in a 1997 film, Selena. Jennifer Lopez stars as the eponymous heroine, while James Edward Olmos plays her father. The film opens with a performance, then flashes back to the Quintanilla children forming a band. It covers her life story and includes moments of live performances and awards Selena received. Gregory Nava directed the film and it was produced with the family's full cooperation.
Selena Wanted to Become a Fashion Designer
Selena enjoyed clothes and often talked about becoming a fashion designer. She was known for her eccentric style and unusual look. She liked to make her own clothes and sew accessories like beads onto existing items to change their appearance. She also talked about being a farmer. She and her husband Chris purchased 10 acres of land in Texas, where they were going to build and live on a farm; she was killed before this dream could be realized.
Selena's Big Break Came With a Coca Cola Contract
Selena was 17 years old when she signed a one-year contract with Coca-Cola for $75,000. She became known for a range of English and Spanish language adverts throughout the country. Ruben Cubillos worked with her on these adverts; he is now the president and executive creative director of A Big Chihuahua, a San Antonio advertising agency.
Selena Was From a Humble Background
During Selena's childhood, the Quintanilla family often struggled financially and tried to hide this fact from others. Selena's father, Abraham, would go to the grocery store late at night in order to avoid people he knew, so no one would know that the family were living on food stamps. The family home housed a large extended group living together – with as many as 13 people at certain times – and only one bathroom. This period of poverty did not last once Selena became famous.
Selena Had a Vast Faberge Egg Collection
Selena loved Faberge eggs and began to collect them when she became successful. She eventually amassed a huge collection of more than 500 of the designer eggs and kept them proudly displayed in her living room. Each egg held a specific memory for her about the time at which it was bought. The eggs are now in the Selena Museum, arranged in glass cabinets, in the same way they were arranged in Selena's living room.
Selena Married Her First Love
Chris Pérez, who became Selena's husband, was her first boyfriend, and the two married secretly in 1992. Selena's father did not approve of Chris, which led to the couple's elopement as Selena was afraid that her father would not support the wedding and would try to stop it. In 2012, Chris wrote To Selena, with Love, describing their life together. This book is an important part of the Selena Quintanilla legacy.
Selena's Murder Has Been Compared To JFK's
The shock of Selena's death was severe in the USA, especially in Texas, where she was particularly well-loved. Some people compared it to the murder of John Lennon or JFK. Even years later, many people remember where they were when they first heard the news of her death. Around 50,000 people came to mourn her at a public viewing of her body. Many bought her final album and even today Selena's fans commemorate her life and death annually.
Selena's Final Album Was the Faster Selling by a Female Singer in Pop History
Selena Quintanilla facts reveal that in July 1995, Dreaming of You became the fastest-selling album by a female artist in pop history. The album sold more than 400,000 copies in its first week and reached No. 1 in the charts. Selena's death undoubtedly was a factor in the rush to buy this record, but her considerable album sales before this, as well as the awards she received, show that she was revered as a singer and performer and had a significant impact on pop culture.
Selena Quintanilla Facts – Facts about Selena Quintanilla Summary
Selena Quintanilla facts illustrate just how revered she was as a singer. Selena brought Tejano music, a genre combining folk and country music from Texas, and performed predominantly by Mexican-Americans, into mainstream culture. Performing in a family band from a young age, Selena shot to stardom quickly, releasing a number of albums and establishing herself as a raunchy and ambitious singer, often compared with Madonna. Selena's untimely end, when she was murdered by a fan who had formed her fan club, shocked America. Her influence on music and culture continues today.