Chocolate Brands
If you are a sweet tooth, or otherwise a fan of candies and other sugary confections, you're likely also a fan of chocolate. People have enjoyed it ever since its invention by the Olmec people of Mesoamerica. European colonists, having discovered this tasty confection, introduced it back home. From there, it spread throughout the world. Today, over 7 million metric tons of chocolate are consumed per year, and the industry is worth over 45 billion USD as of 2021.
Today, there are an uncountable number of chocolate brands from around the world. Some are commonplace and affordable, while others are luxurious items. Some are known only to dedicated chocolate connoisseurs, while others are household names. Whether you are a chocolate lover or not, in no particular order, here are 20 of the best chocolate brands in the world.
Ferrero
One of the most iconic entries on this list, Ferrero is responsible for some of the most loved chocolates in the world. If you're a fan of Nutella, that hazelnut chocolate spread, you have to thank this company for it. Nutella is actually a brand name for a kind of Italian spread called gianduia. It also has an interesting history. Company founder Pietro Ferrero invented it due to a lack of cocoa supplies during World War II. This is why Nutella uses hazelnuts, which were in high supply at the time.
Ferrero doesn't only produce Nutella, however. It also owns the Kinder line of chocolates, which includes Kinder Surprise (aka Kinder Eggs), Kinder Bueno, and Kinder Joy.
Finally, Ferrero also has its line of Ferrero Rocher chocolates. These are individually wrapped balls of chocolate and hazelnuts. They are also known for their gold foil coverings and for being sold in sets. In the United States, Ferrero is also the manufacturer of the beloved Crunch bar, although Nestlé still has the production rights outside the country.
Nestlé
Nestlé, while a company known around the world, has received much criticism for unethical practices such as alleged child labor and pollution violations. Nonetheless, it cannot be denied that they make some of the best chocolate around. In 2018, Nestlé sold its American chocolate to Ferrero, who now produces its former brands. Elsewhere in the world, however, it continues to produce chocolate. This means that iconic brands such as Crunch, Butterfinger, and Baby Ruth remain under its umbrella. Nestlé also has the worldwide production rights to Kit Kat. However, Mars has the American production rights.
Fun Fact: Did you know that Kit Kats are particularly popular in Japan? This is because, in Japanese, its name sounds like a good luck charm. Indeed, some Japanese students would eat Kit Kats before exams or other important activities!
Toblerone
Toblerone is one of the most iconic products in its home country of Switzerland. The chocolate's pyramid shape is said to be inspired by the Matterhorn mountain. Said shape has become world-famous and has even inspired imitators. In fact, in 2017, British budget store chain Poundland caused a stir when it launched similar-looking limited edition chocolate called Twin Peaks. Although originally from Switzerland, it is currently manufactured by the Mondelez multinational corporation. In addition to its chocolate flavor, it also comes in other flavors such as white chocolate.
Godiva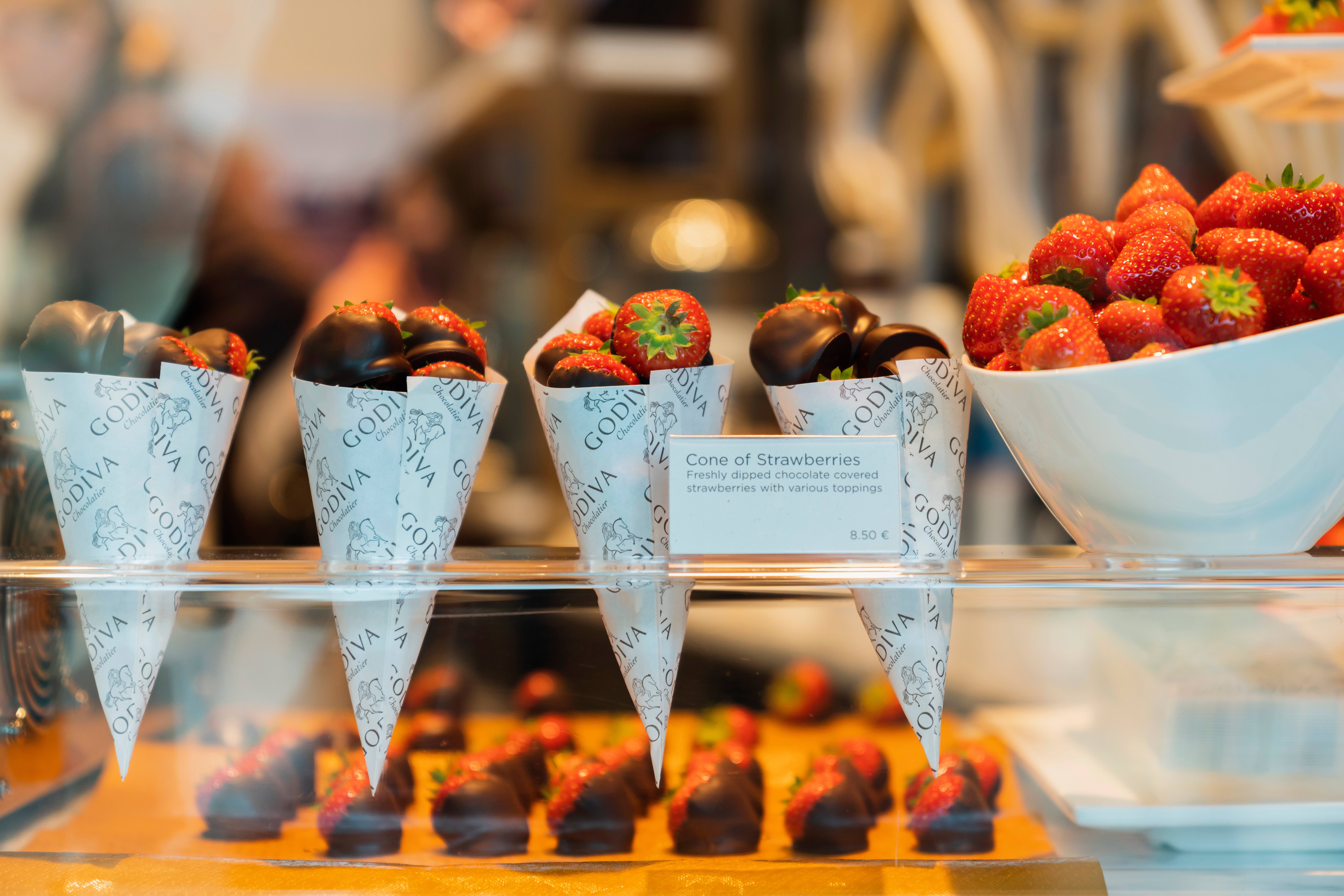 Godiva is one of the most famous producers of Belgian chocolate. They are perhaps best known for their boxes of wrapped assorted chocolates. In particular, their chocolate truffles are well regarded. However, they are not just known for their truffles. They produce chocolate bars too.
If you ever visit Belgium and want to get a taste of their world-famous chocolates, Godiva is one of your safest bets.
Cadbury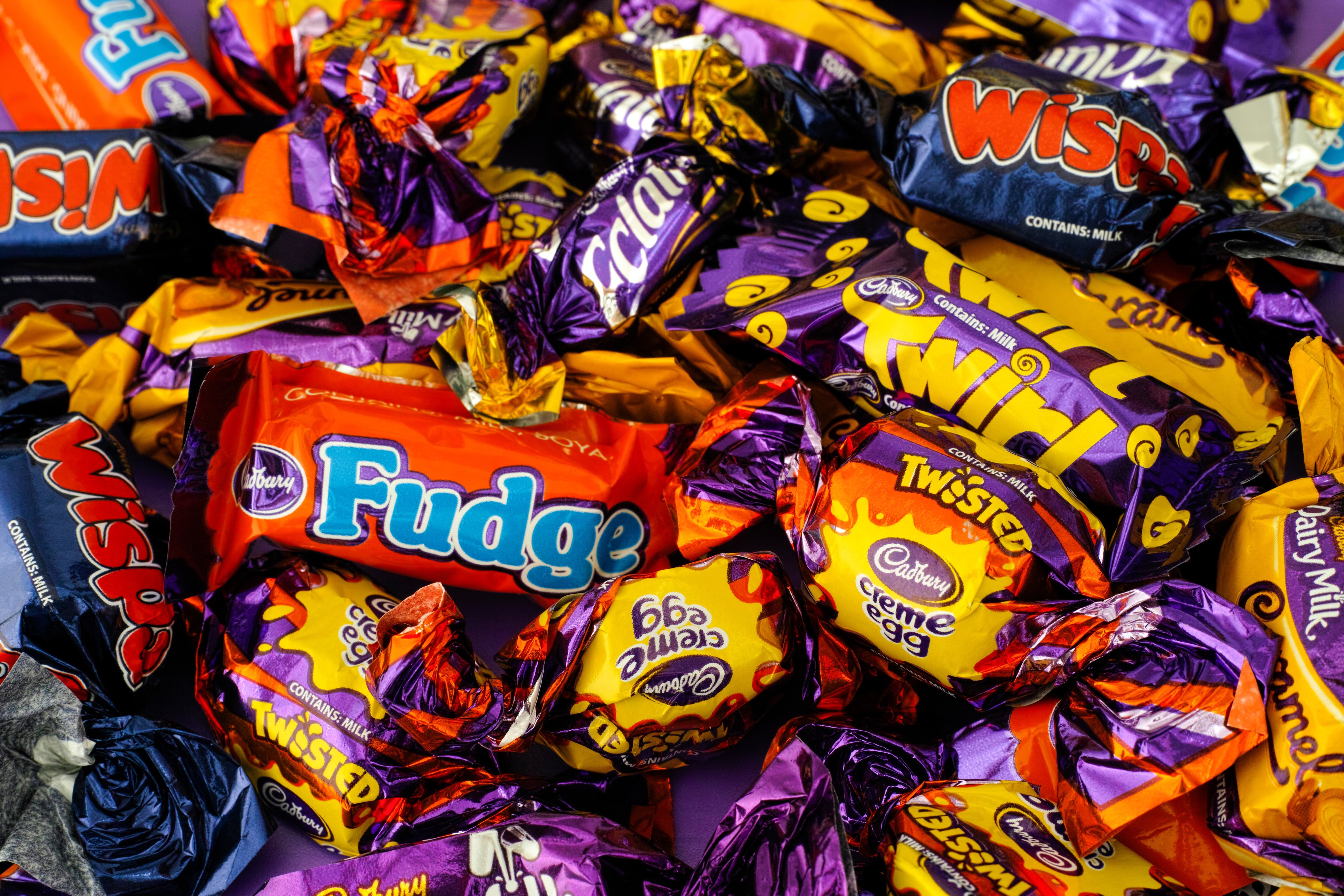 Toblerone isn't the only famous chocolate brand currently owned by Mondelez. Cadbury has been synonymous with British chocolates since John Cadbury founded the brand back in 1824. At one point, Cadbury was owned by the same company as the Schweppes line of beverages, although in 2010 it was acquired by Mondelez. Cadbury produces multiple kinds of chocolate, most notably chocolate bars. Its chocolate bars range from plain to mixed with nuts and other ingredients. Given that Mondelez also owns Oreo, it is no surprise that Cadbury Oreo chocolate also exists.
Milka
Another Swiss brand, Milka has been producing chocolates since 1901. Its mascot named Lila (named for the lilac color) is one of the brand's distinctive features. Indeed, the lilac color serves as both the inspiration for Lila's name as well as the brand's packaging. Inevitably, this has often led to comparisons with Cadbury. Ironically, Mondelez currently owns both chocolate brands.
Lindt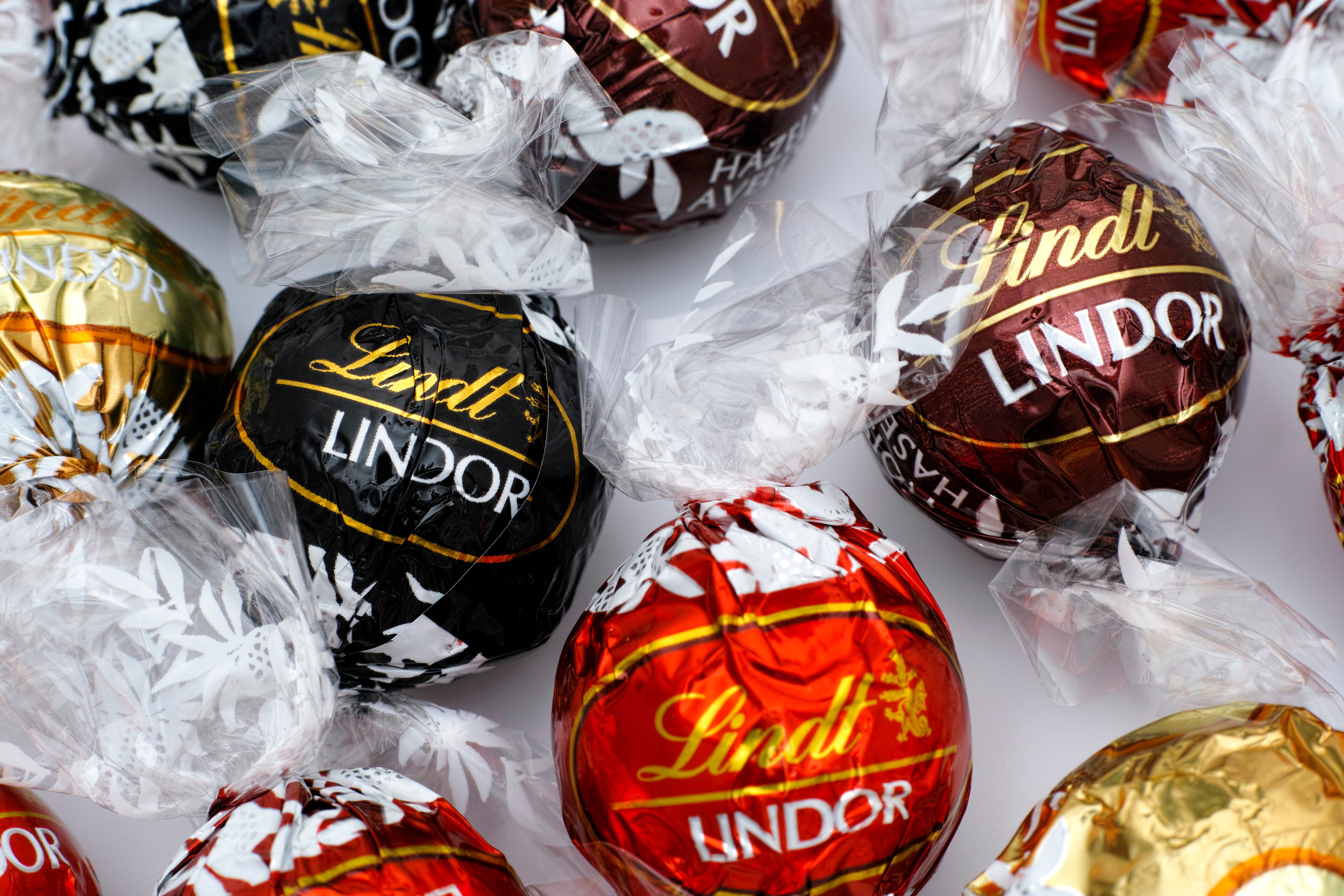 Lindt is another famous Swiss brand of chocolate (you may be starting to sense a pattern here). It is one of the world's oldest chocolate companies, with its roots dating back to 1845. It is considered a premium brand and has a wide range including chocolate bars and truffles. In addition to standard flavors such as plain, dark chocolate, and almond, it also offers some more exotic flavors such as sea salt and orange. Lindt is also known for its Lindor sub-brand, which mostly consists of chocolate truffles.
Ritter Sport
Ritter Sport's chocolates come from Germany, and they are known for coming in square-shaped packages. It has been around since 1912, and today its product line includes plain milk chocolates, as well as almonds, cornflakes, coconuts, marzipan, and others.
Ghirardelli
From the brand's name, you may assume that it is Italian or European in origin. Ghirardelli is actually American in origin. However, Lindt is currently the company's parent. Specifically, Domenico Ghirardelli, who moved to the United States after spending some time in South America, is the company's founder. Ghirardelli chocolates mostly come in squares and have various flavors, including nuts and orange. However, it also has a line of chocolate chip cookies.
Hershey's
And speaking of American chocolate, this is perhaps the most iconic one of them all. Hershey's chocolate has been synonymous with American sweets ever since Milton S. Hershey founded the company back in 1892. While Hershey's chocolate bars are a popular treat among both young and old, perhaps their most iconic product is Hershey's Kisses, small bite-sized pieces of chocolate that are wrapped in foil. They have been associated with Valentine's Day in the United States ever since they were first introduced in 1901.
Fun Fact: Did you know that The Hershey Company owns an amusement park? Hersheypark is located in Hershey, Pennsylvania, not far from where the company operates a manufacturing plant. THC's entertainment sister company also owns the Hershey Bears, an ice hockey team that is currently a minor league affiliate of the Washington Capitals.
Patchi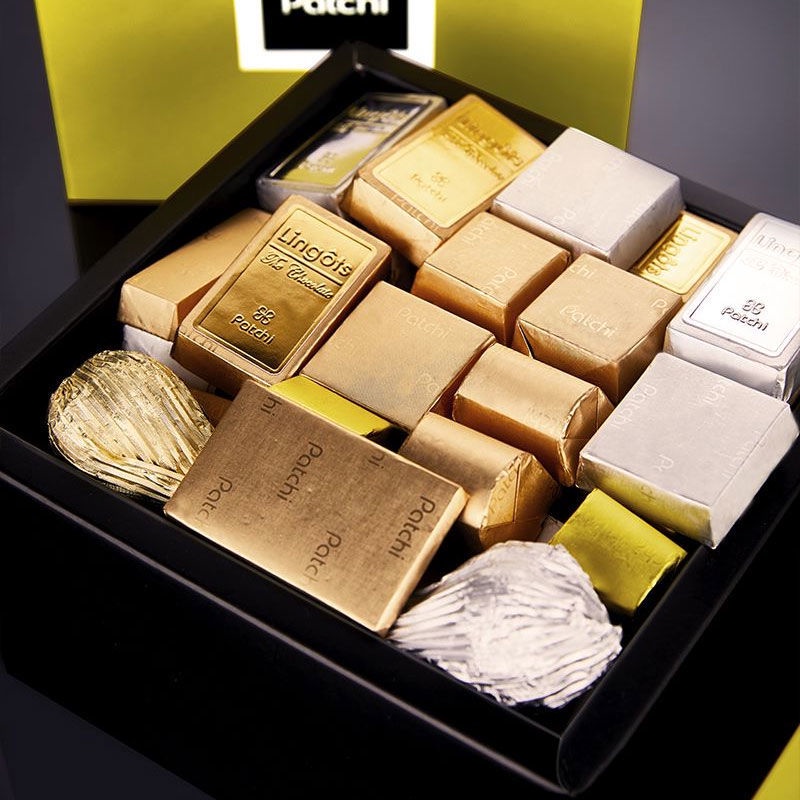 One of the lesser-known brands on this list, Patchi traces its roots to Lebanon. It is a premium brand that is most popular in the Middle East, with outlets in Saudi Arabia and other nearby countries. However, it has also expanded to the rest of Asia.
Its boxes included an assortment of small chocolate bars, truffles, and other variants.
Richart
Another premium chocolate brand, this time from France. Richart's main attraction is that its pieces of chocolate are individually patterned to make sure that no two pieces within a box are the same. The company doesn't only produce chocolates, but also macarons, which is fitting for a French company.
Mars
While Hershey's is synonymous with American chocolate, it does have some very stiff competition. Franklin Mars started his chocolate empire in 1911, and today it is the world's largest chocolate company.
Mars has produced some of the most beloved chocolates around. There's the eponymous Mars bar. It also produces other popular products such as Milky Way, Three Musketeers, Snickers, Twix, and Maltesers.
But perhaps no Mars product is as iconic as M&M's. Originally standing for "Mars & Murrie" (referencing the fact that it was produced by the Mars and Murrie companies when it was first introduced in 1941), these bite-sized candy-coated chocolates now come in a wide variety of flavors and fillings. Today, the M&M's mascots serve not just as mascots of the M&M's brand but of Mars as well.
Fun Fact: Did you know that Mars isn't just a chocolate company? Mars is also the parent corporation of the Wrigley Company, aka America's favorite bubble gum producer. Mars doesn't just make human food either: they're also the owner of the Pedigree pet food company.
Dove/Galaxy
One of Mars' more premium offerings, Dove (also known as Galaxy in some markets) comes in many varieties. The brand offers single chocolate bars. However, it also sells individually-wrapped chocolate pieces. These pieces come in flavors such as mint and almond. In recent years, the company has chased new trends by introducing new and unusual flavors.
Gudrun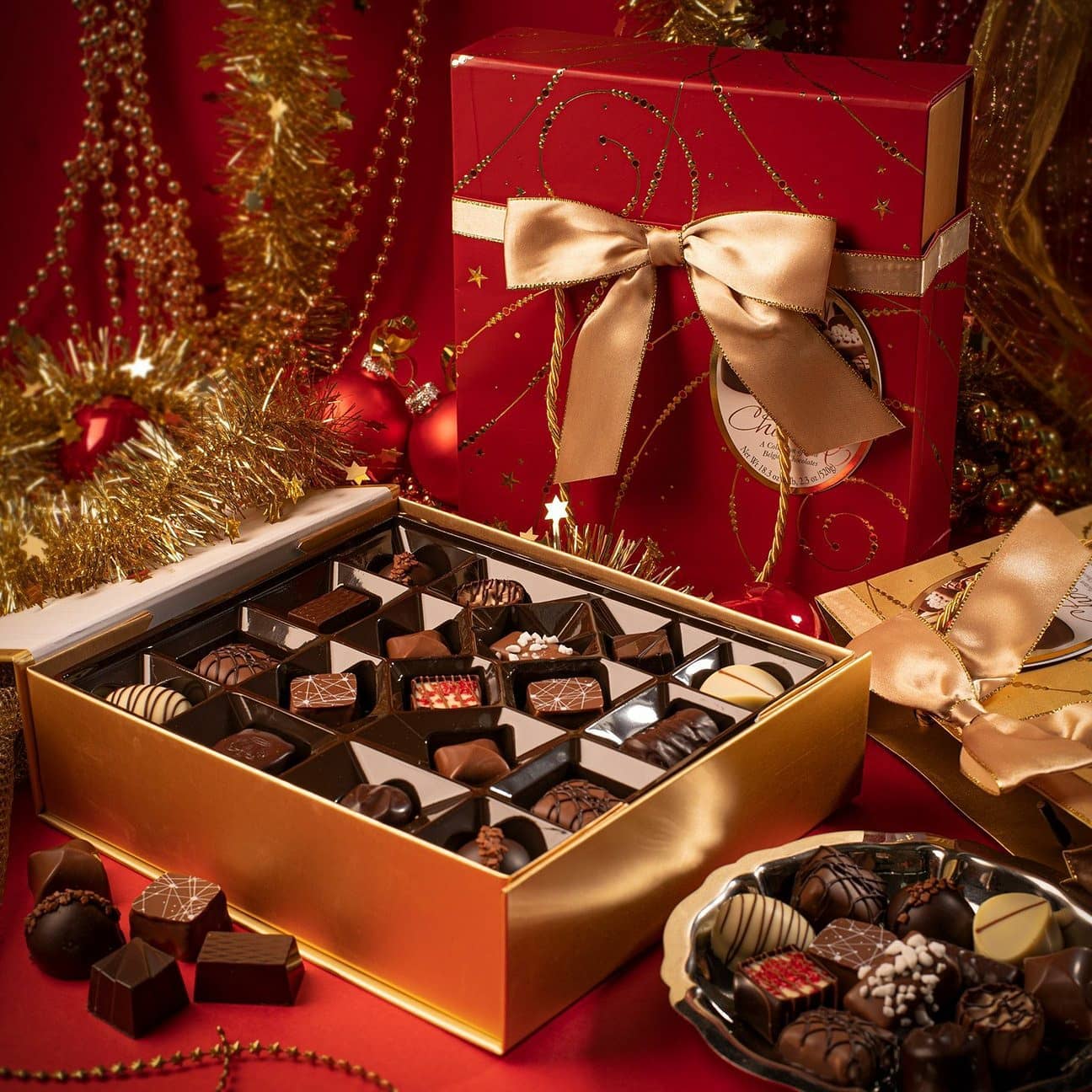 Gudrun is a Belgian chocolate brand that mostly sells assorted boxes. Each box contains different varieties of chocolate, with no two pieces being the same flavor. Boxes include flavors such as salted caramel and coconut.
Guylian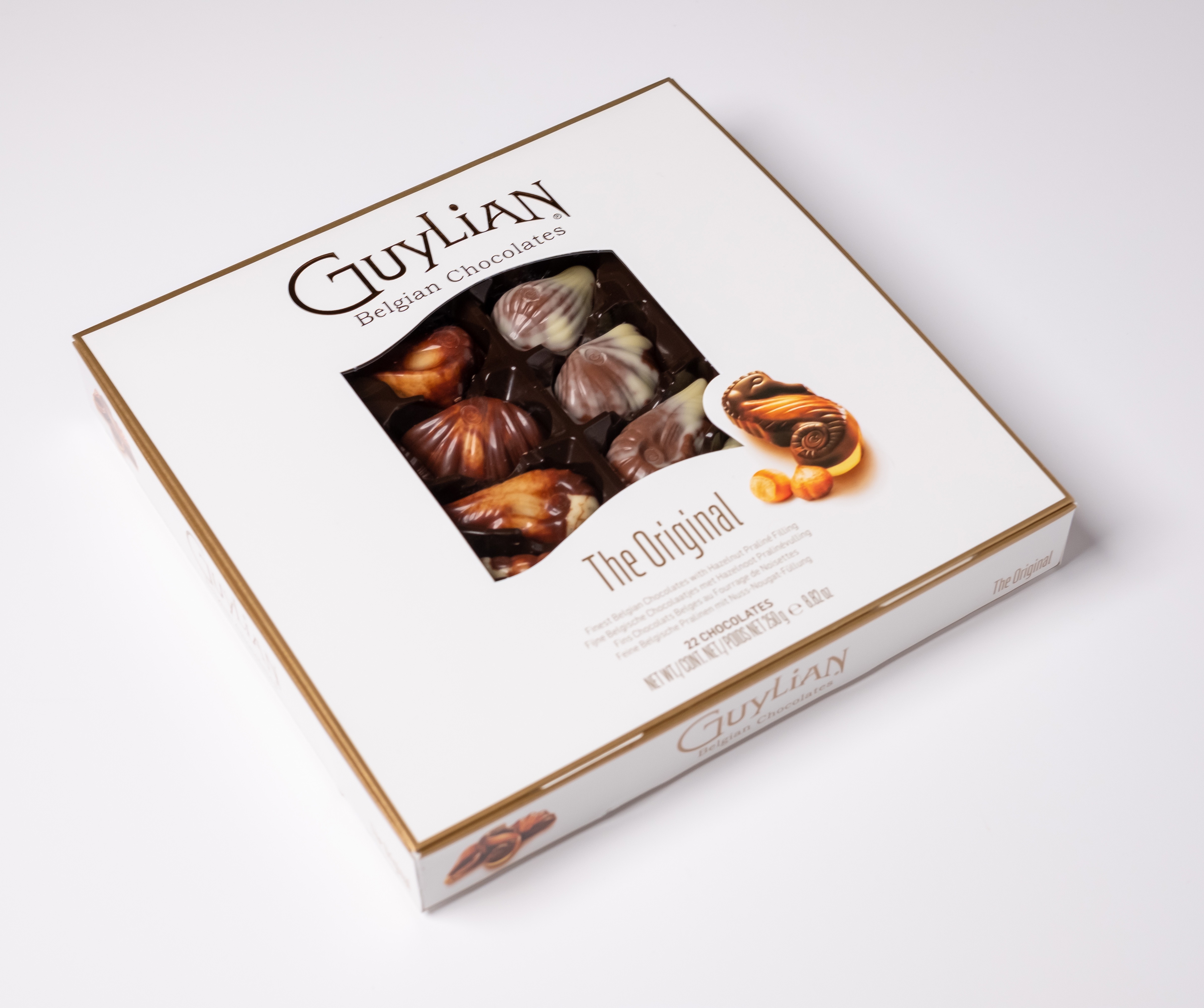 Perhaps one of the more unique Belgian chocolate brands, Guylian's chocolates have distinctive seashell shapes. The company's name comes from the founder Guy Joubert and his wife Liliane. They decided on the seashell shape because of a desire to sell the chocolates as souvenirs since the shapes would remind people of vacations, resorts, and beaches.
Bon Bon Bon
One of the newest brands on this list, Bon Bon Bon is a Detroit-based confectionery brand that sells its chocolates as small pieces called Bons. In addition to its Bons, the company also sells novelty chocolate that comes in different shapes and forms. Some of its unusual chocolates include those shaped like vinyl records, cassettes, and floppy disks!
Gilbert
The last American chocolate company on this list, Gilbert has been around since 1900. Their website claims that they are among the best chocolates to come from Michigan. They have a wide variety of products ranging from small chocolate balls to pralines and bars.
Meiji
Meiji is Japan's pre-eminent chocolate and candy company. Its products have been much loved by Japanese consumers and other Asian markets since its founding in 1916. Among its products are traditional chocolate bars, but it also sells chocolate-covered macadamia and almond nuts. It also sells small bits of chocolate called Choco Baby, as well as a line of chocolate-filled biscuits called Hello Panda.
Lotte
And finally, we get to another major Asian sweets and snacks company. Lotte has an interesting history. It was actually founded by a South Korean national in Japan, and currently has strong ties to both countries. Lotte has interests in multiple industries, not just snacks. In fact, they own the tallest building in South Korea, the Lotte World Tower.
When it comes to chocolate products, perhaps their most iconic is the Choco Pie, a treat consisting of two soft cookies holding together a marshmallow, all covered in chocolate. Similar to Meiji, they too have a line of chocolate-covered nuts, as well as a chocolate bar brand called Ghana.