Sir Winston Leonard Spencer Churchill, more commonly known as Winston Churchill, was a British statesman and orator. He served as Prime Minister of the United Kingdom for nearly a decade. He led his country from defeat to victory during World War II. That short rundown of Winston Churchill facts we gave is enough to make you admire the man!
Churchill was definitely worthy of admiration.  Throughout his life, he only wanted the best for his country. He held nine different government offices and even became Prime Minister twice. In addition, Winston Churchill became the "Father of the Nation" for having led the United Kingdom with great leadership during the Second World War.
Churchill was a novelist as well. Over the course of his life, he wrote several books. The first book was about his adventures as a war correspondent and military officer in India, Sudan, and South Africa. He went on to produce another book, a biography of his father, the first Duke of Marlborough.
To his fans and loyal followers, he was truly a man of honor and excellence, a visionary and a bold social reformer who fought for his country's freedom. Check out our Winston Churchill facts list to learn more about how he was able to do this, along with his other awesome achievements!
Quick Facts
Essential Facts
Interesting Facts
Winston Churchill was born on November 30, 1874.
He became Prime Minister of the United Kingdom twice.
His political career spanned almost 55 years.
There have been over 60 actors who portrayed him.
His statue stands in the Parliament Square of London, overlooking Big Ben.
Winston Churchill is the most famous British Prime Minister.
He was half-American.
He began his political career in 1901.
He wrote history books.
Churchill was one of the UK's best orators.
His nickname was Winnie.
He loved eating shellfish.
Winston Churchill liked having a siesta.
He believed dinner talk was as important as food.
He worked on his bed until lunchtime.
He was born in Blenheim Palace.
Churchill had a speech impediment during his childhood.
He was prone to accidents.
Painting was a great hobby of his.
He lived until the age of 91.
A mining manager helped Winston Churchill escape prison camp in 1899.
Churchill worked as a war correspondent for the newspaper the Morning Post years before the first World War. In 1899 the armored train he was riding was ambushed by Boers, descendants of Dutch settlers resisting the British at that time. He managed to escape with the help of an English mine manager. When he returned to England, he was treated as a hero. Churchill later joined the army.
He served several positions in the First World War.
Winston Churchill became the First Lord of the Admiralty from 1911 to 1915. He was demoted due to several failed campaigns, but he continued serving the army until 1916. Prime Minister David Lloyd George appointed him as Minister of Munitions from 1917 to 1919. After that, he held the position of Secretary of State for War and Air until 1921.
His poor health didn't stop him from leading the UK to victory in the Second World War.
Churchill managed to be a great Prime Minister even if he was not physically fit. He suffered a mild heart attack in 1941 and was infected with pneumonia two years later.
There was a six-year gap before he became Prime Minister for the second time.
His popularity during World War II did not help him win a second term in the 1945 election. In fact, it's the reason why he lost. Voters felt his success during the war wouldn't translate well during peacetime.
Churchill coined the word "summit."
He was the William Shakespeare of his time. Even though the word came from the Latin word "summum" meaning the highest, the meaning changed after Winston Churchill used it to mean "the meeting of highest officials" during a diplomacy speech in Edinburgh, Scotland in 1950.
He wanted to marry an India-born English lady.
Winston Churchill's met Pamela Plowden, in India in 1896. The two fell in love but she refused his marriage proposal. Plowden married Robert Bulwer-Lytton, the first Earl of Lytton. Churchill married Clementine Churchill barely half a year after they met in 1908.
Two out of his 500 paintings were accepted by the Royal Academy.
Winston Churchill never thought of himself as an artist and claimed landscape painting was just a hobby. Six of his paints were sold at Galerie Druet in Paris under the name Charles Morin, while two paintings, under the name David Winter, were submitted to the Royal Academy Summer Exhibition in 1947. He made over 500 paintings in his lifetime.
He commissioned the first version of the "onesie".
We have Winston Churchill to thank for the beginnings of the onesie. Truly a man of preparedness and efficiency, the British statesman asked Turnbull and Asser, one of England's finest shirtmakers at that time, to create a romper suit. Churchill wanted something he could easily slip on in case of an air raid. He liked this outfit so much he even wore it to the White House in December 1941.
He's directly descended from a war hero in the 18th century.
The English fighting spirit runs in Churchill's veins. Lord Randolph Churchill, his father, was a descendant of General John Churchill, the 1st Duke of Marlborough. While General Churchill secured King James II's throne in 1685 through the Monmouth Rebellion, the former Prime Minister's leadership helped Britain win the Second World War.
He made the "peace" sign popular.
Is it rabbit ears or crow foot? It's neither – it's not even a "peace" sign! The success of the "V for Victory" campaign was all thanks to the BBC, despite Winston Churchill being completely unaware of the obscene meaning behind it.
He announced the death of King George VI.
Winston Churchill announced the death of King George VI. At that time, Princess Elizabeth, was on a state visit to Kenya with her husband Duke of Edinburgh Philip Mountbatten. He decided to make a formal announcement via radio before the news erupted and the new Queen immediately went home. Although she was not officially crowned until June 2, 1953,  Princess Elizabeth was asked to lead the minute King George VI died.
Churchill and Queen Elizabeth II shared a deep friendship.
The new Queen held great respect for the Prime Minister who was older than her by a few decades. She would ask him for political advice. Queen Elizabeth II even wrote a letter upon his retirement, saying she "shall always be so profoundly grateful" to him.
He loved having clear soup for dinner.
A dinner with Winston Churchill would last for three hours. He was what considered a foodie. Aside from champagne and cigars, he would have clear soup or consommé. He loved the dish so much, he even had it before bed! His favorite was said to be turtle soup, a taste he acquired while he was in India.
Winston Churchill liked to smoke cigars.
There are not a lot of photos of the Prime Minister without a cigar in his mouth or hand. Smoking was a habit he picked up in his teens when he served in Havana, Cuba, in 1895. Churchill smoked an average of 10 cigars a day. He would smoke as much as he could, even during meal times.
He suffered from the "black dog."
Winston Churchill had recurring bouts of severe depression, some even believed he had bipolar disorder. He pushed through and continued working as a statesman despite his mental illness.
His daily routine barely changed over the years.
He was a busy man, but he wouldn't have made an effective leader if he wasn't efficient in his time management. Winston Churchill would wake up at 7:30 a.m. and work on his bed until 11:00 a.m. He would have a three-course lunch by 1:00 p.m. and return to his study to continue working by 3:30 PM.
At around 5:00 p.m., he would take his afternoon nap. He'd wake up at 6:30 p.m. to bathe again and to get dressed for the 8:00 p.m. dinner. By 11:00 p.m., he would return to his room to work for an hour before sleeping.
Churchill won the Nobel Prize for Literature in 1953.
He was much of an author as much as he was a painter and a leader. Winston Churchill's main source of income for most of his life was writing. According to his private secretary, Anthony Montague Brown, Churchill was grateful for winning the Nobel Prize for Literature in 1953 but "wished to be remembered as a peacemaker."
He served under six monarchs throughout his life.
Winston Churchill dedicated most of his life to serving the country as a statesman. His 55 years in office enabled him to serve Queen Victoria, King Edward VII, King George V, King Edward VIII, King George VI, and Queen Elizabeth II.
Winston Churchill is the first former Prime Minister to receive a state funeral.
Queen Elizabeth II was so fond of Winston Churchill that she made sure he was honored with a state funeral upon his death. His body lay in state for three days at Westminster Hall. The grand state funeral was held on January 30, 1965, and was broadcasted live on BBC. He was laid to rest at St. Martin's Churchyard at Bladon near Woodstock, Oxfordshire, England. He's the only Prime Minister to have a state funeral so far.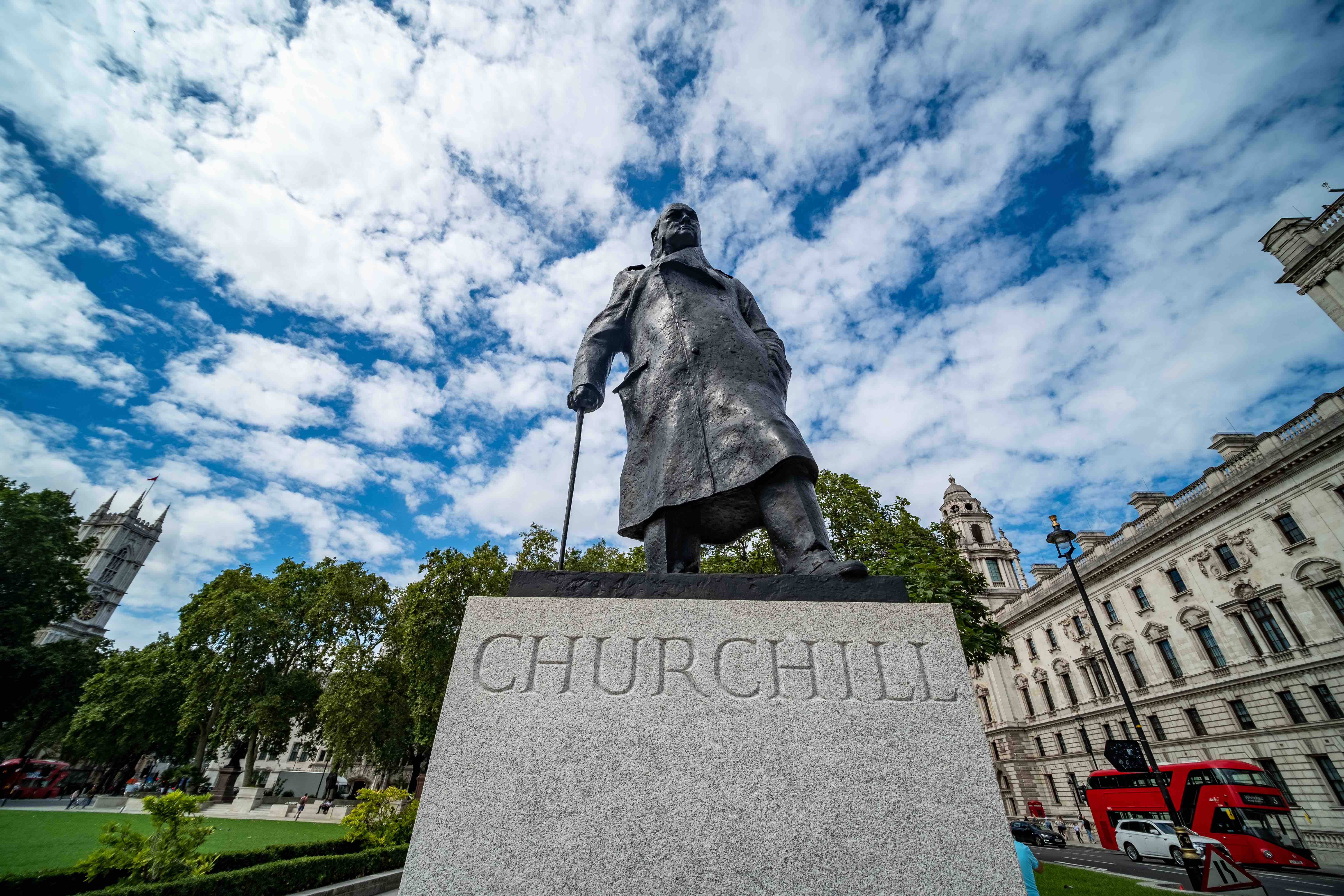 He's the only politician commemorated on British coins.
Churchill was a man greatly respected by the nation. A British Crown was made usually to celebrate an important royal occasion, but on the year of his death, the Royal Mint commemorated the Prime Minister with a British Crown coin. Two versions of the coin were released, and according to collectors, it costs $5 a piece.