What Happened On August 30th?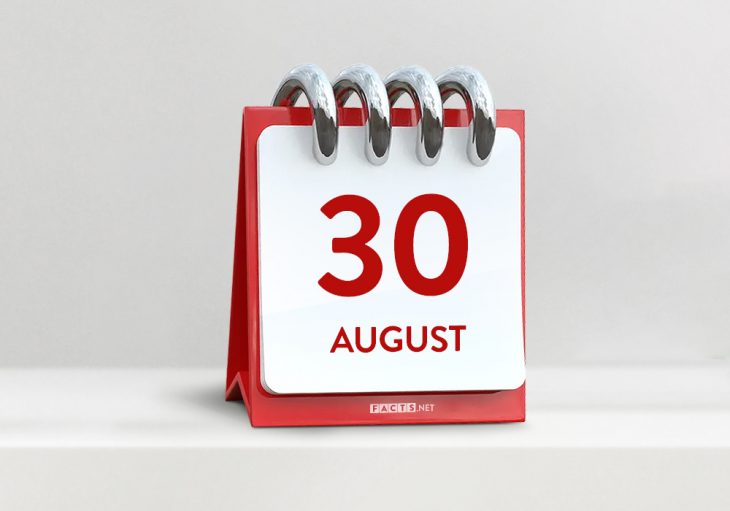 August 30th is all about debuts and premieres. On this very day in history, two African Americans became the first astronauts and Justice of the Supreme Court, paving the way for the next generation of African Americans to solidify their names in society as well. This day is also the premiere of the "Late Show with David Letterman". August 30th is indeed an exciting day, so stay with us as we run down the list of events that took place.
Historical Events
1791: The HMS Pandora, a Royal Navy ship, sank at The Great Barrier Reef off the coast of Australia. The ship had been sent on a mission to capture the mutineers who had taken over the HMS Bounty two years earlier. After capturing 14 of the mutineers, the Pandora began its return voyage to England. However, on its way back, the ship ran aground at the coral reefs. The ship sank, taking 35 crew members and four prisoners with it.
1835: The city of Melbourne was founded by settlers from Tasmania. The area had previously been inhabited by the Wurundjeri people for thousands of years. The city was named after the British Prime Minister at the time, William Lamb, 2nd Viscount Melbourne.
Image from Adobe Stock
Scientific Breakthroughs
1983: Guion S. Bluford Jr. became the first African American astronaut to travel to space when he flew aboard the space shuttle "Challenger" as part of the STS-8 mission. Out of 10,000 applicants, Guion S. Bluford Jr. was selected as one of the 35 individuals from NASA's first competition to become space shuttle astronauts in 1978.
Image from Flickr
Political Milestones
1918: Fanny Kaplan was a member of the Socialist Revolutionary Party in Russia and attempted to assassinate Vladimir Lenin, the leader of the Bolshevik Party and the Soviet Union. Kaplan shot Lenin twice at close range as he was leaving a speech in Moscow, but he survived the attack, albeit with serious injuries.
1945: Hong Kong was liberated from Japan by the Royal Navy on August 30, 1945, not the British Armed Forces. The Royal Navy arrived in Hong Kong and accepted the Japanese surrender. Hong Kong declared August 30th as "Liberation Day" in to commemorate its liberation. It was a public holiday in Hong Kong until 1997.
1967: Thurgood Marshall was confirmed as the first African American Justice of the Supreme Court of the United States. Marshall had previously been the lead counsel for the NAACP Legal Defense Fund and argued several key civil rights cases before the Supreme Court, including Brown v. Board of Education, which struck down segregation in public schools.
Image from Flickr
Cultural Events
1993: David Letterman premiered his late-night talk show "Late Show with David Letterman" on CBS. The premiere episode of "Late Show with David Letterman" featured special guests Bill Murray and musical performer Billy Joel. The program ran for over 22 years, with its final episode airing on May 20, 2015.
1993: After 104 years of its opening, the Eiffel Tower in Paris received its 150 millionth visitor. The tower was built for the 1889 World's Fair and is named after its designer, Gustave Eiffel. Together with the Arc de Triomphe, these two infrastructure remains one of the iconic landmarks in France.
Image from Adobe Stock
Notable Birthdays
Mary Shelley (1797–1851) – An English novelist and playwright, Mary Shelley is best known for her Gothic novel Frankenstein, which is considered one of the earliest examples of science fiction.
Ted Williams (1918–2002) – An American baseball player who played for the Boston Red Sox for his entire career, Williams is considered one of the greatest hitters in baseball history. He won two American League Most Valuable Player awards, and six batting titles, and was the last player to hit over 400 in a season.
Maurice Hilleman (1919–2005) – An American microbiologist and vaccinologist, Hilleman developed over 40 vaccines, including ones for measles, mumps, rubella, hepatitis A and B, chickenpox, and pneumonia.
Kitty Wells (1919–2012) – An American country music singer, Wells was one of the first female country music stars. She had several hit songs, including "It Wasn't God Who Made Honky Tonk Angels", which was the first number-one hit by a female country artist.
Daryl Gates (1926–2010) – An American police officer, Gates was the chief of the Los Angeles Police Department from 1978 to 1992. He created the D.A.R.E. (Drug Abuse Resistance Education) Program, which aimed to prevent drug use among children and teenagers.
Geoffrey Beene (1927–2004) – An American fashion designer, Beene was known for his modern, minimalist designs. He won several awards throughout his career, including eight Coty Awards and four CFDA Awards.
Bill Daily (1927–2018) – An American comedic actor, Daily was best known for his roles as Major Roger Healey on I Dream of Jeannie and Howard Borden on The Bob Newhart Show.
Warren Buffett (1930) – An American businessman and philanthropist, Buffett is the chairman and CEO of Berkshire Hathaway, a multinational conglomerate holding company.
Robert Crumb (1943) – An American illustrator, Crumb is known for his distinctive, underground comic style. He created characters such as Fritz the Cat and Mr. Natural and is considered one of the pioneers of the underground comix movement.
Lewis Black (1948) – An American comedian and author, Black is known for his angry, politically charged humor. He has released several comedy albums, appeared in numerous TV shows and films, and hosted the comedy news program The Root of All Evil.
Cameron Diaz (1972) – An American actress, Diaz has appeared in numerous films throughout her career, including The Mask, There's Something About Mary, and Charlie's Angels.
Lisa Ling (1973) – An American journalist and author, Ling has reported for various news programs and networks, including National Geographic Explorer, The Oprah Winfrey Show, and CNN.
Andrew Stephen Roddick (1982) – A retired American professional tennis player and a former world No. 1 player. He won 32 singles titles, including the US Open in 2003, and reached four other Grand Slam finals. He was known for his powerful serve, which was one of the fastest and most accurate in the history of tennis.
Bebe Rexha (1989) – An American singer-songwriter known for her powerful vocals and genre-crossing style, blending elements of pop, R&B, and hip-hop. Rexha's debut album, "Expectations", was released in 2018 and features hit singles like "Meant to Be" and "I'm a Mess".
Final Word
Indeed, August 30th remains a key factor in history as it is the witness to how far we have come – from slavery to creating opportunities for everyone to become the best versions of themselves. Fun fact about August 30th – it is also called International Day of the Disappeared.