William Shakespeare Facts
Full Name: William Shakespeare
Birthplace: Stratford-upon-Avon, Warwickshire, England
Birthday: Unknown, but observed April 23
Died: April 23, 1616
Wife: Anne Hathaway
Occupation: Playwright, actor, poet
Lived: London, Stratford
Plays: Hamlet, Othello, Macbeth, Romeo and Juliet
Characters: Hamlet, King Lear, Iago, Prospero, Lady Macbeth
Nickname: The Bard, The Bard of Avon
Birth:

Shakespeare's Birthday Is Unknown

Legacy:

Shakespeare Wrote 38 Plays and 154 Sonnets

Controversy:

The Authorship of Some of Shakespeare's Work Has Been Questioned

Family:

Shakespeare Married an Older Woman

Family:

William and Anne Shakespeare Had Three Children

History:

Shakespeare's First Plays Were Comedies and Histories

History:

Shakespeare's History Is Murky and Full of Holes

Occupation:

Shakespeare Was Also an Actor, He May Have Played Ophelia in Hamlet

Home:

Shakespeare Lived in London and Stratford

Death:

Shakespeare's Cause of Death is Unknown
Shakespeare's Bloodline Died Out

It's Difficult to Determine When Shakespeare Wrote Many of His Plays

Shakespeare Was Part of a Playing Company

Shakespeare's Sonnets Were Initially Private

The Plague Spurred Shakespeare to Write Narrative Poetry

Shakespeare Invented Over 1,700 English Words

Shakespeare Forever Altered Storytelling

Shakespeare's Sexuality Has Been Questioned

Shakespeare's Plays Are the Most Performed

Shakespeare's Epithet Is a Curse
William Shakespeare Facts Infographics
Shakespeare's Birthday Is Unknown
No one knows when William Shakespeare was born. William Shakespeare facts indicate there is a record of his baptism on April 26 1564, in Stratford-upon-Avon, Warwickshire, England, where he was born and spent his early life. Shakespeare's birthday is commonly celebrated on April 23, thanks to an error by a scholar in the 1700s. The date has stuck ever since, and also happens to be the date of his death in 1616.
Shakespeare Wrote 38 Plays and 154 Sonnets
Shakespeare wrote 38 known plays, 154 Sonnets, and two narrative poems. His plays include the ever-popular Romeo and Juliet, the comedies As You Like It and A Midsummer Night's Dream, and the tragedies Hamlet, Lear, and Macbeth. Shakespeare's sonnets are written in his own style. The rhyme scheme he used is now called a Shakespearean Sonnet.
The Authorship of Some of Shakespeare's Work Has Been Questioned
Shakespeare was a prolific playwright and wasn't known as a learned author. This may be one reason why the authorship of works attributed to him has been called into question. About 230 years after he died, academics began wondering if Shakespeare had indeed written all the works believed to be his. The initial inquisition was a jest, but it brought light to the fact that little historical record surrounded the existence of Shakespeare. Even now, theories of the authorship of his vast body of work prevail.
Shakespeare Married an Older Woman
Much is said about Shakespeare's genius and very little about his personal life and his wife. When he was 18, William Shakespeare married Anne Hathaway, who was 26 years old. William Shakespeare facts show the traditions of the time were not completely followed, leading many to think the wedding was rushed because of Anne's state; she gave birth to their first daughter six months after they wed.
William and Anne Shakespeare Had Three Children
Susanna Shakespeare was welcomed into the world six months after her parents wed. Two years later, Hamnet and Judith, twins, joined the family. Hamnet, Shakespeare's only son, died at the age of 11.
Shakespeare's First Plays Were Comedies and Histories
Though some of his finest works were tragic masterpieces, it is believed that Shakespeare began by writing histories and comedies. According to Shakespeare facts, later in his career, he returned to re-master the art form of an entertaining history and a rousing comedy.
Shakespeare's History Is Murky and Full of Holes
There are stretches of time when we have very little – or no – knowledge of Shakespeare's activities. Little record exists for years of his life at a time. For seven years after the birth of his twins, Shakespeare's whereabouts are historically unknown. The same is true for the origins of many of his plays.
Shakespeare Was Also An Actor, He May Have Played Ophelia in Hamlet
Shakespeare wasn't just a clever writer, but was also a skilled actor. He often acted in his own plays and sometimes those of others. In Shakespeare's time, women weren't allowed to be on the stage so men played all the roles, male or female. For all we know, Shakespeare may have played Ophelia in Hamlet!
Shakespeare Lived in London and Stratford
Shakespeare was born in Stratford-upon-Avon and died there after retiring from acting. As an actor and playwright, he spent most of his time in London, often commuting between two homes.
Shakespeare's Cause of Death is Unknown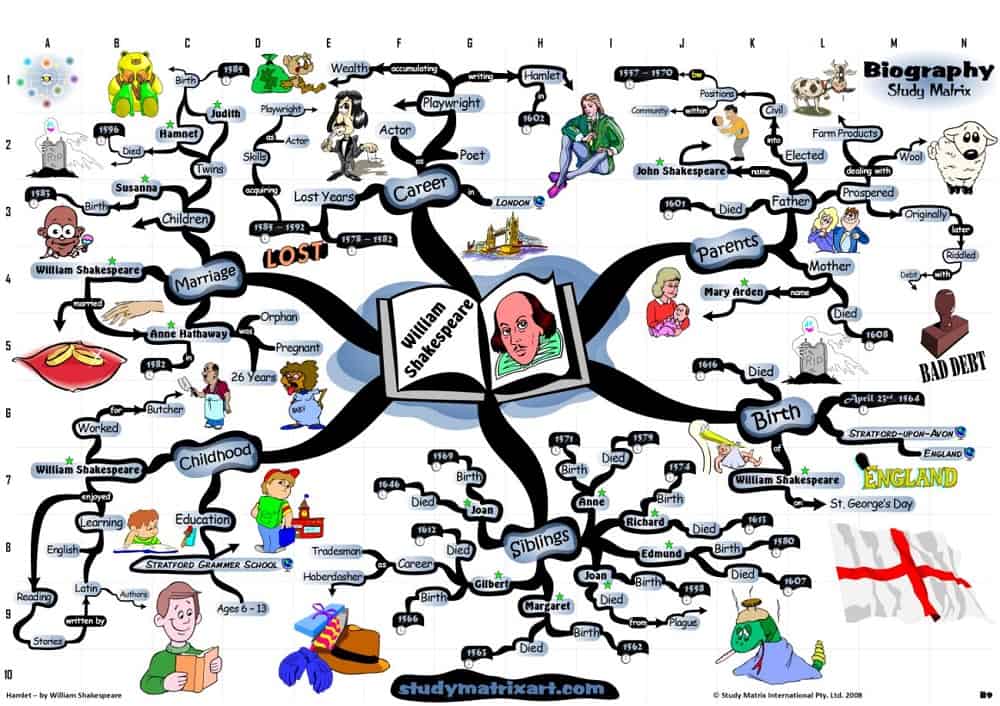 Shakespeare died soon after creating his will. His cause of death is unknown and he had seemed relatively healthy to his associates. William Shakespeare facts show the only written record that provides insight into the playwright's demise suggests he died of a fever after drinking heavily. Shakespeare died at the age of 52 in 1616.
Shakespeare's Bloodline Died Out
Shakespeare's two daughters both married and had children. Of his four grandchildren, only one married. Shakespeare facts indicate none of his grandchildren had children, and thus his bloodline ended.
It's Difficult to Determine When Shakespeare Wrote Many of His Plays
The lack of historical record for much of Shakespeare's life leaves the timeline of his plays in question. His first plays are thought to have been Richard III and Henry VI, both historical plays. The Taming of the Shrew and The Comedy of Errors are also thought to be earlier works. It is believed he then penned his more famous comedies, such as Much Ado About Nothing, As You Like, and A Midsummer Night's Dream. The next period of Shakespeare's writing is believed to have encompassed his famous tragedies, including Romeo and Juliet, Hamlet, Othello, Lear, and Macbeth.
Shakespeare Was Part of a Playing Company
Shakespeare was a member of the player-owned Lady Chamberlain's Men. His playing company became the most prominent in London. The group members were able to build their own theaters and often performed Shakespeare's work. Later, the group became known as the King's Men after receiving a royal patent from King James I in 1603.
Shakespeare's Sonnets Were Initially Private
Many of Shakespeare's sonnets were written for his friends and presented to them as gifts. They went unpublished until 1609. Interpretation of his sonnets has varied, leading some scholars to think that Shakespeare was gay and others to believe that they did not represent real people.
The Plague Spurred Shakespeare to Write Narrative Poetry
While unable to perform in 1593 and 1594 because of outbreaks of the plague, Shakespeare penned two narrative poems, Venus and Adonis and The Rape of Lucrece. William Shakespeare facts show these poems were quite popular and dealt with the moral effects of unchecked lust.
Shakespeare Invented Over 1,700 English Words
English was a more fluid language during Shakespeare's time and he made the most of it. Shakespeare invented over 1,700 words we still use today, including arouse, bet, grovel, gossip and bedroom. He also coined several phrases, including bated breath, all's well that ends well, break the ice, and all that glitters is not gold. Shakespeare's freedom with language still encourages writers today.
Shakespeare Forever Altered Storytelling
Shakespeare's tale of Romeo and Juliet changed the way people thought about love stories. Before, no one had considered a love story as a good topic for a tragedy. Shakespeare expanded the ways in which people thought about characters, plots and language. Even with his poetry, Shakespeare learned the rules only to break them creatively.
Shakespeare's Sexuality Has Been Questioned
According to William Shakespeare facts, the nature of his sonnets has led academics to question his sexuality. There has been no other proof in regards to Shakespeare's sexual preferences. Many of his sonnets were gifts to friends and may have been written for them or as a representation of their feelings for someone else. Some were even about dalliances with married women.
Shakespeare's Plays Are the Most Performed
Shakespeare died almost 400 years ago and yet his plays continue to be performed all over the world. His works have been translated into every major language. He has the distinction of being the most performed playwright.
Shakespeare's Epithet Is a Curse
Shakespeare's tombstone carries a threat in its epithet. The small poem carved in stone warns that if anyone moves his bones, they will be cursed. When the church he was buried at was renovated, the workers took great care to leave his bones alone.
William Shakespeare Facts – Facts about William Shakespeare Summary
William Shakespeare was born in 1564 in Stratford-upon-Avon, Warwickshire, England. The exact date of his birth is unknown, though it has been celebrated on April 23 since an 18th century scholar made a typo. He wrote 38 plays, 154 sonnets and two narrative poems. At the age of 18, Shakespeare married 26-year-old Anne Hathaway, with whom he had three children. Shakespeare invented over 1,700 English words that are still in popular use today, and changed the way people thought about stories. His plays are the most performed in the world and have been translated to almost all the major languages.
View Comment