Cinco de Mayo Facts
You've heard of it, and you've celebrated Cinco de Mayo, but do you really know its origin? Cinco de Mayo is actually a heritage day. Cinco de Mayo celebrates the victory of the Mexican army over France at the Battle of Puebla during the Franco-Mexican war. Ever since, Cinco de Mayo celebrations fall on the 5th of May every year.
These interesting Cinco de Mayo facts tell the history behind this holiday. We have also listed some of the celebration traditions held in numerous places around the world. You may have mistaken it for a celebration of Mexican Independence Day, read on to find out what exactly is Cinco de Mayo about!
Quick Facts
Essential Facts
Interesting Facts
The year 2020 is the 158th year of celebrating Cinco de Mayo.
3 colors traditionally associated with Cinco de Mayo are red, white, and green.
Only less than 100 Mexicans died in the Battle of Puebla clash.
The French lost roughly 500 soldiers when they retreated.
In the U.S., around 54,000 Mexican restaurants are thriving, especially every Cinco de Mayo.
The Spanish term Cinco de Mayo means "Fifth of May."
Cinco de Mayo is also known as the Anniversary of the Battle of Puebla.
Cinco de Mayo celebrates the 1862 military victory over Napoleon III's French forces.
The Mexican army's Puebla victory lowkey paved the way for France's aid to the Confederate Army during the Civil War.
Celebrations of Cinco de Mayo usually lasts from daybreak to early evening.
Despite the stereotyped association, Cinco de Mayo is not a national holiday in Mexico.
Mexico and the U.S. are the main countries that celebrate Cinco de Mayo.
Australia, Brisbane, the Cayman Islands, and Malta celebrate the holiday as well.
In the U.S., Cinco de Mayo became an official holiday in 2005.
Mole poblano, a rich sauce made with chilis and chocolate, is a popular Mexican Cinco de Mayo dish.
Cinco de Mayo marks the last time that any foreign power attacked on North American soil.
81 million pounds of avocados are consumed in the U.S. every Cinco de Mayo.
Fiesta Broadway, held in downtown L.A. since 1990, is "the largest Cinco de Mayo celebration in the country."
In 2013, over $600 million were spent on beer for Cinco de Mayo in the U.S.
The average alcoholic beverage for each American every Cinco de Mayo is at 3.5.
Cinco de Mayo Facts Infographics
The Cinco de Mayo history traces back to 1861.
French, English, and Spanish troops invaded Mexico upon its declaration of a temporary cessation on the compensation of foreign debts. While the English and Spanish had withdrawn in April 1862, the French remained. Wealthy landowners supported the French's attempt to establish a monarchy under Maximilian of Austria. Also, it was an effort to curb U.S. power in North America.
General Charles Latrille de Lorencez led 6,000 French troops to the Battle of Puebla.
The group was certain they would succeed in their assault in Puebla de Los Angeles, a small east-central Mexican town. On the other hand, President Benito Juárez gathered 2,000 indigent yet loyal men and sent them to Puebla. Most of them are either indigenous Mexicans or of mixed ancestry.
Cinco de Mayo started on the fifth of May of the year 1862.
Despite being poorly equipped, General Ignacio Zaragoza and his men defeated the French troops at the Battle of Puebla. This day gave birth to Cinco de Mayo facts that continue to grow to date.
Zaragoza's success against the French was not a major strategic win in the general war.
Still, this Battle of Puebla victory became a representation of the Mexican government. It even further reinforced the resistance movement.
It was not until 1867 when the French finally withdrew.
This move was in part thanks to military support and political pressure from the U.S. After the Civil War, the U.S. was finally in a position to assist its captured neighbor.
Juárez's forces captured and executed Maximilian of Austria the same year.
In 1864, Napoleon III appointed Austrian Archduke Ferdinand Maximilian as the emperor of Mexico. Puebla de Los Angeles was later renamed in honor of General Zaragoza. Unfortunately, he died of typhoid fever only within months after his triumph.
On May 9, 1862, President Benito Juárez declared Cinco de Mayo as a national day in Mexico.
His declaration aimed to recognize the anniversary of the Battle of Puebla. Also, he called it "Battle of Puebla Day" or "Battle of Cinco de Mayo" instead of "Cinco de Mayo" per se.
Cinco de Mayo facts had Mexican-Americans in California as the first celebrants.
Historians trace them back to the American Civil War were 'celebrations' take the form of political rallies. Back then, people were aiming to generate support for Mexico during the Franco-Mexican War.
Mariachi refers to the music most associated with Cinco de Mayo celebrations.
It traces its history to 19th century Jalisco, Mexico. Musicians from then would wander from town to town and sing songs of revolutionary heroes and enemies alike. Aside from that, they carry news from one place to another as well.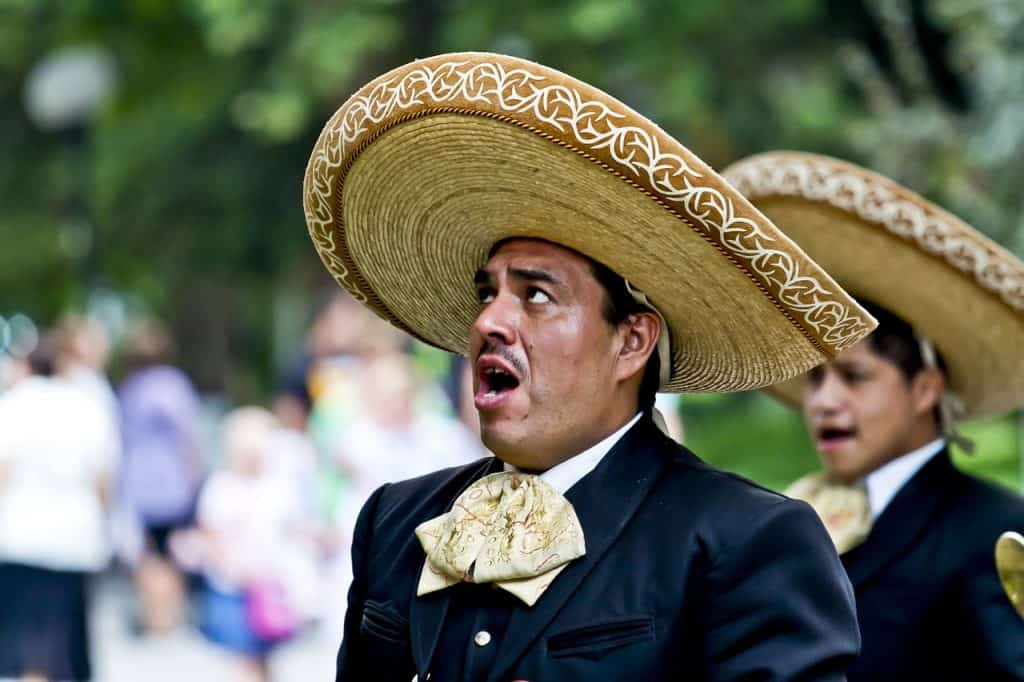 Mexicans celebrate Cinco de Mayo by doing speeches, parades, and reenacting the Battle.
Still, the recognition is not much observed in the rest of the country. The celebrated victory might have taken place within Mexico, but Puebla remains the only state to primarily observe the tradition.
Banks, stores, and other offices remain open in Mexico every Cinco de Mayo.
Many Mexicans still perceive the fifth of May as a regular day as it is not a federal holiday. Meanwhile, places in Mexico that celebrate Cinco de Mayo maintain traditions such as military parades, among other festive events.
Cinco de Mayo events worldwide include an annual skydiving event in Vancouver, Canada.
The Cayman Islands hold an air guitar competition every May 5. Meanwhile, drinking Mexican beer is the way of celebration for residents of Malta in the Mediterranean Sea. Despite having Cinco de Mayo celebrations in other parts of the world, these are still not as notable as the traditions in Mexico and the U.S.
Mexican dishes are part of Cinco de Mayo traditions as well.
Joining the parties, parades, folk dancing, and mariachi music are traditional Mexican foods like tacos and mole poblano. In the U.S., the states of Chicago, Houston, and Los Angeles hold some of the largest Cinco de Mayo festivals.
A Cinco de Mayo celebration is incomplete without people wearing patriotic clothing and accessories.
These adornments can be seen in large parades were people also dress up as Mexicans and French soldiers. Moreover, vendors take this time to sell traditional Mexican foods as well.
The U.S. celebrates Cinco de Mayo as recognition of Mexican culture and heritage.
Such events take place mainly in areas with sizeable Mexican-American populations. In the 1960s, Chicano activists raised awareness of the holiday. It was partly due to their affinity with the indigenous Mexicans' victory over European invaders during the Battle of Puebla.
Cinco de Mayo facts count balloons, flowers, and streamers as the most common decorations.
The sight of these adornments can almost immediately conjure Mariachi bands among other Mexican folk music. With tacos, tortilla chips, enchiladas, and salsa, the typical Cinco de Mayo celebration is already complete.
Census numbers reveal why Cinco de Mayo is popular in America.
The Hispanic population in the country is at 56.6 million which is roughly 18% of the total population. Meanwhile, around 65% of the population is of Mexican descent.
In a way, Pres. Franklin D. Roosevelt promoted the observation of Cinco de Mayo in the U.S.
The 32nd U.S. President enacted the "Good Neighbor Policy" in 1933. As the name suggests, it aimed to improve the country's relations with Latin American territories. Even before that, there was a minimal observation of Cinco de Mayo throughout the later 19th and the earlier 20th century.
Cinco de Mayo functioned as a bridge between the U.S. and Mexican cultures.
José Alamillo, a professor of ethnic studies at Washington State University, perceived the holiday that way. In the 1960s, Cinco de Mayo became more popular as Mexican-Americans embraced it as a way of establishing their cultural pride.
Mexican holidays Cinco de Mayo and Mexican Independence Day were often mistaken as the same days.
While one is celebrated every May 5, the latter falls on September 16. The Mexican Independence Day was established in 1810, about 50 years before the Battle of Puebla took place.
Día de la Independencia of Mexico traditions commemorates the Grito de Dolores.
It translates to 'Cry of Dolores' and refers to the city of Dolores Hidalgo, Mexico. In 1810, a call to arms summed up to a war declaration against the Spanish colonial government. Revolutionary priest Miguel Hidalgo y Costillas then let out the famous 'Grito de Dolores.'
Cinco de Mayo became a profitable holiday for beer companies starting in the 1980s.
After a series of advertisements, Corona supported the transformation of Cinco de Mayo into an all-day happy hour observance. Eventually, it encouraged the Mexican and Mexican-American population to celebrate their tradition by consuming Mexican beer.
Cinco de Mayo has served some political purposes as well.
U.S. Presidents George W. Bush and Barack Obama used the tradition to make a connection with the Hispanic community. To promote immigration reform, they held various sorts of celebrations and receptions. Also, they invited Cabinet members, Mexican Embassy, and Latino celebrities as guests to the White House.
In Cinco de Mayo of 2016, Obama had 500 guests.
San Antonio celebrity chef Johnny Hernandez catered the food while Mexican pop band Maná played music. In 2017, Vice President Mike Pence hosted the White House Cinco de Mayo celebration.
In 2020, people had to make big changes on how to celebrate Cinco de Mayo.
Due to the coronavirus pandemic, most businesses closed down and people are strongly advised to stay at home for their safety. What makes these Cinco de Mayo facts is how 2020 is one of the rare occasions when the holiday falls on Taco Tuesday.
Cinco de Mayo celebrations still pursued in various creative ways.
American actress hosted Eva Longoria hosted a virtual Cinco de Mayo benefit concert to raise money for the Farmworker's COVID-19 Pandemic Relief Fund. Some of the artists who teamed up with her are J Balvin, Ana Brenda Contreras, Luis Fonsi, Diane Guerrero, and Gloria and Emilio Estefan. Moreover, the Historic Old Town Community Foundation in San Diego, California held another virtual celebration.
Mariachi musicians were adversely affected by the coronavirus pandemic as well.
With the nature of their job, it was almost impossible to make money amidst a mainly stay-at-home crisis. The absence of their source of income compelled them to play at Mariachi Plaza to ask for economic support from L.A. Mayor Eric Garcetti.
The 2020 Cinco de Mayo facts have a daylong virtual mariachi festival.
The Mariachi Heritage Foundation paired with salsa make Chi-Chi's to honor the work of the former's musicians through 'Singo de Mayo.' Moreover, this event offered 30-minute private mariachi sessions which filled up fast.
In California, Cinco de Mayo donations benefit worthy recipients.
Another way to celebrate the holiday in these trying times is to help art galleries, cultural centers, and museums through donations. Some of the beneficiaries are the Museum of Latin American Art in Long Beach or the Mexican Cultural Center of Northern California.
Cinco de Mayo celebrations in some cities involve chihuahuas.
Cities like Chandler, Arizona, and Denver, Colorado hold an annual Chihuahua Race as a way of celebrating Cinco de Mayo. In Denver alone, about 400,000 people attend the adorable event annually.