Barcelona Facts
Many are keen to read about Barcelona facts because this city is one of the best places for people who are not only interested in art, but also in architecture, food, sports, and culture in general. Barcelona is a city rich with history that can be traced back to more than about 5,000 BC. Barcelona is a living testament of the definition that being true to one's identity can overcome the trials of time and should be nurtured rather than be replaced or buried. The beauty of the city does not only focus on emphasizing its endurance against time but how it evolves together with its developing technological advancements. With all the undiscovered mysteries that shroud the city's contrasting vibrance, here are some Barcelona facts that might just perk your interest.
Quick Facts
Essential Facts
Interesting Facts
Barcelona is a city on the coast of northeastern Spain.
It is the largest city in Catalonia.
The province of Barcelona is home to around 4.8 million people.
It ranks 5th as the most populous urban area in the European Union after Paris, the Ruhr area, Madrid, and Milan.
The Roman Empire has some remnant structures and still stands in Barcelona.
Barcelona is one of the most congested cities in the world because it has a compact city center surrounded by a large area of industrial suburbs and towns.
It has Spain's most important Mediterranean Seaport.
Immigrants make up 1/3 of Barcelona's population.
There is a statue of Christopher Columbus in Barcelona's downtown to commemorate his announcement of the discovery of America.
Most of Barcelona's popular beaches lost over 25% of their sand to storms.
Found in 1450, the oldest university in the city is the University of Barcelona.
The University of Barcelona is a public university that caters to 63,000 students and is one of the biggest universities in Spain.
Barcelona is bordered by the Besos River to the north and Llobregat River to the south.
They celebrate "Fiesta del Libro" or a book party every April 23. It is celebrated because Barcelona is a major center for Spanish-language publishing.
Barcelona's cultural roots go way back 2000 years.
Barcelona is a leading center for modern graffiti and street art.
Barcelona's soccer stadium, which is known as Camp Nou, holds up to 99,354 people. It is the largest in Europe and 4th largest in the world.
Residents would pronounce "Barcelona" as "Barthelona." It is said that this pronunciation came from King Ferdinand, who had a lisp.
It is home to the Museu Picasso that houses 3,400 pieces of Picasso's artwork.
FC Barcelona has won 30 times in Spain's "King's Cup" over any other teams.
The city covers a small area of the whole metropolitan
The actual city of Barcelona only covers 38 square miles or 90 square km out of its metropolitan area that has over 10,000 square miles or 2,590 square km, however, it is still big as it is with a lot of amazing things that you can find on the city's corners.
Barcelona will keep your palette satisfied
If you are up for an adventure of flavors, then Barcelona is the right place to go. The city will keep your appetite going with all its 20 Michelin-starred restaurants. In addition, with all its various fresh produce and high-quality ingredients, Barcelona would truly turn your expectation for food more than you can imagine.
It is a biker-friendly place
If you are a biking enthusiast, you will surely appreciate this city more with its 180 km of bicycle lanes, Barcelona is one of the most bike-friendly cities in the world and currently ranks 11th in the 2015 Copenhagenize Index.
Hercules was the city's founder
Hercules was said to have founded the city of Barcelona together with his brother, Hermes, who accompanied Jason and the Argonauts in search of the golden fleece. Although there are a lot of theories that explain the founding of the city, this one is the most interesting.
Smoking weed in the city is surprisingly legal
Spain is home to over 700 cannabis clubs. With that, Barcelona has half of these clubs which makes this city a smoker's paradise. They allow tourists to enjoy cannabis, but just like its residents, they must follow legal restrictions and guidelines.
Picasso has roots in Barcelona
Pablo Picasso spent several years of his youth in Barcelona and studied at the prestigious art academy, "La Llotja" where his father was a professor. The Picasso Museum exhibits not only works from Picasso's youth but also several works from his later creative phases.
Barcelona is home to the famous Chupa Chups lollipops
Enric Bernat, the founder of Chupa Chups lollipop company worked for Granja Asturias, an apple jam factory. He broached the idea of making lollipops because the sweets made in the 1950s were not child-friendly and would result in sticky fingers. Bernat took over the company in 1958 and renamed it Chupa Chups. He built the production machines and sold a striped bonbon on a wooden stick for one peseta each.
FC Barcelona is one of the oldest and the richest football clubs
Futbol Club Barcelona, more commonly known as Barcelona, is one of the oldest football clubs in Europe with a history dating back to the 19th century. Along with Real Madrid, they are one of the two most successful clubs in Europe with a rich haul of 91 trophies in their cabinet. Barcelona has won 26 La Liga, 30 Copa Del Rey, and 5 Champions League titles among a slew of other domestic and continental honors.
Tibidabo provides a bird's eye view of Barcelona
If you are standing at the precipice of Tibidabo mountain, you will feel like a great bird with wings spread wide while soaring high above the valley overlooking the city's splendor. At 512 meters above sea level, Tibidabo is the highest point of the Collserola hills, the massif that forms Barcelona's backdrop.
The FC Barcelona Museum is the most visited museum in the city
There are over 1,629,990 visitors who have visited the museum, making it rank as 3rd of the most visited museums in Spain. Joan Gamper, together with a group of Swiss, British, Spanish, and Catalan footballers founded FC Barcelona in 1899.
La Rambla is five streets combined
La Rambla street is a famous meeting point for tourists. Also known as the Gothic Quarter, it is the heart of Barcelona. At least 150,000 people walk along this street every day. It is a place where you can find many restaurants with Spanish food and souvenir shops and is made up of smaller sections namely: Rambla de Canaletes, Rambla dels Estudis, Rambla de Sant Josep (or de les Flors), Rambla dels Caputxins and Rambla de Santa Mònica.
Barcelona has 12 abandoned metro stations for ghost hunting
Surprisingly, a lot of tourists who are avid fans of adventure and mystery would come to Barcelona to visit and explore its haunted metro stations in contrast to the city's vibrant display of famous artwork and awe-inspiring architectural structures. There are lots of legends and tales that are lurking in the city, like stories related to the haunted places that you can get from free tours if you want to enjoy a scary night with friends.
Does Casa Mila really look alive?
One of Gaudi's masterpieces, Casa Milà has an appearance and architecture of meanders, bends, and swims, which makes it look exactly like a living organism. Gaudi designed the Casa Mila exclusively with natural forms resulting in not having a single right angle. In addition, he only put lifts on every 2nd floor because he wanted the people who lived in the flats to get to know each other. He also wanted people on different floors to have a chance to communicate with one another.
It is the only city that received a royal gold medal
Barcelona is the first and only city that received a Royal Gold Medal for architecture in 1999. The Royal Institute of British Architects awards this honor for architecture annually since 1848, on behalf of the British monarch, in recognition of an individual's or a group's substantial contribution to international architecture. The city's architecture has had a huge influence on many contemporary architects around the world.
La Sagrada Familia is still too far from completion
Gaudi, the structure's architect, believed that the highest point in the city should be a natural god-made structure, referring to the mountain of Montjuic which was 984 feet above sea level. As a result, the construction of La Sagrada Familia has taken around 200 years to be constructed with modern technology.
They have their version of Valentine's Day
People in Barcelona would celebrate Saint George Day every 23rd of April by exchanging books and giving roses to each other. It is a national Catalan holiday version of Valentine's Day.
Barcelona has two official languages
Although Barcelona is located in Spain, it is the capital of Catalonia. Spain is divided into 17 different autonomous regions and Catalonia is one of them. Catalan, which is not a dialect, but a completely distinct language from Spanish, is one of the languages you will see on transportation signs, menus in public places, and museums all over the city.
Barcelona is even older than Rome
The city is an ideal location on the Mediterranean for settlers, however, the exact dates of the earliest settlements remain unclear even though there are ruins that have been found dating earlier than 5000 BC.
Barcelona has a lot of air raid shelters
Barcelona has about 1,400 bomb shelters that are built within the city and its surrounding areas. Refugio 307 was one of the largest and one of the most elaborate shelters as it has a capacity of almost 2,000 people.
Barcelona beaches are artificial
Would you believe that Barcelona has no beaches until 1992? When the city decided to host the Olympic Games, its seaside renovation became the topmost priority resulting in the import of a lot of overseas sand when the city decided to revamp its industrial coastline to accommodate tourists. The city imported sand from Egypt and now they are listed on the top ten beaches of the world by National Geographic.
Its beaches are top-notch in the world
Although it is artificial, National Geographic still voted Barcelona's beaches as one of the top 10 beaches in the world. However, it is observed that the city's beaches have been losing 6 to 10 meters of sand every year. The Área Metropolitana de Barcelona (AMB) has been studying this occurrence and has concluded that every year there is less and less sand for residents and tourists to lie on and enjoy.
Barcelona has a one-of-a-kind bar in the world
Beachgoers would expect sunny and sandy entertainment bars at the beach, but did you know that Barcelona has its first beach ice bar in the world? The said ice bar is located on El Somorrostro beach.
The nightlife in Barcelona is not bland
Barcelona's nightclubs will never fail to keep you up as the night ages. There is a plethora of bars and clubs around the city which you can enjoy with friends or strangers.
Gustave Eiffel planned to have the Eiffel Tower in Barcelona. It could have been a great idea, but the city rejected it in fear that it might just be an eyesore to their skyline, so he was forced to find another place elsewhere. Eiffel found a home for his tower in Paris, but it was still getting criticism from Parisians, naming it metal asparagus. It has endured a lot of criticism yet still became one of the most recognizable man-made landmarks in the world.
Barcelona has a lot of vehicular incidents
People in Barcelona would say that they have some of the worst drivers in the world because accidents happen around every 19 seconds. Many locals would then prefer to leave their vehicles and just walk around the city.
The Port of Barcelona is one of the busiest ports in the world
Barcelona is famous for cruisers, and that is non-arguably true. In addition to its 2,000-year-old rich history, the port has seven international cruise terminals that have welcomed 2.7 million passengers.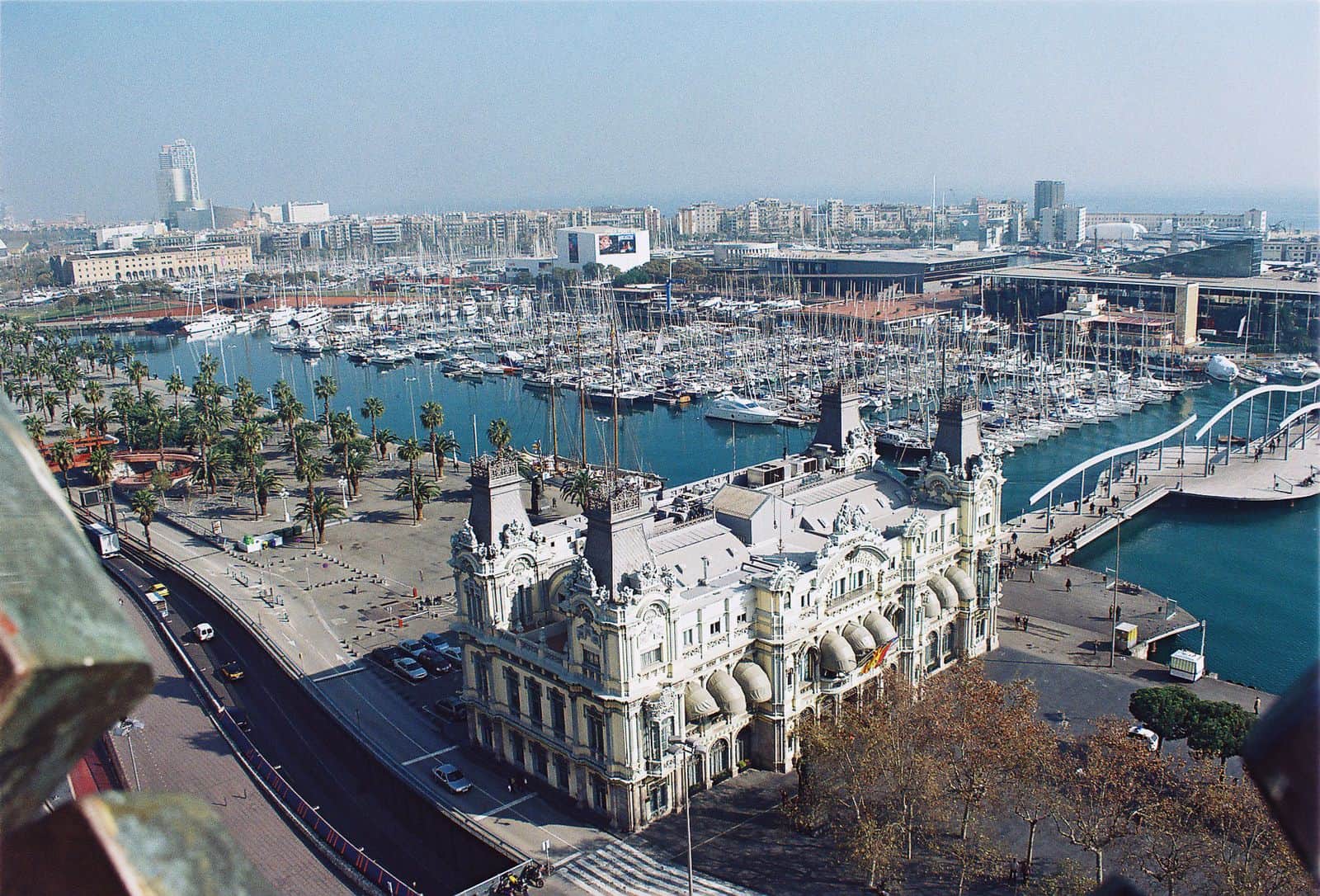 Barcelona is an eco-friendly city
The city is covered in over 68 different green spaces and parks, so undoubtedly, the air is fresher compared to other cities all over the world. Parc de Collserola is the world's largest metropolitan park and is 22 times larger than New York City's Central Park.
Over 8 million tourists visit every year.
The city is draped with beautiful and scenic views and divine tapas bars. It is also home to Gaudi's iconic works. This is why it's no wonder why tourists flock to the city. Barcelona is one of the most visited cities in Spain.
What is the famous holiday in Barcelona?
The city celebrates Fiestas de La Mercè annually on the 24th of September. It is held to honor The Virgen de La Merce, the city's saint, and protector. The festival has been celebrated since 1687, during the middle ages when Barcelona suffered from a plague of locusts.
Flamenco is not a traditional dance in Barcelona
Spain takes pride in its popular Flamenco dance, but Barcelona would prefer its traditional dance which is called Sardana. The city has a lot of Flamenco shows but the locals would prefer Sardana over it.
Barcelona has banned bullfighting
Catalans are not fond of bullfighting because they consider it a violent sport and they have banned it in the city. Spain is widely practicing bullfighting from March to September, but it is not just Barcelona's cup of tea.
Islam was once the dominant religion in the city
Although the locals in Barcelona identify themselves as Roman Catholics today, that isn't always the case. In 2014, over 322, 698 people in the province of Barcelona identified themselves as Muslims, including 217,405 immigrants and 105,293 Spanish citizens.
La Sagrada has different architects
Gaudi was not the original architect of the magnificent La Sagrada Familia, but it was Architect Francisco de Paula del Villar, who was first appointed to design the church. It would probably take more architects to finish it.
Barcelona has various climates
Barcelona has a Mediterranean climate with warm, dry summers and mild winters. Winter temperatures average around 59 °F (15 °C), compared to summers being around 68 °F (20 °C).
Barcelona is the city of literature
UNESCO dubbed the 23rd of April World Book Day. If you visit Barcelona with your significant other on that date, it would be lovely to visit bookstores and cafes as roses and books can be seen throughout the city.
It is friendly toward LGBTQ+
Barcelona has implemented the law of anti-homophobia in 2014 and has legalized gay marriage to emphasize equality. They have long been celebrating Pride festival every June.
The city attracts tourists in all seasons
People would think that the best time to visit the city is springtime but each season has its perks and pits. The city would still be a great destination during summer, autumn, and even winter too.
Barcelona houses one of the most powerful supercomputers in Southern Europe
The MareNostrum 4, one of the fastest and most powerful supercomputer in Europe, is kept in The Barcelona Supercomputing Center – Centro Nacional de Supercomputación (BSC-CNS). A chapel called Torre Girona was turned into a temporal place many years back in order to accommodate this technology. The Latin word, Mare Nostrum is translated as "our sea," and it weighs around 40,000 kg.
Barcelona is not the capital of Spain anymore
Barcelona reigned as the capital of Spain from 1937 to 1939. It may not be the capital city of Spain anymore, but it remains the capital of Catalonia. Madrid is the capital of Spain, while Barcelona is the capital of Catalonia, an autonomous community of Spain.
It has one of Europe's largest aquariums
The Port Vell in Barcelona houses one of Europe's largest aquariums. It holds around 8,000 fish and 11 sharks, not to mention more than a million gallons of seawater to accommodate the aquatic species. Spending a day in one of the largest aquariums in Europe would never stale your to-do list.
Portal de l'Àngel is considered the most walked street in Spain
The famous street is famous in the whole of Spain and is located in the Ciutat Vella district in Barcelona. It has endless restaurants, bars, and nightlife. It is perfect for bar hopping or just strolling by. There are around 3,500 people who would pass through this street every hour.
Barcelona has one of the three shoe museums in the world
The Museu del Calçat has interesting exhibits of shoes, from Arabic slippers to Roman sandals. The museum is located in the lovely Gothic Quarter. This charming museum is something different from all the other touristic places because not only is it cheap, but it is also interesting. If you are looking for something unusual, this is the place to visit.
French astronomers used Barcelona for calculating the North Pole and the Equator's distance
Jean Baptiste, Pierre Francoise, Andre Mechain, and Joseph Delambre calculated the distance between the North Pole and the Equator using the meridian arc distance between Dunkirk and Montjuic's fortress in Barcelona, giving birth to the word, meter. The discovery of the metric system is one of the most important developments in human history, affecting everything from engineering, to international trade, to political systems.
Barcelona has a shopping mall that is open on Sundays and public holidays
Maremagnu shopping centre is a very popular mall situated in the centre of the port. Its unique architecture makes it stand out, making it the perfect place to stroll with family and friends on the weekends. There's a variety of shops to visit, from food to clothing, homeware, cosmetics, and even electronics.
It is the only city with a Museum of Funeral Carriages
The Museu de Carrosses Funebres is home to a historical collection of 13 vehicles, some belonging to the 19th century. The Black Widow and The Stove were two of the most distinctive funeral carriages. The Black Widow is designed for carrying the deceased's grieving widow, while The Stove is for carrying the most eminent members of the city.
Not all of their food is spicy
Food is always one of the highlights when traveling and Spain is big in the culinary world, and each region and city have their unique characteristics. Barcelona's variety of dishes are different from what you expect from Spanish food. The traditional delicacies in Spain are different from Barcelona, which is rather tame.
Star Wars took inspiration from Casa Mila
Casa Mila building inspired George Luca's Storm Troopers from the famous Star Wars films. People once thought that the unusual building would devalue the area because of its appearance. Casa Mila has a row of chimneys that resemble long-necked guards overlooking the city with a stern gaze.
The famous architect died in a freak accident
Antoni Gaudi had his untimely death before he could complete his final design for the La Sagrada Familia. At the age of 73, a trolley hit him, resulting in numerous severe injuries. A passerby mistook him as a beggar and didn't help him. He then died after three days.
Gaudi's tomb is located under his unfinished project
Antoni Gaudi's tomb is located in the underground level of La Sagrada Familia's magnificent structure. The architect rests inside his own masterpiece that you can visit when you're in Barcelona.
Barcelona has a large portion of the city devoted exclusively to pedestrians
People in Barcelona would prefer walking since it is a lot safer. They prefer to be pedestrians, making the city thronged with people on foot. The city has devoted a total area of 130 hectares, which is equivalent to about 260 football fields.
You can get free guided tours of the city
By joining a free walking tour in Barcelona, you can learn about the city's origins and visit places off the beaten path. A simple internet search will reveal a large number of companies and organizations that offer free guided tours of the city.
It had an underground city
Underneath the Gothic Quarter in the city History Museum lies the underground city of Barcino which was found in 1930. Barcelona was once an ancient Roman city called Barcino, and yes, there was a city underneath a city.
It is home to the oldest Synagogue in Europe
Barcelona is also home to one of the oldest synagogues in Europe which also happens to be somewhat underground. It was determined to be a synagogue because of the odd angle of the building which was constructed to face Israel.
The city was once in a bad state
Barcelona used to be a completely different city compared to what it is today. It changed when they hosted the Summer Olympics in 1992. The city received a lot of money to properly host the games. They were very smart about how they spent the money, leading them into a prosperous path.
The Monk Parakeets are not native to Barcelona
These birds are not really from Barcelona. Monk Parakeets are from South America, but they are long popular in the pet industry. There are a few theories among locals about them.
Gaudi designed the tiles along with the city
The tiles all along Passeig de Gràcia are actually Gaudí's original design. The city molded them out of cement to pave the sidewalks of Passeig de Gràcia in 1997 as a tribute to him.
A 13-year-old girl is their saint
Eulalia is the co-patron Saint of Barcelona along with Merce. She became a saint for her martyrdom during the persecution of the Christians in the 3rd century AD. Her story is also why you will find 13 white geese in the Barcelona Cathedral.
You will see a hallmark grid pattern of Barcelona from a bird's eye view
Spanish urban planner and engineer, Ildefons Cerdà I Sunyer, created this extension which he coined as "Eixample." He had a vision where every house could receive an ample amount of sunlight every single day, healthier flow of air, and a convenient means of transportation around the neighborhood. From above, it looks like well-organized octagonal blocks with wide open areas.
It is a Biosphere World Class Destination.
This has pointed the spotlight to Barcelona's commitment to sustainability in many areas, including food and drinks, transportation, and accommodation. Barcelona's responsible tourism has inspired a lot of countries to take sustainability actions as part of their own.