Rio de Janeiro Facts
Quick Facts
Essential Facts
Interesting Facts
Country: Brazil
State: Rio de Janeiro
Founded: March 1, 1565
Founder: Estácio de Sá
Population: 6.32 Million
Size: 485 square miles
Nicknames: Rio, Marvelous City
Attractions: Copacabana, Ipanema, Christ the Redeemer Statue, Sambodromo
Airports: Galeão–Antonio Carlos Jobim International Airport
Size: Rio de Janeiro Is Brazil's Second Largest City
History: Rio de Janeiro Is Named After When It Was Discovered
History: Rio de Janeiro Was the First European Capital Outside Europe
History: Rio de Janeiro Was Brazil's First Capital
Attractions: Rio de Janeiro Is South America's Tourist Hot Spot
Culture: Rio de Janeiro Incubated Bossa Nova
Sports: Rio de Janeiro Will Host Olympics in 2016
Attractions: Christ the Redeemer Stands 98 Feet Tall
Attractions: Tijuca Forest Is South America's Largest Urban Forest
Attractions: Carnival Is Held in Rio de Janeiro Before Lent
Pelé Played His Last Match in Rio de Janeiro
Rio de Janeiro Has an Official Song
Santa Teresa Tram Is South America's Oldest Electric Railway
Famous Soccer Striker Ronaldo Was Born in Rio de Janeiro
First Favela Was Built in Rio de Janeiro
City of God Showcases Poverty in Rio's Favelas
The Girl from Ipanema Loves Rio de Janeiro's Beaches
Rio de Janeiro Facts Infographics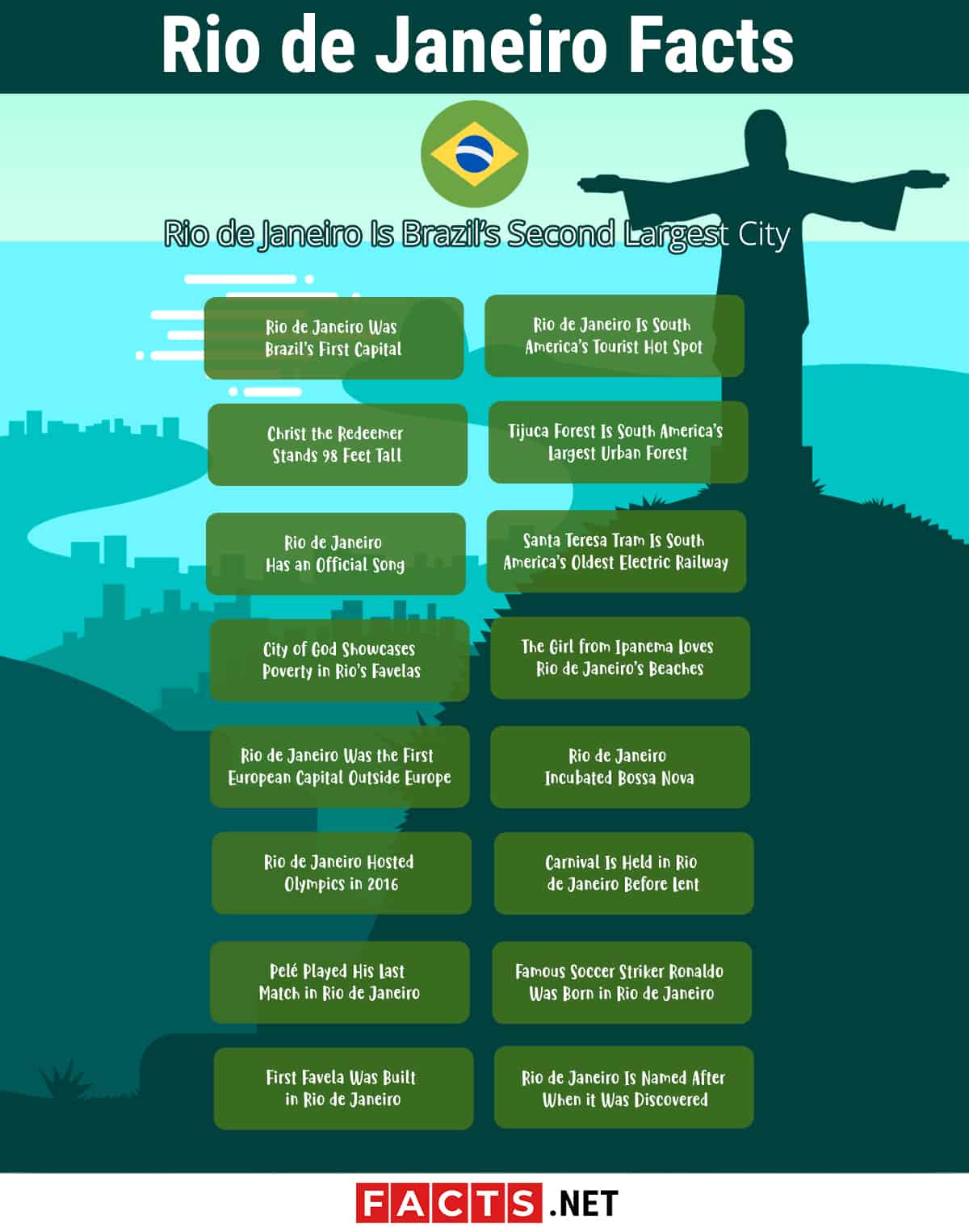 Rio de Janeiro Is Brazil's Second Largest City
While Rio de Janeiro is one of Brazil's most popular cities and is known around the world for its yearly carnival, it is actually Brazil's second largest city. With a population of approximately 6.32 million inhabitants, this Portuguese speaking city is the seventh largest in the Americas. Rio de Janeiro facts indicate Brazil's largest city is São Paulo. São Paulo is also the largest city in the Americas.
Rio de Janeiro Is Named After When it Was Discovered
Rio de Janeiro was first discovered on January 1, 1502. The Portuguese explorers, led by Gaspar de Lemos, came across Guanabara Bay and named it Rio de Janeiro, or January River. The city was official founded on March 1, 1565, and was called São Sebastião do Rio de Janeiro (Saint Sebastian's January River) to pay tribute to King Sebastian's patron saint.
Rio de Janeiro Was the First European Capital Outside Europe
During Napoleon's invasion of Portugal, Portuguese nobles moved to Rio de Janeiro and made the beautiful city their capital. It became the first city outside of Europe to be considered a European capital. Because there was not enough time to build new houses for the gentry, many locals were kicked out of their homes to make room.
Rio de Janeiro Was Brazil's First Capital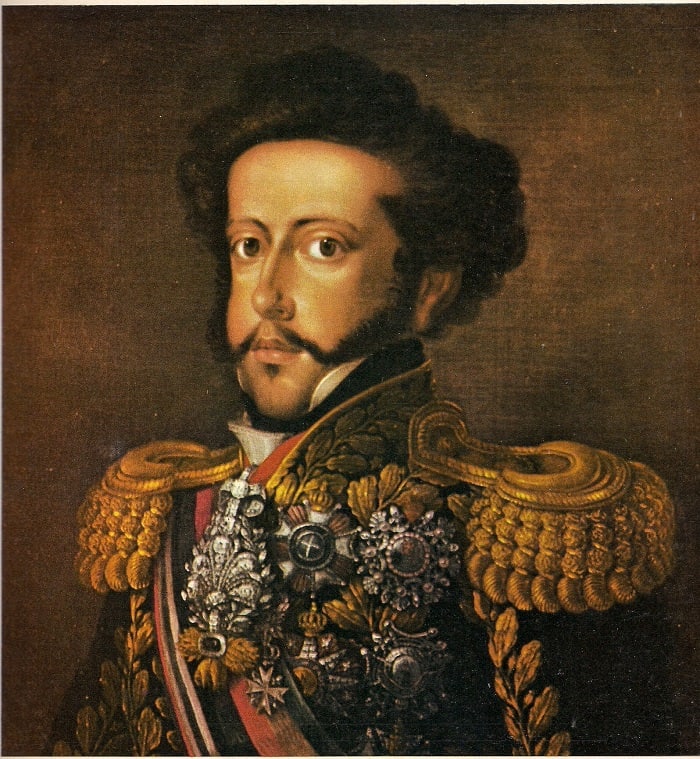 Once Brazil gained independence from Portugal in 1822, Rio de Janeiro was named its capital. Dom Pedro named himself Dom Pedro I, the first Emperor of Brazil. The monarchy continued in Brazil until 1889, when Brazil became a republic. They kept Rio de Janeiro as their capital. Rio de Janeiro facts indicate it remained the capital of Brazil until April 21, 1960. Brasília was built in the center of Brazil and became the new capital of the South American country upon its completion.
Rio de Janeiro Is South America's Tourist Hot Spot
Rio de Janeiro attracts over 2.8 million tourists a year. With beautiful beaches, the Corcovado and Sugarloaf mountains, a rich cultural history, and a yearly carnival, it is no wonder tourists flock to this amazing city. Rio de Janeiro facts tell us the marvelous city is the most popular tourist destination in South America.
Rio de Janeiro Incubated Bossa Nova
Rio de Janeiro's rich cultural history includes the creation and popularization of Bossa Nova. Translated, Bossa Nova means "new trend." It is a lively mix of jazz and samba that came to life in the 1950s and 1960s. It has spread around the globe and become known as a distinctly Brazilian sound.
Rio de Janeiro Will Host Olympics in 2016
Rio de Janeiro will become the first South American city to host the Olympics when the summer games start in 2016. It will be only the third city in the southern hemisphere to hold this honor. According to Rio de Janeiro facts, the ubiquitous Olympic marathon will start and end at the Sambódromo, the stage for Rio de Janeiro's legendary carnival.
Christ the Redeemer Stands 98 Feet Tall
The Christ the Redeemer statue is located on Corcovado mountain in Tijuca forest, overlooking the city of Rio de Janeiro. It stands 98 feet tall, not including the pedestal. The outstretched arms on the Christ the Redeemer statue measure 28 feet wide. The statue was completed in 1931 and stands as an enduring symbol of Brazilian Christianity.
Tijuca Forest Is South America's Largest Urban Forest
Tijuca Forest is located in Rio de Janeiro and holds the distinction of being South America's, and possibly the world's, largest urban forest. It was hand-planted to reclaim land previously used for growing coffee and sugarcane. Aside from being a tourist attraction itself, the forest houses the Christ the Redeemer statue, murals by Cândido Portinari, and the Cascatinha Waterfall.
Carnival Is Held in Rio de Janeiro Before Lent
Carnival is recognized worldwide as an incredible party full of bright, elaborate costumes and vibrant music. Rio de Janeiro facts inform us that since approximately 1723, a version of the now world famous Carnival has partied in the streets of Rio de Janeiro, celebrating the oncoming spring and marking the start of the Lenten season. Currently, Carnival starts the Friday before Lent and ends on Ash Friday. The official Carnival parade happens at the Sambadrome, while many Carnival partygoers fill the streets and other venues.
Pelé Played His Last Match in Rio de Janeiro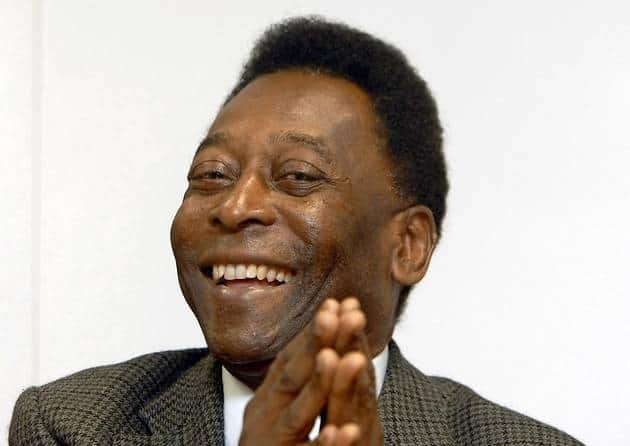 Pelé is a famed soccer player who was born in Brazil. He captivated the world with his on-field maneuvers and brought even more attention to the sport of soccer (called football in South America). On July 18, 1971, Pelé played his last international soccer game in Rio de Janeiro. Pelé has been voted the 20th century's best soccer player.
Rio de Janeiro Has an Official Song
It is no surprise that a city with such a rich musical history has its own song. Rio de Janeiro's official song is "Cidade Maravilhosa", which translates to Marvelous City. The song is often played during Carnival.
Santa Teresa Tram Is South America's Oldest Electric Railway
The Santa Teresa Tram connects Rio de Janeiro's city center with the Santa Teresa neighborhood. It has been running continuously since 1877 and was designated a national historic landmark in 1988. The Santa Teresa Tram is one of the world's oldest railways and, thanks to the addition of electricity in 1896, Latin America's oldest electric railway.
Famous Soccer Striker Ronaldo Was Born in Rio de Janeiro
Ronaldo Luís Nazário de Lima, known worldwide as simply Ronaldo, is a famously skilled soccer striker and native of Rio de Janeiro. He was named the FIFA World Player of Year on three separate occasions. It is said his victory stance resembles the famous statue of Christ the Redeemer that watches over his hometown.
First Favela Was Built in Rio de Janeiro
Favelas are Brazilian slums. They are often erected hastily and haphazardly to fulfill the necessity for immediate housing. The first recorded favela is believed to have been built on the Morro da Providência in Rio de Janeiro in the late 1800s.
City of God Showcases Poverty in Rio's Favelas
The movie City of God was critically acclaimed for its honest portrayal of life in Rio de Janeiro's famed favelas. Nominated for four Academy Awards, the tale follows the lives of two boys who take different paths to deal with the poverty they find themselves born into.
The Girl from Ipanema Loves Rio de Janeiro's Beaches
Rio de Janeiro has several gorgeous beaches, including world famous Copacabana and Ipanema. The beauty of Ipanema even inspired a popular bossa nova hit, The Girl from Ipanema, which served to popularize both Rio de Janeiro and the bossa nova musical style.
Rio de Janeiro Facts – Facts about Rio de Janeiro Summary
Rio de Janeiro was once the capital of Brazil. It is the second largest city in Brazil and the seventh largest in the Americas. Rio de Janeiro introduced the world to carnival, bossa nova, and Ronaldo. It holds the distinction of being the first European capital outside of Europe and will be the first South American city to host the Olympics in 2016. The song "The Girl from Ipanema" introduce the world to this marvelous city of forests, mountains, and beaches.