When someone asks you, "Have you been living in a cave?" they don't usually mean it in a nice way. Isolated and hidden, humans usually associate caves with ancient history and the unknown. Much like the depths of the ocean, caves are home to some strange-looking flora and fauna – including the cavefish. Scientists use the umbrella term "cave fish" for species adapted to living underground. Although it is one of the most unique species, it is also one of the most unknown. So, how much do we really know about cavefish?
Quick Facts
Essential Facts
Interesting Facts
The earliest record of cavefish dates back to 500 years ago.

There are over 200 species of cavefish.

Asia houses 120 described species of cavefish.

Cavefish are small fish that typically measure from 0.8"–9".

The average lifespan of cavefish is about 10 years.
Cavefish belong to the

Amblyopsidae

family.

The hyaline fish was the first species of cavefish discovered.

Many cavefish species are considered seriously threatened.

Cavefish are also found in aquifers and waterfalls. 

The earliest evidence of cavefish was found on a Ming Dynasty stone epigraph describing "transparent fish" in a cave.

Only 50 cavefish species were known in the early 1990s.

Cavefish are characterized by their reduced or complete lack of eyes.

Since they live underground, most cavefish lack pigmentation.

Most cavefish live in static waters.

Cavefish primarily feed on plant and animal remains.
Cavefish can last 1 year without eating.

Antarctica is the only continent without cavefish.

Most blind cavefish only lose their eyes as they mature.

Not all cavefish are blind – some species have limited vision.

Cavefish are small because of a limited diet.
Cavefish Facts Infographics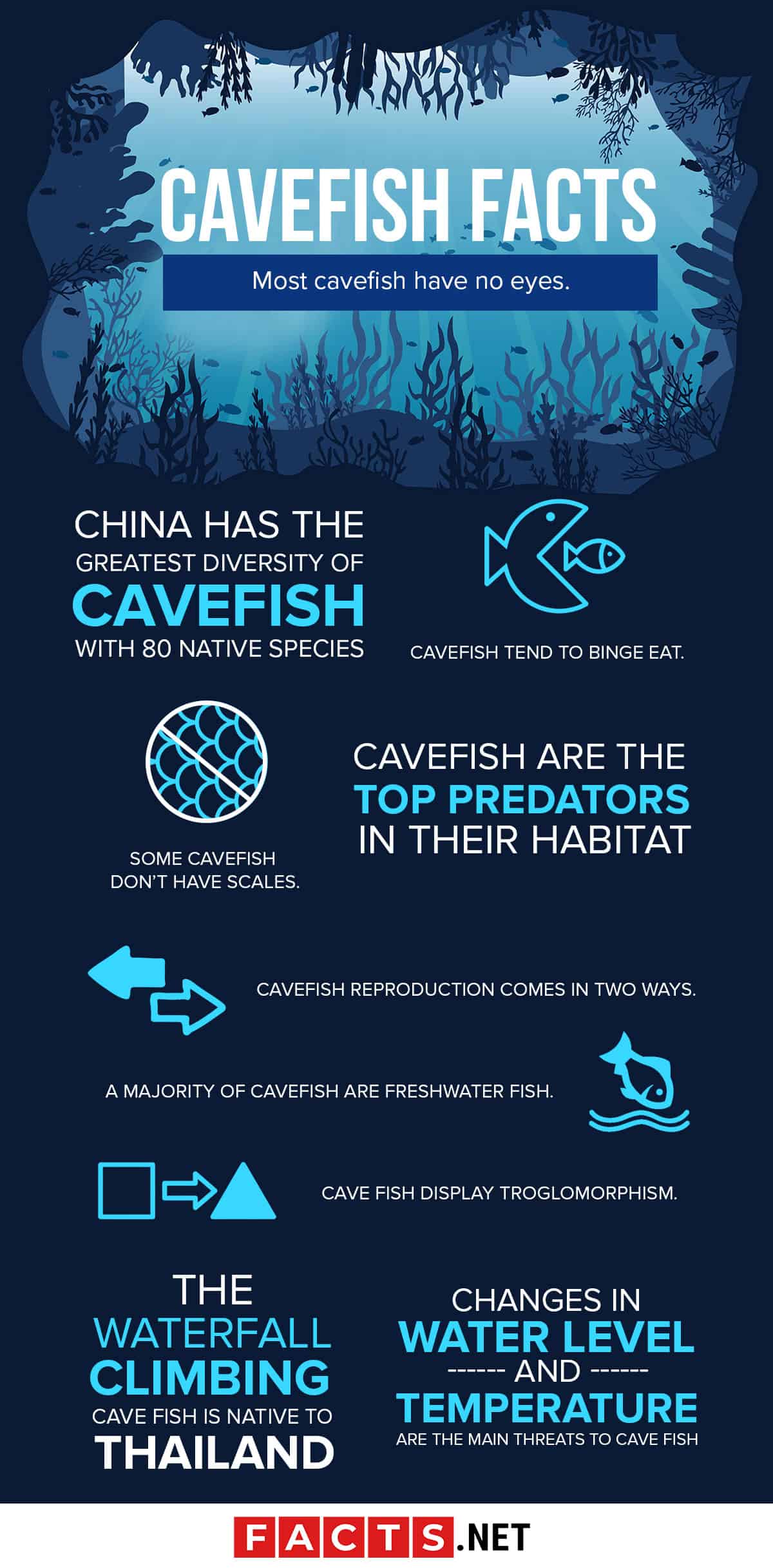 Most cavefish have no eyes.
One of the most peculiar things about cavefish is their lack of eyes. This distinct feature is a product of evolution that developed in cavefish over time. Since maintaining vision takes a lot of energy, most cavefish species lost their eyes to compensate for their limited diet.
Instead, most cavefish navigate through "sucking" its surroundings and detecting changes in water pressure through special nerve endings around its head. 
China has the greatest diversity of cavefish with 80 native species.
Not only does China boast the biggest human population, but it also houses the largest distribution of cavefish species. Mostly found in the southern and western regions of China, the Sinocyclocheilu s, Triplophysa, Oreonectes, and Yunnanilus varieties of cavefish dominate the 80 species in the country.
After China, Brazil has the second-largest variety at around 20 species. India, Mexico, Thailand and the U.S. follow with 9–14 cavefish species in each country.
Cavefish tend to binge eat.
Caves are isolated from most life forms, and only have a limited ecosystem as a result. This also means that food comes scarce for cavefish. After all, it's not every day that dead animals or plants wash up into caves. With only limited opportunities to feed, you can think of cavefish as nature's little binge-eaters.
In order to survive, cavefish have to store as much fat as possible to last them until their next meal. As such, cavefish feed in cycles of starvation and binging. A study even suggests that the cave fish diet draws parallels to the insatiable appetite of obese humans. Now that's one for cavefish facts to chew on.
Some cavefish don't have scales.
If you take one look at a cavefish, you can immediately tell that they're not like your average fish. Over the millennia, cavefish had to adapt to the extreme living conditions of the underground.
Other than the loss of their eyes, mutations such as larger fins and a lack of scales help cave fish navigate their habitat more efficiently. These physical mutations not only eliminate unnecessary traits, but it conserves their limited energy.
Cavefish are the top predators in their habitat.
Cavefish may be tiny, but they're usually the top predators in their habitat. As opportunistic feeders, the cave fish diet ranges from small organisms such as snails, worms, and insects.
However, they often get their main sustenance from plant and animal remains that wash up into their caves. Their isolation from bigger predators helps them thrive at the top of their habitats' food chain.
Cavefish reproduction comes in two ways.
Much like snakes, cavefish species can give birth in two ways: through live birth (ovoviparous) and through laying eggs (oviparous). However, the genus Amblyopsis stands out from other cavefish since they brood their eggs in their gill chambers. 
A majority of cavefish are freshwater fish.
Due to the nature of their habitats, most cavefish only reside in freshwater. However, some species, such as the vivparous brotulas, Luciogobius gobies, Milyeringa sleeper gobies and the blind cave eel reside in caves connected to the ocean. As such, these species can tolerate different levels of salinity. 
The waterfall climbing cave fish is native to Thailand.
Also known as the cave angel fish, the Cryptotora thamicola is a cavefish species of hillstream loach native to Thailand. Aside from the usual lack of eyes and pigmentation observed in cave fish, this fish is known for grappling and climbing onto terrain. The waterfall climbing cavefish achieves its namesake through its specialized fins.
Found within the Pang Mapha karst formation in Mae Hong Son Province, Thailand, this species is protected by the government. However, human disturbance, agriculture, and deforestation threatens this species. 
Changes in water level and temperature are the main threats to cave fish.
Since cavefish live in an exclusive, stable environment, they are highly vulnerable to even the slightest changes in its habitat. There may be a lot of cave fish species, but most of them only have a tiny range. In some cases, the entire species only lives in a singular cave. Should something go wrong in that cave, an entire species of cavefish would be wiped out.
Cavefish are vulnerable to man made threats such as tourism, water extraction, and agriculture. However, natural phenomena such as droughts and global warming also threaten their survival.
Cave fish display troglomorphism.
Troglomorphism refers to the structural adaptation of an animal to living in the total darkness of caves. Troglomorphic animals are usually characterised by their loss of pigment, limited eyesight, and special appendages. 
Qualities that result from troglomorphism can be classified as constructive or reductive. Constructive troglomorphism manifests as additional or augmented features, such as the larger fins of cavefish. On the other hand, reductive troglomorphism is observed in reduced features, such as cave fishes' lack of eyes and scales.