Car Dashboard Symbols
Unlike the Pixar animation, your cars can't actually speak to you. Instead, your car communicates with you through your dashboard. It may seem like nothing to the untrained eye, but these icons can actually indicate situations that need urgent attention. There may be a lot of car symbols, but it can definitely save a life or two to familiarize yourself with them. Be a responsible driver or passenger with these signs and symbols that you just can't miss.
Oil Pressure Light Symbol
The car's oil pressure light or low oil pressure light indicates that a car has not enough oil pressure or that the oil level is too low. It is important to turn off your engine when this indicator shows up and check the oil level once it cooled down. Furthermore, it's important to get this fixed as soon as possible for the car's engine can wear instantly without proper lubrication.
Tire Pressure Indicator
When the tire pressure warning light shows up in the dashboard, it means that the pressure in one of the tires is too high or low. Inflating your tires with the proper PSI (around 30 to 35 PSI, depending on your car's manual) regularly has a lot of benefits: It increases the lifespan of your tires, adds more fuel efficiency, and provides a more comfortable ride.
Engine Temperature Indicator
Once the engine temperature appears in the dashboard, it means that your engine is overheated. It's very crucial to address this matter as soon as possible because it can cause a serious problem. Usually, consulting a trained mechanic is the best way to go.
Most of the time, cars get overheated when there is something wrong with the car's cooling system. Some of these problems include a damaged radiator fan, a system leak, a busted water pump, or clogged coolant hose. In some cases, the car simply lacks coolant or antifreeze.
Traction Control Symbol
When this symbol appears, it indicates that the car's traction control system is activated. The traction control system uses the anti-lock brake system to detect if one wheel is spinning faster than another. If it does, the car will toggle the brakes until it regains control. This feature is most valuable when driving in snow or in a very slippery road.
Anti-Lock Brake System Indicator
The Anti-Lock Brake System (ABS) helps your car maintain proper traction on the road while braking. The car's ABS normally self-checks itself on each turn it makes.  Once this symbol appears on your dashboard, it means that you car's ABS it's not working properly.
Engine Warning Symbol
When the vehicle's engine warning symbol appears, it calls the driver for an immediate check-up or pullover. There are multiple reasons for the engine warning symbol such as a misfiring engine, a loose, cracked, or open gas cap, low oil pressure, or overheating. Again, this warning symbol is one of the more urgent ones that need to be addressed immediately to avoid injury.
Battery Alert Indicator
This symbol shows that the vehicle's charging system has an issue. Most of the time, this symbol would indicate a damaged or loose battery or a broken alternator belt. It's important to fix car battery issues as soon as possible to keep your car from permanent damage.
Glow Plug Preheat Warning Indicator
A glow plug refers to a heating device for diesel engines that activates during the the car's start up to warm the engine. Normally, it takes about 10 seconds for the glow plug to regulate the engine's temperature. If you see the glowplug indicator flashing, it's very likely that the vehicle's glow plug system is defective.
Low Fuel Indicator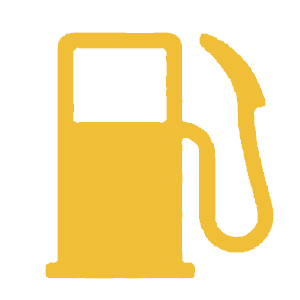 Most drivers who are not a fan of filling up their gas tanks regularly are very familiar with this symbol. When the fuel symbol shows up on the dashboard, it means that the car running low on gas or already using its reserves.
Seat Belt Indicator
The car's most common dashboard symbol is the seat belt indicator. When the seat belt sign shows up, it means that either the driver or a passenger is not using seat belts. Most modern cars today even have an alarm that beeps continuously if seat belts are not used when driving.
Airbag Indicator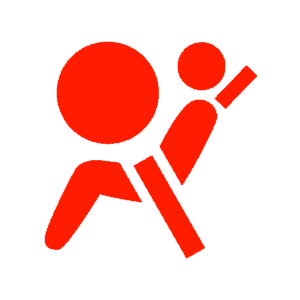 This feature indicates the condition of the car's airbags. This warning light only turns on if there is a problem with the airbag. Since airbags absorb impact during accidents, you probably shouldn't go anywhere without resolving this issue.
Washer Fluid Symbol
The washer fluid indicator tells us that the windscreen washer fluid reservoir is running out. If you get this prompt, it means your washer fluid is low and needs to get filled up. Since window washers help us see in low visibility, it's best to address this problem as soon as possible to keep safe.
High Beam Symbol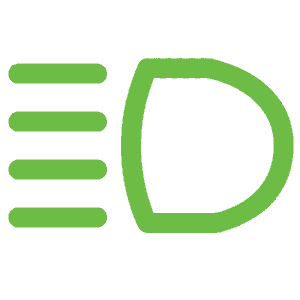 The high beam indicator refers to the intensity of the car's headlight. This symbol keeps you from unintentionally flashing the cars in front of you with a high beam light. Once you switch off your high beam lights, this prompt will disappear.
Low Beam Symbol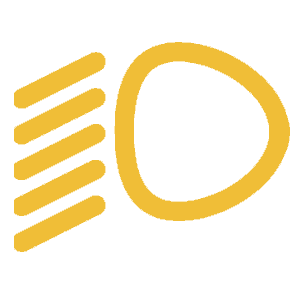 In contrast to the high beam that has straight horizontal lines, the low beam icon usually has slanting lines on the flat side of the D shape. Typically, low beam light provides more closer range illumination towards the ground for about 200 feet. Meanwhile, high beam light can illuminate distances for over 250 feet.
Signal Light Symbol
The signal light is one of the most important and basic dashboard indicators. Signal light or turn signals are flashing lights in any vehicle which shows that it's about to turn or change lanes. In the dashboard, its icon resembles the left and right arrow sign and usually flashes a green color when it's used along with a ticking sound when it's used. Furthermore, always double-check your dashboard after using the signal lights as it's the most common thing to overlook when driving. And by doing so, you're already helping other drivers to have a pleasant driving experience.
Hazard Lights Symbol
Once you press the hazard light button on your vehicle, it activates the front and rear signal lights to flash at the same time.
This display alerts other drivers that you are in a temporary hazard. You should only use your hazard lights for urgent situations such as troubleshooting car issues on the road. Moreover, it is not advisable to use hazard lights in heavy rain, since it will just bring confusion.
Front Fog Lights Indicator
Much like the high beam indicator, the front fog lights help drivers see in front of the vehicle in heavy fog or rain. This symbol simply indicates that you have toggled you front fog lights.
Rear Fog Lights Indicator
While the front fog lights are green, the rear fog light icon usually appears as yellow or amber. The rear fog light's main purpose is to reveal the position of your car when driving in low visibility.
Parking Brake Light Symbol
The parking indicator light shows that the parking brake or emergency brake is working. For automatic transmission cars, you must release its parking brake to be able to drive. If your car's parking brake light turns on and off intermittently while driving, you may want to try and add brake fluid first instead of rushing immediately into a mechanic.
Rain and Light Sensor
Usually, the car's rain sensor activates the wiper blades automatically to wipe your windshield in the rain. Meanwhile, the light sensor detects the amount of light coming through the windscreen, automatically turning the headlights on when there is not enough sunlight. That said, you'll get a prompt for the rain and the light sensor when there is an issue that may keep it from activating automatically.
Side Light Indicator
The sidelights are the small lights on the left and right front corners of the car. It's best to use sidelights when visibility is reduced without the extent of needing a headlight. The side light indicator will turn on when it's activated or when the normal headlights are on.
Door Ajar Symbol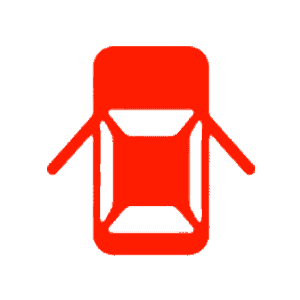 The car's door ajar indicator instantly illuminates in the dashboard when one of its doors is open or not properly shut. This indicator gives everyone peace of mind that all doors will not open accidentally when traveling.
Lamp Out Indicator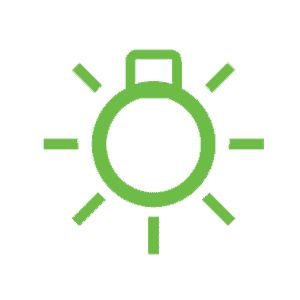 The lamp out indicator's icon is usually color green with a "sun-like" symbol. Once this indicator pops out, it means that one of the exterior lights on your vehicle isn't functioning properly.
Exterior Light Fault Indicator
When the car's bulb goes out or busted, the overall resistance in its circuit changes and affects the voltage for that circuit. When this happens, the car's system will detect it and displays the warning light. Unlike the lamp out indicator which detects a malfunction, the exterior light fault indicator means that an exterior light on your car isn't working completely. Furthermore, their icons are very much the same, except that the exterior light fault indicator has an exclamation mark in the middle.
Headlight Range Control
Cars such as Audi and BMW pioneered the headlight range control mechanism where the car adjusts its headlight intensity according to the speed and angle of the vehicle. The headlight range control indicator turns on if the car detects an issue with the headlight range control system. When the headlight range control appears in the dashboard, range control will be disabled until the problem is resolved.
Windshield Defrost Symbol
Since the air outside a car is often colder compared to the vehicle's temperature from the inside, the windshield tends to fog up. To prevent this, the windshield defrost mechanism will release a huge volume of air on the windshield to get rid of the build-up. When this symbol lights up, it means that the mechanism is in use.
Handbrake Indicator
The car's handbrake sign will illuminate once the handbrake is on. Some drivers, including seasoned veterans, can occasionally forget and drive with their hand breaks on, only notice only later when they're already kilometers away. It is never advisable to drive with the handbrake on. Thus, making it a habit to check the dashboard before stepping on the gas is a good practice.
Water In Fuel Filter Indicator
Most cars today have a fluid level sensor inside its fuel filter that tracks the amount of water that it has collected. If you see the water fuel filter symbol in the dashboard, it means that the filter has reached its maximum capacity. This also means that you have to empty out or replace the filter.
Eco Indicator Light
The eco indicator light helps every motorist to drive in a more fuel-efficient way possible. The vehicle's eco mode records the driver's acceleration and driving style prompting them when they consume too much gasoline. Once the driver pushes the accelerator very rapidly, the eco indicator light will turn off from the dashboard, reappearing once the car is back to a more eco-friendly acceleration.
Diesel Particulate Filter Indicator
For most diesel vehicles today, its system constantly monitors the soot level inside its filter to know when reinstallation is needed. As a result of incomplete fuel combustion, internal combustion engines produce soot. Once the soot level reaches a certain threshold (about 40 to 45%), the engine will actively do its best to reduce these levels. Usually, the filter warning light turns on to notify the driver of a build-up in soot level.
Rear Spoiler Warning Indicator
Similar to an airplane taking off, cars generate lift as it speeds up, pulling the car away from the road. Hence, to avoid the unnecessary lift, the rear-mounted spoiler has to create a downward force to offset the lift and keep the car's stability at high speed. Sometimes, too much lift can displace or damage a spoiler. As a result, the rear spoiler warning indicator will light up if it detects a fault in the spoiler system.
Key Fob Battery Low Warning Light
The Finger Operated Button (FOB) key allows its users to unlock all of the car's doors at the same time. It's crucial for drivers to monitor this feature, since a defect in a car's FOB can keep you from starting a vehicle or leave you stuck inside. To prevent this unfortunate event, you should always keep an eye on its warning light, which indicates that you have to replace your FOB battery as soon as possible.
Brake Warning Indicator
As soon as the Brake Warning Indicator appears in the dashboard, drivers should immediately go for a brake check-up. Simply put, brakes are a vehicle's most important safety feature. Moreover, a brake warning light can tell you that the car's brake fluid is low, or indicate a problem with the brake pads.
Automatic Gearbox Warning Indicator
Generally, all modern automatic transmission vehicles today are filled with sophisticated sensors that simultaneously checks its fluid level, fluid temperature, and pressure. The automatic transmission warning light indicates that there's a problem with the car's transmission, usually caused by fluid level, fluid temperature, or pressure. Automatic transmissions can cost an arm and a leg to replace, so it's also a good investment to keep this mechanism well maintained.
Trailer Tow Hitch Warning Indicator
Usually, the trailer tow hitch warning indicates that the tow hitch is unlocked or that there's a problem with the car's lighting system. This is a cause of concern when you're towing something and it appears in the dashboard. The best thing to do if it happens is to pull over and check if the hitch is fully intact and that all of the trailer lights are running.
Press Clutch Pedal
Some high-end manual transmission cars have a press clutch pedal indicator on its dashboard. The press clutch pedal light icon serves as a reminder that the clutch needs to be pressed before starting the engine. As soon as the driver releases the clutch, the icon will turn off and you can now start driving. The press clutch pedal's symbol usually appears as a yellow icon of a shoe with a circle around it.
Parking Assist Light Indicator
When parking assist is active, it flashes a green light in the dashboard, fucntioning to assesses the path. This mechanism keep the vehicle scratch and dent-free by detecting nearby objects. In some cars, this feature may automatically turn on when in reverse mode or at low speeds.
Catalytic Converter Symbol
Catalytic converters are one of the most environmentally-friendly inventions in modern vehicles. A catalytic converter decreases the pollutants and harmful gases in exhaust gas from an internal combustion engine.
If the catalytic converter shows up in your dashboard, it's technically safe to drive as long as you don't encounter any significant difference. However, it's important to get it checked in the long run if the problem persists.
Power Steering Warning Symbol
Driving with an activated power steering warning icon will make your car hard to maneuver. The power steering warning usually indicates a lack of power steering fluid or an urgent leak that requires consulting a mechanic as soon as possible.
Steering Lock Warning Indicator
The steering lock primarily keeps your car from theft. Since it only usually appears at startup, it's very rare to encounter this icon on the road. However, it's advised to park in a safe place and restart your car if you encounter this icon while driving.
Service Required Indicator
Since a car is mostly made up of metal, its engine parts need proper lubrication at all times to avoid metal-to-metal contact. This indicator serves as a reminder when it is time to change the filter, oil, or other fluids for the vehicle.
Stability Control Off Indicator
Most modern cars come built with a system that constantly monitors the traction control of the vehicle. If the car struggles to make traction, the stability control icon will flash. This symbol will stay in the dashboard as long as the car is not under control. If the icon stays on permanently, it could indicate a malfunction or that the system has been turned off manually.
Winter Mode Symbol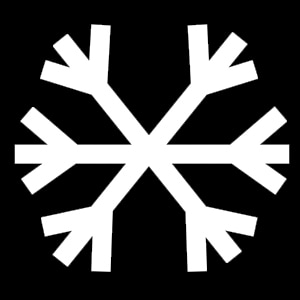 Once the car's winter mode activates, it will start running in its second or third gear. The vehicle's tires usually have good traction in these gears during winter, which prevents you from slipping or spinning. This symbol indicates that the car's winter mode is activated.
Speed Limiter Symbol
The speed limiter's main job is to prevent your car from traveling over a speed that you set personally. Once this icon appears, it means that this feature is in use.
Cruise Control Symbol
Contrary to the speed limiter which allows the driver to have full control, the cruise control feature takes over your accelerator, running automatically at its designated speed. Normally, the cruise control shuts off as soon as you step on the brakes, requiring you to set it up again.
Hill Descent Control Symbol
The hill descent control feature utilizes traction control technology with anti-lock brakes. The hill descent control will constantly adjust the braking pressure to prevent slippage and to support a constant speed in steep or inclined terrain.
Key Not In Vehicle Symbol
Another common car symbol is the 'key not in vehicle'. Cars who have this feature will automatically remind you by flashing a key icon in your dashboard if the key isn't detected in your car.
Hood Open Symbol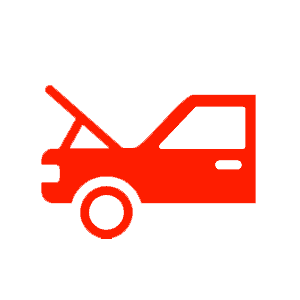 Newer vehicles have sensors that indicate whether the hood is open or closed. Most of these sensors are connected to the hood lock which detects if the hood of the vehicle is open. The sensor has a very small switch that activates the signal on the dashboard once the hood is open.
Trunk Open Symbol

The trunk indicator will turn on if the trunk is open or not properly closed. The indicator will turn off automatically after closing the trunk. If you still encounter this icon after closing your trunk, it may indicate a defective trunk locking system.
Lane Departure Warning Indicator
The Lane Departure Warning (LDW) feature uses a camera to track the road's lane markings. This feature detects when your car is drifting out of its lane, thus prompting you with the icon or a sound.
Car symbols can save your life.
Familiarizing yourself with different car symbols can be helpful for both drivers and passengers. Every year, car manufacturers invent new safety features to keep cars and their drivers more secure and comfortable. As a result, paying attention to these car symbols and recognizing their features can help keep you and your car from avoidable harm.