Police Officers Around The World
All over the world, police officers are in charge of ensuring public order and protection, enforcing the law, and preventing, reporting, and investigating illegal activity. Policing is the term for these operations. Research suggests that police accountability and transparency make the people around them feel safer.
We've discovered and put in facts about police officers that you will find interesting in this article. For example, the overall structure of the police force varies from country to country, depending on a country's needs. Smaller police groups focus only on specific towns, cities, and municipalities. It is also interesting to note that in other nations, members of their police force generally do not carry guns. In Norway, Britain, Iceland, and New Zealand, you won't see police officers with firearms on their hands. Maybe it's because there are low crime rates in those countries.
Now, imagine a town, a city, an entire country without police officers. A world without police officers may become a world full of chaos. We cannot trust humans to do the right thing all of the time. Want to know more about police officers? Go on and check out our facts about police officers!
Quick Facts
Essential Facts
Interesting Facts
More than 90% of police officers in London don't carry firearms while on duty.
There are more than 17,000 U.S. police agencies in the United States.
Around 11.9% of the police officers in the US are women.
About 33% of the police officer's time is spent in enforcing criminal law.
The first official and uniformed and centrally organized police force was established under the rule of King Louis XIV (King of France) in 1667.
"Bobbies" is the other term for England's police officers.
The police officers in London mostly rely on stun guns, handcuffs, and batons.
The police officer's primary job is to impose the law and provide peace and order.
China and India lead the world in police officers by numbers with around 2 million each.
Russia and the United States each have around 800,000 police officers.
China has around 150 police officers per 100,000 people.
Based on the country's population, the United States has approximately 250 police officers per 100,000 people.
Russia has around 500 police officers per 100,000 people.
There are around 300 police officers per 100,000 citizens around the world.
Canada, Switzerland, the United States, France, and Australia are the countries that offer a high salary for their police officers.
Canada's police officers have an average salary of over $100,000 a year.
American law enforcement agents can solve about 20% of all the reported crimes.
In the U.S., the first law enforcement officer that died in the line of duty was Darius Quimby in 1791.
More than 100 police officers were killed in the US in 2017.
Over the last ten years, most police officers have died on Friday while the lowest fatal incidents happened on Tuesday.
The best police force comes from Asia, North America, and Europe.
According to several surveys and studies, the countries with the best police forces in the world include Japan, United States, France, Italy, United Kingdom, Belgium, Germany, Netherlands, Canada, China, and Australia.
Afghanistan's Ministry of Interior Affairs is in charge of the national police force.
The Afghan National Police (ANP) is the law enforcement agency of Afghanistan. It has a single law enforcement agency in the whole country. It is under the command of Wais Barmak, the head of Afghanistan's Ministry of Interior. As of December 2018, the total number of members of the ANP is 116,000.
The Afghanistani police force is accused of extorting money and violating human rights. They also allegedly release criminals from prison.
Thai police officers have to wear a Hello Kitty armband as punishment.
In Thailand, male police officers wear a large bright pink Hello Kitty armband if they misbehave. This is a punishment for minor offenses such as illegal parking and littering. The officer has to wear the armband for a few days, and he is not allowed to disclose his offense to others.
Marie Owens was the first female police officer in the United States.
Marie Connolly Owens joined the force in 1891 with the Chicago Police Department and retired in 1923. Marie Owens started off initially as part of the board of sanitary inspectors, where they saved underaged workers from employers and finding support for these children. Her dedication to her job impressed the Chief of Police, who recruited Marie Owens into the detective bureau.
Most European police have the authority to arrest a suspicious person.
In the United States, the police officer cannot arrest people without reasonable grounds. However, in most European countries, this has always been the practice, as a security measure to restrain violent individuals. This is also to protect other individuals as well as themselves.
A district in India encourages the police officers to grow mustaches.
Good news for the male police officers in Madhya Pradesh, India! Any officer who grows a mustache gets an extra allowance. Higher-ups believe that if an officer has a mustache, they will earn more respect. They also believe it will improve the officers' personalities. One of the quirky facts about police officers, indeed!
Israel has around 70,000 Civil Guard volunteers.
The Israel Police started in 1948. They have different tasks, such as maintaining public order, road traffic control, detective work, anti-drug operations, riot and crowd control, and dismantling explosives.
The Israel Police have more than 35,000 individuals on its payroll. Plus, it has around 70,000 Civil Guard volunteers. They give their time to assist their police officers in their respective communities.
The police in Iceland don't carry firearms.
Iceland is one of the safest countries in the world, with fewer than one murder case every year. This probably explains why the police in Iceland do not carry guns. Instead, they rely on batons and MK-4 OC-spray (pepper spray). Only the local SWAT team possesses firearms and they're activated only when needed.
You can check out their Instagram page to see how approachable the Icelandic police are!
New Zealand initially used Britain's police system.
New Zealand's police force had a similar system to Britain's. They also had constabularies. Today, New Zealand Police officers do not carry firearms regularly. They rely on batons, tasers, and pepper spray. Airport officers and diplomatic protection squad, however, need to carry firearms while on duty.
The Royal Canadian Mounted Police (RCMP) is Canada's police force.
The RCMP is in charge of keeping peace and order in all the provinces of Canada, except in Quebec and Ontario. They also do local policing in the territories of Nunavut, Yukon, and Northwest Territories. Known as "Mounties", these policemen ride on horses to travel from place to place. Mounties still use horses once in a while when there are ceremonial events.
The Royal Malaysia Police works with neighboring countries and police forces worldwide.
The Royal Malaysia Police headquarters is at Bukit Aman, Kuala Lumpur. It currently has more than 130,000 sworn members. They all cooperate closely with police forces worldwide, especially with neighboring countries' police forces.
The Belgian police forces receive good training.
Belgium has one of the world's best police forces. Its police academies offer specialized, basic, revision, and superior courses for its members. Belgium's Federal Police Special Units are well-versed in the advanced weapon systems. They have different weapons such as machine guns, sniper rifles, and grenade launchers in their arsenal.
The National Police Agency is the Japan's law enforcement agency.
The National Police Agency or NPA is the primary agency of the Japanese police system. The NPA is the main coordinating agency of law enforcement during emergency situations. The NPA doesn't have its own operational units, but it oversees Prefectural Police Departments and regulates the general policies and standards.
Mexico has around 365 police officers per 100,000 people.
Mexico's law enforcement has three divisions. They are the municipal or local entities, federal forces, and state forces. In addition, it has around 365 police officers per 100,000 people. Although these numbers may sound a lot, they are currently experiencing systemic corruption. To add to that, police personnel are underpaid and do not have adequate training.
Kenya's police force needs a reform.
Citizens of Kenya consider its police force as one of the most corrupt agencies in the country. This is because they violate human rights, take bribes, and do not focus on law and order. On a more positive note, various reforms are in action.
This article belongs to Facts.net and may not be reproduced, copied, edited, published, transmitted, or uploaded in any way without the permission of Facts.net.
The Cuban police is efficient in crime control.
The National Revolutionary Police Force handles Cuba's law enforcement. Cuba's crime rate is low compared to other major nations around the world. The Cuban police are one of the most efficient in crime control, especially in the country's capital, Havana. According to reports, the murder rate in Cuba is only 4.6 per 100,000 people. This is one of the lowest in South America and the Caribbean.
The Iraqi Police is facing many challenges.
The Iraqi Police or IP is the official police force of Iraq and responsible for enforcing its civil law. A significant amount of its police force is deep into corruption. They have done bribery, kidnapping, and other illegal activities. Due to this, the welfare of the country's citizens has not been prioritized.
All 26 cantons in Switzerland have law enforcement.
Each "canton", or state, has police agencies that can operate alone. In case of an emergency, people can contact them by dialing their hotline: 1-1-7.
The armed national police force in the Philippines has 12 operational units.
The Philippine National Police (PNP) has a total of around 205,000 personnel. It has a total of 12 separate operational units with respective functions. They have units such as the Special Action Force and Criminal Investigation and Detection Group.
The Japanese government established the first official police force in Taiwan.
The Japanese government established the first official police force in Taiwan around 1895. Recently, Taiwan's police force encountered new challenges such as police corruption. Nevertheless, the general public still has a positive perception of its police force. The National Police Agency of Taiwan manages all forces on the national level. Historical facts about police officers.
Italy's law enforcement has three national agencies.
Italy's law enforcement has three national agencies. They are the Polizia di Stato, the Carabinieri, and the Guardia di Finanza.
The Carabinieri's primary job is to provide general domestic policing duties. Polizia di Stato focus on cities and larger towns. This includes highway patrol, customs, airports, and waterways. Guardia di Finanza is a militarized police force. It specializes in fighting smuggling illegal goods, drug trade, and other financial crimes. The Guardia di Finanza manages over 500 boats and ships. It has at least 100 planes in its fleet, these planes patrol throughout the country.
Serbia's police force was formed on December 30, 1807.
The Serbian Police or Police of the Republic of Serbia is the country's civilian police force. The Serbian Police enforces the local and national law. They are under the Ministry of Internal Affairs' jurisdiction. The General Police Directorate has more than 10 organizational units. It also has at least 25 Regional Police Directorates.
The Police of Russia is the country's federal law enforcement agency.
It replaced Militsiya in 2011, the former police force of the Soviet Union. The Police of Russia is currently the country's federal law enforcement agency. It operates under the Ministry of Internal Affairs.
Former Russian President Dmitry Medvedev started the Russian police reform. This is a continuous effort to enhance the efficiency of the country's police forces. They also want to fight corruption, and to develop a better public image of law enforcement.
Colonial authorities have established the Somali Police Force in 1926.
The British have formed an armed constabulary to guard the northern coast in 1884. It became Somali Coastal Police in 1910. Then, it changed to Somali Camel Constabulary two years after. Finally, in 1926 the Somali Police Force is born. It is now the main civil law enforcement agency in Somalia. It maintains the country's public safety, handles traffic control, and fights crime and terrorism.
Night watchmen were amongst the first "police officers" in Jamaica.
The Jamaica Constabulary Force maintains law and order in Jamaica. The country's policing history started in the early 1700s. Night watchmen assisted the cities of Kingston, the parishes of Saint Andrew & Saint Catherine, and Port Royal. In 1832, Jamaica established its mainstay police force. They eventually had an Inspector General by 1835. Interesting facts about police officers!
The Royal Barbados Police Force is a full member of Interpol.
The country's police system has been there since the 1830s. It just modified through the years. The Royal Barbados Police Force (RBPF) has been responsible for law enforcement since 1961.
The RBPF has 5 operational divisions: Criminal Investigations Division, Bridgetown Division, Operations Support Division, Northern Division, and Southern Division. The RBPF is a full member of the International Criminal Police Organization or Interpol since 1981.
South Africa has around 150,000 police officers.
The South African Police Service (SAPS) is South Africa's national police force. SAPS has more than 1,000 police stations throughout the country. There is a Provincial Commissioner assigned in each province. SAPS officers usually carry a Vektor Z88 9mm pistol and pepper spray with a reserved R5 rifle.
BBC added TV show Line of Duty in its Top 50 BBC Two shows of all time.
Line of Duty is a BBC police procedural television series. It is one of the most popular drama series on BBC with more than 4 million viewers. The series first premiered on June 26, 2012. It already has five seasons with the production of the sixth one halted by the COVID-19 pandemic.
It is the mayor who appoints the NYPD Commissioner.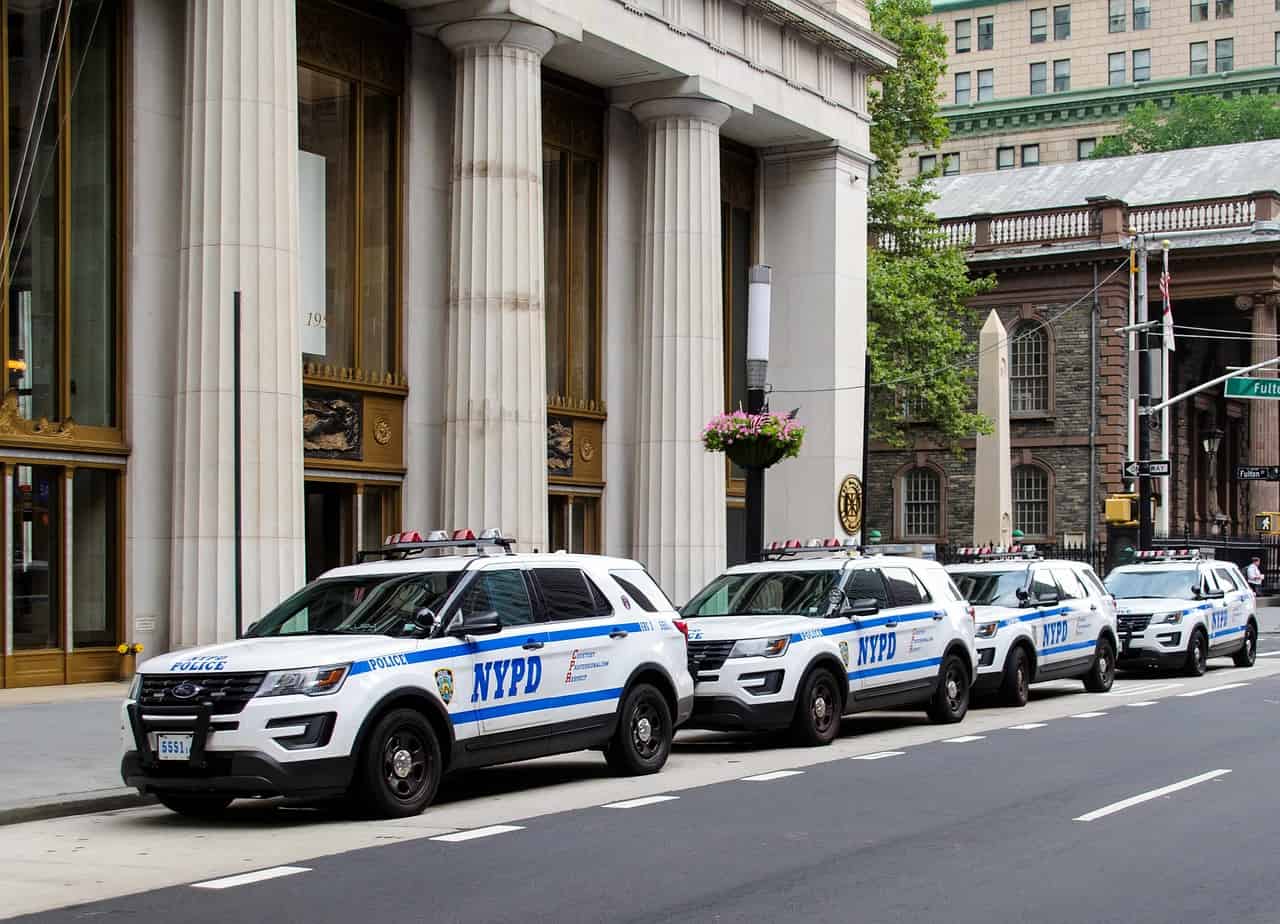 The New York City Police Commissioner is the head of the New York City Police Department, which is a role the mayor can grant to someone. The Commissioner has the responsibility of the day-to-day operations of their department and has the authority to appoint deputies and subordinate officers.
One of the first requirements of being a police officer in the United States is citizenship.
The applicant must provide proof of U.S. citizenship during the selection process. In addition, they need a high school diploma or a general education diploma, or an undergraduate course. For the age requirement, the applicant must be at least 21 up to 39 years of age. It is a must to have a state-issued driver's license and completion of a full background investigation.