Pablo Escobar Facts
Although it's for the wrong reasons, Pablo Escobar is arguably one of the most successful people in the world. Through a clever understanding of the system and many connections, Escobar operated a business model way ahead of its time. Even with the help of the United States, the Colombian government often went on many wild goose chases just to stop him. At his prime, his influence and power almost rivaled that of a country's president. Know more about the drug kingpin with these Pablo Escobar facts.
Quick Facts
Essential Facts
Interesting Facts
Pablo Escobar was born on December 1, 1949.
Pablo Escobar had 2 children: Sebastián Marroquín and Manuela Escobar.
During Pablo Escobar's era, his net worth is around $30 billion or equivalent to nearly $60 billion in today's money.
In 1989, Forbes magazine declared him as the world's 7th-richest man.
Pablo Escobar died on December 2, 1993, just a day after this 44th birthday.
Pablo Escobar became notorious as a Colombian drug kingpin.
His full name was Pablo Emilio Escobar Gaviria.
Pablo Escobar was born in Rionegro, Antioquia, Colombia.
Pablo's father was Abel de Jesús Escobar Echeverri.
Pablo's mother was Hermilda de los Dolores Gaviria Berrío.
During his time, Pablo Escobar became known as "The World's Greatest Outlaw." In other words, anyone was legally empowered to persecute or kill him.
Pablo Escobar was also known as Don Pablo (Sir Pablo), El Padrino (The Godfather), and El Patrón (The Boss).
Maria Victoria Henao was Pablo Escobar's wife.
His cousin Gustavo de Jesús Gaviria Rivero acted as his right-hand man.
Gustavo Rivero managed his illegal business operations and handled the finances and trade routes.
Pablo Escobar may be the most successful drug lord the world has ever known.
He studied at Universidad Autónoma Latinoamericana of Medellín although he left the school before graduating.
The famous Netflix series Narcos is based on Pablo Escobar's life and his journey.
Brazilian actor Wagner Moura played the role of Pablo Escobar in Narcos.
Moura gained 40 pounds for the role to look like Pablo Escobar.
Pablo Escobar got married at age 26.
Maria Victoria Henao was only 13 years old when she and Pablo first met at her hometown in Envigado, Colombia. Maria Victoria Henao was only 15 when she married the 26-year-old Escobar.
Pablo's wife endured a terrifying environment.
The Henao family discouraged Maria's relationship with Pablo for good reason. Married at an early age, Escobar's wife had to endure a terrifying environment of violence and anxiety, as her husband went on to be the biggest drug lord of his time. See one of Escobar's romantic conquests through the years here.
Juan Escobar is the real name of Pablo's son.
Sebastián Marroquín's real name is 'Juan Pablo Escobar Henao.' According to reports, Juan Escobar changed his name to "Sebastián Marroquín" for he believed that his real name was cursed by a voodoo priest he that he met in Mozambique.
Sebastián Marroquín had a change of heart.
Marroquín admitted to wanting revenge for what happened to his father and planned to continue his father's crime legacy. However, he had a change of heart and even fostered a good relationship with the sons of various Colombian officials.
Pablo Escobar's illegal activities started during his teenage years.
Pablo Escobar's parents worked as a farmer and a school teacher. According to reports, he started with petty crimes such as selling fake diplomas when he was a teenager. Then, he added the falsification of report cards. Soon, he started selling smuggled stereo equipment and stolen tombstones.
Escobar was first arrested in 1974.
A car theft incident marked Pablo Escobar's first arrest in 1974. However, he already rose up the ranks as a drug smuggler and founded the crime organization known as the "Medellin Cartel" 2 years prior to this arrest.
Escobar founded his Cartel at Medellin, Colombia.
Escobar first created this ruthless, highly organized Colombian gang in 1972. Led by Escobar, the group functioned as a drug cartel and a terrorist-type criminal group at the same time. This originated in the city of Medellin, Colombia. One of the Pablo Escobar facts that started everything.
At his peak, Pablo Escobar earned $420 million a week.
The Medellin Cartel dominated the cocaine industry during its peak. At this point, Pablo Escobar earned approximately $420 million weekly. This made him one of the richest and most powerful people across the globe.
Escobar tried to pay off Colombia's debt.
He had an extravagant lifestyle including luxurious homes and private planes. According to some reports, he tried to pay off Colombia's debt worth $10 billion in exchange for freeing him from any extradition arrangement. How's that for strange Pablo Escobar facts?
He burned real money to keep his family warm.
Escobar reportedly burned around $2 million to keep his family warm on cold nights during their run in the early 90s. As they moved from place to place, Pablo would sometimes blindfold his family every two days because he didn't want them to know where they were.
Pablo Escobar had many properties.
Pablo Escobar had an enormous fleet of airplanes, helicopters, yachts, and also had numerous houses across the country. Colombian authorities alone confiscated some of his properties, comprised of 141 houses, 142 planes, 20 helicopters, and 32 yachts.
He tried to run for Congress.
In the 1980s, the people of Moravia felt neglected but the Colombian government. Meanwhile, Pablo Escobar joined the picture and ordered to construct 1,000 new houses, a soccer field, and as a sanitation system.
According to reports, he found common ground with the poor people and planned to take the opportunity to win their votes in his run for Congress.
Pablo Escobar wasn't able to spend all his money.
Despite Escobar's efforts, he wasn't able to spend all the money he made, nor hand it over to his family. Instead, Escobar's riches remained hidden in fields and warehouses. According to his brother, around $2.1 billion of his stash decays yearly. To this day, people still try to locate these riches with little to no avail.
Pablo Escobar surrendered to the government in 1991.
Pablo Escobar surrendered to the government in 1991 through a no extradition deal with the former President of Colombia, Cesar Gaviria. This is along with an agreement that Escobar will be placed in a self-built prison known as "La Catedral".
La Catedral is also known as "Hotel Escobar" or "Club Medellín".
La Catedral or Escorbar's self-built prison has an overlooking view of the city of Medellín and built to specifications ordered by Pablo. He might have surrendered himself, but this self-built prison was like a vacation getaway – it was pretty much a mansion with complete entertainment facilities, a football pitch, bar, jacuzzi, and giant dollhouse reportedly filled with prostitutes.
Going inside La Catedral was also a defensive move.
Pablo Escobar also had a chance to choose who would go with him inside La Catedral. Pablo brought some of his most loyal guards and continued his illegal businesses inside the self-built prison through his outside connections.
Above all, many assumed that Pablo staged his imprisonment as a hedge against his other cartel enemies, protecting him from assassination attempts. Isn't that one for clever Pablo Escobar facts?
The Medellín Cartel had 2 major rivals.
If you've seen Breaking Bad, you'd be familiar with the power struggle between rival cartels. For the Medellín Cartel in particular, they competed with the Cali Cartel led by Gilberto and Miguel Rodríguez. Escobar's cartel also had to face conflicts with the Los Pepes, a vigilante group made up of Escobar's enemies.
The Medellín Cartel had 5 major allies.
Conflict with competition and government agencies aside, the Medellín cartel also had its fair share of business partners. Within the same industry, Escobar's allies included the Guadalajara Cartel and the Gulf Cartel. Aside from these cartels, Escobar also worked with the Muerte a Secuestradores, La Corporación, and Los Priscos.
Of all these groups, the Gulf Cartel is the only operating cartel to this day. Founded in the 1930s, this cartel is currently known as "Cártel del Golfo."
Pablo's cartel mainly operated in Colombia, New York, Florida, and Mexico.
Pablo Escobar's Medellín Cartel lasted until the year 1993. At its peak, its major territories included Colombia, New York, Florida, and Mexico. Aside from dealing drugs, the cartel also became notorious for kidnapping, arms trafficking, bombing, terrorism, and murder among other crimes.
Pablo Escobar supplied at least 85% of the world's cocaine market.
Although Pablo Escobar operated in a few countries, his cartel supplied over 85% of the world's cocaine market at a certain point. At the peak of its operations, the Medellín Cartel smuggled an outrageous volume of cocaine every week all over the world.
His brother helped him in their drug business.
Aside from alliances, Escobar also had help from his family. His brother, Roberto de Jesús Escobar Gaviria, also aided him in his illegal operations. Also known as "El Osito" or "Little Bear", Gaviria managed some areas of accounting and led the smuggling of cocaine in the United States.
Pablo Escobar ordered the bombing of Avianca Flight 203.
According to investigations, plastic explosives were used to detonate Avianca Flight 203. Pablo Escobar ordered the bombing, believing that the flight held the presidential candidate César Gaviria Trujillo as one of its passengers.
On the other hand, some believe that Pablo assumed that some of his drug-trade rivals were on the flight. No matter what his reason was, the explosion still had over 100 fatalities, leaving no survivors.
He is the richest drug dealer of all time.
With a net worth reaching a present-day equivalent of $56 billion, Pablo Escobar remains the richest drug dealer of all time. He holds this distinction over other notorious drug kingpins such as Amado Carrillo Fuentes, Dawood Ibrahim Kaskar, and Joaquín "El Chapo" Guzmán of Mexico.
Pablo Escobar has been photographed at the White House.
Pablo Escobar started his cocaine ventures in the early 70s with his cartel allies. Interestingly, he had a rare photo with his family standing in front of the White House in 1981 as a civilian. Furthermore, about the same year, Escobar and his family also went to Disneyland via a first-class trip. How's that for unlikely Pablo Escobar facts?
He ordered the killing of numerous civilians and government via.
Throughout Pablo Escobar's Escobar drug-dealing career, he's accountable for claiming many lives. Escobar's drug reign has killed at least 4,000 civilians, 1,000 police officers, government officials, and journalists, as well as 200 judges.
Escobar used airplane's tires to smuggle cocaine.
According to some reports, one of Pablo Escobar's smuggling trademarks is hiding the cocaine inside old plane tires, thus making it harder for the authorities to track during those years.
Escobar bought a lot of rubber bands to organize his money.
Since Pablo Escobar couldn't deposit all his money into banks, he would use lots of rubber bands to keep his cash intact. Thus, every month, Pablo would spend more than $2,500 on rubber bands alone just to hold his paper bills. Definitely one for novel Pablo Escobar facts.
Pablo Escobar owned two submarines.
While it's true that Pablo Escobar owned hundreds of vehicles and properties, part of his "smuggling innovation" was transporting his cocaine to the U.S. via submarines. How's that for crazy Pablo Escobar facts?
Carlos Lehder was the co-founder of the Medellín Cartel.
German-Colombian drug lord Carlos Enrique Lehder Rivas co-founded the Medellín Cartel and the Colombian paramilitary group, Muerte a Secuestradores. Carlos also became an important piece of Pablo's illegal business as these paramilitary groups manage a huge majority of drug trades.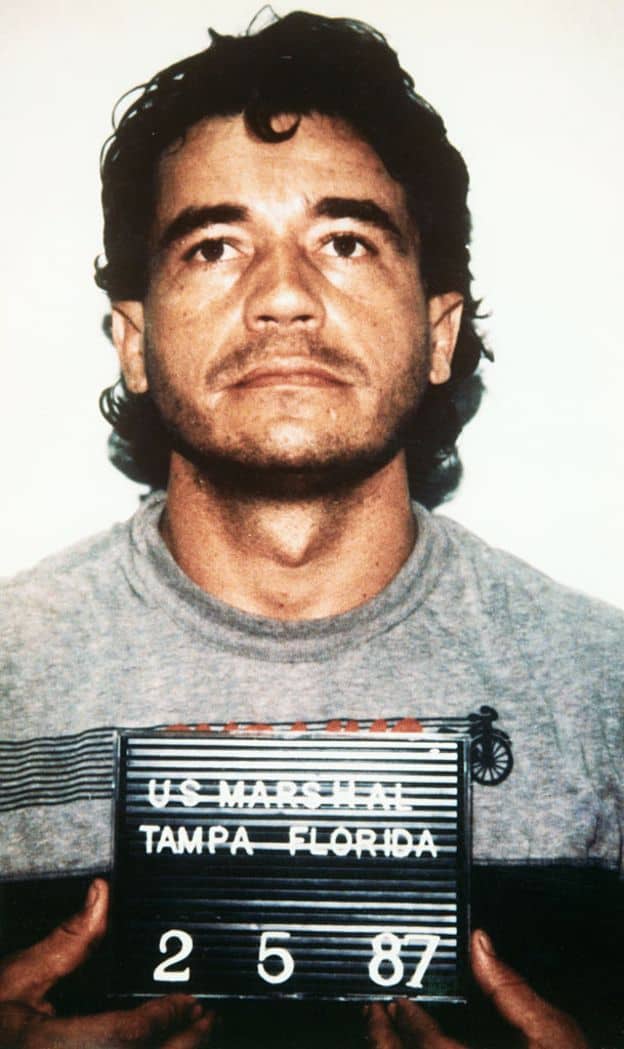 Pablo Escobar had a private zoo in Puerto Triunfo.
Among his many properties, Escobar owned a hacienda in Puerto Triunfo, Antioquia, Colombia. Known as Hacienda Napoles, Escobar had a private zoo which included wild animals such as elephants, hippos, and giraffes. To this day, hippos still roam the land.
Hacienda Napoles became a family theme park after the death of Pablo Escobar.
In 1993, the Colombian government demolished the buildings and structures of Hacienda Napoles. After two decades, a private company rented the place and transformed it into a huge amusement park.
Escobar was shot dead by the Colombian National Police.
Roughly a year and a half after his escape from La Catedral, he spent the rest of his life running from the authorities. On December 2, 1993, he sustained a fatal gunshot through the ear, leg, and torso from the Colombian National Police.
The Colombian electronic surveillance team used radio trilateration technology to track Escobar.
Pablo Escobar died in Los Olivos, a middle-class barrio in Medellín, Colombia. Brigadier Hugo Martínez led the Colombian electronic surveillance team by using radio trilateration technology to track Pablo Escobar's radiotelephone transmissions. From there, they were able to locate and corner him.
Escobar's relatives believe he committed suicide.
It has never been recorded who made the final gunshot to Pablo Escobar's ear. Moreover, Pablo's relatives even assume that he committed suicide since Escobar always said he would shoot himself through the ear if he had no chance to escape. Definitely one of the more mysterious Pablo Escobar Facts we may never know the answer to.
Manuela Escobar is the only family member without criminal charges.
The only family member that is "clean" from the crime of Pablo Escobar is his daughter, Manuela Escobar. Manuela was 9 years old when her father died and had a very low profile lifestyle since then.
Manuela Escobar suffered severe depression.
In contrast to Sebastián Marroquín, the brother of Manuela Escobar who became relatively close to the public, Manuela dodges the crowd and avoids social media. Moreover, according to reports, she went into a severe depression in 1999 and even attempted to commit suicide.
The death of Escobar was just the beginning of the war against drugs.
To many, the death of Escobar served as a huge victory for the war against drugs. However, after his death, other drug operators such as the Cali Cartel just took Pablo Escobar's throne until the mid-1990s. Although the Cali Cartel no longer exists today, the massive illegal drug business today is as strong as ever through a new breed of drug lords.
Pablo Escobar built a "Robin Hood" reputation.
When Pablo Escobar started to build houses for poor communities, he started to have a "Robin Hood image." When Pablo Escobar died, more than 25,000 people attended his funeral, with some even considering him as a saint and praying to him for blessings. One of the essential Pablo Escobar facts to know why some people liked him despite his crimes.