If you grew up in a Christian household, there's a high chance you've seen images of her, or have your aunts or mothers post quotes, or even facts, by Mother Teresa on Facebook. If you were born with a different religion, you may have seen her image nonetheless, because of her overwhelming popularity when she was still here with us. They called her by the name, Mother Teresa of Calcutta. She also goes along with titles such as Mama Teresa, St. Teresa of Calcutta, and the Blessed Teresa of Calcutta. But who was Mother Teresa? What did Mother Teresa do?
She founded the Order of the Missionaries of Charity in India and then began a journey that would lead to international support. She also received many awards because of this. Moreover, you may easily pick up a Mother Teresa biography article on the internet with little effort. However, there are also some facts that can be easily misplaced with the miraculous life of Saint Teresa of Calcutta. Listed below are fifty Mother Teresa facts that will give you a glimpse of the amazing life she led.
Quick Facts
Essential Facts
Interesting Facts
Mother Teresa joined the Sisters of Loreto in 1928.
Before realizing her true calling, Mother Teresa taught Indian students for 17 years.
She founded Nirmal Hriday in 1952.
The Missionaries of Charity reached over 90 countries during her role as Superior General.
Her order grew into 4,000 nuns, and more than a hundred thousand lay workers at the time of her death.
Mother Teresa was baptized on August 27, 1910
She died of a heart attack on September 5, 1997, in Calcutta.
Saint Teresa was canonized on September 4, 2016.
Her feast day is September 5, the same day of her death.
Mother Teresa was born on August 26, 1910.
Her real name is Agnes Gonxha Bojaxhiu.
The Saint, Mother Teresa, was adamant about her purpose as early as twelve years old.
She received the Nobel Peace Prize for her humanitarian endeavors in 1979.
Mother Teresa has a shrine dedicated to her name, Mother House of the Missionaries of Charity, in Kolkata, West Bengal, India.
Her parents were Nikolle and Dranafile Bojaxhiu.
Mother Teresa used to pray daily. Her prayer has been called Mother Teresa's Prayer, and involves praying for Christians to remind themselves of the true meaning of charity.
There are four prayers to St. Teresa of Calcutta.
Mother Teresa performed two miracles: curing a man of brain abscess, and curing a woman with a lump in her abdomen.
In her words, she says that she is Albanian by blood, Indian by citizenship, a catholic nun by religion, but she belongs to the world. Her heart, however, belongs only to Jesus.
India released a commemorative ₹5 coin during Mother Teresa's 100th birth anniversary.
Mother Teresa was only 18 when she left her parents' home.
When Mother Teresa was eighteen, she traveled to Ireland to become a member of the Sisters of Loreto. She stayed there for six weeks in the Institute of the Blessed Virgin Mary before she went to India. She became a teacher in the Sisters of Loreto's branch in India for seventeen years before realizing her true calling. Although she became a popular and world-renowned figure, Mother Teresa never saw her mother or sisters ever again after her departure to the Sisters of Loreto.
She was fluent in five languages.
A fun fact about Mother Teresa is that she was fluent in Hindi, Bengali, Albanian, English, and even Serbian. While learning one language is hard enough, a great benefit of her speaking multiple languages was being able to communicate with people from all across the globe.
Saint Teresa was actually born during the Ottoman Empire's occupation of Macedonia.
Mother Teresa was born in Skopje, Macedonia. But during her time, it wasn't called Macedonia, but the Ottoman Empire. The Ottomans invaded Macedonia in 1371 and their occupation lasted up to 1912.
The Indian Government gave her a state funeral.
For the Indian government, Mother Teresa was a public figure that saved many of their citizens' lives and education. As such, they made sure she had a state funeral during the time of her death. The honor of a state funeral is mostly reserved for politicians and heads of state. Having a state funeral for Mother Teresa was one of the highest forms of respect the Indian Government could give her.
The Indian Government gave her priceless awards for her service.
The citizens and government of India were grateful to Mother Teresa and recognized her efforts. The first award was in Padma Shri in the year 1962. Following that was the Jawaharlal Nehru Award for International Understanding in 1969. Finally. In 1980, she received the highest civilian honor there is for India: the Bharat Rhatna.
Mother Teresa experienced a call from Christ on a train.
She retold the story that she was on a train when she heard the voice of Christ. She called it "a second calling" or "a call within a call." It happened in the year 1946 in September. Mother Teresa was on that train from her annual retreat when she heard Christ's voice telling her to go to Calcutta and serve the poorest of the poor.
She established a place for the terminally ill and the lepers of the community.
Alongside the Missionaries of Charity, Mother Teresa established Nirmal Hriday. Another name for Nirmal Hriday was The Place for the Pure of Heart. It was a place of refuge for those who sought to die with dignity and peace.
Other than Nirmal Hriday, she also built a small town for lepers. The people named the town Shanti Nagar, also called the Town of Peace. Shanti Nagar is located near Asansol in India. In Shanti Nagar, lepers could live and work in peace. The government of India even donated the land to aid Mother Teresa.
Mamata Banerjee made a train express in her honor.
The Railway Minister, Mamata Banerjee, commemorated Mother Teresa's 100-year birth anniversary by creating an exhibition train called "Mother Express." It was a train that had three air-conditioned coaches that exhibited messages and moments in Mother Teresa's life. It traveled for half a year around the country in 2010.
Some critics believe that Mother Teresa was bad.
The words "Mother Teresa", "bad", and "critics" are hard to swallow if you've seen the things she's done for the poor. Still, there are theories suggesting that she was actually a cruel woman. A notable critic of hers was Christopher Hitchens. He claimed that Mother Teresa was wrong for accepting support from questionable sources. Hitchens believed that Mother Teresa was a "religious propagandist" and a sadist who enjoyed the suffering of others. Christopher Hitchens said this because of what he claimed to have seen in Nirmal Hriday. According to Hitchens, medical relief was nowhere to be found and was instead a horrible place of death.
The traditional Sari was first worn by Mother Teresa when she left the Sisters of Loreto.
While it wasn't intentional, Mother Teresa's trademark white sari with blue stripes became a staple uniform for members of the Missionaries of Charity. When she departed from the Sisters of Loreto, Mother Teresa found her sari in Harrison Road on her way to Calcutta. Biswajit Sarkar, the pro bono lawyer of the Missionaries of Charity, ensured Intellectual Property rights regarding the sari.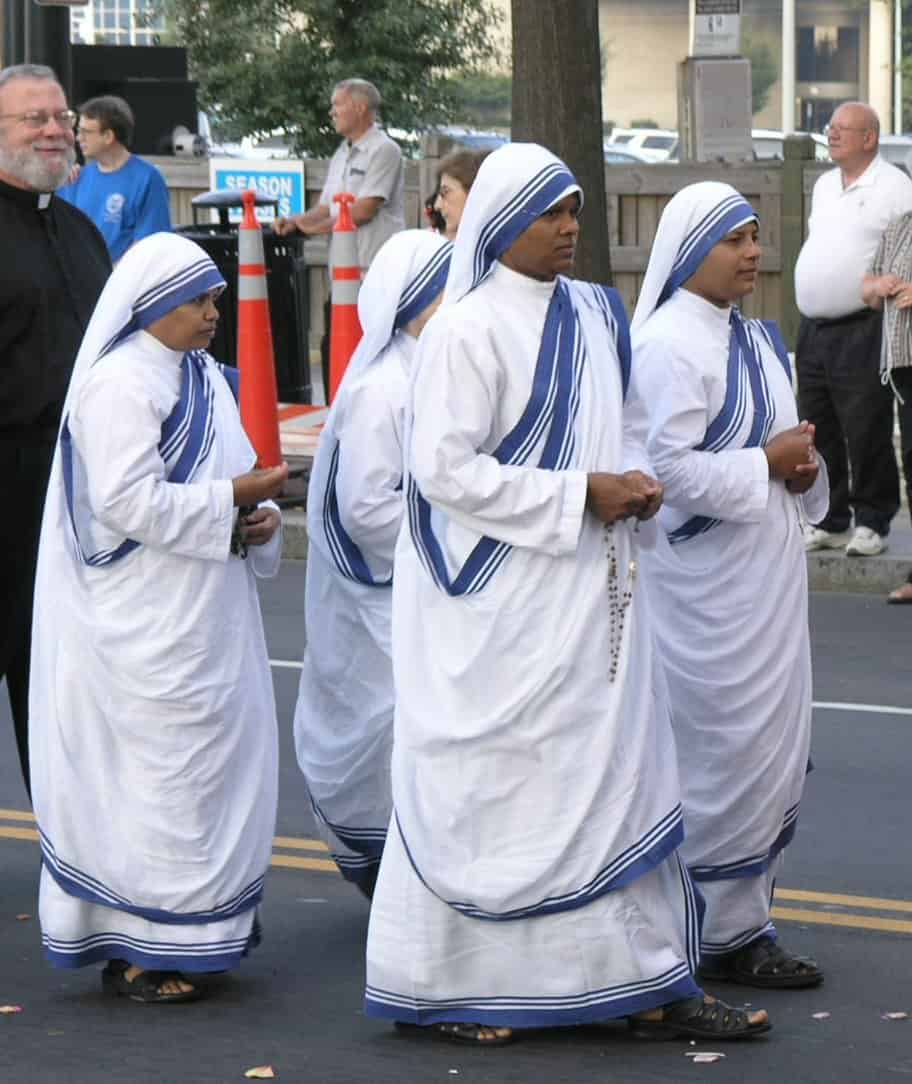 There are theories regarding Mother Teresa's net worth.
Mother Teresa's net worth during the time of her life is unknown. Her order was given a lot of support, but their facilities were far from even moderate. Many people criticized her leadership when it was found that there was no quarantine section for tuberculosis patients, nor any pain relievers.
The New York Times published that Mother Teresa's organization was, in fact, one of the richest in the world, and most of the money she had was actually stored in safety. Whether the Vatican received the money she left behind or not, however, is a different matter.
Mother Teresa was harshly against abortion and divorce.
During her time, Mother Teresa was heavily against both abortion and divorce. She once spoke out against abortion and said that it was one of the greatest threats to peace because of a child's death and a mother's conscience. For divorce, she wrote a public letter to Ireland during their debate on the country's divorce law. Her concern stemmed heavily on the fate of the children involved and the vow the married couple gave in front of God and the Church.
She had troubles with her own faith.
Mother Teresa's struggles with her faith weren't revealed until after her death. She wrote letters to a close ally that her lack of faith started almost immediately after she followed the call to serve the people of Calcutta. In fact, her cheerful personality and smile were things she considered to be a mask she wore to the public, even often describing herself to be alone and tortured by the lack of God's presence. Sometimes she even doubted the existence of God himself because of this.
Dranafile heavily influenced Mother Teresa's teachings.
Mother Teresa's mother was philanthropic. Dranafile was always opening her doors to the poor and feeding them. She often told her daughter not to eat alone and share whatever she had with others. Dranafile Bojaxhui's actions piqued Mother Teresa's interest in charity.
She met Princess Diana of Wales.
St. Teresa of Calcutta had a personal relationship with another philanthropic figure, Princess Diana. Their connection wasn't that strange, to begin with, since both of them had a lot in common. Both of them were powerful figures that did humanitarian efforts which changed many lives.
When the two would meet, they would discuss in private and pray together spanning thirty to forty minutes. Mother Teresa described Princess Diana as an exemplary mother, wife, and empath to the poor. The rosary was even placed in Princess Diana's hands when she died.
There are movies, and books made to tell her life story.
Authors and filmmakers were inspired to make movies and books regarding her journey to becoming the Living Saint. Unfortunately, Hitchens also made a TV documentary about her called "Hell's Angel." While Hitchens' documentary may be very infamous, there are far more movies discussing Mother Teresa's biography. They focus on her relationship with God and her services to the poor.
Many authors made biographies on the life of Mother Teresa. Other folks have collected her wisdom and compiled them into books for reading.
Former President Ronald Reagan gave her an award as well.
In 1985, President Ronald Reagan and his wife gave Mother Teresa the Presidential Medal of Freedom. While the medal is most definitely given to Americans who have served their country proudly, Mother Teresa was an exception.
Despite being Yugoslavian, President Reagan believed it was only fit to give Mother Teresa a medal because of her lifetime efforts to preserve human life. He even acknowledged that Mother Teresa may even melt the gold to use as funding.
She did not force conversion of religion to anyone.
Mother Teresa did not force anyone to convert to the Roman Catholic religion, despite being a devout follower. However, there are reports that resurfaced years after her death claiming malpractice and forced conversion. As it stands, in Mother Teresa's words, she had done none of that.
Navin Chawayu, her biographer, once asked if she had ever converted anyone. She replied with "Yes, I do convert. I convert you to be a better Hindu, a better Christian, a better Catholic, a better Sikh, a better Muslim. When you have found God, it's up to you to do with him what you want."
The Indian Government gave her a pilgrim hostel upon her petition.
Once Mother Teresa left her convent, she appealed to the Indian Government to give her a location in Calcutta to form the Missionaries of Charity. They gave her a small hostel near the Sacred Temple of Kali in 1948. It was then revealed in corresponding letters that she was given advice and support as she bravely opened up her own order at a young age.
She had a pacemaker in her chest.
Because of her heart problems, Mother Teresa was given a pacemaker in her chest, which controls heart muscles and contractions. She was seventy-nine years old when the procedure took place. Doctor Rajen Watts, her private doctor, explained that the pacemaker was working perfectly. Sadly, medical practitioners believed that her condition was worsening because of the heavy workload she placed on herself.
Many people also called Mother Teresa "the Living Saint."
During her time on earth, Mother Teresa was also nicknamed "The Living Saint of the Gutters." This was because of her lifetime devotion to the poor, the sick, and the abandoned. She was often described as a living example of what saints should be and as such, the nickname stuck with her.
Pope Paul VI gave her his limousine.
Pope Paul VI once gave one of his limousines for her to use. Instead of enjoying the luxury, Mother Teresa used it to fund the leper colony she had established. While it is considered rude to make anyone wait, Pope Paul VI found it heartwarming that Mother Teresa was so clearly devoted to her mission in life. The car was a Lincoln Continental Limousine and was a gift once the Vatican received reports of her efforts with the Missionaries of Charity.
She returned as head of the order by unanimous decision.
She resigned and wished to retire as head of the Missionaries of Charity in 1990, but demands for her to return as Superior General completely overpowered her own voice. Others suggest that she was tired because of her overwhelming schedule. Mother Teresa was then forced to retire after suffering from heart complications. In 1997, Mother Teresa died from a heart attack. She was then succeeded by Sister Nirmala.
Her successor was Sister Maria Nirmala Joshi M.C.
Sister Nirmala became the head of the Missionaries of Charity after Mother Teresa's death, succeeding her as Superior General. It was also acknowledged that Sister Nirmala had malaria and subsequent fevers. She became head of the Missionaries of Charity months after Mother Teresa left this earth. She once explained that she had no intentions of filling the role of Mother Teresa. The successor believed that being herself wasn't too hard, but if she tried to become similar to Mother Teresa, she would have collapsed.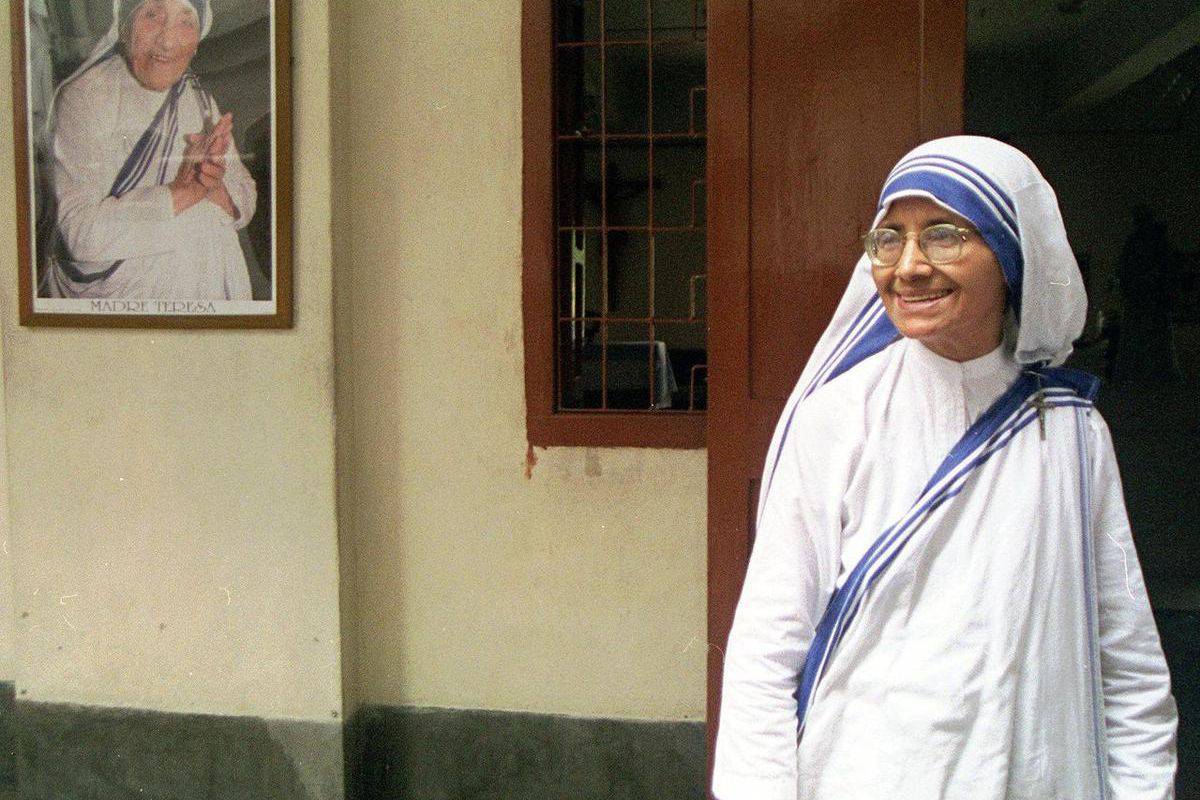 She was beatified pretty quickly.
This was because Pope John Paul II ordered an expedite on her beatification towards sainthood. Her miracles and contribution to the poor, added with her overwhelming popularity, made it clear that she was worthy of the title. During that time, Mother Teresa's beatification process was one of the fastest roads to canonization.
St. Therese of Lisieux inspired Mother Teresa to change her name from Agnes.
Mother Teresa's real name is Agnes Gonxha Bojaxhiu. She changed her name to Teresa once she arrived in Dublin, Ireland to join the Sisters of Loreto. St. Therese of Lisieux, the patron saint of missions and florists, was a young woman who answered the call of God at a young age, and to whom Mother Teresa looked up to. She applied St. Therese's way of life as well.
St. Teresa of Calcutta was a brilliant singer.
Before Mother Teresa joined her convent, she was in the choir. Nuns taught her in primary school, and added with this, she devoted her voice to the church and sang in the choir. Her voice was so beautiful that they even had her sing solo verses.
The Vatican took note of her miracles from afar.
In order to become beatified or canonized, a person must perform miracles beyond human understanding. Her first miracle immediately granted her beatification, while her second one was the reason for her canonization. Pope John Paul II and Pope Francis I acknowledged her medical miracles and proceeded with her canonization.
She declined a celebratory dinner during her Nobel Peace Prize Award.
True to her ways, Mother Teresa declined any celebrations on her Nobel Peace Prize award. While the honor is one of the most prestigious any person could ever have, Mother Teresa asked them to transfer the funds to charity instead. The total funds transferred to her were 190,000 US dollars. She was awarded the Nobel Peace Prize for her work in undertaking the struggle to overcome poverty and distress in the world in 1979.
United Nations and the Vatican asked her to speak publicly for them.
Being chosen to speak in the United Nations is a feat all on its own. In 1985, Mother Teresa spoke during the UN conference with the theme "One Strong Resolution: I will love." It was the 40th anniversary of the United Nations, an international organization created to protect human rights.
The Vatican also asked for her to speak on their behalf. Roman Catholics rarely get a chance to speak for the Vatican. This makes the given offer even more prestigious. Their invitation for her to speak for them is a clear sign of respect and honor to her contribution.
Pope Francis I canonized her in 2016.
Pope Francis I canonized Mother Teresa as a saint nine years after her death. Mother Teresa's first miracle approved her beatification, while her second miracle allowed her to be canonized as a saint. The second miracle involved a Brazilian named Marcelo Andrino, whose wife placed a Mother Teresa relic on his head that was filled with abscess and fluid. She prayed to Mother Teresa for guidance and just before his operation, Marcelo awoke with the abscess and fluid disappeared.