Mike Pence Facts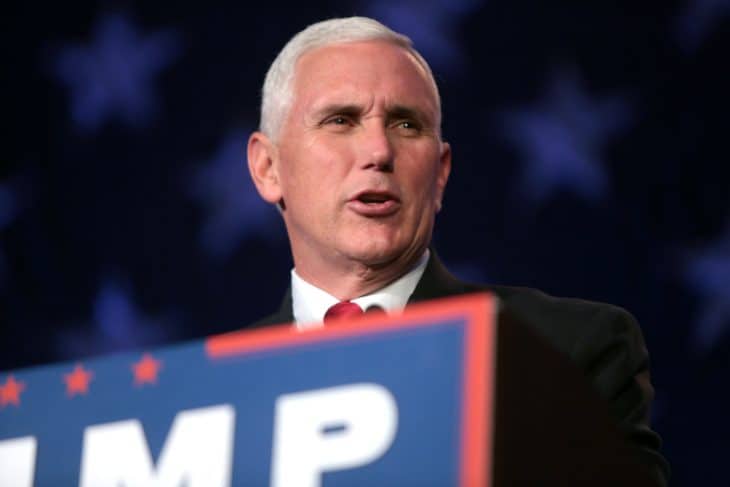 Since 2017, the State of Indiana is home to six US vice presidents. Starting with Schuyler Colfax, and followed by Thomas A. Hendricks, Charles W. Fairbanks, Thomas R. Marshall, Dan Quayle, to the current vice president of the United States, Mike Pence. According to Mike Pence, he was inspired to be part of politics because of the contributions done by Martin Luther King Jr. and John F. Kennedy for the country. Here are the top 40 facts you need to know about Mike Pence.
Quick Facts
Essential Facts
Interesting Facts
Mike Pence is the current and 48th vice president of the United States.
Joe Biden was the vice president of the US (January 20, 2009 – January 20, 2017) before Mike Pence.
His full name is Michael Richard Pence.
Mike Pence is a lawyer and a broadcaster.
He became the vice president of the United States on January 20, 2017.
Mike Pence was born on June 7, 1959, in Columbus, Indiana, United States.
Mike Pence is under the Republican party.
Mike Pence was the 50th governor of Indiana from 2013 to 2017.
From 2001 to 2013, Mike Pence served and completed 6 terms in the U.S. House of Representatives.
Mike Pence's height is 1.78 meters or 5 feet and 8 inches, or just about the same height as Melania Trump, the First Lady of the United States.
He is the younger brother of U.S. representative, Gregory Joseph Pence.
He married his wife, Karen Pence, who is an American painter and school teacher, in 1985.
Mike Pence has three children: Audrey Pence (daughter), Charlotte Pence Bond (daughter), and Michael Pence (son).
His second daughter, Charlotte Pence Bond is a famous American writer and filmmaker.
Mike Pence was named after his maternal grandfather, Richard Michael Cawley.
Mike's role model as a vice-president was Dick Cheney.
President Donald Trump and First Lady Melanie Trump tested positive for COVID-19 on October 2, 2020. Fortunately, Mike Pence and his wife, Karen Pence, their COVID-19 test results returned negative.
Mike Pence is a loyal second-in-command for President Trump throughout their term.
He has only once publicly disagreed with Donald Trump, in particular to the Muslim ban.
Mike Pence faced off Democratic vice-presidential nominee Kamala Harris during the 2020 election's only debate.
Mike Pence Facts Infographics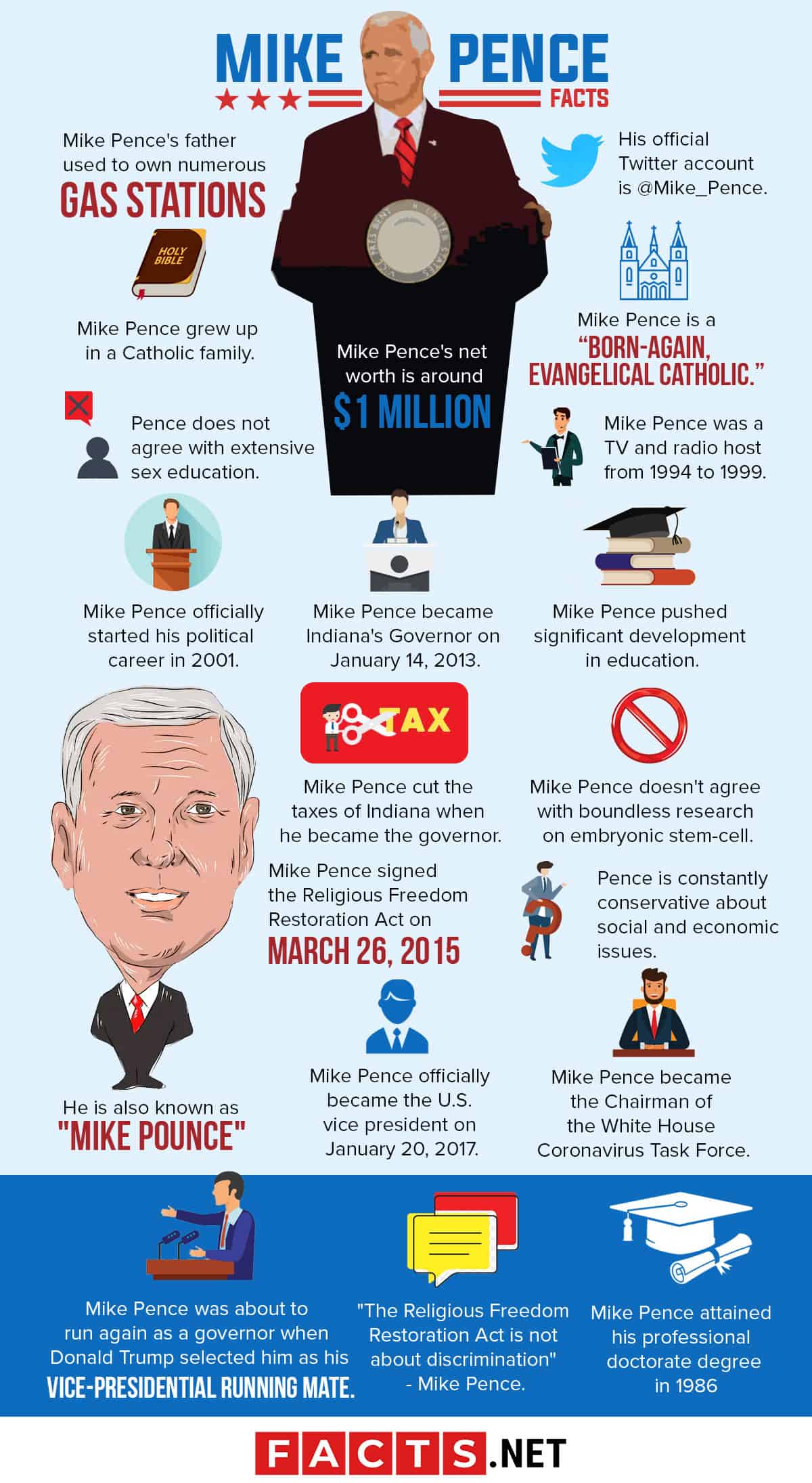 Mike Pence's father used to own numerous gas stations.
Edward Joseph Pence, Mike Pence's father, was a gas station chain owner who helped the Midwestern region of the United States to build more than 200 gas stations under the Kiel Brothers Oil Company. Edward Joseph Pence served the company as the vice president.
In 2015, Mike Pence tweeted, "Happy Veterans Day, Dad" in memories of his late father. Edward Pence was also a 2nd Lieutenant in the Army.
2nd Lt. Edward J. Pence, US Army, receiving his Bronze Star on April 15, 1953. Happy Veterans Day, Dad pic.twitter.com/6HmvWYkt6v

— Governor Mike Pence (@GovPenceIN) November 11, 2015
His official Twitter account is @Mike_Pence.
Speaking of Mike Pence's Twitter account (@Mike_Pence), it currently has more than 5 million followers which became active since February 2009. Meanwhile, the Twitter account that was used during Veteran's Day, as mentioned above, is now an archive account (@GovPenceIN) which was used when Mike Pence was still the Governor of Indiana.
Mike Pence's net worth is around $1 million.
According to Forbes, Mike Pence does not have a lot of assets under his name. The vice president has at least $15,000 in his bank and around $70,000 in an index or mutual fund. As it may not sound as much to some, Mike Pence's retirement pension will be $7,000 per month coming from his state and federal pensions which makes his estimated net worth to be at least $1 million.
Mike Pence attained his professional doctorate degree in 1986.
Mike Pence attended Columbus North High School, a public school in Columbus, Indiana, and graduated in 1977. Afterwhich, he received his Bachelor of Arts in History from Hanover College in 1981, and his Doctor of Jurisprudence degree from Indiana University in 1986.
Mike Pence grew up in a Catholic family.
The young Mike Pence grew up in a Catholic family and helped their church as an altar server. Mike also studied at a parochial school, a private school supported by a church. During college, he became interested in attending born-again Christian fellowships and other worship groups. Concurrently, Mike continued to attend Catholic Mass, where he, later on, met his wife Karen who was a Catholic youth minister.
Mike Pence is a "born-again, evangelical Catholic."
Mike Pence defines himself as a "born-again, evangelical Catholic." Furthermore, Mike has expressed himself as a "principled conservative" and supporter of the Tea Party movement.
The Tea Party movement is an American fiscally conservative political movement, a political and economic philosophy concerning fiscal policy and a balanced budget, in the Republican Party. Members of the movement support the lower taxes and the slowdown of the national debt of the United States including the federal budget deficit by limiting government spending.
Pence does not agree with extensive sex education.
In 2002, the secretary of state Collin Powell had a speech about the usage of a condom. Powell says that using condoms will protect young people from sexually transmitted diseases. Pence expresses his dismay about it and told that he supports abstinence education instead of sex education. Moreover, he said that "condoms are very, very poor protection against sexually transmitted diseases" and Collin Powell was "maybe inadvertently misleading millions of young people and endangering lives."
Mike Pence was a TV and radio host from 1994 to 1999.
Mike Pence was one of the candidates for Congress in 1988 versus the Democratic incumbent, Philip Sharp. Although he lost in 1988, he tried again in the year 1990, unfortunately for Mike, he lost the bid again. Thus, Mike shifted his career temporarily and became a conservative television and radio talk show host from 1994 until 1999.
Mike Pence officially started his political career in 2001.
In the year 2000, Mike Pence was finally elected to the U.S. House of Representatives. From 2001 to 2013, he represented Indiana's 6th and 2nd congressional districts. Furthermore, from 2009 to 2013, Mike became the chairman of the House Republican Conference.
Mike Pence became Indiana's Governor on January 14, 2013.
By the 2nd quarter of 2011, Mike Pence declared that he would be a candidate for the Republican nomination for governor of Indiana in the next coming year. The Indiana gubernatorial election occurred on November 6, 2012. And by January 14, 2013, Mike Pence became the 50th governor of Indiana.
Mike Pence cut the taxes of Indiana when he became the governor.
When he became a governor in January 2013, Mike Pence immediately work on cutting large taxes, making it the biggest tax cut in Indiana's history. Moreover, he spearheaded the funding for education initiatives and known to favor the bills that prevent abortions.
Mike Pence pushed significant development in education.
As a governor, Mike Pence pushed significant development in education by supporting pre-schools, voucher programs (Indiana Choice Scholarships which is the largest in the United States), and charter schools (tuition-free schools that are open to all students).
However, it has its downside as well ― the traditional public schools and its supporters did not like it. According to reports, charter school critics believe that these schools are undemocratic for it does not need to work by the same rules as district schools. Furthermore, it could not be as transparent in terms of how they spend public money plus it has private boards that are not directly accountable to the public.
Mike Pence doesn't agree with boundless research on embryonic stem-cell.
Pence made a strong comment regarding the executive order of President Obama to remove the limitations on the research of embryonic stem-cell. He said, "I believe it is morally wrong to create human life to destroy it for research … I believe it is morally wrong to take the tax dollars of millions of pro-life Americans."
Mike Pence signed the Religious Freedom Restoration Act on March 26, 2015.
Mike Pence signed the Indiana Senate Bill 101 (RFRA or Religious Freedom Restoration Act) or much known as religious objections. Its implementation was highly appreciated by various religions, but of course, it was reprimanded by the Lesbian, Gay, Bisexual, and Transgender groups as well as other individuals as it could give businesses the right to refuse service to such people and might promote discrimination.
"The Religious Freedom Restoration Act is not about discrimination" - Mike Pence.
The CEO of Apple, Tim Cook is one of the personalities who are not in favor of the Religious Freedom Restoration Act. Accordingly, Mike Pence defended the law and affirmed that this is not about discrimination and stated that "If I saw a restaurant owner refuse to serve a gay couple, I wouldn't eat there anymore. As governor of Indiana, if I were presented with a bill that legalized discrimination against any person or group, I would veto it."
Pence is constantly conservative about social and economic issues.
Pence's Christian faith has honed his political perspectives. Another factor that greatly influenced him is Russell Kirk, a conservative political theorist. Way back in 2016 during his vice-presidential candidacy, he stated:  "I'm a Christian, a conservative, and a Republican, in that order." Now, as a vice president, he supports the debt spending and deficit spending approach to stimulate economic growth.
Mike Pence was about to run again as a governor when Donald Trump selected him as his vice-presidential running mate.
When Mike Pence's term as a governor is about to end, he announced his intention to run for the second time vs Democrat John R. Gregg whom he beat on November 6, 2012. Interestingly, Mike withdrew his application as Donald Trump tapped him as his vice-presidential running mate. Back in Indiana, Lieutenant Governor Eric Holcomb was nominated for Mike Pence's position and defeated John R. Gregg in the general election. Eric Holcomb officially became the 51st Governor of Indiana on January 9, 2017.
Mike Pence officially became the U.S. vice president on January 20, 2017.
Pence delivered several ceremonial duties on his first day and was beside Donald Trump when the president made calls to foreign leaders such as to former Australian prime minister Malcolm Turnbull and Russian President Vladimir Putin. According to reports, Mike Pence has a significant level of influence in the Trump administration because of his duties as a mediator between congressional Republicans and to the President.
Mike Pence became the Chairman of the White House Coronavirus Task Force.
President Trump has assigned him to lead the task force for the COVID-19 pandemic. Being one of the most trusted in the Trump administration, Pence has been given this tough assignment. This task can be an opportunity if he can manage the crisis well, on the other hand, it's risky as the pandemic is a serious battle that has taken thousands of lives of Americans.
He is also known as "Mike Pounce"
President Donald Trump had accidentally called the U.S. vice president 'Mike Pounce' instead of Mike Pence. Just right after, the internet got filled up with different memes pertaining to the incident while some even joked that Pence would be willing to change his name to Mike Pounce to demonstrate his loyalty to the president.