In North Korea, rumors have it that their leaders don't use the bathroom. How about their current Supreme Leader, Kim Jong-un could already drive by the age of three? Come on, let's find out some of the most unbelievable Kim Jong Un facts about this North Korean Dictator.
Quick Facts
Essential Facts
Interesting Facts
Kim Jong-un is the Supreme Leader of North Korea since 2011.
Kim Jong-un's height is approximately five feet, two inches up to five feet, five inches tall.
Kim Jong-un wears special shoes to make himself look taller.
Ko Yong-hui is Kim Jong-un's mother.
Kim Jong-un's father, Kim Jong-il, was North Korea's second Supreme Leader from 1994 to 2011.
Kim Jong-un is also the leader of the Workers' Party of Korea, the founding and ruling political party of North Korea.
Kim Jong-un's grandfather, Kim Il-sung, was the founder and the first supreme leader of North Korea from 1948 to 1994.
Since 2010, Kim Jong-un was seen as the heir apparent to the leadership of North Korea
After his father died in 2011, state television proclaimed Kim Jong-un as the "Great Successor."
Before becoming the Supreme Leader of North Korea, Kim served the country as the Chairman of the Central Military Commission.
The country's state media frequently addresses him as the Marshal Kim Jong-un, or "Dear Respected".
Kim Jong-un controls the media under his administration.
He only allows strict and limited internet access in the country.
There is no other country that can beat the Kim-dynasty in terms of controlling the internet and media information as they do.
Kim Jong-un, like his father and grandfather, rules a dictatorship where elections are not free and fair.
Kim Jong-un has four siblings, 2 brothers, Kim Jong-nam and Kim Jong-chul, and 2 sisters, Kim Yo-jong and Kim Sol-song.
His brother, Kim Jong-nam was assassinated in Sepang, Malaysia on February 13, 2017, using a VX nerve agent. Many experts believe that Kim Jong-un is behind his own brother's assassination.
Kim Jong-un and Donald Trump held the first-ever meeting between North Korea and the United States in June 2018, held in Singapore.
Kim Jong-un most probably underwent plastic surgery when he was 27 years old, to make himself look more like Kim Il-sung.
The name of Kim Jong-un's trademark hairstyle is called "Ambitious", and it is off-limits to the citizens in North Korea.
Kim Jong Un Facts Infographics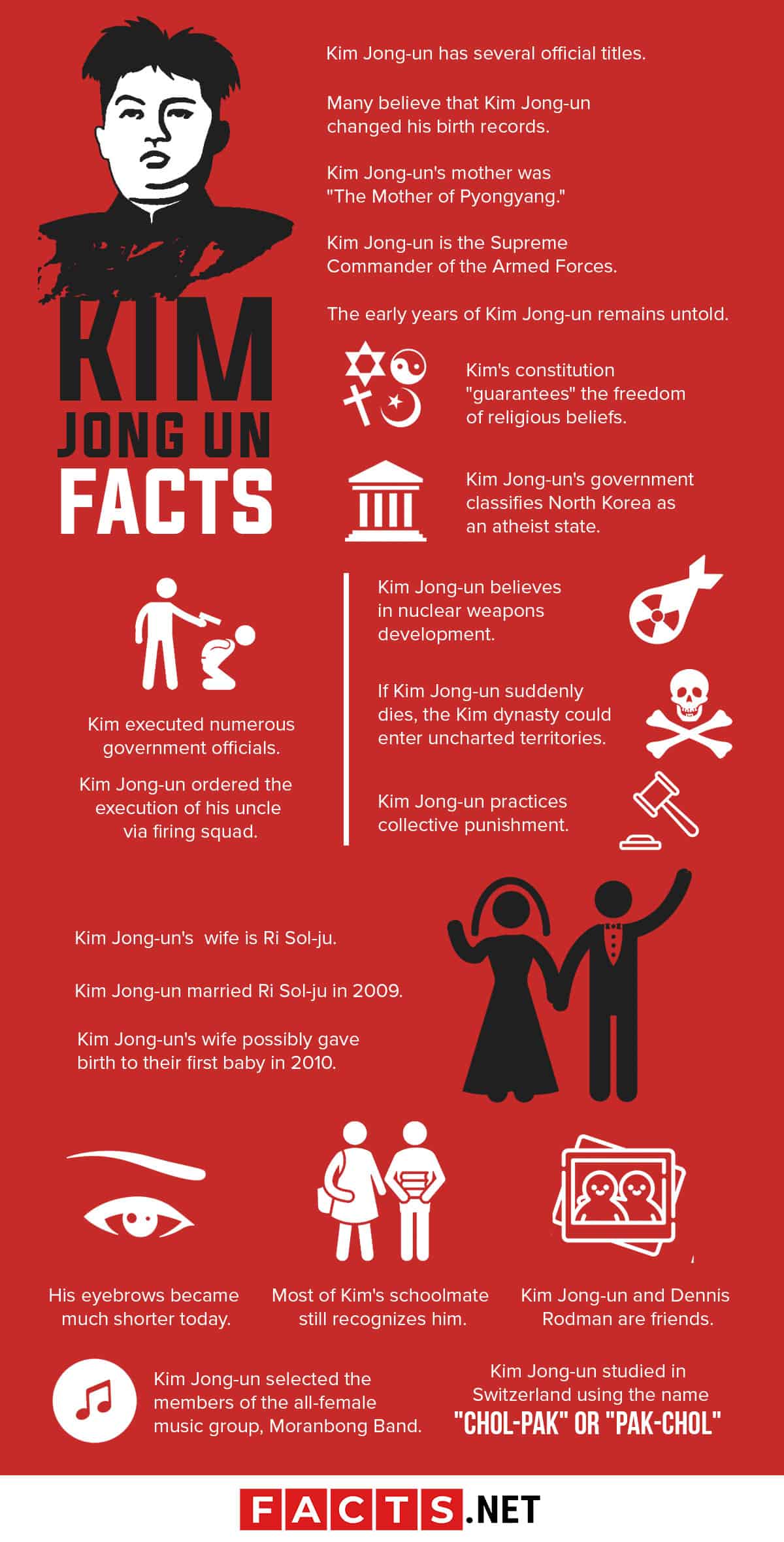 Kim Jong-un has several official titles.
Aside from Kim Jong-un's main title, "The Marshal Kim Jong-un" and "The Main Leader of the Democratic People's Republic of Korea, the Leader of the Party, and the People," his other titles are "The New Start," "The Genius Among Others," and "The Brilliant Comrade."
The early years of Kim Jong-un remains untold.
Kim Jong-un has never shown his childhood pictures in the public before. But in 2014, several photographs were displayed during North Korea's military holiday showing the pictures of young Kim Jong-un. Unfortunately, no one can verify it's him.
Many believe that Kim Jong-un changed his birth records.
According to the South Korean records, Kim Jong-un's birthday is January 8, 1983, while according to the United States records, his date of birth is January 8, 1984. However, the young leader stated that his real birthday is on January  8, 1982. Many believe that Kim changed his birth records for him to appear older and more mature.
Kim Jong-un's mother was "The Mother of Pyongyang."
Kim Jong-un's mother was also known in North Korea as "The Mother of Pyongyang." Furthermore, Ko Yong-hui was also referred to as "The Mother of Great Songun Korea," and "The Respected Mother who is the Most Faithful and Loyal to the Dear Leader Comrade Supreme Commander." Kim's mother was born on June 26, 1953, in Osaka, Japan, and died in 2004 in Paris, France.
Kim Jong-un is the Supreme Commander of the Armed Forces.
Roughly one year after he became the leader of North Korea, he was promoted to the highest rank of Marshal in the Korean People's Army (the Supreme Commander of the Armed Forces).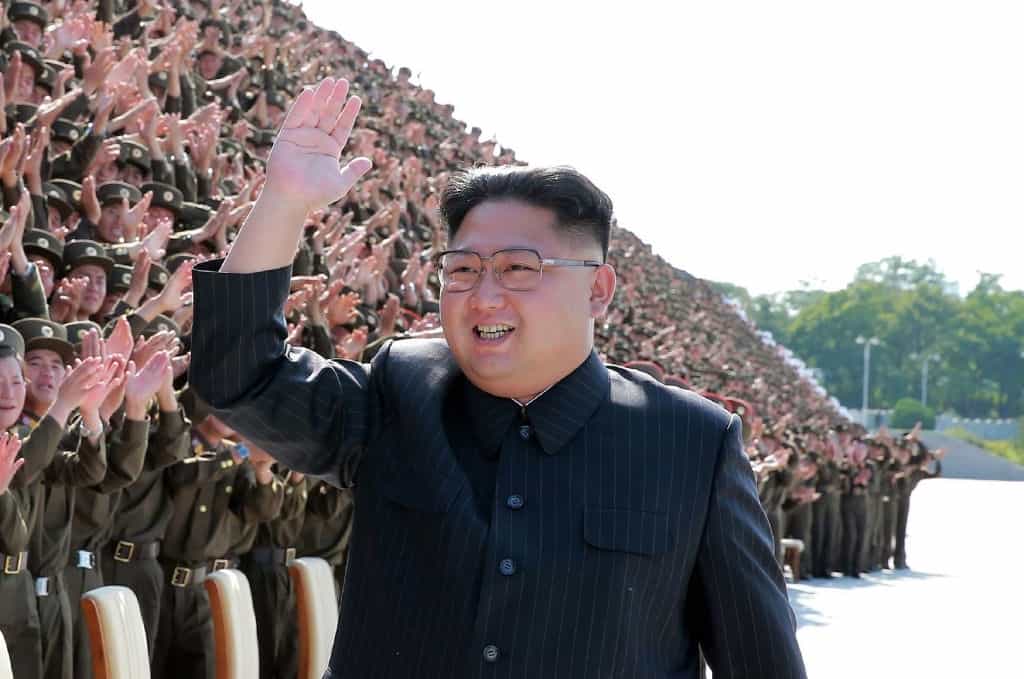 Kim's constitution "guarantees" the freedom of religious beliefs.
Although North Korea has a constitution that guarantees the freedom of religious beliefs, in reality, the Kim dynasty persecutes people that practice other religions such as Christians. Since 1953, more than 200,000 Christians have been reported missing.
Kim Jong-un's government classifies North Korea as an atheist state.
The four dominant regions in North Korea are Korean shamanism, Chondoism, Buddhism, and Christianity. However, there are no official statistics of the religions in the country and Kim Jong-un's government classifies North Korea as an atheist state.
Kim Jong-un believes in nuclear weapons development.
According to experts, it is very unlikely that Jim Jong-un would launch a nuclear war against other countries. Instead, he uses these nuclear weapons just to show off to his countrymen how "strong" they are, as well as using it as his platform to secure the survival of his regime.
Kim executed numerous government officials.
When Kim Jong-un started to become the leader of North Korea, he ordered numerous executions to many of the North Korean officials whom he suspected to be against him.
Kim Jong-un ordered the execution of his uncle via firing squad.
Some of the popular names that Kim Jong-un ordered to be executed are Jang Song-thaek (Kim's uncle who worked with the National Defence Commission of North Korea), Kim Chol (Vice Minister of the Army), Ri Yong-ho (General-in-chief), Ri Kwang-gon (Governor of the North Korean Central Bank), and Jon Yong-jin (one of North Korea's Ambassador).
If Kim Jong-un suddenly dies, the Kim dynasty could enter uncharted territories.
Ever wonder what will happen if the North Korean dictator dies of all a sudden? Since their daughter Kim Ju-ae is still young and not capable to lead just yet, North Korea's "Game of Thrones" could be filled with uncertainties. However, it is most likely that his sister, Kim Yo-jong, would take his place since no other family member is as well-positioned as her.
Kim Jong-un's wife is Ri Sol-ju.
Ri Sol-Ju was born in North Korea between 1985 to 1989 and very little information is known about her due to the secretive background of the family aside from the fact that she came from a political elite family and had a decent education at Kim Il-sung University.
Kim Jong-un married Ri Sol-ju in 2009.
Before becoming the first lady of North Korea and the wife of Kim Jong-un in 2009, Ri Sol-ju visited South Korea in 2005 as part of the North Koreans' cheerleading squad on the Asian Athletics Championships. Furthermore, Ri Sol-ju is one of the 90 cheerleaders that represented her country.
Kim Jong-un's wife possibly gave birth to their first baby in 2010.
According to some reports, Kim Jong-un's wife possibly gave birth to their first baby in 2010. Although their daughter, Kim Ju-ae is the only child that is officially known by its name to the outside world, it is possible that Kim Jong-un already has 3 children.
Kim Jong-un practices collective punishment.
Kim Jong-un's administration operates a vast network of prisons and labor camps that has jailed and slain millions of lives by condemning those people for political crimes. Above all, he also punishes families as a whole even though the "crime" is only committed by a single member of that family.
His eyebrows became much shorter today.
Compared to his old photos in the past years, Kim Jong-un's eyebrows are getting shorter and shorter today. According to speculations, he wanted to look like his father, Kim Jong-il by doing so.
Kim Jong-un selected the members of the all-female music group, Moranbong Band.
The Moranbong Band of North Korea performs interpretive styles of pop, fusion, and rock. It is also the first all-female band from the country and made its world debut on July 6, 2012.
Kim Jong-un studied in Switzerland using the name "Chol-Pak" or "Pak-Chol".
Kim Jong-un's father sent him to Switzerland along with his siblings. According to the reports, Kim Jong-un attended the private International School of Berne in Gümligen in Switzerland using a different name to hide his identity from 1993 to 1998.
Most of Kim's schoolmate still recognizes him.
After attending school in Switzerland, some of his schoolmates there recognized him as soon as he became a public figure and describing Kim Jong-un or "Chol-Pak" as a shy person who was interested in sports much more than politics. Kim Jong-un also had poor school grades although he was a student who could get along well with his classmates.
Donald Trump called Kim Jong-un the "Rocket Man."
In Sep 2017, U.S. President Donald Trump made a public statement by calling the old nickname of Kim Jong-un, "Rocket Man" which refers to his enthusiasm for testing his nuclear weapons. North Korea did not like and retaliated by threatening to call Donald Trump a senile dotard.
Kim Jong-un and Dennis Rodman are friends.
Kim Jong-un's classmates remembered him during their youth years when he used to draw Michael Jordan. Indeed, Kim Jong-un loves basketball. In 2013, he had a chance to meet Dennis Rodman and Kim Jong-un eventually invited him to his private resort island. Notwithstanding the huge difference between them, the two of them quickly became good friends.
Kim Jong-un is obese.
Kim Jong-un is one of the heaviest presidents on par with his height. For a male that stands at five feet and five inches, the suggested weight should be around 122 – 150 lbs. Meanwhile, Kim Jong-un's body weight is approximately 270 to 290 lbs.
He rode his horse on the highest mountain of North Korea.
Kim Jong Un had photographs riding through the snow on a white stallion and spent thousands and thousands of dollars on several purebred horses from Russia. Kim Jong-un enjoys riding his horse, along with other North Korean elites, in the snowy Paektu Mountain (the highest mountain in North Korea) to showboat his strength in the face of international pressure against him.
Kim Jong-un's net worth is around $5 billion.
His money machines come from the Kim dynasty, as his grandfather, Kim il-Sung, forged the country alongside his father, Kim Jong-il, he raised the family fortune, which is allegedly stashed in accounts and holdings across the globe. Furthermore, Kim can tap the net worth of North Korea anytime and may put it in his pocket since he holds the country from top to bottom.
He's always cheerful in his pictures.
Kim Jong-un loves to laugh or smile in every photograph which is unlikely for a leader of such a serious country. The reason behind this is to show people that he is a character of joy.
Kim Jong-un lives in Ryongsong Residence.
Ryongsong Residence, Pyongyang, also known as Residence No. 55 and called by locals as Central Luxury Mansion is the main residence of Kim Jong-un. The place was built by the Korean People's Army construction brigade and was completed in the year 1983 under the reign of Kim Il-sung.
Kim Jong-un has a harem.
According to some sources, Kim Jong-un has a harem where the girls are as young as 13 years old. All the girls had to undergo a virginity test before being qualified. Back in 2016, Kim Jong-un spent more than $3 million on lingerie and costumes for his harem. Probably one of the most surprising Kim Jong Un facts!
He surpassed his father and grandfather in the numbers of missile testing.
Within Kim Jong-un's regime, North Korea has tested more than 85 missiles which is more than his father and grandfather, combined. Kim Jong-un tested his missiles in February 2013, January and September of 2016, and launched the ballistic missile over Northern Japan, on August 29, 2017.
Kim Jong-un is one of the most powerful persons in the world.
Forbes magazine recognized Kim Jung-un as the 36th most powerful person in the world. Some of the top 10 most powerful persons are Xi Jinping, Donald Trump, Bill Gates, Vladimir Putin, Larry Page, and Pope Francis.
Around 60% of the citizens of North Korea live below the poverty line.
Kim Jong-un has a private island that is similar to Hawaii or Ibiza that is intended only for his personal use. He has around 17 luxury palaces in North Korea, hundreds of luxury cars, a private jet, and a 30-meter yacht. But unfortunately, this luxury can't help his countrymen as it is estimated that 60% of the total population of North Korea live below the poverty line and 33% of the children there are malnourished because they don't have enough food.