Jacob Sartorius Facts
Predicted by some to be the next Justin Bieber, Jacob Sartorius rose from a bullied child at school to one of the youngest internet personalities. Jacob started acting in musicals at the young age of 7. As he kicks start his professional career, he is already worth $3 million when he's just barely 18 years old. Get to know about this popular internet star with these Jacob Sartorius facts.
Quick Facts
Essential Facts
Interesting Facts
Jacob was born on October 2, 2002, in Oklahoma, United States.
In 2016, Jacob became part of the top 10 most searched musical artists.
The song Sweatshirt peaked at number 90 in the Billboard Hot 100 chart in the United States.
"Sweatshirt" has now over 50 million views on YouTube.
At the early age of 14, he already had a debut concert tour, All My Friends Tour, which occurred in 2016.
Rolf Jacob Sartorius is an internet personality and singer and internet.
Jacob used Vine, TikTok, and Musical.ly for his videos.
His songs are under the genre of teen pop.
Jacob Sartorius can also play the guitar.
Jacob used social media to get famous.
Jacob released his debut single in 2016 called "Sweatshirt".
By January 20, 2017, Jacob released his debut extended play The Last Text which has over five songs.
In late 2018, Jacob launched his second EP, "Left Me Hangin."
By late 2018, Jacob launched his third EP, "Better With You."
In mid-2019, Jacob launched his 4th EP, "Where Have You Been?" Although this time, it fell short to make any chart impact worldwide.
Rolf Jacob Sartorius was named after his grandfather and father.
Although the name Rolf has been a tradition in the family, he prefers the name Jacob.
Jacob's natural hair color is brown and his eye color is hazel.
Jacob immediately made a name for himself as the next pop superstar.
His official website is jacobsartorius.com where you can buy some of his merchandise, watch some videos, and links from his music.
Jacob's extended play The Last Text charted in numerous music charts.
In 2017, Jacob's extended play The Last Text charted in the music charts in Australia, New Zealand, Scotland, Ireland, Canada, and of course, the United States.
Jacob Sartorius grew up with his adoptive parents.
Jacob grew up with his adoptive parents in Virginia. He also has an older sister and a pet cat named Prince.
Jacob Sartorius performed in Kid's Choice Awards and HALO Awards.
Jacob Sartorius already performed at the Kid's Choice Awards (an annual American children's awards ceremony show), HALO Awards (North America's highest honor for corporate social initiatives), and made his national television debut on MTV's Total Request Live or much known as TRL.
Jacob Sartorius was homeschooled.
Although Jacob's was mostly homeschooled, he also went to several schools such as Flint High School in Oakton, Virginia.
His contents are honest and heartfelt.
According to Jacob's website, his dedication to delivering an honest and heartfelt content made him the "5th most engaged user on Twitter" and "one of the most engaged accounts globally on Instagram."
Jacob Sartorius has several millions of followers on social media.
On Twitter, Jacob has more than 1.5 million followers, while on YouTube, he has more than 3 million subscribers, and accumulated at least 8 million Instagram followers, and still growing.
His mother helped him with his social media.
His mother, Pat Sartorius, helped him to manage his social media accounts. The tandem of Jacob and Pat in social media once also became popular.
You can see Pat Sartorius in some of Jacob's videos.
Jacob's mother played a huge part in Jacob's life on and off the camera. Moreover, as a proud relationship between the mother and son, you can see her mother in some of his videos.
Jacob Sartorius has a passion for what he does.
Ever since he was young, Jacob has a passion for making people around him laugh and smile. He brought that passion online along with a positive mindset and using social media platforms to captivate the hearts of his audiences and supporters.
Jacob's talent becomes evident in his early years.
As early as 8 years old, this talented artist begins his journey. Acting becomes this passion and he works hard for it.He voluntarily performed in a community theater to sharpen his skills.
Jacob's sister is also a star in her own way.
Jacob's older sister, Caroline Sartorius, is also an Instagram star. Although she rose to fame for being Jacob Sartorius' sister, who constantly appeared in his videos, she quickly attracted her own fans with her own charm. Currently, she has over 380,000 followers and still growing!
Cameron Dallas is a good friend of Jacob Sartorius.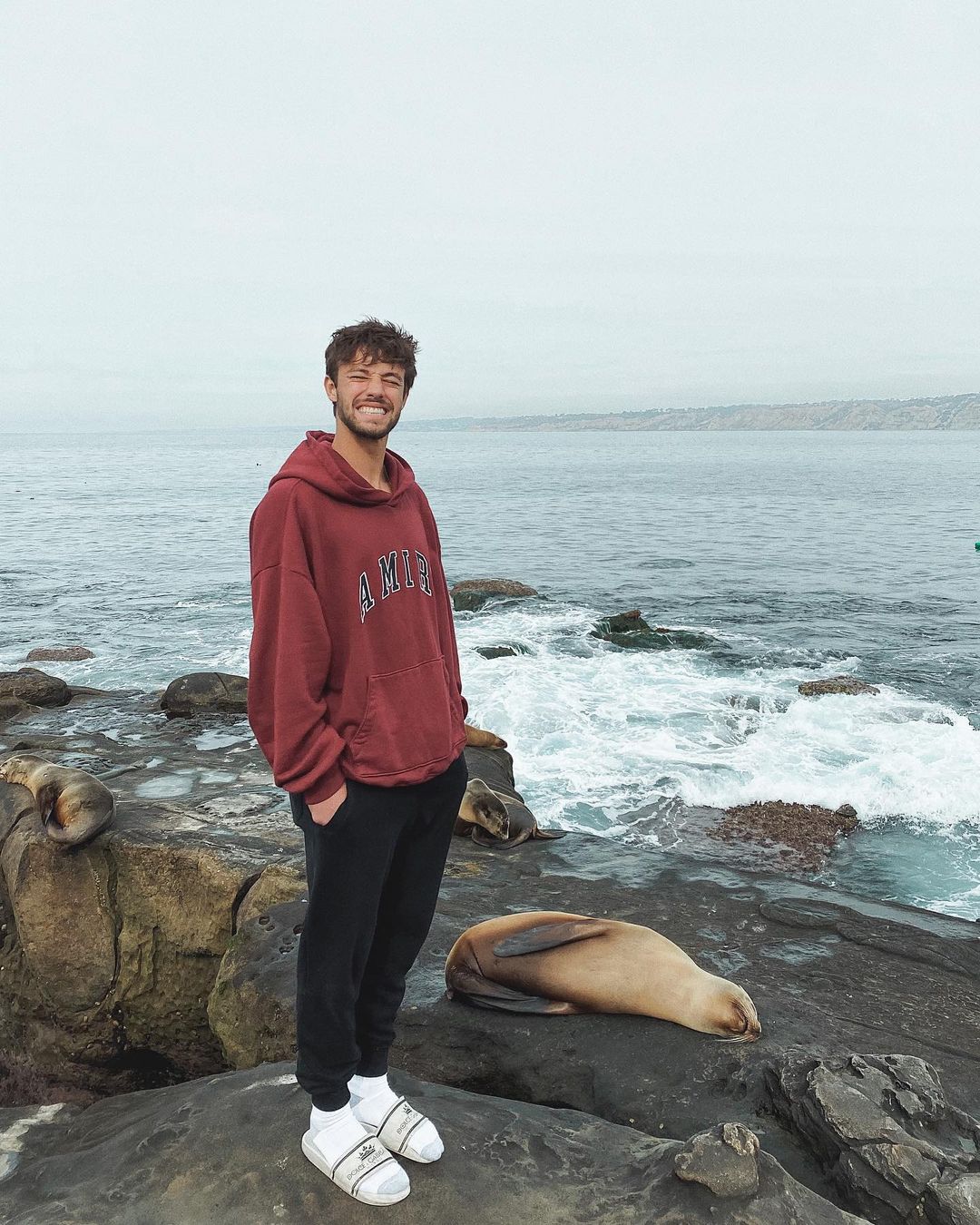 One of the famous friends of Jacob is Cameron Dallas. Cameron is an actor and American internet personality who is popular on YouTube, Vine, and starred on the Netflix reality show "Chasing Cameron."
He can wiggle his ears.
Jacob Sartorius is part of the 10 to 20 percent of the human population who can move or wiggle their ears.
Jacob Sartorius has asthma.
Jacob has been diagnosed with asthma where he can experience coughing and difficulty breathing. In 2016, Jacob had an asthma attack live on YouNow, an American live broadcasting service where users stream their live video content.
Jacob has around 20 million followers in Musical.ly.
He has greatly influenced the popularity of the app Musical.ly making him one of the largest users. Now and then, he builds rapport with fans and actively strengthens his relationship with his audience.
Jacob Sartorius has gained 21 lbs since 2016.
As of today, Jacob is 5 feet 8 inches and weighs 132 lbs with body measurements of 44-32-38 inches. Back in 2016, he only stands at 5 feet and 6 inches and weighed only 111 lbs.
Jacob received criticism after forgetting the names of fans.
In May 2016, a fan asked Jacob to give a message for her three friends while taking a video of him. Unfortunately, he cannot recall the names and had no choice but to get away from the frustrated fan.
Jacob's net worth is $3 million.
Jacob's YouTube channel receives approximately 250,000 views in a day. This generates an estimated income of around $500 per day or $180,000 per year coming from YouTube ads.
Jacob has two celebrity crushes.
The first on the list is the American singer, songwriter, and actress, Ariana Grande, and the American singer, songwriter, actress, and producer, Selena Gomez.
Jacob had a girlfriend when he was 15.
Jacob Sartorius and Millie Bobby Brown, a British actress, became public in October 2017. The couple had their relationship while Jacob was still 15 and Millie was 14. Many fans adored the couple. However, the couple announced their breakup in July 2018. Afterwhich they assured their fans that they are happy and still remained friends.
Jacob Sartorius has a crown tattoo.
Jacob Sartorius has a crown tattoo behind his lower left ear. His tattoo was inspired by LeBron James which serves him as a reminder that –"This tattoo shows me that no matter what I've been through I will strive to be the king of my court."
He experienced a lot of bullying in school.
Before Jacob achieved what he has now, he experienced a lot of bullying in school. Although he attended three different schools, he was constantly being pushed around, teased about his "small ears," and was verbally abused.
Because of that, Jacob viewed social media as an escape from the bullying. He may not be the natural outgoing type of boy, but the app, Musical.ly assisted him to carry on and enjoy life. He said that it's like no one is watching him except for the cameras.
Jacob's brother is now also making a name for himself.
Trey Sartorius is a social media influencer and is gradually progressing in his acting career. He has played minor roles in series in 2005 and 2015 such as 'Game Shakers', 'K.C. Undercover', and 'Zoey 101'. But his most famous role is the Noah Manchester in Nickelodeon Series 'Henry Danger.'
He is undergoing therapy and medication.
In early 2019, Jacob admitted in an Instagram post that he had been undergoing therapy and taking anti-depressant medication since his early adolescent years.
He could be the next Justin Bieber.
After becoming famous in social media, Business Insider, an American financial and business news website, forecasted that he could be the next "Justin Bieber."