Grand Teton National Park, located in northwestern Wyoming, is a captivating destination renowned for its majestic peaks, pristine lakes, and abundant wildlife. Spanning over 310,000 acres, the park offers a myriad of natural wonders and recreational opportunities. In this article, we will delve into 18 fascinating facts about Grand Teton National Park, providing a glimpse into the allure and uniqueness of this extraordinary wilderness.
The Teton Range and Its Peaks
The Teton Range, which is the focal point of the park, is a subrange of the Rocky Mountains. The range consists of several awe-inspiring peaks, including the iconic Grand Teton, Mount Owen, and Teewinot Mountain.
Grand Teton's Impressive Elevation
The Grand Teton, the tallest peak in the park, stands proudly at an elevation of 13,775 feet (4,199 meters). Its prominence and beauty make it a favorite challenge for mountain climbers and a stunning sight for photographers.
Glacially Carved Valleys and Lakes
The park boasts a remarkable collection of glacially carved valleys, such as Jackson Hole, Cascade Canyon, and Death Canyon. Serene lakes, including the picturesque Jenny Lake and Jackson Lake, adorn the park's landscape, reflecting the towering peaks.
Snake River's Scenic Beauty
The Snake River, which meanders through the park, showcases stunning vistas and offers opportunities for scenic float trips and fishing adventures. The river's banks provide a habitat for a variety of wildlife, and its reflections of the Tetons create postcard-worthy scenes.
Dazzling Wildflower Displays
During the summer months, the park bursts into vibrant colors as wildflowers blanket the valleys and meadows. Lupines, Indian paintbrushes, and various other wildflowers add a splash of beauty to the already breathtaking scenery.
Diverse Wildlife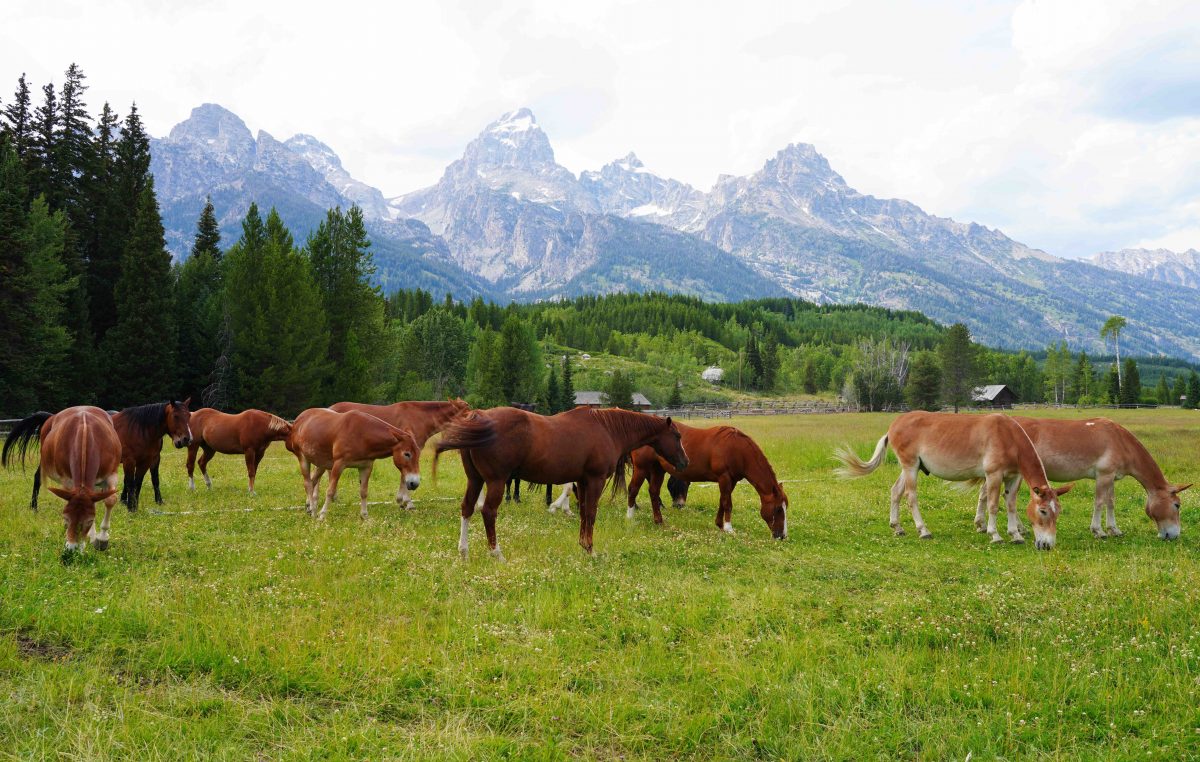 Grand Teton National Park is home to a rich array of wildlife, including majestic mammals like moose, elk, bison, and grizzly bears. The park is also a haven for bird enthusiasts, with over 300 species of birds, including bald eagles and peregrine falcons.
Iconic Historic Structures
The park is home to historic structures that harken back to a bygone era, such as the Chapel of the Transfiguration and the Menor's Ferry Historic District. These buildings offer glimpses into the region's past and provide unique cultural experiences.
Hiking Paradise
Grand Teton National Park offers an extensive network of hiking trails suitable for all levels of hikers. From leisurely strolls around the lakes to challenging summit hikes, there's a trail for every adventurer.
Spectacular Fall Foliage
Autumn transforms the park into a colorful wonderland as the aspen and cottonwood trees turn shades of gold and orange. Fall foliage adds another layer of beauty to the park's already awe-inspiring vistas.
Pristine Backcountry Camping
For those seeking a true wilderness experience, Grand Teton National Park provides opportunities for backcountry camping. Backpackers can explore remote areas, camp under starlit skies, and connect with nature in its purest form.
Jackson Hole's Gateway
The town of Jackson, located near the park, serves as a gateway to Grand Teton National Park. Visitors can explore the town's Western charm, art galleries, and lively dining scene before embarking on their park adventure.
Final Word
Grand Teton National Park is a natural wonderland that captivates visitors with its grandeur, wildlife, and outdoor recreational opportunities. Plan your visit to this majestic wilderness and immerse yourself in its breathtaking beauty and rich natural heritage.
Frequently Asked Questions (FAQs)
Can I see wildlife in Grand Teton National Park?
Absolutely! Grand Teton National Park is home to a diverse range of wildlife, including moose, elk, bison, and bears. Keep your eyes peeled and follow park guidelines to observe these majestic creatures safely.
When is the best time to visit the park?
The park offers stunning experiences throughout the year. Summer is popular for hiking and wildlife spotting, while fall showcases vibrant foliage. Winter allows for snow sports and tranquil landscapes. Spring offers a mix of wildlife sightings and emerging wildflowers.
Are there camping facilities in the park?
Yes, the park offers several campgrounds for visitors, including reservable and first-come, first-served options. Backcountry camping is also available for those seeking a more remote experience.
Can I fish in Grand Teton National Park?
Yes, fishing is permitted in the park's lakes and rivers. Ensure you have the required fishing license and follow the park's regulations and guidelines.
Are there guided tours or ranger programs in the park?
Yes, Grand Teton National Park offers various guided tours and ranger-led programs, including hikes, wildlife-watching, and educational activities. Check the park's website or visitor centers for updated schedules and availability.