Cyberbullying Facts
Quick Facts
Essential Facts
Interesting Facts
Definition:

Use of information technology to deliberately harm or harass others

Perpetrators:

Mostly teenagers, but also adults

Types:

Hurtful messages, harmful social media posts, identity theft, sexual harassment

Statistics:

Half of all children have been cyberbullied

Statistics:

About 2/3 of teenage cyber bullying victims have been harassed via Facebook

Statistics:

Only 1 in 10 teens report cyber bullying to their parents

Causes:

Feeling of power, low self-esteem, lack of empathy, boredom

Effects:

Shame, fear, emotional problems, suicide

Prevention:

Awareness-raising campaigns, laws, parents, technology

Technology:

Mobile phones, computers, tablets
Technology:

Mobile Phones Are the Most Common Medium for Cyber Bullying

Origins:

Cyber Bullying First Appeared in the 1990s with Advances in IT

Psychology:

Cyber Bullying Is Easier Due to Anonymity and Distance

Definition:

Cyber Bullying Is Not the Same as Cyber Stalking

Statistics:

Girls Are Twice as Likely to Be Involved in Cyber Bullying as Boys

Statistics:

Only 1 in 6 Parents Is Aware of Their Children Being Cyberbullied

Statistics:

53% of Children Admit to Cyber Bullying

Statistics:

Kids Who Spend a Lot of Time Online Are More Likely to Be Cyber Bullied
10% of Young People Have Had Embarrassing Photos Taken
Video Gaming Is One of the Biggest Arenas of Cyber Bullying
Sexual Cyberbullies Can Be Registered as Sex Offenders
Law-enforcement Agencies Have Cyber-crime Units that also Deal with Cyber Bullying
Both Federal and State Laws Protect against Cyber Bullying
"United States v. Lori Drew" Is One of the Most Notorious Cyber Bullying Cases
Cyber Bullying Has Been on the Rise for the Last Decade
Facebook and Myspace Users Are Cyberbullied Most Frequently
Cyberbullying Facts Infographics
Mobile Phones Are the Most Common Medium for Cyber Bullying
Many cyber bullying facts demand urgent attention, but perhaps the most shocking is that cyber bullying most frequently occurs via mobile phones, which are nowadays used regularly by over 80% of teenagers. Mobile phones can be used for various methods of cyber bullying: hostile texting, threatening calls, inappropriate pictures or videos, or even identity theft.
Cyber Bullying First Appeared in the 1990s with Advances in IT
The 1990s were a decade of huge technological breakthroughs – The World Wide Web conquered the globe and mobile phones became widely used in the private lives of millions of people. Unfortunately, these advancements in information technology also brought with them several undesired consequences, among them cyber bullying. This unpleasant practice soon spread among teenagers all over the world.
Cyber Bullying Is Easier Due to Anonymity and Distance
4 out of 5 young people believe that bullying online is much easier than bullying in person. Why? Because the internet generally allows for a greater level of anonymity. It also enables bullying from a distance, which does not require any direct contact with the victim, making the whole act less personal and less problematic for the perpetrators.
Cyber Bullying Is Not the Same as Cyber Stalking
Cyber bullying and cyber stalking are two terms that are often used interchangeably in the media, but they do not have the exact same meaning. Cyber stalking can be understood as a type of cyber bullying, and is often perceived as cyber bullying that is done by adults to adults (as opposed to cyber bullying, which is more frequently the domain of teenagers).
Girls Are Twice as Likely to Be Involved in Cyber Bullying as Boys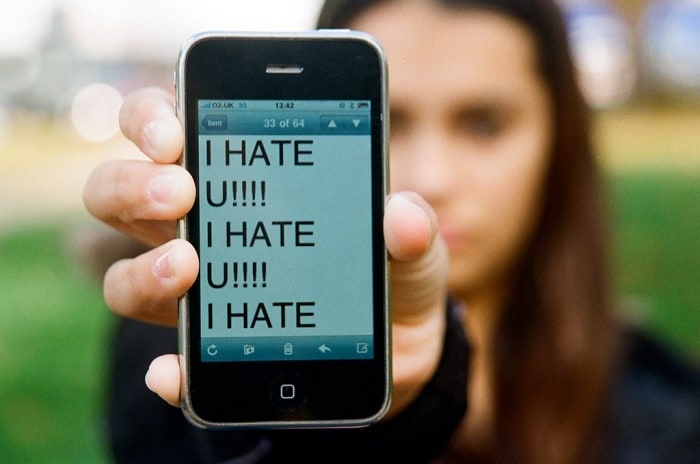 While boys and girls are pretty much equal when it comes to regular, face-to-face bullying, girls are much more likely to be involved in cyber bullying – both as victims and bullies. Boys tend to be more physical and are thus more often involved in physical bullying.
Only 1 in 6 Parents Is Aware of Their Children Being Cyberbullied
One of the greatest benefits of the internet is that it enables a great deal of freedom – but sometimes it's possible it allows too much freedom, especially when it comes to children. It is perhaps not surprising, therefore, that most parents (more than 80%) are not even aware of the problem.
53% of Children Admit to Cyber Bullying
More than half of all children admit to being mean or hurtful to others online. More than one-third of them admitted to cyber bullying another person more than once. But these numbers represent only the children who were brave enough to be honest about their wrongdoings, and those who understand what is meant by cyber bullying and recognise that this is what they have done.
Kids Who Spend a Lot of Time Online Are More Likely to Be Cyber Bullied
Studies have revealed that teenagers who spend more than three hours online each day on social networks are 110% more likely to become victims of cyberbullies. These statistics serve as a good warning for all parents who let their children spend the majority of their free time online.
10% of Young People Have Had Embarrassing Photos Taken
This means that 1 in 10 young adults or teenagers has had their pictures taken without consent while naked, involved in sexual relations and other intimate actions, or while doing other private, embarrassing or forbidden activities. And these kinds of pictures, usually taken with mobile phones, are one of the favourite tools of modern cyberbullies.
Video Gaming Is One of the Biggest Arenas of Cyber Bullying
It has been noted many times that the video gaming world is often filled with cyber bullying, most frequently through sexual harassment directed towards women. Among many other historical and cultural factors, this can also be attributed to the stereotypical sexual depictions of female characters in video games. A study from China also confirmed that children who frequently play violent video games are more likely to be involved in cyber bullying – either as bullies or victims.
Sexual Cyberbullies Can Be Registered as Sex Offenders
What most cyberbullies who like to use the anonymity and impersonality of the internet for sexual harassment don't know is that online sexual harassment can cause a person to be registered as a sex offender – just as in-person sexual harassment can. This can not only attach a terrible social stigma to the cyber bully's name, but might well destroy their entire future.
Law-enforcement Agencies Have Cyber-crime Units that also Deal with Cyber Bullying
Cybercrime units are not there just to prevent hacking and similar cyber offences, but are also involved in preventing and punishing cyber bullying and cyber stalking. Penalties vary greatly from country to country (and state to state in the US), but often include prison sentences.
Both Federal and State Laws Protect against Cyber Bullying
Most US states have their own anti-bullying and anti-harassment laws, which already include cyber bullying. In addition to this, there are special federal requirements for schools (where most of bullying and cyber bullying occurs) across the country to regulate cyber bullying through various means. A federal law to directly deal with cyber bullying has been suggested many times, but has not been realised yet. It is interesting to note that laws are often divided into laws that protect children from cyber harassment and laws that protect adults from cyber harassment.
"United States v. Lori Drew" Is One of the Most Notorious Cyber Bullying Cases
This notorious cyber bullying incident that actually got to court took place in Missouri in 2006, when Lori Drew and her then teenage daughter created a false account on Myspace to discover if one of the daughter's ex-friends, Megan Meier, was spreading false rumours about her. Harassing messages from the false account opened by the Drews, and some other accounts, allegedly caused 13-year-old Megan to commit suicide. All charges against the Drews were eventually dismissed, but the case led to important advancements in anti-bullying legislation of Missouri.
Cyber Bullying Has Been on the Rise for the Last Decade
Although there haven't been many studies directly dealing with cyber bullying trends, studies from the University of New Hampshire and the National Crime Victimisation Survey (NCVS) suggest that cyber bullying might be on the rise. Studies in recent years show that the proportion of young people being cyberbullied might be as high as 70% and that 20% are actually cyberbullied on a daily basis.
Facebook and Myspace Users Are Cyberbullied Most Frequently
A study conducted in 2013 by UK-based Ditch the Label, and which included young people from the USA, UK, Australia and other countries, showed that among the most popular social networks, Facebook and Myspace were most frequently used by cyberbullies. Some 54% of participants experienced cyber bullying on Facebook, and 89% on Myspace. Other social networks, such as YouTube, Twitter and Tumblr, scored less than 30%.
Cyber Bullying Facts – Facts about Cyberbullying Summary
Cyber bullying is a special type of bullying that occurs through use of modern information technology, such as computers, mobile phones and tablets. Teenagers are most frequently involved in cyber bullying, with girls being involved twice as often as boys. Cyber bullying is growing in popularity these days as it is much more anonymous and distant than in-person bullying.
One of the biggest problems is than only 1 in 6 parents is aware of their kids' cyber bullying issues. Parents often don't realise that the more time their children spend online, the more likely they are to become victims of cyber bullying.