Afghanistan Facts
Location:

Middle East

President:

Ashraf Ghani

Area:

250,000 square miles (647,500 square kilometres)

Population:

32 million

Capital:

Kabul

Currency:

Afghani

Official Languages:

Dari and Pashto

Borders:

Iran, Pakistan, Uzbekistan, Turkmenistan, Tajikistan, and China

Main Source of Income:

Agriculture

Natural Resources:

Natural Gas and Oil
Climate:

Afghanistan Experiences Harsh Winters

Ethnicity:

There Are 14 Different Ethnic Tribes in Afghanistan

National Anthem:

All 14 Ethnic Tribes Are Mentioned in the National Anthem

War:

The War in Afghanistan Ended in December 2014

Education:

Only 40% of Afghan Schools Are Actually Buildings

Religion:

Afghanistan Used to Have the Two Largest Buddha Statues in the World

Protected Sites:

The Bamiyan Caves are a UNESCO Protected Site

Protected Sites:

The Minaret of Jam is Another UNESCO World Heritage Site
Afghans Are the Ideal Hosts
Afghans Have fun New 12 months in March
Sport Has Lately Flourished in Afghanistan
Afghans Need Goat Grabbing to be an Olympic Sport
Afghanistan Provides Over 90% of the World's Opium
Thursday Night time Is Poetry Night time in Afghanistan
"The Afghan Lady" Is Most Iconic Country wide Geographic Covers
Cellular Telephones Are Remodelling Life in Afghanistan
It Actually Snows in Afghanistan
Most people, when they think of Afghanistan, picture a landscape of undulating sand dunes and never-ending desert. You might be surprised by Afghanistan facts that reveal this country actually experiences quite harsh winters. In fact, from December to January, it is not uncommon for it to snow. This is particularly evident in the northern parts of Afghanistan, where they experience snowy white landscapes.
There Are 14 Different Ethnic Tribes in Afghanistan
One of the more surprising Afghanistan facts is that the Afghan population is ethnically diverse. This is partly due to silk traders traveling the Silk Route from China to the Western world, creating a nomadic trait in Afghanistan.
The 14 different ethnic tribes include: the Pushtan, Pamiri, Tajik, Brahui, Hazara, Arab, Uzbek, Gujjar, Aimaq, Nuristani, Turkmen, Pashai, and Balock people.
All 14 Ethnic Tribes Are Mentioned in the National Anthem
The Afghan government adopted a newly written national anthem in 2006. Article 20 of the Afghan Constitution stipulated that the national anthem should focus on the phrase God is the Greatest and that various Afghan tribes should be mentioned. A total of 14 different ethnic groups are mentioned in the new national anthem.
The War in Afghanistan Ended in December 2014
The US-led war in Afghanistan lasted from 11 September 2001 until 8 December 2014. The US and NATO officially ended their joint combat mission in Afghanistan. This 13-year war cost almost $720 billion.
Only 40% of Afghan Schools Are Actually Buildings
There are several interesting Afghanistan facts about local education. Only 2 in 5 schools are actual buildings. There are 10,000 schools, which are educating 7 million Afghan children.
Although there were only 20,000 teachers in 2010, there are now a total of 142,500 teachers. Almost 40,000 of these teachers are women. Girls were not allowed to attend school during the Taliban regime. This is partially to blame for the fact that only 1 in 5 Afghan women can read. Today, 37% of the school population is made up of girls.
Afghanistan Used to Have the Two Largest Buddha Statues in the World
Afghanistan facts reveal interesting insights into the history of religion in the region. Before the Islamic invasion of the 9th Century, there was a Buddhist civilisation known as Bamiyan in the central highlands of Afghanistan.
It was here you could find the world's two largest Buddha statues. They were revered not only as religious symbols, but as astounding examples of ancient sculpture. Unfortunately, the Taliban destroyed these remarkable statues in 2001.
The Bamiyan Caves are a UNESCO Protected Site
Although the Taliban destroyed the Buddha statues in Bamiyan, the surrounding caves still exist. These caves were originally used as meditation chambers by Buddhist monks. Since then, they have been used by the Taliban as storage areas for weapons.
In the past 10 years, Afghan refugees have sheltered in the caves. Refugees and civilians have discovered thousands of Buddhist relics and cave paintings in the Bamiyan caves. This site has subsequently been of particular interest to archeologists and ancient historians, and is now a UNESCO protected site.
The Minaret of Jam is Another UNESCO World Heritage Site
There are many Afghanistan facts of interest to archeologists and historians. The Minaret of Jam is no exception: it is one of the archeological wonders of the Middle East. This tower is located in the west of Afghanistan. It is 203-feet high (62 meters) and is thought to have been constructed in 1190. It is made entirely of baked bricks.
Afghans Are the Perfect Hosts
Possibly the most heart-warming of all Afghanistan facts is the fact that the people of Afghanistan pride themselves on having a distinctive style of hospitality.
This is not only an integral part of their culture, but extending hospitality to guests is seen by locals as a religious obligation. In fact, there is evidence of Afghans extending this hospitality to US soldiers.
Afghans Celebrate New Year in March
One of the more interesting Afghanistan facts is that Afghans celebrate New Year's Eve on 21 March. This date marks the pre-Islamic festival known as Nowraz. It is also traditionally the first day of spring.
Thousands of Afghans travel to the city of Mazar-e-Sharif to join in the celebrations. Here, local men raise a large Islamic banner known as the Janda to herald the start of a new year and the beginning of spring.
If they are able to lift this banner easily and swiftly, in one motion, then this is taken to be a good omen for the year to come.
Sport Has Recently Flourished in Afghanistan
When Afghanistan was under Taliban political rule, many sports (including cricket) were completely banned, and women were not allowed to participate in any sports or join any sports clubs.
However, this has all changed under the current more liberal political regime. Afghanistan facts reveal that in the past 5 years, many women have started participating in sports, with women's cricket teams proving to be particularly popular.
The country has also enjoyed some sporting accomplishments: Afghanistan won the Asian Football Federation Championship for the first time, and their national cricket team qualified for the 2015 World Cup.
Afghans Want Goat Grabbing to be an Olympic Sport
A lesser-known of the Afghanistan facts is that goat grabbing, or buzkashi as it is known by locals, is the national sport. This violent and dangerous game involves riders on horseback vying for control of a goat carcass.
Afghans would like to see this as an official Olympic sport, and it has been proposed to Olympic committees on several occasions.
Although this sport has recently seen the introduction of more rules and has been sponsored by Afghan Airlines and various business owners, it doesn't seem likely that it will become an official Olympic sport in the near future.
Afghanistan Supplies Over 90% of the World's Opium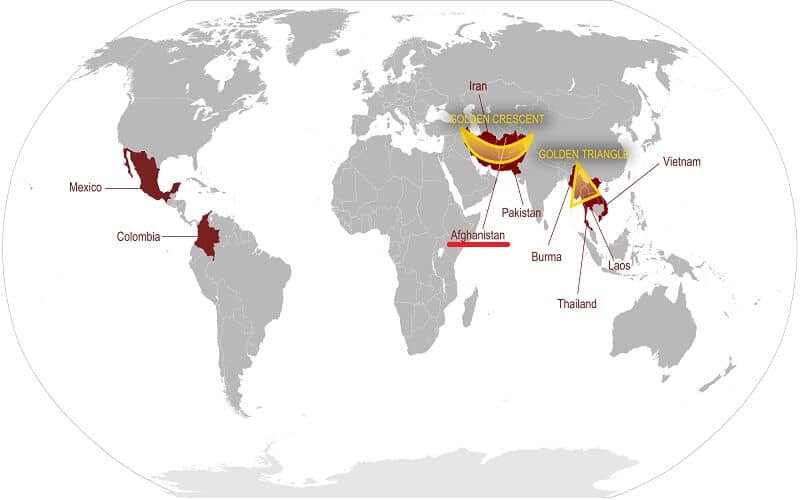 The drugs trade is a significant contributor to Afghanistan's economy. In fact, Afghanistan supplies over 90% of the world's opium. It must be remembered that opium is the raw ingredient used as the basis of heroin.
International statistics estimate that the Taliban insurgence receives up to US$100 million every year from the drugs trade. The UN Office on Crime and Drugs has called on the country to target both corrupt government officials and the major drug traffickers in an effort to quell this problem.
Thursday Night Is Poetry Night in Afghanistan
There are many intriguing Afghanistan facts about the local culture. One of these is that poetry is an important part of Afghan culture. Afghans have had a history of oral tradition dating back over a thousand years.
Traditionally, stories are passed down from generation to generation in verse. As social issues have plagued the country, Afghans have used poetry to deal with these problems. More recently, women's rights have been a popular subject in poetry.
In the city of Herat, men and women from all generations gather together on Thursday evenings to celebrate both old and new poetry. Participants also listen to traditional Herati music. These meetings are usually enjoyed with sweet teas and pastries.
"The Afghan Girl" Is One of the Most Iconic National Geographic Covers
The National Geographic featured a photograph of an Afghan girl on the cover of its June 1985 issue. Although this haunting image was so memorable as to become iconic, the identity of the girl remained a mystery for many years.
After the 2002 downfall of the Taliban in large areas of Afghanistan, it was discovered that the girl's name was Sharbat Gula. The National Geographic now has a charitable fund in her name, the aim of which is to educate young Afghan girls who were denied an education while the country was under Taliban rule.
Mobile Phones Are Transforming Life in Afghanistan
In Afghanistan, the percentage of the population with access to electricity is the lowest in the world. Despite this, however, modern Afghanistan facts tell us that 90% of the country will soon have mobile phone coverage.
Mobile phones are causing shifts in Afghan life and culture. These devices have become status symbols. If you have the right contacts, or sufficient funds, you can acquire a memorable phone number that contains numbers that are of important significance in your life.
Afghanistan Facts – Facts about Afghanistan Summary
Afghanistan is an interesting country in the Middle East. There is much to learn, besides facts about the US-led war. This ethnically diverse nation is home to two UNESCO World Heritage Sites. The hospitable Afghans enjoy sports and poetry, and are busy tackling social issues such as women's rights as they embrace a more modern and liberal era.
View Comment