What Happened On August 7th?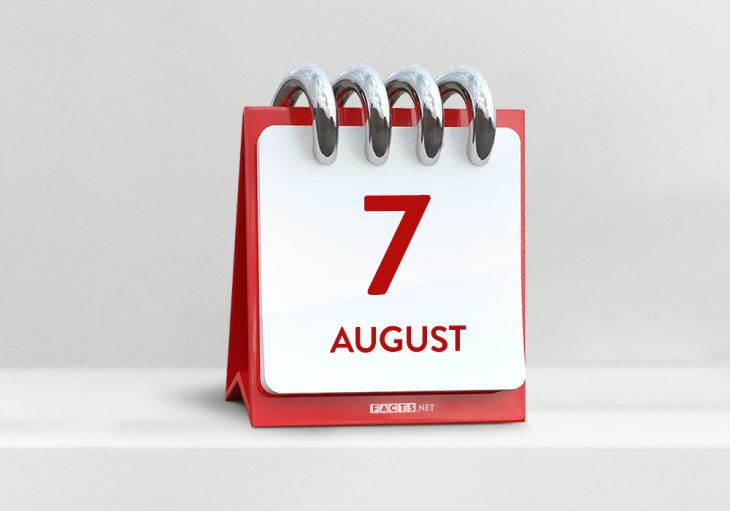 August 7th serves as a reminder that women are able to accomplish what men can do as well. From driving across America to breaking sports records, August 7th could perhaps be considered a huge leap toward gender equality. However, this is also the day when witch hunts, revolving doors, and the Purple Heart medal all take root. Read on to find out what made August 7th a special day.
Historical Events
1428: The Valais Witch Trials started in Switzerland and are considered one of the first-ever recorded witch hunts in European history. The Valais region of Switzerland was known for its deep-seated superstitions, and many people believed in the existence of various types of witches and their malevolent powers. The trials led to the execution of many innocent people.
1782: George Washington created three new military badges. These badges were known as the Badge of Military Merit and were designed to recognize exceptional service and valor in combat. They were the precursor to the modern-day Purple Heart medal, which is awarded to members of the United States military who are wounded or killed in action.
1909: Alice Huyler Ramsey made history by becoming the first woman to drive across the United States. Ramsey, a 22-year-old housewife, and mother from Hackensack, New Jersey, led a team of three other women on a journey from New York City to San Francisco in a Maxwell Model DA automobile. The trip took 59 days.
1914: The first British troops arrived in France during World War I, marking the beginning of the British involvement in the conflict. The troops were part of the British Expeditionary Force, which had been hastily assembled and sent to the continent to support French forces against the German invasion of Belgium.
Image from Adobe Stock
Scientific Breakthroughs
1888: American inventor Theophilus Van Kannel was granted the patent for the revolving door, a device that would revolutionize the way people entered and exited buildings. The revolving door quickly caught on as an efficient and practical solution to these issues. It became especially popular in high-traffic areas such as office buildings, department stores, and hotels.
1959: NASA's Explorer 6 satellite was launched from Cape Canaveral, Florida. The satellite was designed to study the Earth's atmosphere and space environment, and it was the first satellite to transmit a picture of Earth from space.
Image from Adobe Stock
Political Milestones
1912: Theodore Roosevelt was nominated for US president by the Progressive Party, also known as the Bull Moose Party. It was a political party formed by Roosevelt after he failed to secure the Republican nomination. The party platform advocated for a range of progressive reforms, including stronger antitrust laws, conservation of natural resources, and women's suffrage.
Image from Adobe Stock
Cultural Events
1606: The first known performance of William Shakespeare's "Macbeth" was for King James I and his guest at Hampton Court. Despite being initially poorly received, "Macbeth" has since become one of the most famous and widely performed Shakespeare plays.
1948: At the Summer Olympics held in London, Fanny Blankers-Koen made history by helping the Dutch team win the gold medal in the 4 × 100 relay race. What made her victory all the more remarkable was the fact that she was pregnant with her third child at the time. This gave her the nickname, "Flying Housewife".
1987: Lynne Cox, an American open-water swimmer, set a new record by swimming 2.7 miles (4.3 km) from Alaska to Siberia in just under two hours. This was an incredible achievement, especially considering that the water temperature was only about 43 degrees Fahrenheit (6 degrees Celsius).
Image from Flickr
Notable Birthdays
Mata Hari (1876–1917) – A Dutch exotic dancer and courtesan, Hari was convicted of being a German spy during World War 1 and was executed. Because she used the power of seduction to gain intelligence, her name is synonymous with the femme fatale.
Tobin Bell (1942) – An American actor known for his role as the main antagonist, Jigsaw, in the horror movie franchise "Saw". He has been nominated for several awards for his acting performances, including a Fangoria Chainsaw Award and a Scream Award for Best Villain for his role in "Saw".
David Duchovny (1960) – An American actor, writer, producer, and director best known for his role as FBI agent Fox Mulder on the popular TV series "The X-Files". Duchovny has also appeared in films such as "Kalifornia", "Evolution", and "Zoolander".
Harold Perrineau (1963) – An American actor and director, Perrineau is best known for his roles as Michael Dawson in the television series "Lost", Link in "The Matrix" movies, and Augustus Hill in the HBO series "Oz".
Charlize Theron (1975) – A South African-American actress and producer. She gained recognition for her portrayal of a serial killer in the 2003 film "Monster", for which she won the Academy Award for Best Actress. Theron has since starred in a wide range of films, including "Mad Max: Fury Road", "The Fate of the Furious", and "Bombshell".
Sidney Crosby (1987) – A Canadian ice hockey player, Crosby is considered one of the best in the world. He has won numerous awards and championships, including two Olympic gold medals, three Stanley Cups, and two Hart Memorial Trophies as the NHL's most valuable player.
Final Word
Although August 7th is not the only day with many "firsts" it is a day where the "firsts" made a difference in bridging the gaps of gender equality. And for that, to all the women who came before us, we thank you and salute you for your guts and strength to do so.